Bank Feed - FAQs
Some of the most common questions we're asked about Bank Feeds...
Is my bank supported?
To find out more, check out our article on which banks are supported and how Bank Feeds work.
Will enabling Bank Feeds alter my existing transactions?
A Bank Feed will import new transactions starting on the day you've enabled it. It won't change any transactions you've already imported or added manually into FreeAgent.
Be sure to check your transactions around the date you enabled the Bank Feed. If you see any missing transactions, you can manually add them. You can also upload a bank statement, but you may see some duplicates if the transactions on your statement happen to occur after you enabled the Bank Feed.
I've enabled a Bank Feed but I'm missing transactions.
A Bank Feed will import new transactions starting on the day you've enabled it. It won't import any transactions from before the date you enabled the feed.
Depending on when you last uploaded or manually added bank transactions you may find that you have missing transactions from before you enabled the Bank Feed. If you see any missing transactions, you can manually add them or upload a bank statement – be careful not to add any duplicate transactions.
Why do I see duplicate transactions when I upload a statement into an account that has a Bank Feed?
Depending on the bank, a transaction may look quite different on your statement (which you upload) and on the bank's website (which Yodlee uses to get your transactions). If you upload a statement that includes transactions that occurred after you enabled your Bank Feed, you may see the same transaction twice.
You can resolve this by either:
Why haven't any transactions been imported today?
You may have had transactions that were still pending in your online banking account at the time of the last Bank Feed import attempt. These should appear in FreeAgent the next time your Bank Feed imports new transactions.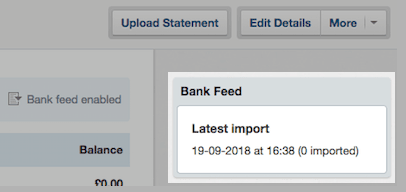 Why has my Bank Feed stopped working?
Your Bank Feeds will stop working if you change your online banking password. To fix this, navigate to your bank account page in FreeAgent, select the 'More' menu then 'Disable Bank Feed'. You should see the 'Enable Bank Feed' button appear. Select this and follow the workflow to enable your Bank Feed again.
Why isn't my Bank Feed updating automatically?
If you have to use a Multi-Factor Authentication device to access your bank account, then our provider Yodlee can only pull in your transactions automatically every day if they know the answers to the security questions posed by the bank. If the bank asks a question that Yodlee has not answered before, then you will need to hit the Import button again and answer the security question.
Also, if your account needs a numeric security token for access, then your transactions will never import automatically, because the code changes every 60 seconds, so Yodlee would never be able to answer that correctly automatically.
Why does the Bank Feed panel say there's a problem?
You will see this message if there is ever a technical problem getting transactions from your bank. If you see this message, we will already know there is a problem and will be working to resolve it. Don't worry: none of your transactions will be lost. Once the Bank Feed is working again, all of your delayed transactions will be imported.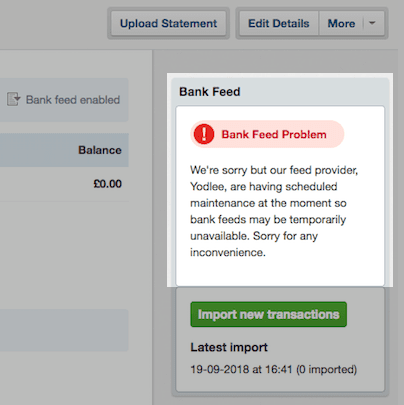 If your bank feed is not working and you need to get your transactions into FreeAgent, you can upload a statement.
If you upload a statement that contains transactions that your bank feed already imported, you may see duplicate transactions. It's always a good idea to carefully inspect your FreeAgent bank account after uploading a statement and delete any duplicates.
Once your bank feed is working again, it will not import transactions for any days that are covered by your statement upload.
Can I disable my Bank Feed?
Of course! To disable a Bank Feed, visit your bank account page, select 'More', and then select 'Disable Bank Feed'. Repeat this process for each Bank Feed you want to disable.
What if I have concerns about security?
FreeAgent doesn't store your bank login details – these are stored securely by our partners Yodlee. Read more about how Bank Feeds work, why we've partnered with Yodlee, and Yodlee security.
If you have a Barclays Business account, Barclays Data Services provide Bank Feeds directly to FreeAgent. Find out more about setting up Bank Feeds for Barclays Business Accounts.
Why isn't my bank listed?
It's possible that we don't support your banking website at the moment, though we do plan to support more banks in the future.