How to set up automatic thank you emails for paid invoices
This article explains how to set up an automatic invoice email to send a thank you email to a customer when they've paid for an invoice in full.
Please note that:
these emails are sent out hourly so your customer may not receive it right away
when thank you emails are enabled, 'Guess' will not match any incoming payments as an 'Invoice Receipt' to open invoices. This is to ensure thank you emails are not sent in error to customers who are yet to pay their invoice.
Select 'Settings' from the drop-down menu in the top-right corner and then select 'Email Templates'.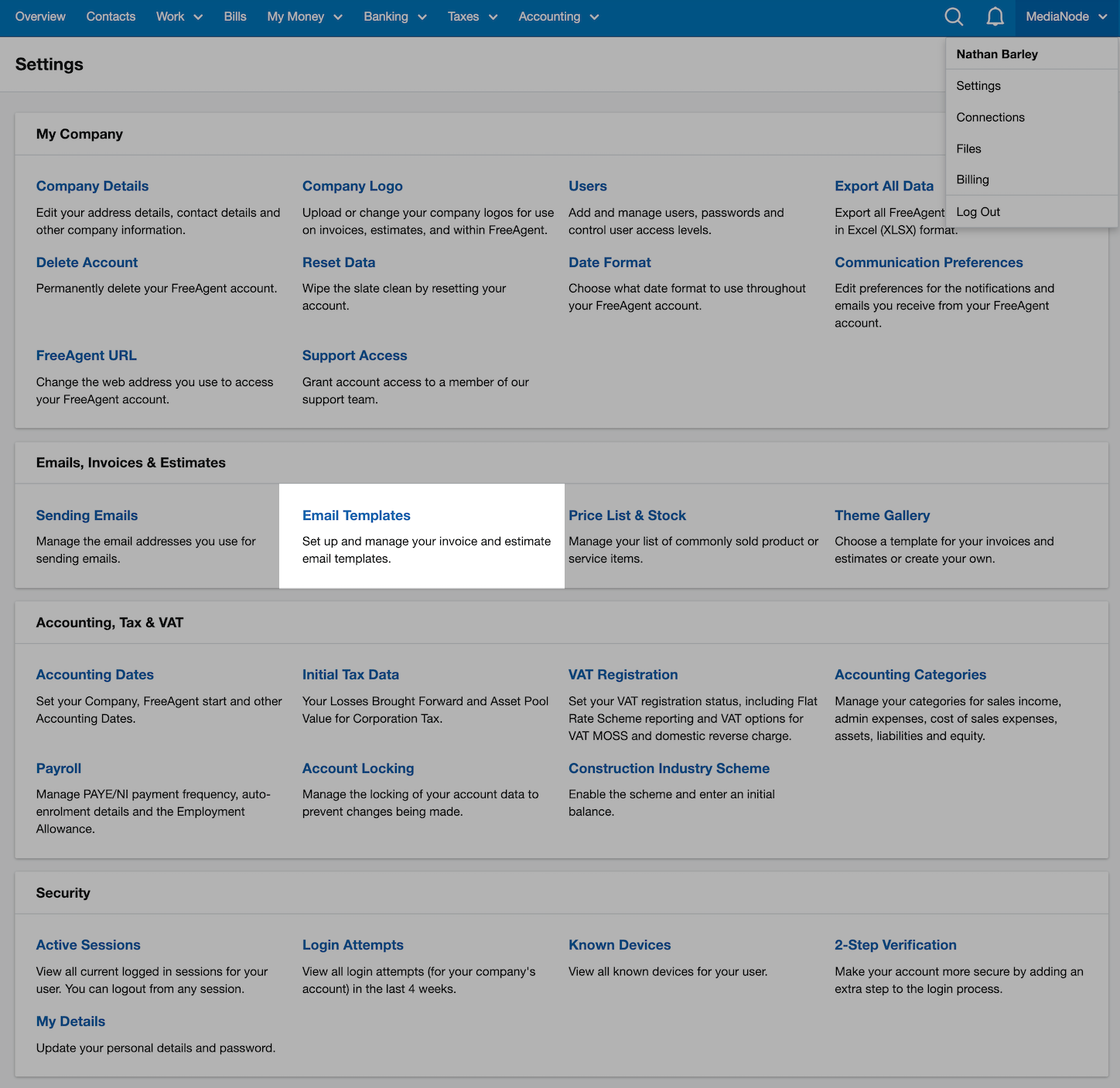 Select the 'Invoice Thank You' tab.
Building the message
Use the tags over on the right-hand side to build the content for the To, Subject and Text boxes.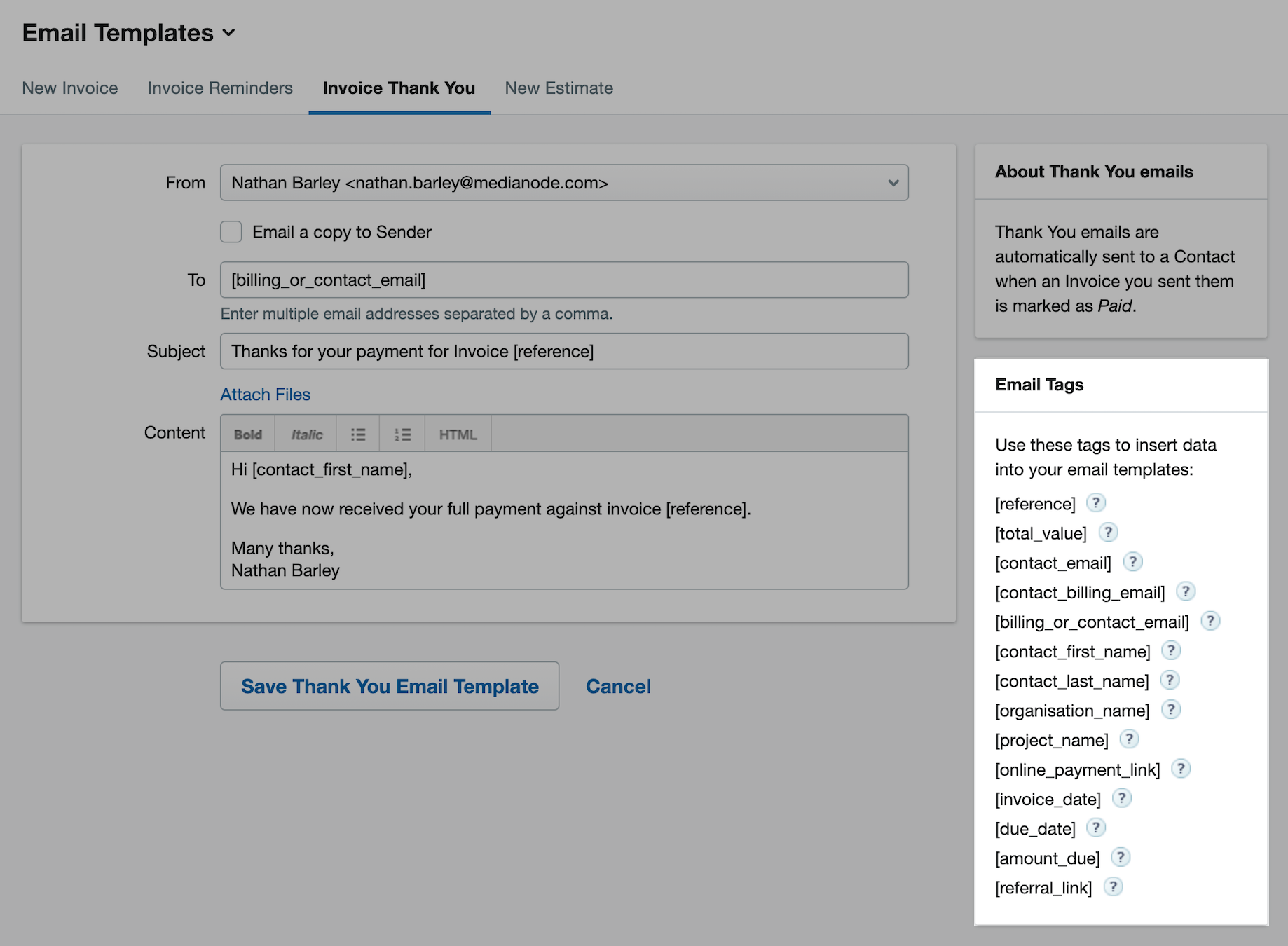 From / To
The From email can be any one of the users who are set up in FreeAgent. You can also tick the box under the From email box to send a copy of this email, and the invoice, to the sender. This is useful if you're a bookkeeper and you need to show the finance manager that you've sent the invoice.
The To email, by default, is your customer's contact email that you set up under Contacts, but you can amend this to the billing email for that contact which can also be set up under Contacts. To amend the tag, simply type in an extra _billing into the tag, so that it matches the tag in the list on the right.
If you put '[contact_billing_email],[contact_email]' in the To field, the email will go out assuming that the contact has one or other of the email addresses entered, and if you use the tag [billing_or_contact_email] in the To field, then if you've put in a billing email address that will be used, but if there's no billing email, FreeAgent will use the contact's main email address.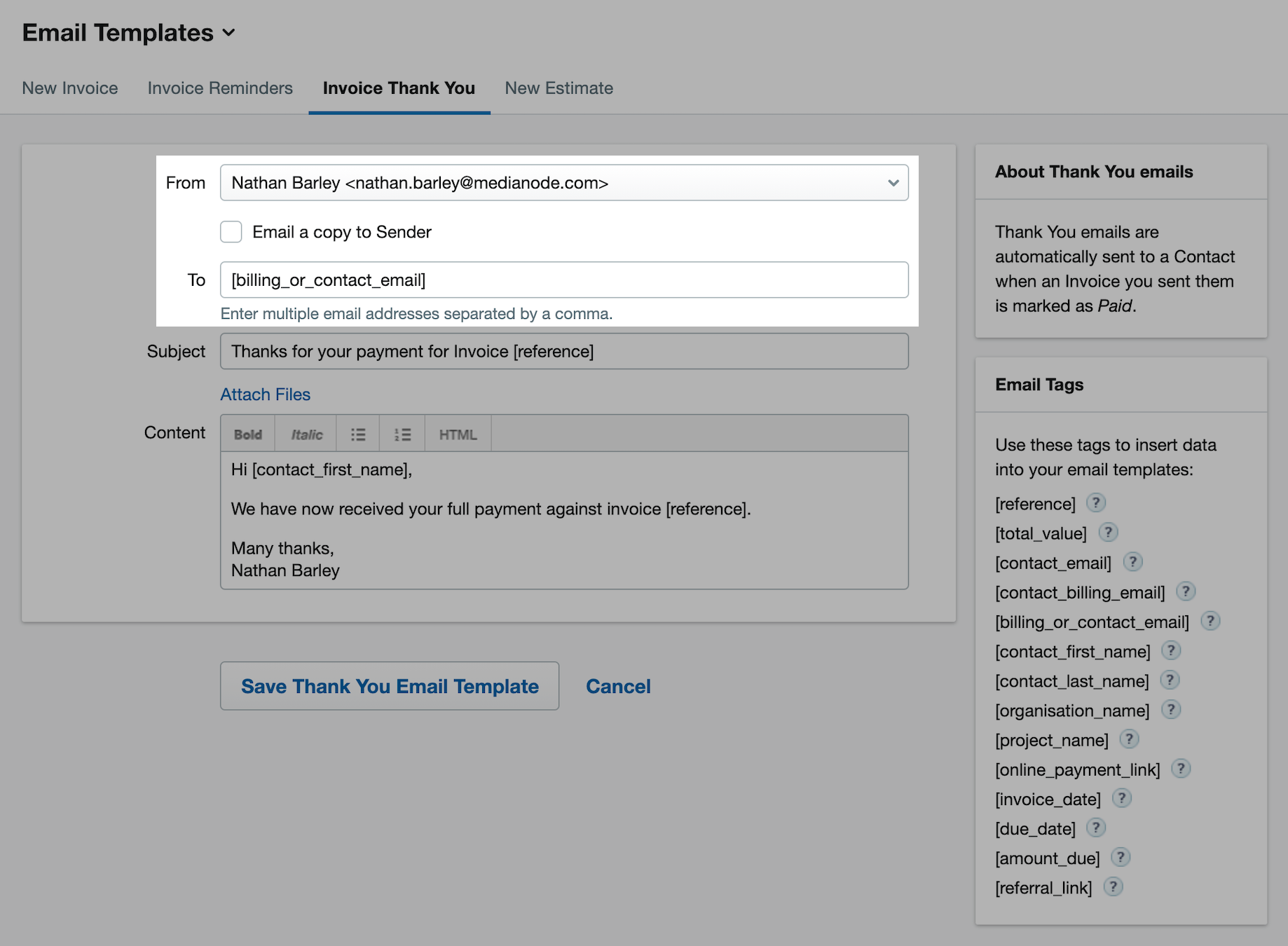 Subject
The Subject field already has the reference tag in it, so the subject of the email will include the reference number of the invoice. You can of course change this if you wish.
Invoice attachment
The invoice will be sent attached to this email as a .pdf.
Other attachments as default
If you wish to attach a file by default to your Thank You emails, you can choose one to send from your Files store, or otherwise upload a new file. Select the 'Attach Files' link to do this.
Remember that this file will be sent every time you send a Thank You email from FreeAgent.
Body text
Build the body text using the tags. There is some sample text for you to use and edit as you wish.
Once you're happy with this email, select 'Save Thank You Email Template' to keep it. Or select 'Cancel' to close without saving. You need to save the template before you can use it to send thank-you emails.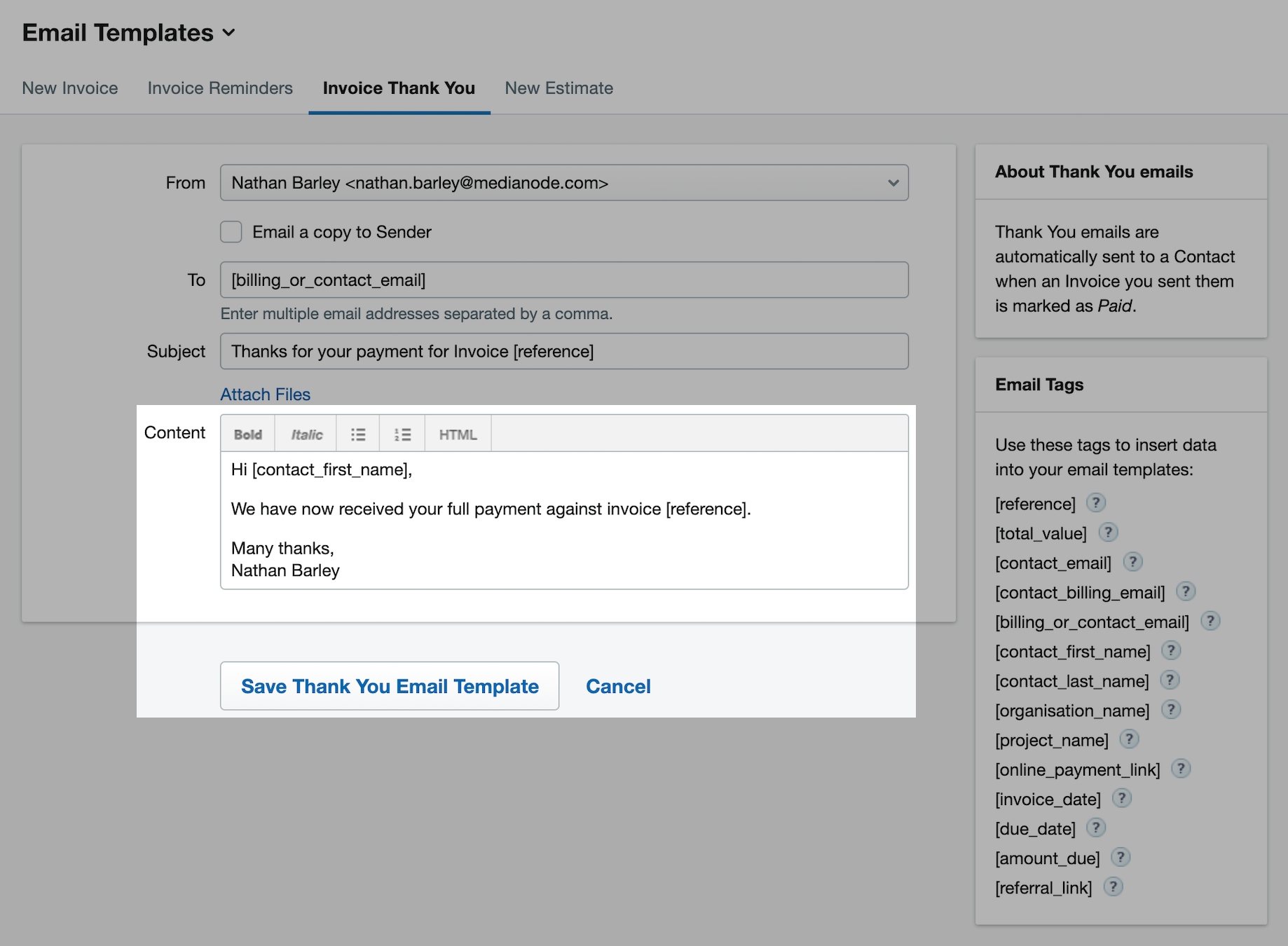 Setting the Thank You email to send
Then as you set up a new invoice, or edit an existing invoice that's in draft, you can tick the third of the three Invoice Emails boxes under Invoice Details. FreeAgent will then automatically send the thank you email to your customer once you have marked this invoice as fully paid in FreeAgent.

If you've set default options for the customer you're invoicing, this option will be updated automatically. Remember to save your changes if you're editing an existing invoice.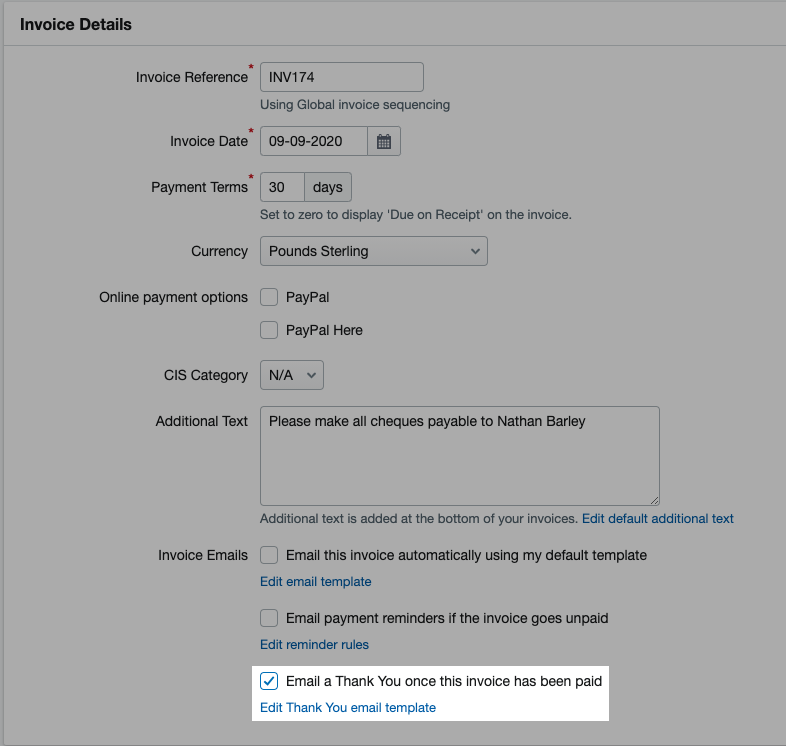 When you then look at the invoice, FreeAgent tells you that the thank-you email is enabled.

Can I see which invoices have thank you emails set?
Yes.
Go to Work > Invoicing and filter the list to show invoices 'With active thank you emails'.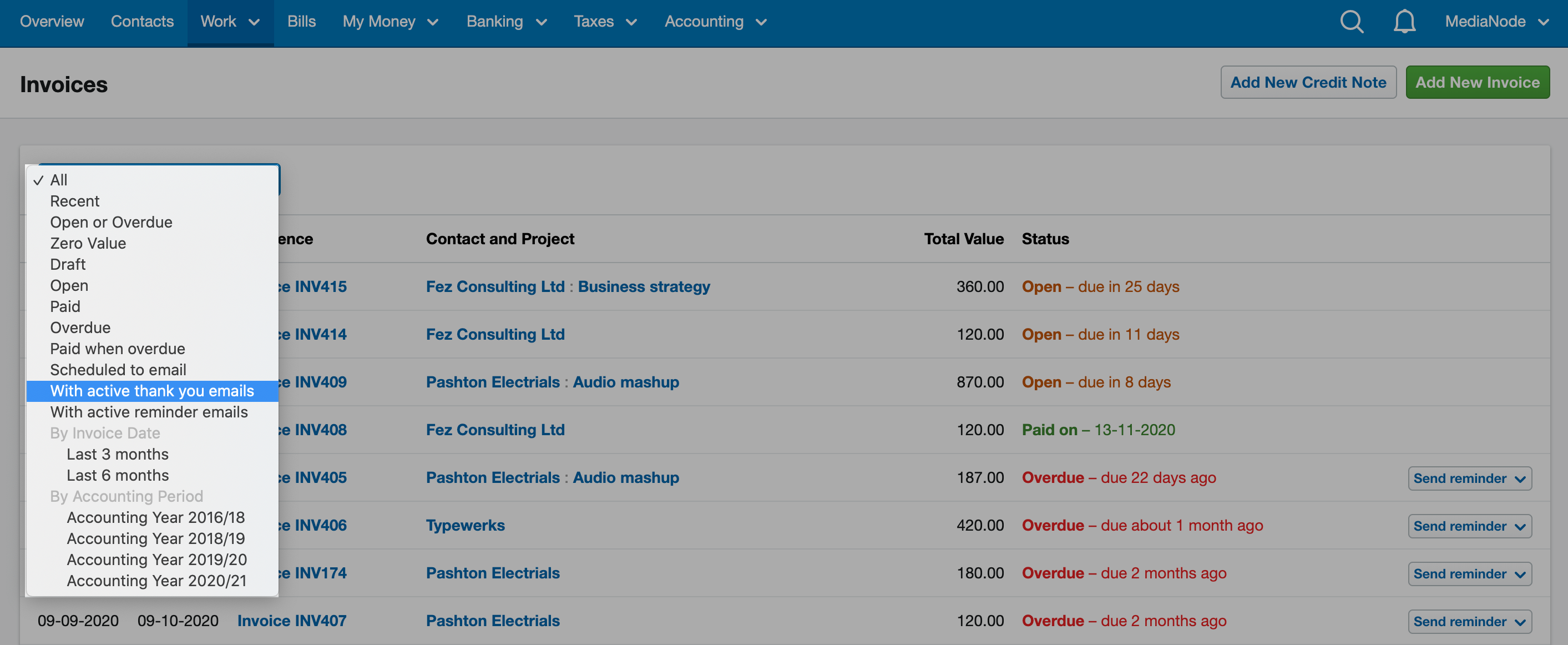 There are two other automatic invoice emails that FreeAgent can send for you; sending a new invoice and reminding a customer to pay.