Self Assessment
A quick tour of the Self Assessment screen in FreeAgent, and how to enter data there.
OK, I know what Self Assessment is. What does the screen in FreeAgent show me?
Self Assessment is the area of FreeAgent where income tax is worked out for a personal self assessment tax return. This will be based on your business's accounts if you're a sole trader or partner, and on your salary and dividends if you're a director or other employee of a limited company.
It's not, however, a comprehensive system for completing self assessment tax returns, it's intended as a guide only.
Where do I find the Self Assessment screen?
You'd reach this screen by choosing Self Assessment from the Taxes menu.

Choose which user's self assessment you want to look at, from the drop-down menu. FreeAgent calculates self assessment for all users except those set on the Users screen as Accountants.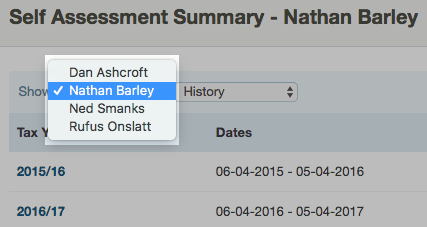 Then choose which tax year you want to look at, and click on it. The year in which your FreeAgent start date falls is the earliest tax year you'll see displayed here.

Or you can navigate to the tax year from this menu here.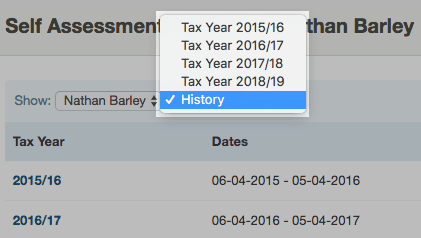 The Self Assessment screen loads.
There are two tabs on this screen.
The Overview tab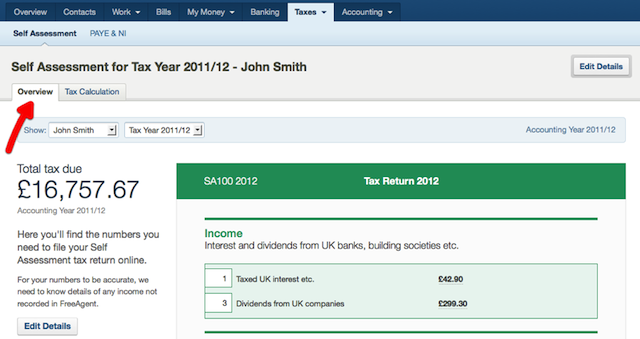 ...gives you a top-level view of your tax return calculation using the figures you have already entered elsewhere on the system.
The colours and box numbers mirror those on your tax return so that it's easy to put the right number in the right box when you're filling in your tax return.
For example, here are two snapshots of what a self-employed individual would see.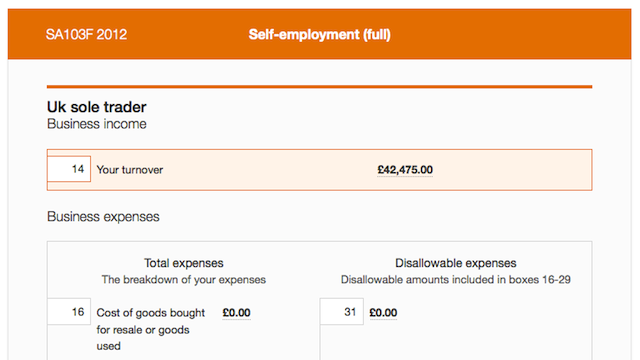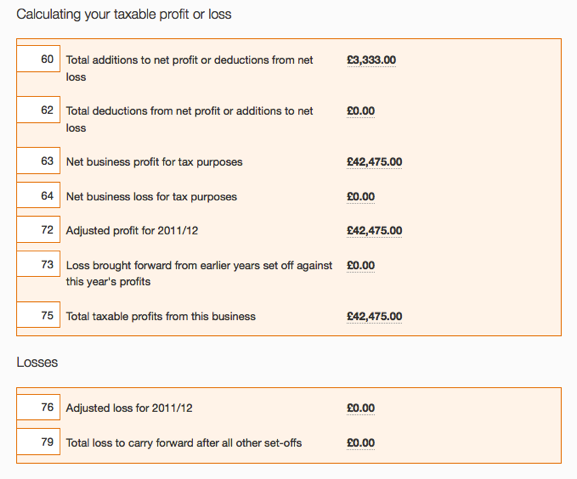 The Tax Calculation tab
You'll find this to the right of the Overview tab.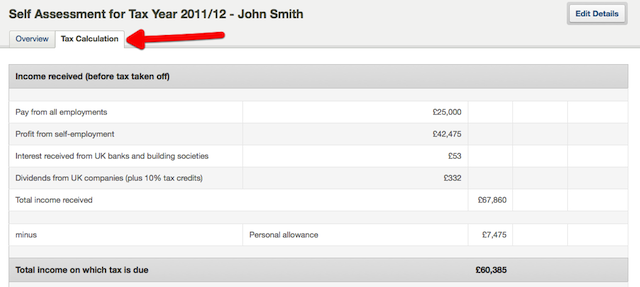 It gives you a detailed breakdown of how your income is added up and your tax worked out.
I have more information to put in.
If you have other figures to put in, such as employment income from outside your business, bank interest received, or other dividends received, you can put these in by clicking the Edit Details button.

Fill in the details. You'll see you can only put in certain of the most common types of income.
Unique Tax Reference (UTR)
You might want to put in your 10-digit unique tax reference so that all your information is in one place. You'll find this on most letters and self assessment tax forms you receive from HMRC.

Bank interest
Bank interest goes in after tax deducted. If you have more than one interest-bearing bank account, add the after-tax interest figures together and put the total in this box, but remember to omit interest received on tax-free accounts such as ISAs.

Dividends
Dividends go in after tax credits. You'll find this figure on your dividend vouchers. If you're the shareholder of a limited company and the books are kept in this account on FreeAgent, don't put in any dividends here from that company, because FreeAgent will automatically put those into the computation.

Pension contributions
If you've made any personal or stakeholder pension contributions, put those in here, making sure you enter the amount you actually paid, without adding back any tax relief. Note though, these boxes should be left blank if your pension was deducted directly from your salary.

Self Employment Losses Brought Forward
If you are self-employed and your business made a loss in the previous year, but you need to change the figure that FreeAgent has carried forward - perhaps because you used some of the losses to set against other income last year - you can change the amount in this box. Only change this figure if you want to override FreeAgent's calculation, otherwise leave it as it is.

Employment income
If you're a director or other employee of a limited company whose books are kept in this account on FreeAgent, don't put your salary in here, because FreeAgent will automatically add that into the computation. But if you have employment apart from that, put those figures into the Employment boxes here.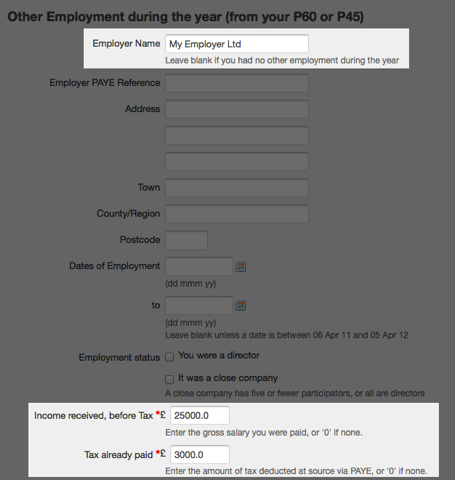 The address and other details are optional, but you do need to put in your income before tax and the tax deducted. You'll find these figures on your form P60 or P45.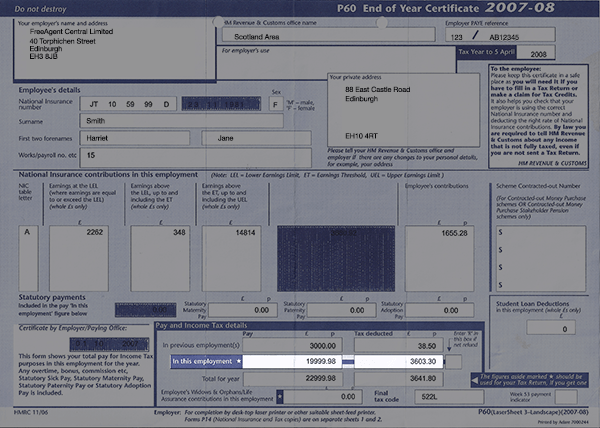 If you had more than one employment during this tax year, add the figures for each employment together.
Once you've finished entering your information, click Save Changes to keep it or Cancel to close this screen without keeping your changes.