How to access P45s in FreeAgent
This article explains how to access and print employees' P45s in FreeAgent.
Please note that FreeAgent's payroll functionality won't be available if you have an unincorporated landlord account or if you're preparing your accounts using cash basis accounting.
A P45 is a document an employer must give a departing employee on paper when their employment comes to an end. The P45 shows how much tax the employee has paid on their salary in the current tax year.
The makeup of a P45
A P45 has four parts:
Part 1 - the employer automatically sends this to HMRC online through RTI when the staff member's employment comes to an end. The employer doesn't need to send a paper copy to HMRC.
Part 1A - the employee keeps this for their own records.
Parts 2 and 3 - the employee gives these to their new employer when they start a new job (or to JobCentre Plus if they're not working).
Downloading P45s in FreeAgent
Part one: enter a leaving date
Navigate to the 'My Money' tab at the top of the screen and select 'Payroll' from the drop-down menu.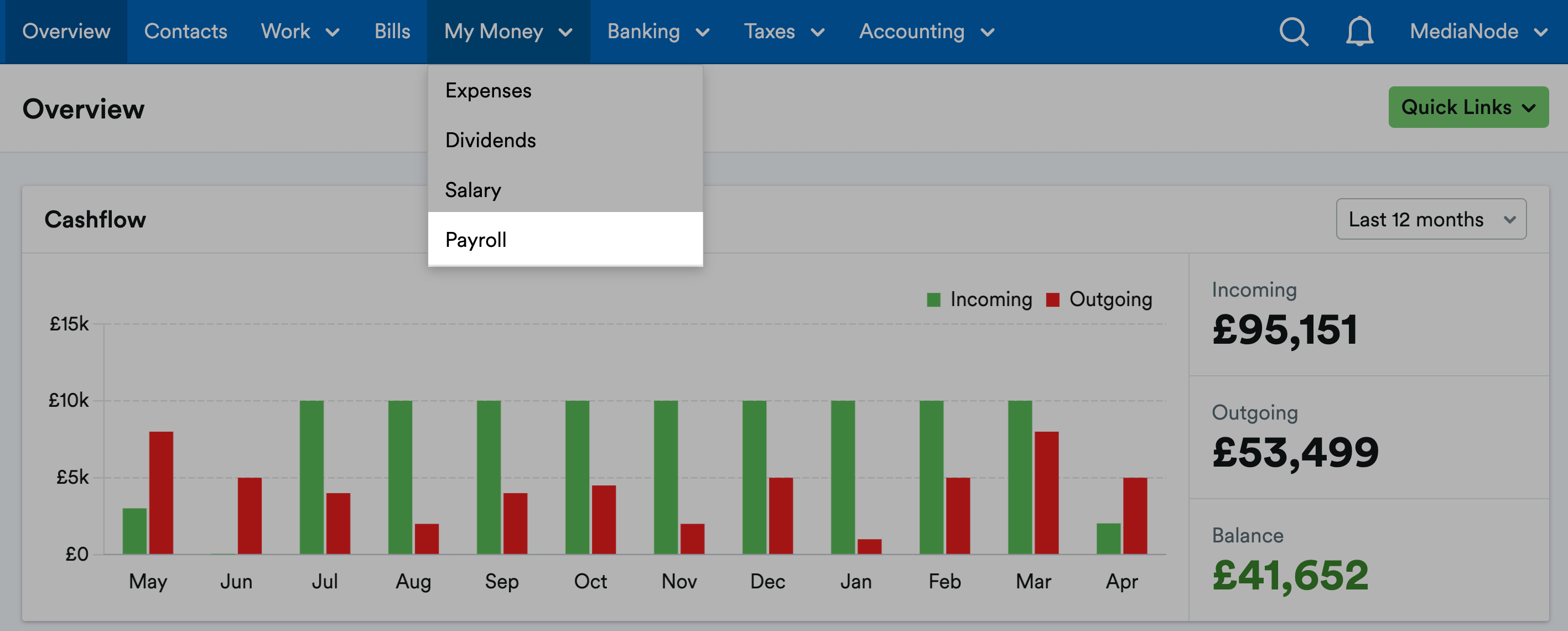 Select 'Edit Profile' next to the relevant employee's name in the 'Employees' section (you will need to have level 8 access to FreeAgent to do this).
Next, select 'Yes' next to 'Employee leaving during the next pay run?'.
Enter the date that the staff member's employment with your company will end. The date you enter can be up to 30 days in the future.
Select 'Update Payroll Profile' to save your changes.
Part two: access the employee's salary information
To view the employee's P45, navigate to the 'My Money' tab at the top of the screen and select 'Salary' from the drop-down menu.
Choose the employee's name from the 'Show' drop-down menu and then select 'View P45'.
This will display parts 1A, 2 and 3 of the P45, which you can then download as a single PDF file to share with employees via a secure online portal. The P45 will be pre-populated with information from your payroll; you won't need to enter any data manually.
By law, you must give your employee a physical copy of their P45 when their employment comes to an end. Be sure to save the P45 as a PDF, print it out and either hand it to the departing employee in person or send it to them in the post.
P45s and user access levels
Users with level 2 ('My Money') permission and above can see their own P45 in FreeAgent. Users with level 7 ('Tax, Accounting and Users') access can view other people's P45s. Only users with full level 8 access can enter a leaving date in an employee's payroll profile and generate a P45.