Report: Account Totals
The 'Account Totals' report provides a summary of account totals across all of your active clients. This report is intended to help practice account managers generate ledger reports.
1 Log in to your Practice Dashboard, and select the 'Reports' tab

2Next, go to 'Account Totals'

3Enter a time period, business type, account type and select 'Generate Report'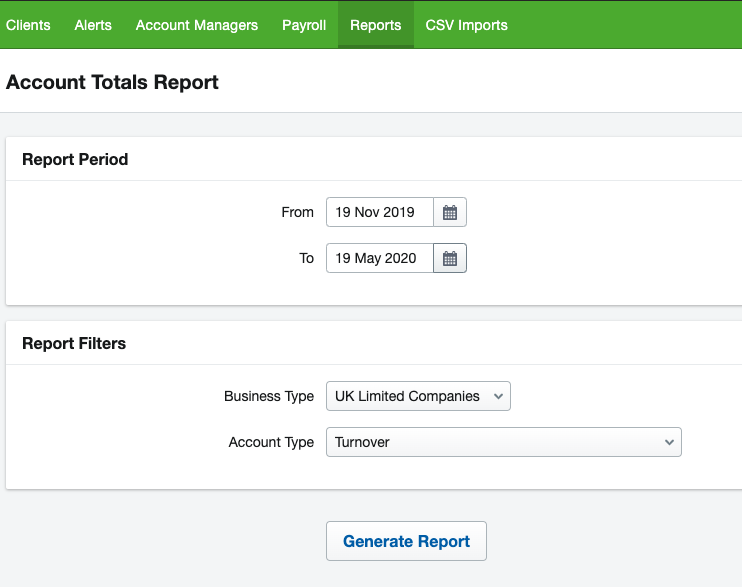 Business type
The 'business type' filter requires you to choose either 'sole trader' or 'limited company'. If you require a report which includes both sole traders and limited companies, you will need to run two separate reports. This is due to the different chart of accounts structure for each business type. Please note that this report is not applicable to partnerships or LLPs at this time.

Account type
An account type is a way of grouping nominal accounts together, so therefore, generally, more than one nominal account will be returned (reported) for any given account type, for example, turnover.
Account types are assigned to nominal accounts; either by FreeAgent for standard accounts, or for custom spending categories created by you or your client. Account types are FreeAgent's way of filtering, as these will always be consistent across your clients, as opposed to nominal accounts which can differ. All nominal accounts will, however, appear in the report. Sub-accounts will also be displayed, including employee and bank sub-accounts.
4Now wait a moment while FreeAgent generates your report...

And that's it! Your report download will appear in your browser as a CSV file
You can open this file in your preferred spreadsheet software.

How the totals are displayed
You will notice the credit totals are displayed as negative values and debits as positive. In other words, profit and loss totals will show income as a negative and costs as a positive, while balance sheet totals will show assets as a positive and liabilities as a negative.
Sales account totals (Profit & Loss) will generally be displayed as negative values (i.e credits), whilst the debtor value totals (Balance Sheet) will be displayed as positive values.
Brought forward balances and entries dated before your clients' FreeAgent start date will not affect the account totals shown.