How to manage your Apple subscription (iOS)
If you use the FreeAgent mobile app on an iPhone, there are two different ways for you to manage your subscription.
1. Subscribing through FreeAgent
You can subscribe to FreeAgent on our desktop app and then log in using the same account credentials on your mobile device. Subscribing to FreeAgent directly will give you the best deal (50% off for 6 months), as well as access to our referral discount scheme.
2. Subscribing through Apple
You can also subscribe to FreeAgent through the Apple App Store. If you choose to do this, you'll be unable to take advantage of our introductory offer and our referral discount scheme.
How to subscribe to FreeAgent through Apple
If you do want to subscribe to FreeAgent through Apple, you'll need to create your FreeAgent account on the iOS app. At the end of the account setup process, you'll see a couple of subscription options. Please note that you will only see Apple subscription options here.
Once you've selected an option, taken a 30-day free trial and then that free trial has ended, your Apple subscription to FreeAgent will automatically renew (unless it's cancelled at least 24 hours before the end of the trial period). All subscriptions payments will be charged to your iTunes Account.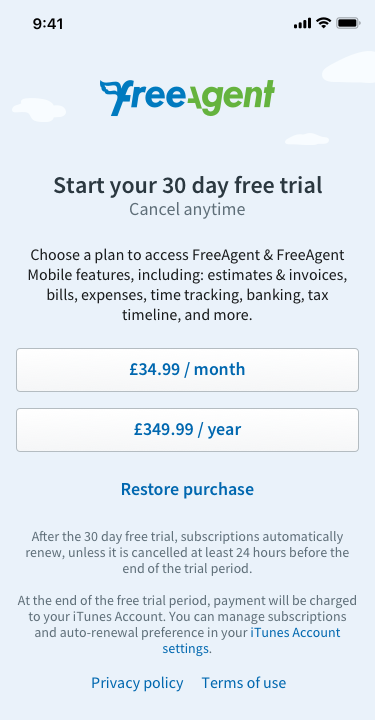 How to manage or cancel your Apple subscription
Tap the 'hamburger' icon in the top-left corner to go to 'Settings' and select 'Subscription'. Click 'Manage subscription' to change to a different subscription option. Alternatively, you can follow Apple's advice to cancel the automatic renewal of your subscription.
How to switch your subscription from Apple to FreeAgent
If you currently pay for FreeAgent through Apple, or you're in the free trial period of your Apple subscription but would rather subscribe directly with us, it's easy to make the switch:
1Cancel your Apple subscription
Either select 'Manage Subscription' in the 'Subscription' area of your settings, or follow Apple's advice to cancel the automatic renewal of your subscription.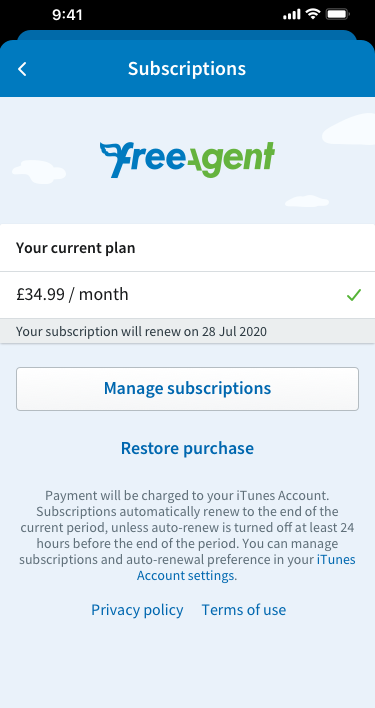 2Wait for your Apple subscription to expire
You can view the current status of your subscription in 'Settings'.
Contact our support team
Only once your subscription with Apple has expired, contact our support team. They will then switch you over to a direct FreeAgent subscription.