How to sign up to FreeAgent via the Apple App Store
This article explains how to create an 'Apple subscription' to FreeAgent by signing up via the Apple App Store.
Creating an Apple subscription
Begin by downloading the FreeAgent mobile app to your iOS device. Open the app and select 'Sign up'. Complete the relevant fields and select 'Next: Your Business' to create your FreeAgent account.
Next, select a subscription from the options provided. Please note that you will only see Apple subscription options.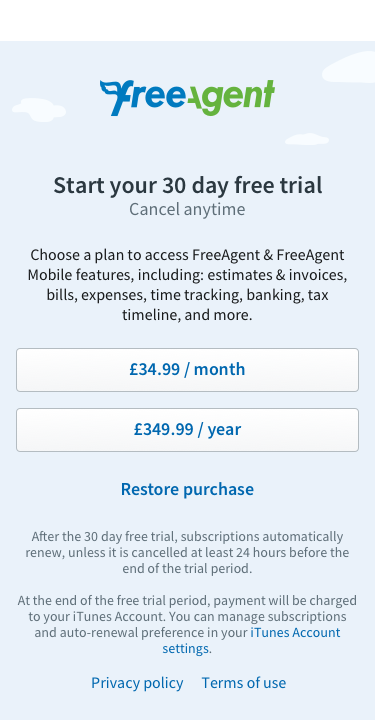 Once you've chosen a subscription option, log in to the FreeAgent mobile app to start your 30-day free trial.
Managing your Apple subscription
If you decide that you want to switch to a different Apple subscription option, tap the menu icon in the top-left corner, select 'Settings' and then choose 'Subscription'. Next, select 'Manage subscription' to select your preferred Apple subscription option. If you wish, you can also switch from an Apple subscription to a direct FreeAgent subscription at any time.
Once your free trial ends, your Apple subscription to FreeAgent will automatically renew unless it's cancelled at least 24 hours before the end of the trial period. All subscriptions payments will be charged to your iTunes account. If you don't want your subscription to renew automatically, follow Apple's instructions to cancel the automatic renewal of your subscription.