How to view your active Open Banking bank feeds
This article shows you how to check if you've enabled any Open Banking bank feeds.
Once you have set up an Open Banking bank feed, you can view all of your active Open Banking connections in the 'Connections' area.
1 Click on your business name at the top right-hand corner of the screen and select 'Connections'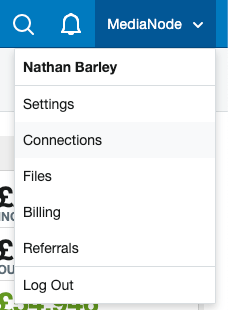 2 Select 'Manage Bank Connections'

3 Select a bank
Click View Details at the right hand side and you'll see all your current bank connections. Select a bank to view all the connected accounts from this bank.

4 View connected accounts
Here you'll see a list of bank accounts connected to that specific bank.
If you have any Open Banking connections, you'll see the 'FreeAgent Account' name, along with the status of the connection. Find out more about updating your bank feed here.

That's it!
If you have any connected Open Banking bank feeds you'll see them listed here as 'Active'. You can also see when you'll need to re-consent the feed, under the 'Renewal Due' column. Find out more about re-consenting your bank feed here.