How to set up a third-party provider bank feed for a non-UK bank
This article explains how to set up a third-party provider bank feed to automatically import transactions from a non-UK bank account into your FreeAgent account.
Instead of downloading and uploading bank statements, you can pull your bank transactions into FreeAgent automatically through a bank feed. FreeAgent supports Open Banking bank feeds, which connect directly to your bank, and bank feeds delivered by third-party providers for non-UK banks.
Please note that with the introduction of the PSD2 UK and EU banking regulations, many of our third-party provider bank feeds are no longer available. FreeAgent is unable to offer access to any EU bank services as a result of the UK's withdrawal from the EU on the 1st January 2021.
Banks outside the UK and EU are not covered by PSD2 regulations and so these bank feeds will be connected through our third-party provider, Yodlee.
See the full list of which bank feeds FreeAgent supports. If your bank isn't supported, you'll need to manually upload bank statements or manually enter transactions.
Before you start
Please note that you'll need to be registered with your bank for online banking to complete this process, and that you'll need to have any necessary security devices, like card readers, to hand.
1. Navigate to the relevant bank account
Navigate to the 'Banking' tab at the top of the screen and select 'Bank Accounts' from the drop-down menu.

New FreeAgent users
If you're new to FreeAgent, you'll see this screen. Select 'Connect your bank' to begin the process of setting up a bank feed.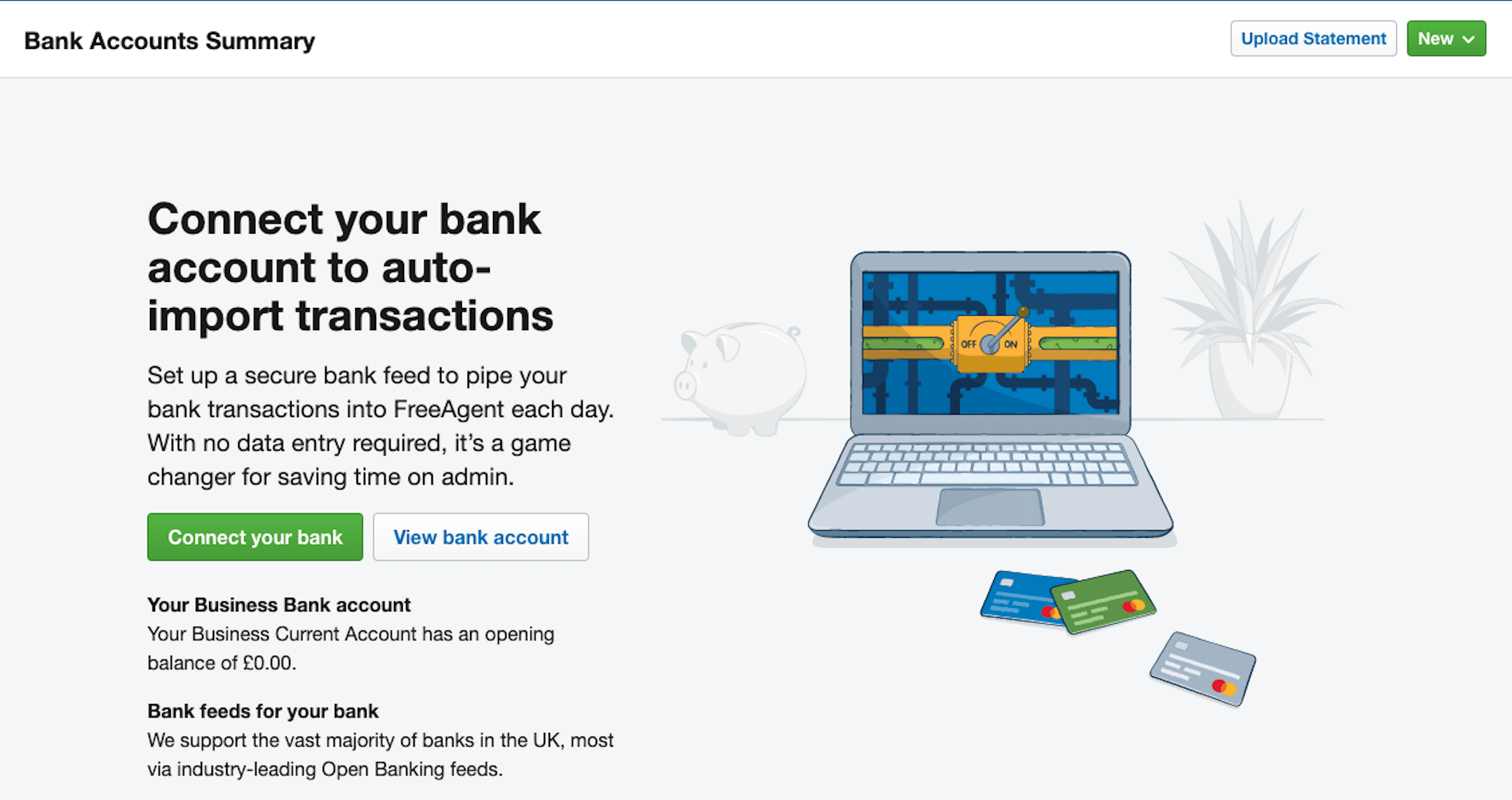 Existing FreeAgent users
If you've been using FreeAgent for a while, you'll be taken to the 'Bank Accounts Summary' page. Select the bank account you want to enable the feed for.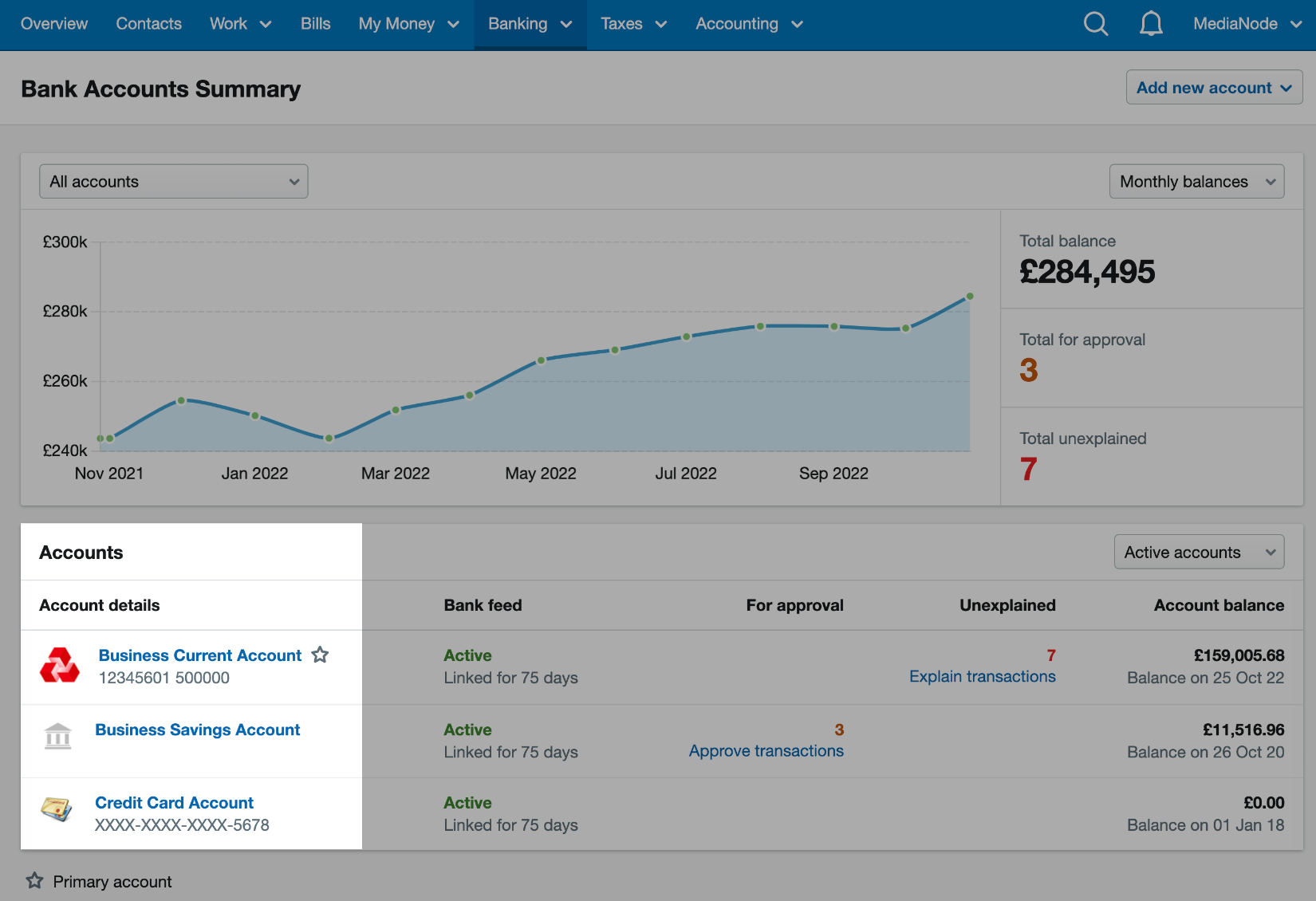 From the bank account page, select 'Enable Bank Feed' in the top-right corner.

2. Select your bank
Choose your bank from the 'Select your bank' area. If you can't see your bank, navigate to the search box at the bottom of the screen.
3. Enter your login details for this bank account
Fill in your login details then select 'Next Step'. Login details differ from bank to bank, so this screen may include other fields.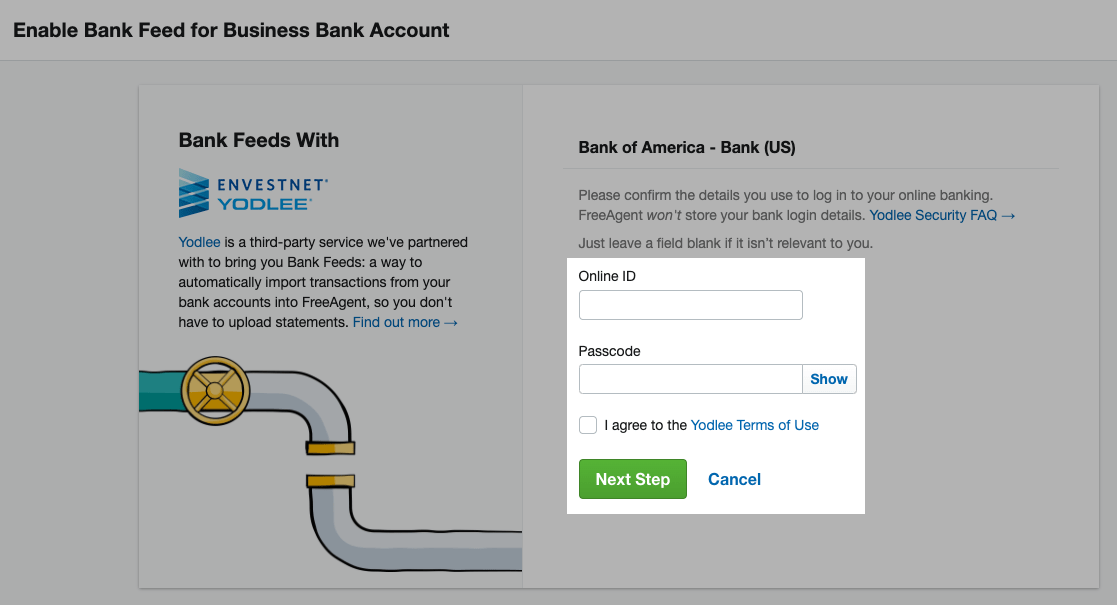 Depending on your bank's security setup, you'll see one of two possible screens. You may see the following: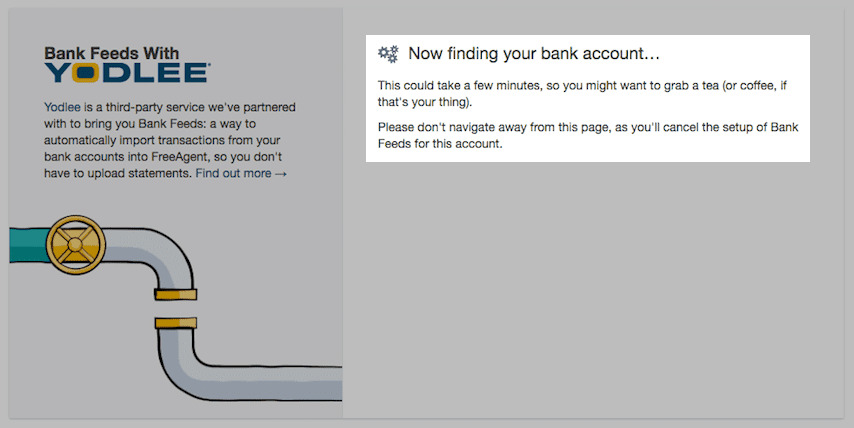 This means that you don't need to answer any further security questions, and Yodlee is now finding your bank account. This could take up to five minutes - don't navigate away from this page as this will cancel your bank feed setup.
Alternatively, you'll see the following screen: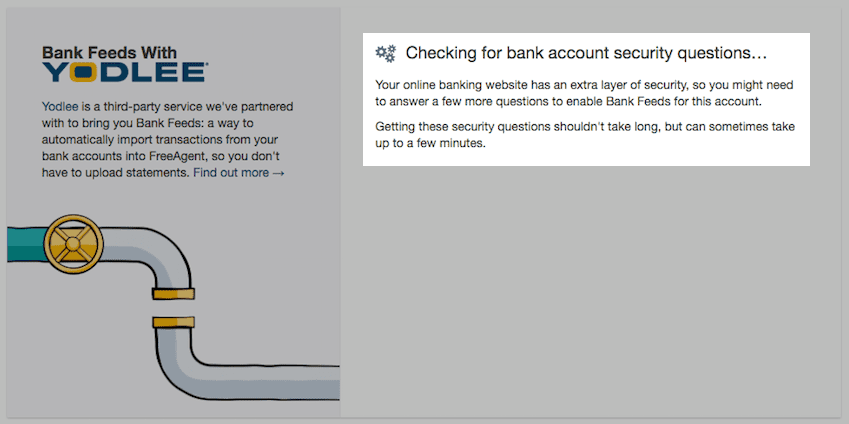 This means that Yodlee is checking to see if your bank requires you to answer further security questions in order to enable your bank feed. If they do, you'll then be prompted to answer those questions, which may appear similar to this: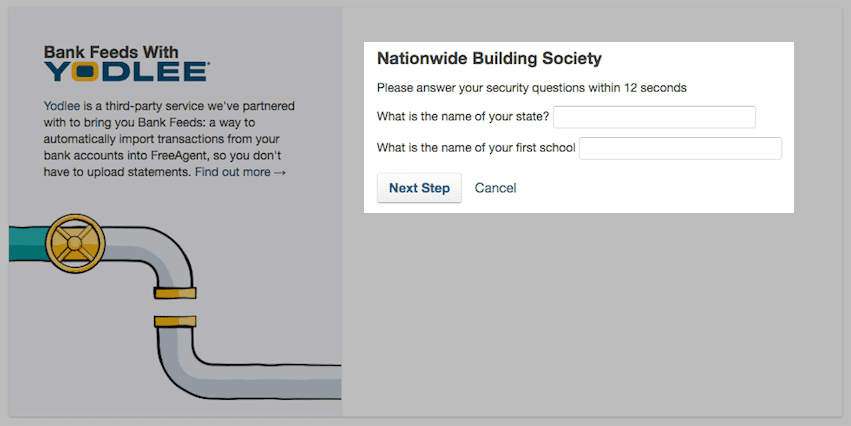 Once you have answered the questions, you'll see confirmation that Yodlee is finding your bank account: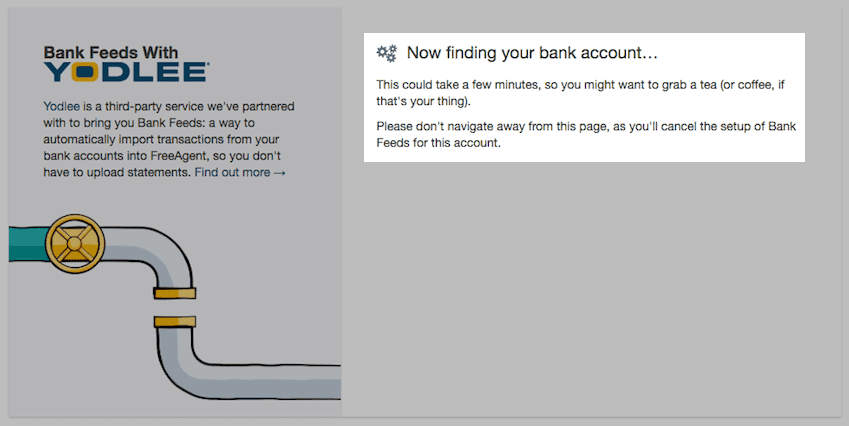 If your login details are not accepted, double-check that you've selected the correct online banking website as there may be multiple websites for your bank. If you selected the correct website but your login details are still not accepted, log in to your online banking to check that you're able to log in.
4. Confirm and enable your bank feed
Once Yodlee has found your bank accounts, confirm which one(s) you want to enable your feed for.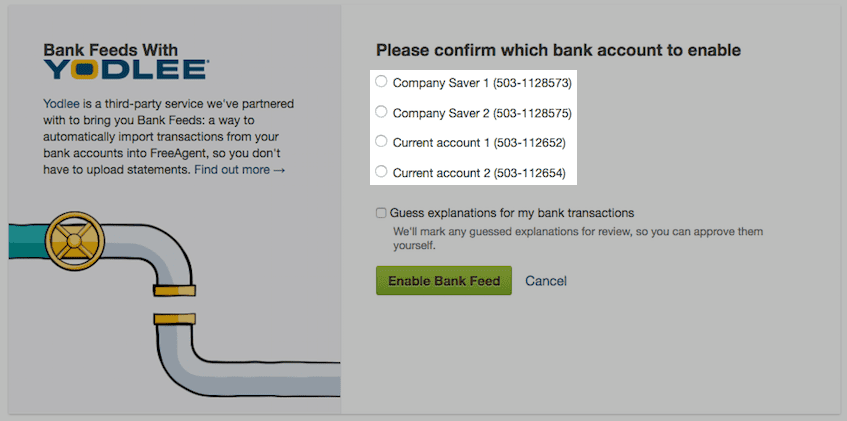 Selecting the 'Guess explanation for bank transactions' check box allows FreeAgent to attempt to automatically explain your transactions based on previously explained transactions. Transactions imported via bank feeds will be marked for review and require an extra step of approval.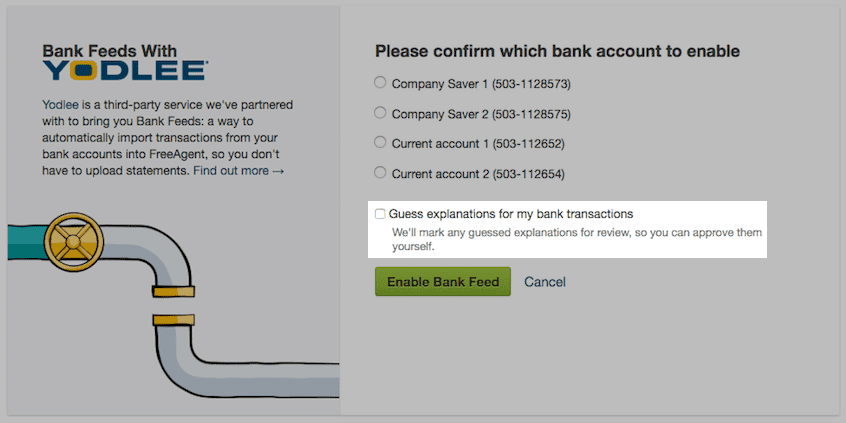 Finally, select the 'Enable Bank Feed' button to complete the process.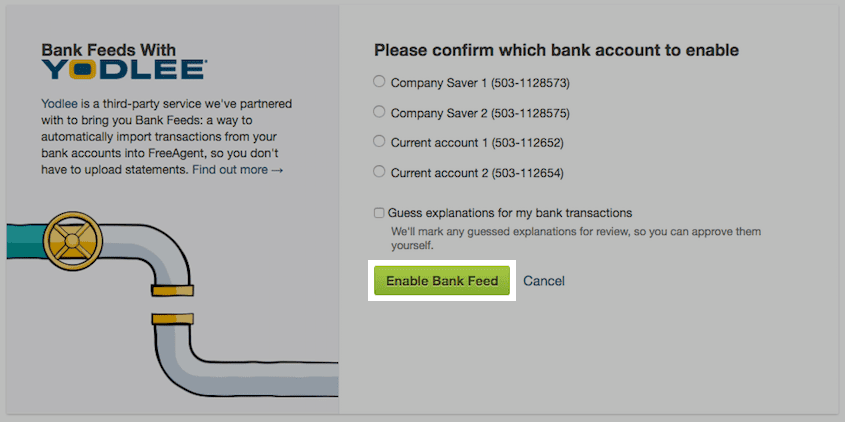 What happens next?
You should see a new bank feed panel on your bank account page:
Once the first batch of transactions has been imported from your bank (which can take up to 24 hours), the bank feed panel will display the date and time of the latest and next imports:
If your bank requires you to answer extra security questions for your bank feed, you'll see an 'Import new transactions' button displayed in the bank feed panel. Selecting this button will import new transactions. If you don't see this button your bank transactions will be imported automatically every 24 hours.
Select 'Import new transactions' at least once every 30 days to ensure all transactions appear.
The bank feed panel will also display an alert whenever there are technical problems preventing new transactions from being imported.
As you use the feeds on an ongoing basis, make sure to check your bank balance regularly against your bank account in FreeAgent to make sure they match.
Third-party provider feed security FAQs
Why have you partnered with Yodlee?
At the moment, using a bank aggregation service is the best way that we can provide bank feeds from a wide range of financial institutions and Yodlee is one of the world leaders in bank aggregation. Over 40 million consumers worldwide, 600 global financial institutions, and 8 of the top 10 US banks have trusted Yodlee to deliver bank aggregation.
What about security?
Yodlee protects your data with strong security measures and regular security and compliance audits. Yodlee undergoes examinations by US Banking regulators including the Federal Financial Institutions Council and the Office of the Controller of the Currency. They are certified as a Payment Cards Industry (PCI) Level 1 Service Provider and have EU Privacy Safe Harbor certification.
How does Yodlee use my login details?
Yodlee will only ever use your securely stored login details to retrieve transactions from your bank's banking website.
Does using Yodlee violate my bank's Terms and Conditions?
This is an important issue, as some people feel that using Yodlee is in violation of the Terms and Conditions of some banks.
Different banks have different stances on the use of bank aggregation, so you should make an informed decision about whether bank feeds are right for you.