How to re-consent a Mettle bank feed
This article explains why Open Banking bank feeds require re-consent every 90 days and how to re-consent your Mettle bank feed connection.
To make sure your Open Banking bank feed is kept active, you'll need to reconnect and re-consent with your bank every 90 days as part of the Open Banking standard.
Reconnecting your bank every 90 days ensures that your account is secure and that you're in control of the apps that access your banking data.
You can re-consent your Mettle feed within FreeAgent or you can re-consent your bank feed via the Mettle app.
How to re-consent within FreeAgent
To re-consent your Mettle bank feed from within FreeAgent, navigate to the 'Banking' tab at the top of the screen and select 'Bank Accounts' from the drop-down menu.

Select the Mettle bank account from the list.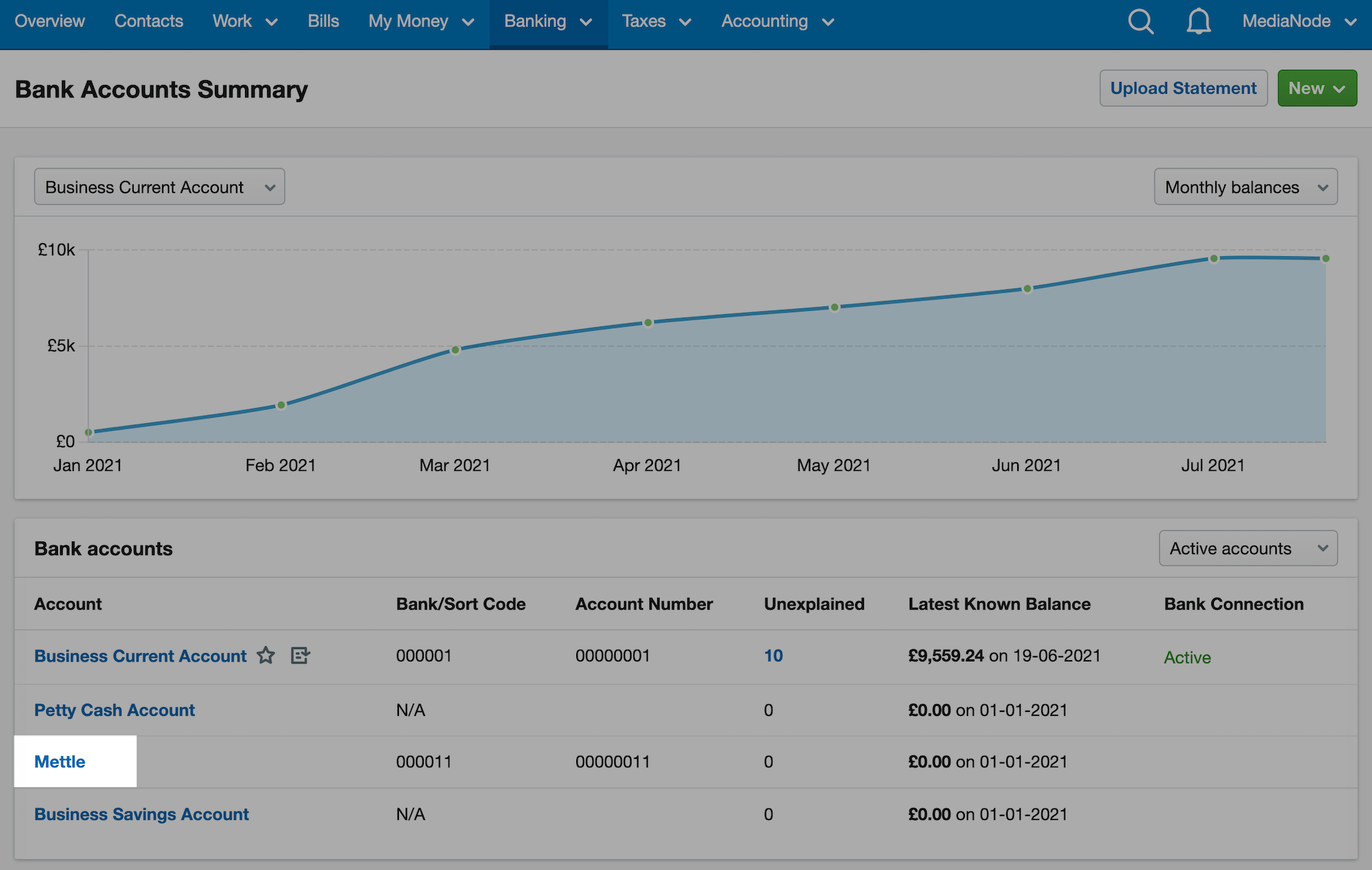 FreeAgent will display an 'Expiring soon' warning in the 'Bank Connection' box on the right-hand side of the screen 10 days before a bank feed is due to expire. When this alert appears, select 'Update connection'.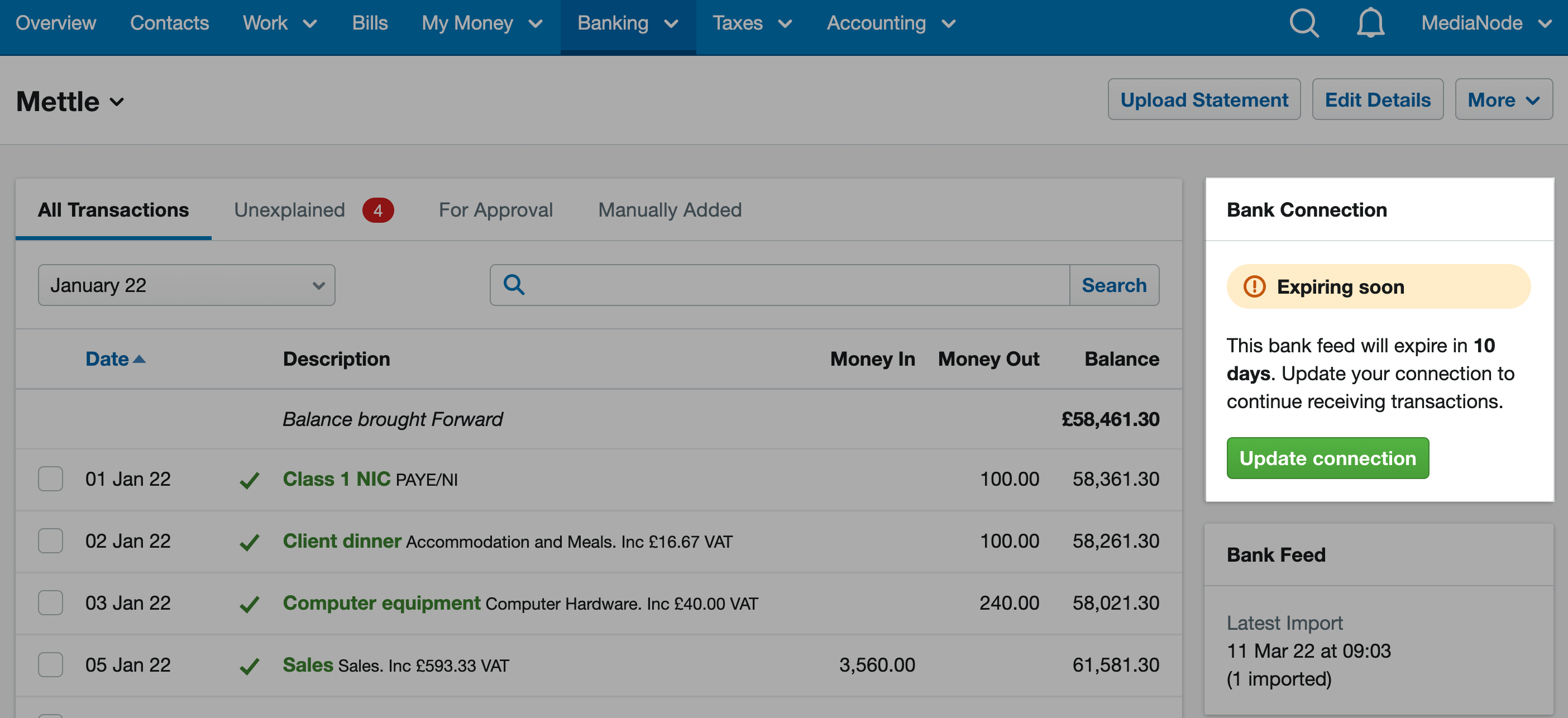 To begin the re-consent process, select 'Continue'.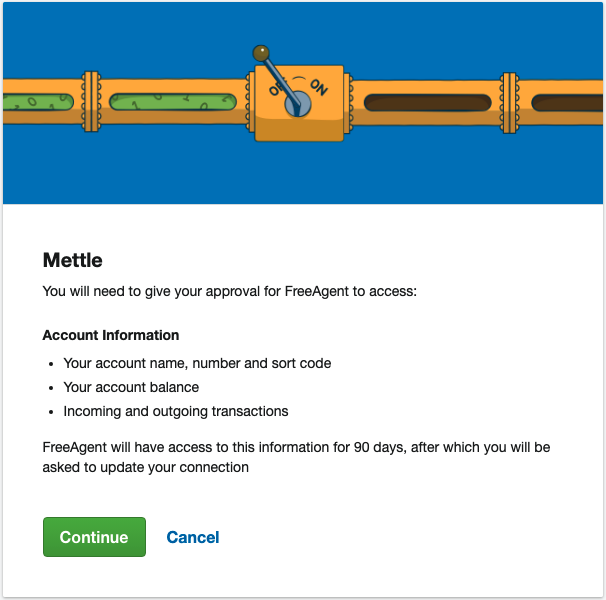 Review the bank account listed and select 'Update your accounts' to complete the process.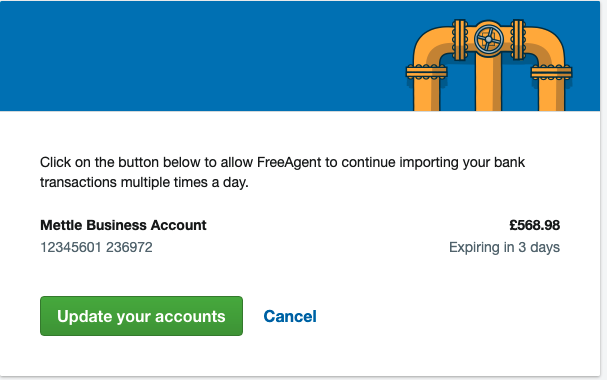 Afterwards, you'll be taken back to your FreeAgent account and your bank feed will function as normal for the next 90 days, after which you'll need to re-consent it again.
How to re-consent via the Mettle app
Please note that you will still receive an alert in the Mettle app that will let you know when you need to renew the consent. To re-consent via the Mettle app, open the Mettle app, tap 'Connections' on the account screen, choose 'FreeAgent' and select 'Refresh Consent'.
What happens if I don't re-consent my bank feed in time?
Should the consent expire, then the connection will be removed and you will need to enable the bank feed again by following these steps. Once reconnected, the feed will import data from your last transaction date, so there should be no missing transactions.