GoCardless: setting up the integration
A guide to setting up the integration between FreeAgent and GoCardless so you can take online payments from your customers.
GoCardless is an online payment service that can integrate with your FreeAgent account to allow you to take online payments from your customers. GoCardless works by taking Direct Debits from your customer's bank account, charging you 1% of the transaction value, up to a maximum £2.00. Here's how to set up the GoCardless integration.
Step 1: Enable GoCardless
Begin by selecting 'Connections' from the drop-down menu at the top-right hand side of the screen.

From there, select 'Manage GoCardless'.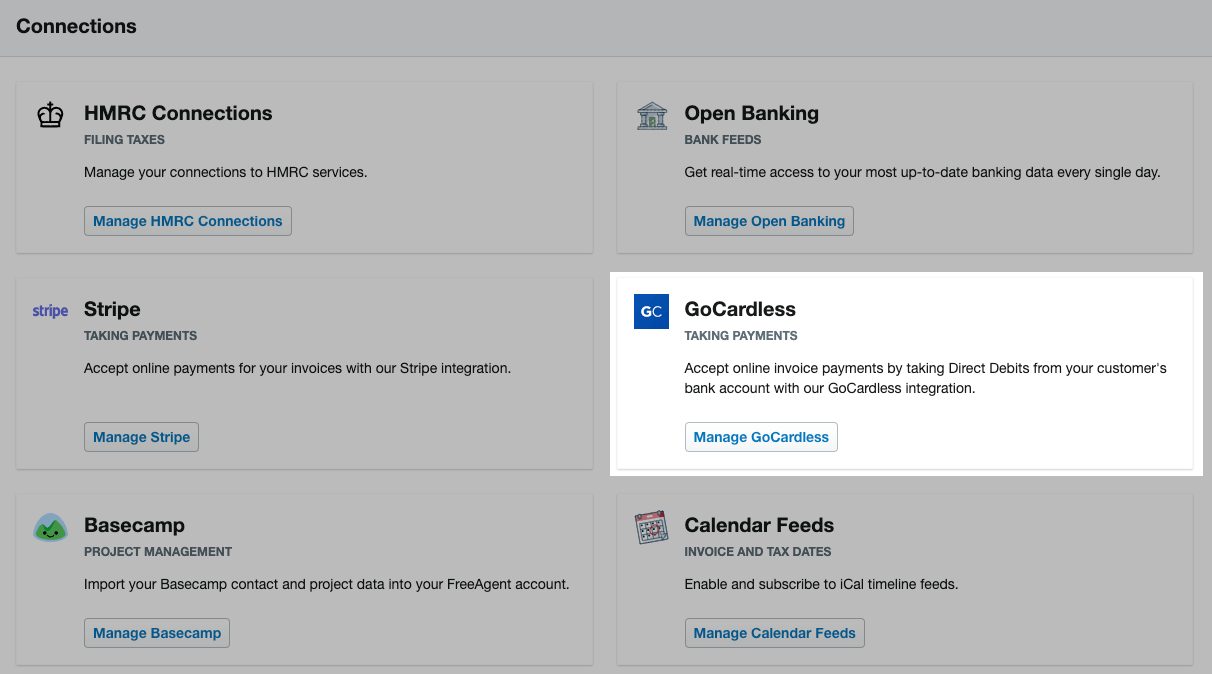 Select 'Enable GoCardless' from the GoCardless welcome screen in FreeAgent.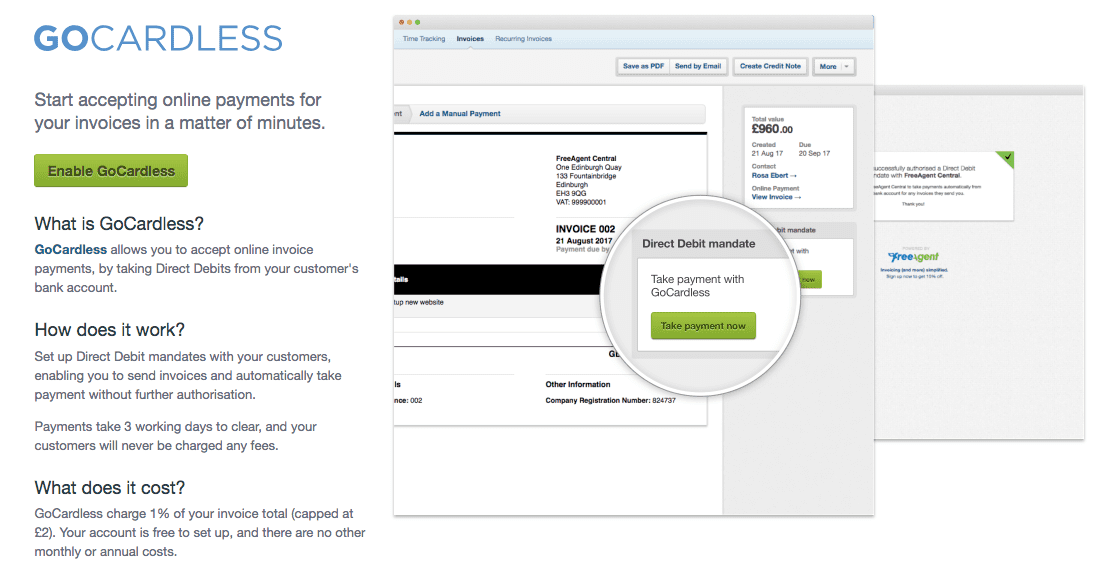 Step 2: Sign in to GoCardless or create your GoCardless Account
If you've never used GoCardless before, you can create a new account here then sign in. If you already have a GoCardless account, simply sign in to connect your GoCardless account to FreeAgent.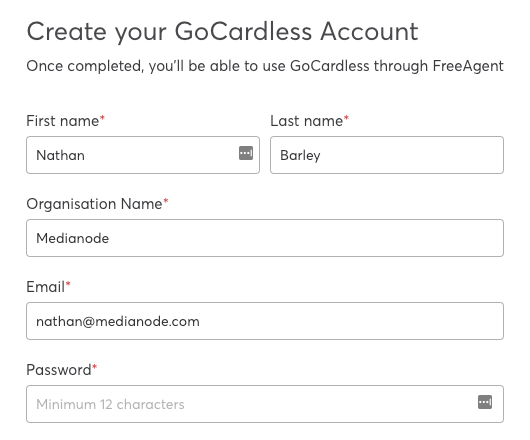 Once you're signed in, you can confirm the connection between FreeAgent and GoCardless. This will enable the integration.

Once you've set up the integration, your customers can authorise a Direct Debit mandate, which will allow you to take payments automatically (up to £5,000 per invoice). If you need to increase this, contact GoCardless directly.
Auto-reconciling invoices
Once you've enabled the GoCardless integration, you can set FreeAgent to automatically mark invoices as paid when GoCardless pays the money into your bank account. This will also automatically reconcile the fees that GoCardless issues to you each time you use the service. To enable this, go to the Settings > GoCardless page and select the bank account where the funds will be paid into.

When you do this, FreeAgent will automatically create a new 'GoCardless Account' bank account in FreeAgent. This is different from normal bank accounts in FreeAgent, in that it's solely used to record the details of invoice payments and refunds from GoCardless.
How the GoCardless bank account works
When a customer pays an invoice and the funds are transferred into your bank account, GoCardless notifies FreeAgent. At this point, FreeAgent creates transactions in the 'GoCardless Account' explaining the invoice payment and accounting for the GoCardless fees.
FreeAgent also creates a transfer transaction between the 'GoCardless Account' and the bank account you selected when you enabled the auto-reconciliation.
When you import the transactions into your account (by bank feed or statement upload), you then just need to match the manual transfer with the corresponding transaction.