Paid dividends
Here's how to record a dividend when it's actually been paid out of the company's bank account.
Under 'Banking', find the uploaded transaction, or create a new transaction manually.
Money Paid to User > Dividend
Explain it with type Money Paid to User (remember that this type is only available from business bank accounts, not personal ones).

More than one shareholder
If your company has more than one shareholder, you're likely to be paying a dividend to more than one person at one time, and if you're uploading your bank transactions, your bank may have grouped this together on your bank statement. In FreeAgent you can only record dividends paid to one user at a time, so you may need to alter the amount of the payment to one user's dividend.
Choose the user to whom this dividend was paid. Any shareholders who are receiving dividends need to be set up as shareholders, or employees, or directors in the Users area.

Under Category, choose Dividend.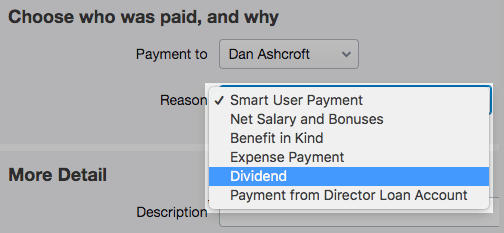 Create the new transaction.
The Dividends screen
If you then go to Dividends on the My Money menu, you'll see that FreeAgent has posted this dividend here.

Selecting this dividend will show you the voucher and board minutes.
Remember that if you altered the amount of the payment earlier because the company was paying more than one user's dividend at once, you'll now have an extra transaction to explain, so you'll need to go through this process again to explain the dividends paid to the second and any other shareholders.