Recording new mileage - Universal
A guide to recording mileage travelled on business in your own car in FreeAgent, if you have a Universal account.
First click Expenses from the menu bar.

Then click Add New Mileage.

The New Mileage screen appears.
Put in the date on which you made the journey, how far you travelled (remembering to double the distance there if you made a return journey), and why you made the journey. The last is important because some journeys may be allowable for tax relief while others aren't. Check the rules in your country.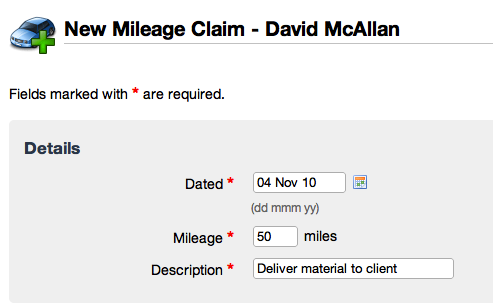 Now put in the rate at which you want your business to pay you back personally for the mileage. The amount you can claim without incurring extra tax may again vary from country to country.

If a customer is going to pay your business back for this mileage, put in which project you're going to be paid back as part of, and put in the rate at which your customer is going to pay your business back. This is different from the rate above which was for your business paying you back personally.

If you're going to do this journey regularly, use the Recurring option.
You can also add an attachment here such as a tax receipt.
Finally, click Create New Expense to save that journey, Create and Add Another to save that journey and enter another, or Cancel to close without saving.