Manage clients
How to manage clients through your account manager dashboard.
By account manager
If you want to see just your own clients, select the My Clients tab.

If you are a senior account manager, and want to see the clients assigned to your colleagues as well, select the All Clients tab.

By client information
You can search for a client using their business name, subdomain, client name or client email address by typing that information into the Search box and selecting the Search button.

Client status
You can choose to search for active, inactive or demo clients using the drop-down menu.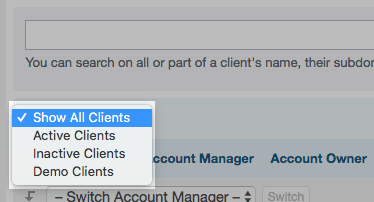 A note on active, inactive and demo clients
When you first set up an active client, they will have a fully functioning account and will be added to your next FreeAgent invoice.
Your practice won't be charged for inactive clients, but you will only be able to access these accounts in a read-only view and your inactive clients won't be able to access their accounts.
If you would like to show prospective clients around FreeAgent using a demo account with dummy data, we'd be happy to set that up for you. Please either email us on sales@freeagent.com or call us on 0800 025 3900 or 0131 543 2172.
Edit a client
To edit a client, find them on the list, then hover over that row with the mouse pointer.
You'll see two buttons appear on the right-hand side of the screen, Edit and Switch to. Select Edit.

This lets you change any of the client's information you need to. Remember that the company type can't be changed here.
Client overview
If you just want to see the client's mini-P&L from the overview screen, select the client's name on the list.

You'll then see the mini-P&L, and also a summary of the client's information.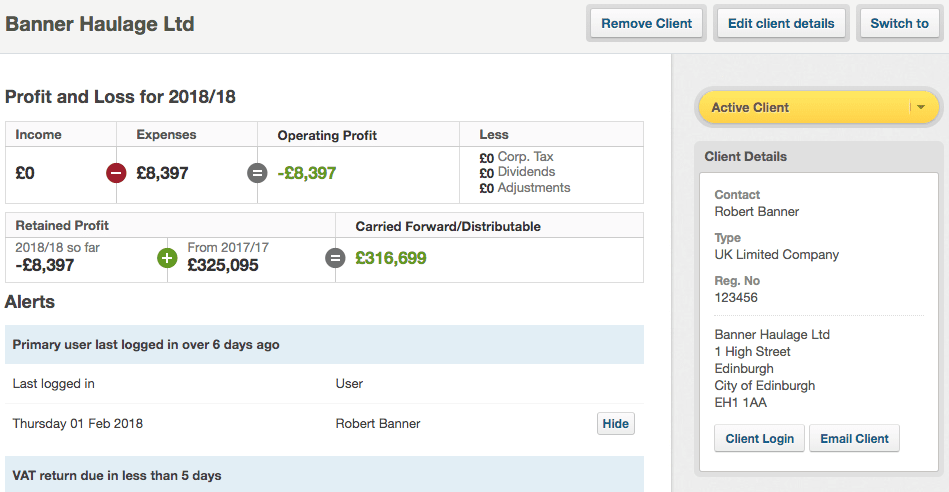 Access the client account
From the list of companies, hover over the client's row with the mouse pointer, and select the Switch to button.

Or, when you're looking at the overview, select the Switch to button.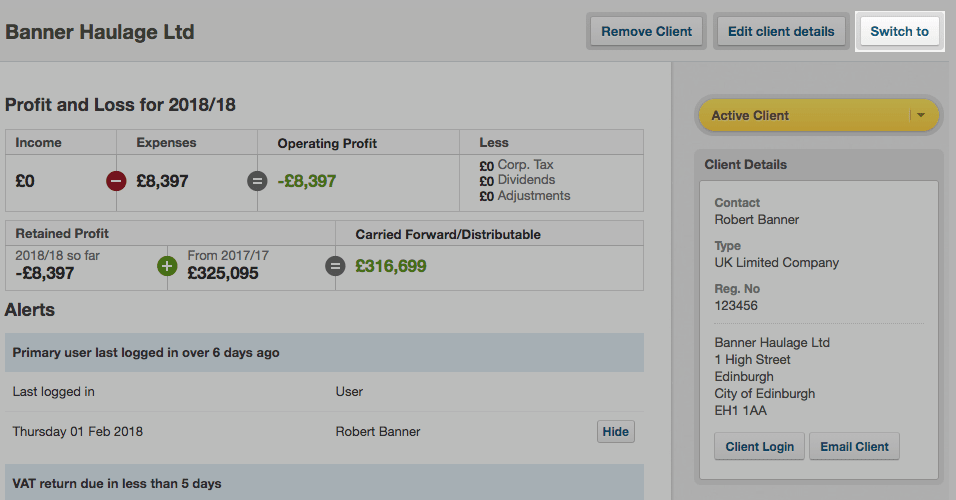 This will take you into that client's account so that you can view their information and make entries such as journals for your client.