Receiving invoice payments - Stripe
Here's how to start accepting debit and credit card payments for your FreeAgent invoices using Stripe.
Stripe lets your clients pay you by debit or credit card. Stripe charges you:
1.4% + 20p for European-issued cards (Visa, Mastercard and American Express)
2.9% + 20p for non European-issued cards
You can also collect invoice payments online using PayPal and GoCardless.
Setting up Stripe in your FreeAgent Account
Step 1: Enable Stripe
Go to 'Connections' and select 'Manage Stripe'.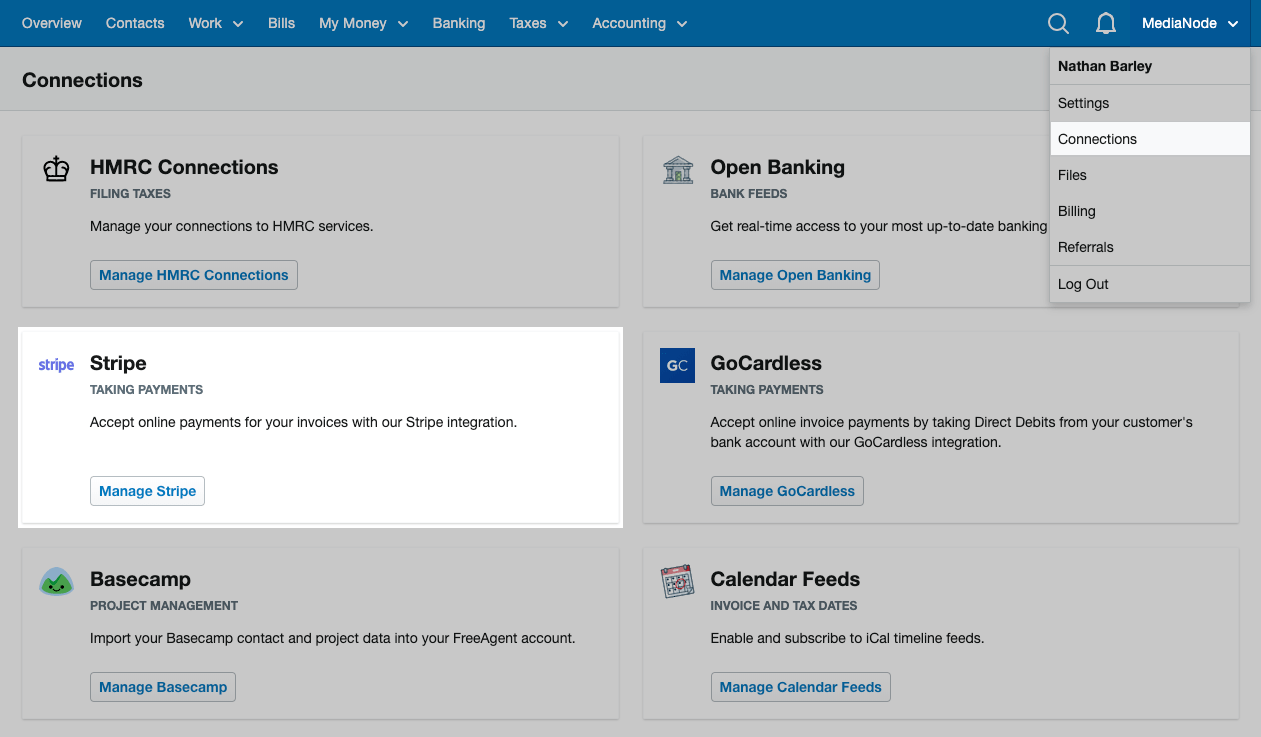 Select 'Connect with Stripe'.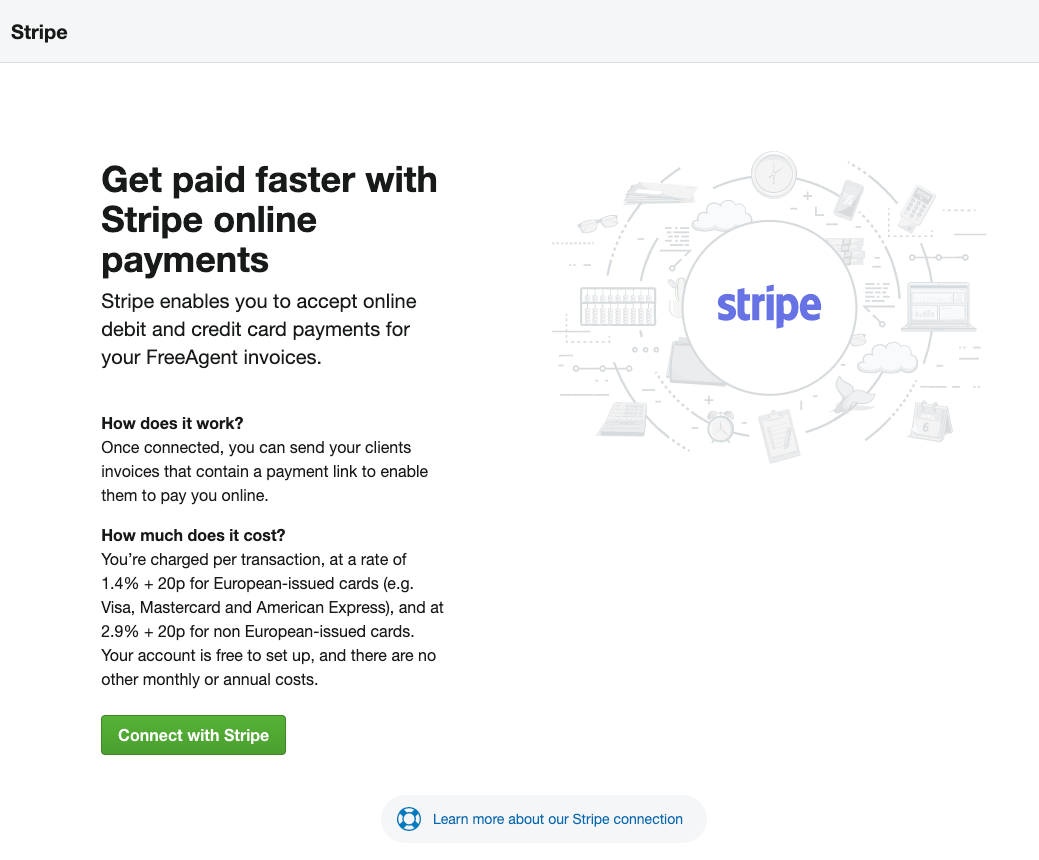 2 Sign in to Stripe or create your Stripe Account
If you've never used Stripe before, fill in the form to create a new Stripe account. If you already have a Stripe account you'd like to use, you can select 'Sign in' to connect your Stripe account to FreeAgent.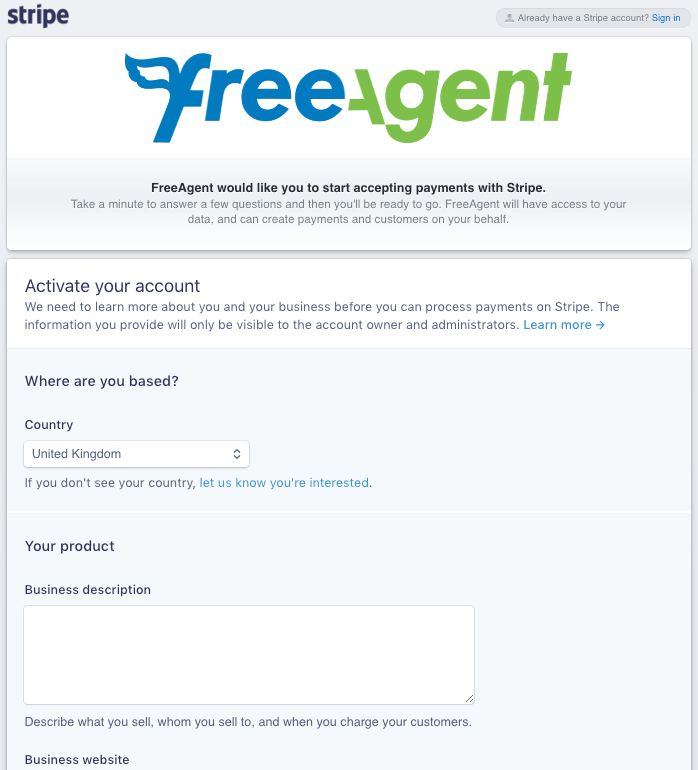 Once you've created a Stripe account, or signed in to Stripe, you'll be taken back to the Stripe screen in FreeAgent.
If you ever want to disable Stripe in your FreeAgent account, you can go to 'Settings', 'Connections' and select 'Manage Stripe' from the Stripe section.
Step 3: Create an invoice
When you create an invoice, you'll see the option to accept online payments using Stripe.
When adding the invoice details, select 'Online payment options - Stripe' and then create the rest of your invoice as normal. You can use Stripe as a payment option for any invoice in a currency supported by your Stripe account.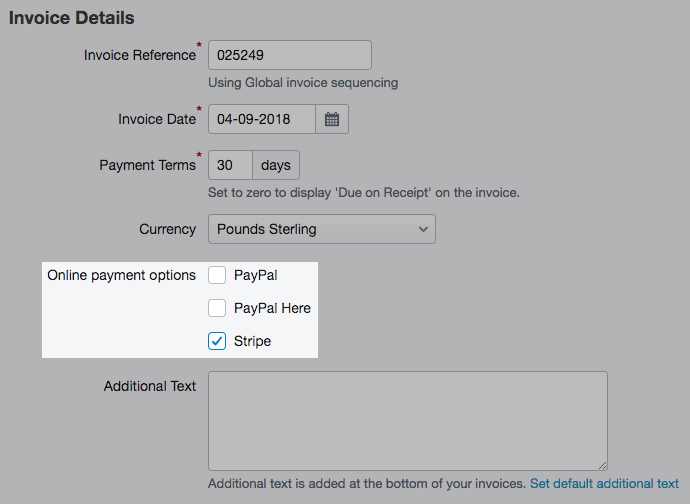 When you are emailing your invoice, include an [online_payment_link] tag in the body of the email. This will embed an online payment link in the email that your client will receive. This link will let your client pay your invoice using a debit or credit card, via your Stripe account.
How this works for your clients
When your client receives your invoice via email, they can follow the online payment link you previously added to your email. This will show them your invoice, along with the option to pay by Credit Card via Stripe. Any other payment options you enabled while creating your invoice, such as PayPal, will also be available here.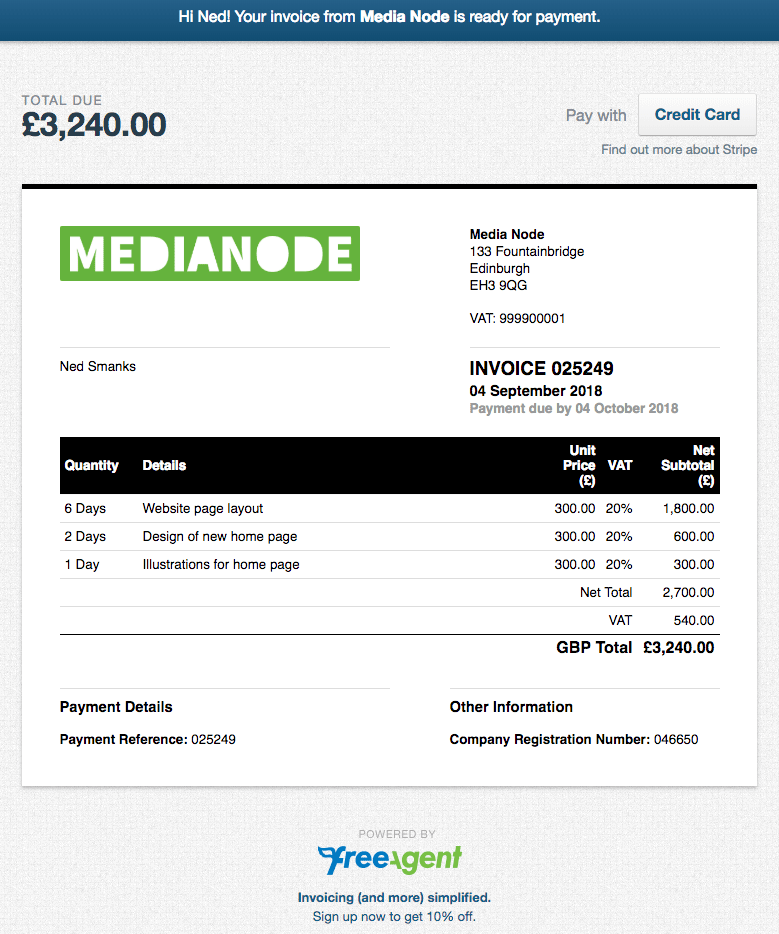 Receiving payments
As soon as a payment is made by your client you should receive a confirmation email. Payments made with Stripe take 7 days to appear in your bank account. It's also worth noting that if a payment made with Stripe doesn't go through from your customer's account, it can be 5 days before Stripe are notified by the bank. While payments are pending or being processed, FreeAgent will stop sending automatic email reminders.
Stripe Invoice Payment Status
As soon as your client has made a payment using Stripe, viewing your invoice will show a payment status of 'Payment Processing' while FreeAgent waits for Stripe to confirm that the payment has been transferred to your account.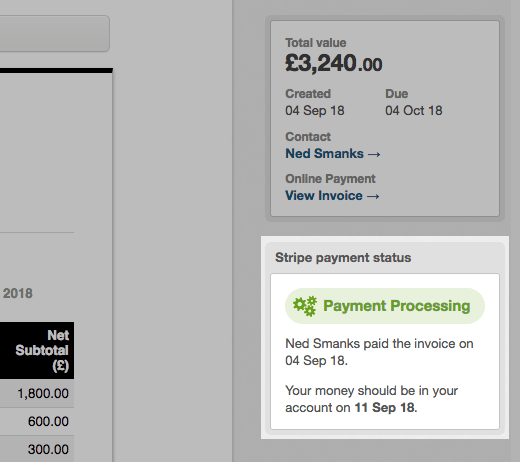 Finally, once the payment is transferred into your bank account you'll see a 'Payment Complete' status.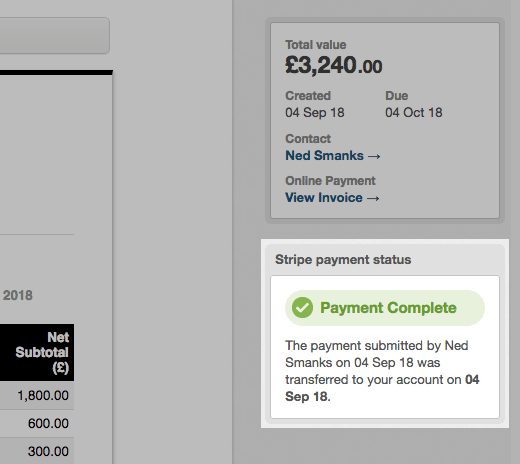 Remember that even when you see this status you still need to feed in or upload the transaction from your bank and explain it as an Invoice Receipt against that invoice.
In the event that the transfer fails, you will see a 'Payment Failed' status. This usually means that there was an issue with the bank account you have set up in Stripe. In this instance your client will still have been charged for your invoice. You should fix the issue with your bank account or get in touch with Stripe for more details. You can then retry the transfer from your Stripe dashboard.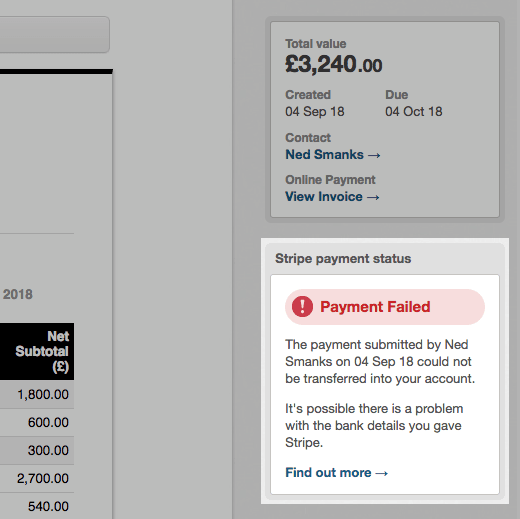 How to account for Stripe fees in FreeAgent
Wondering how to account for automatically deducted Stripe fees in FreeAgent? Find out here.