Bank Feeds automatically import transactions from your bank account into your FreeAgent account. There are two kinds of bank feeds - Open Banking and through our third-party provider.
Instead of downloading and uploading electronic statements, you can pull your bank transactions into FreeAgent automatically through a bank feed. There are two types of bank feeds in FreeAgent: Open Banking bank feeds, which connect directly to your bank, and bank feeds delivered by our third-party provider. The setup process for both is largely the same; follow the steps below to find out which type of feed is available to you.
1 Navigate to the 'Banking' tab
New to FreeAgent?
If you're new to FreeAgent, you'll see this screen. Simply click 'Enable a bank feed'.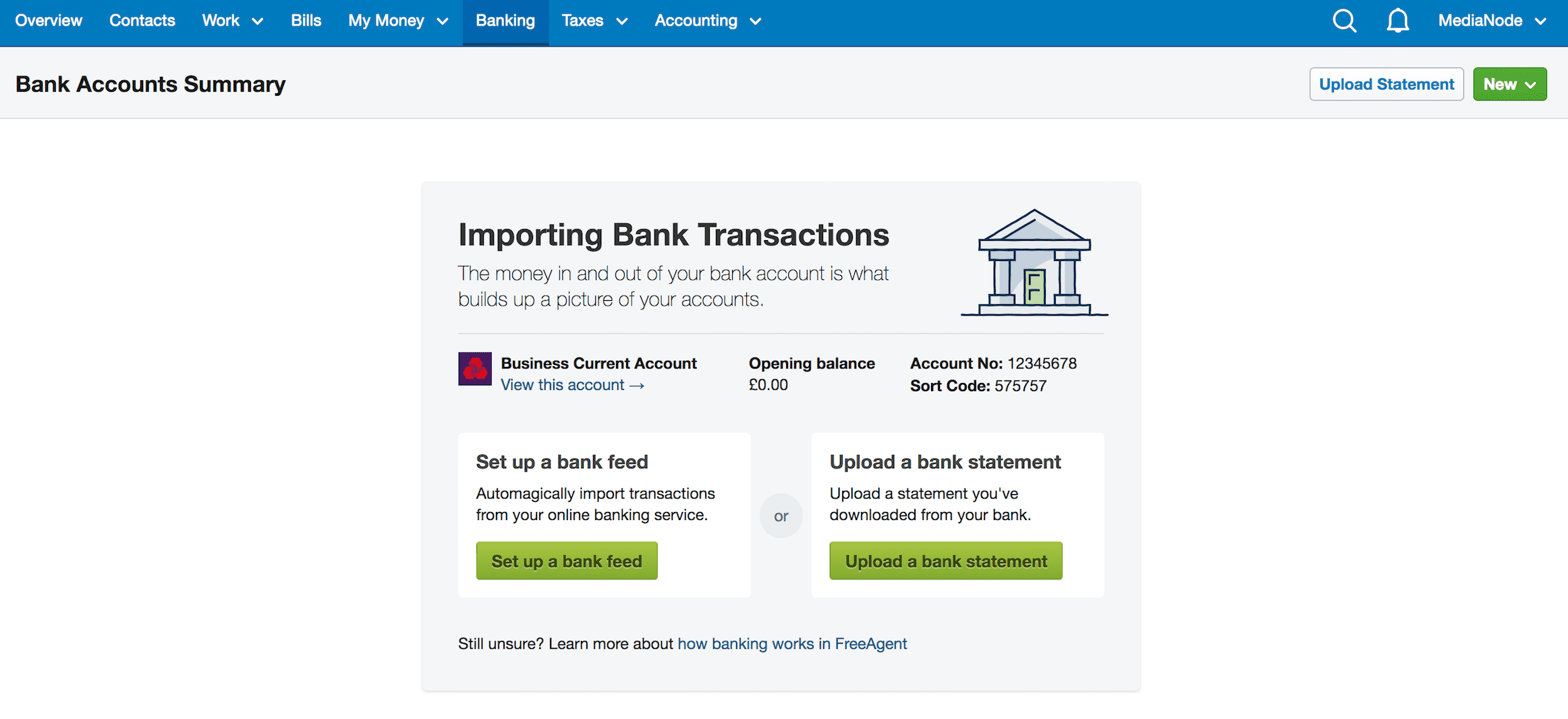 Existing FreeAgent users
If you've been using FreeAgent for a while, you'll probably be taken to the 'Bank Accounts Summary' page. From here, click to enter the bank account you want to enable the feed for. If you've had a bank feed set up in the past, you'll need to follow these instructions to make sure it's correctly disabled.

Then, select 'Enable Bank Feed' at the top right of the screen.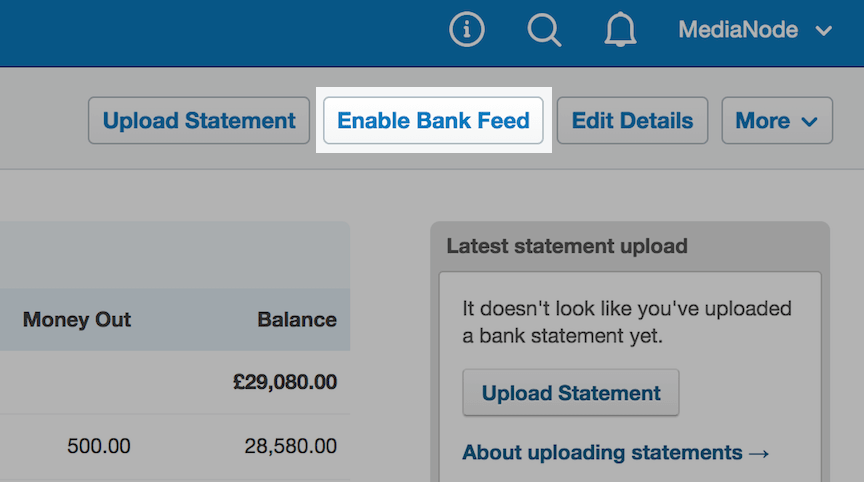 2 Select your bank
Choose your bank from the 'popular feeds' area, or if you can't see your bank, navigate to the search box at the bottom of the screen.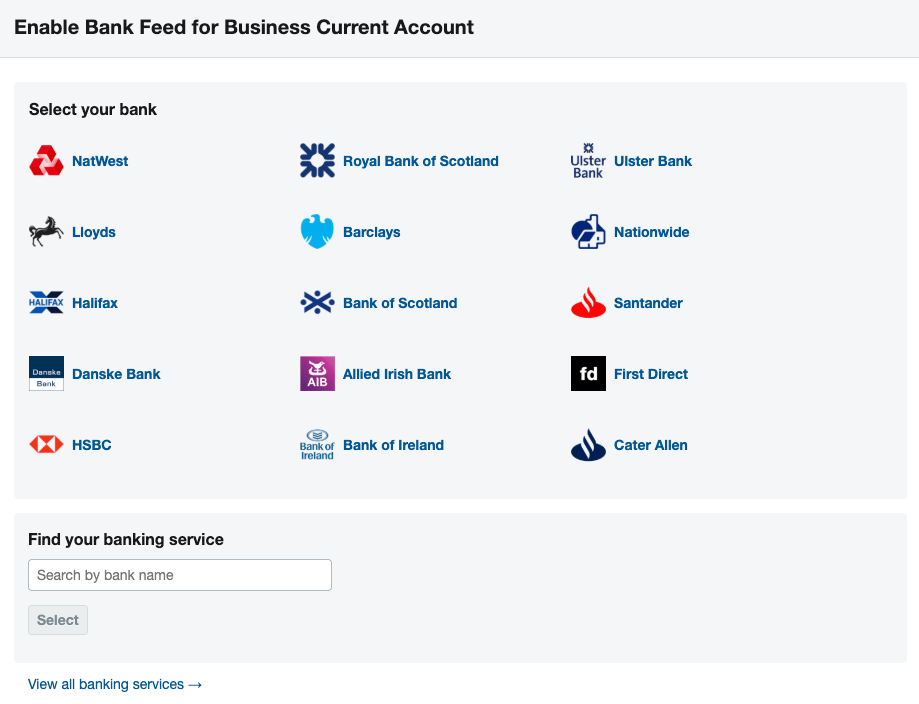 3 Select the account type
Select the account type that you want to connect, for example, a current account or a business account.
Banks and accounts not currently eligible for Open Banking will be connected through our third-party provider bank feed set up. We are adding more banks and account types regularly, so check back soon if your bank account isn't supported right now.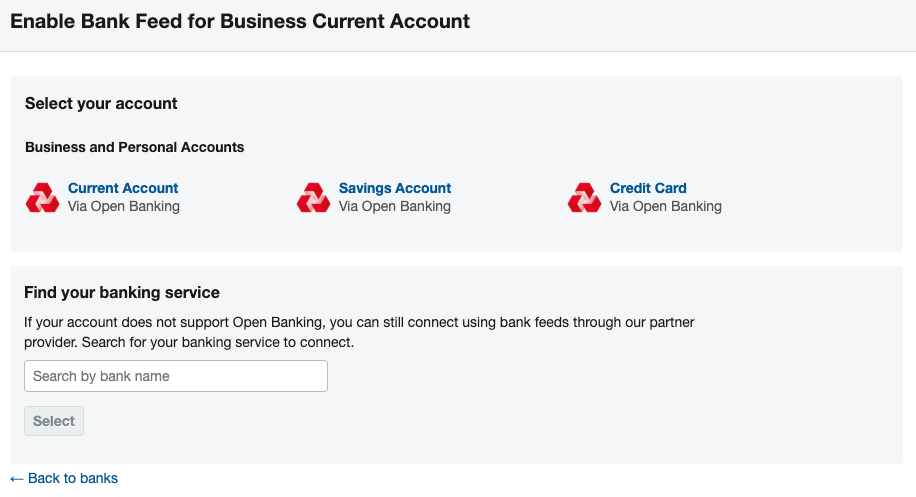 How to set up an Open Banking bank feed
These steps show you how to set up an Open Banking bank feed. If your account is supported by a third-party provider feed, please scroll down, or follow this link. Steps 1 through 3 shown above are the same for both bank feeds.
Please be aware that you will need to be registered with your bank for online banking to complete this process.
If you already have an existing FreeAgent bank feed set up for that bank account, it's very important that you disable that bank feed before setting up a new Open Banking feed for it.
4 Consent for connecting to your bank
Select 'Connect to your bank account', this provides us with your consent to access your account details.
As part of the Open Banking Standard, we need you to give your explicit consent every 90 days to connect your bank account to FreeAgent. When it's time to re-consent, we'll let you know.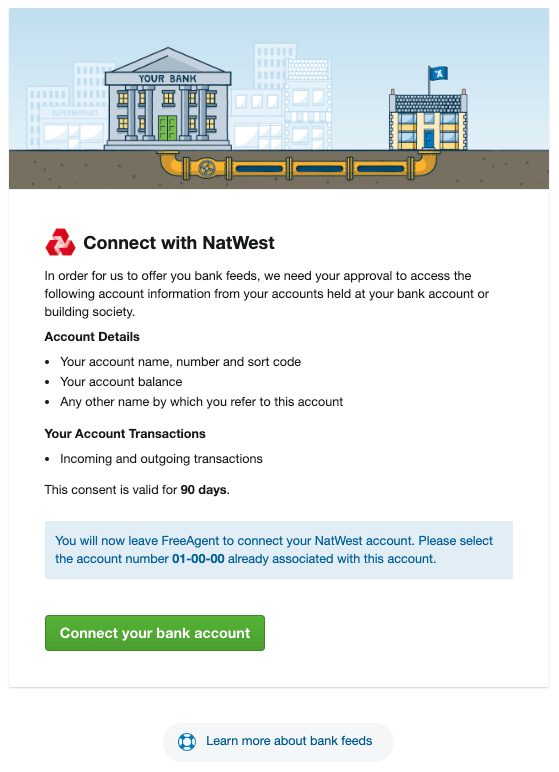 5 Authorise the connection with your bank
Next, you'll be taken to your bank's website to authorise the connection process. This process may differ from bank to bank, so please follow the prompts given to you by your bank to complete the connection setup with FreeAgent.
6 Connection successful!
Your Open Banking bank feed is now enabled. You just need to confirm or select a FreeAgent bank account to associate with the feed, as well as your transaction start date. Please note that your transaction start date cannot be earlier than your FreeAgent start date.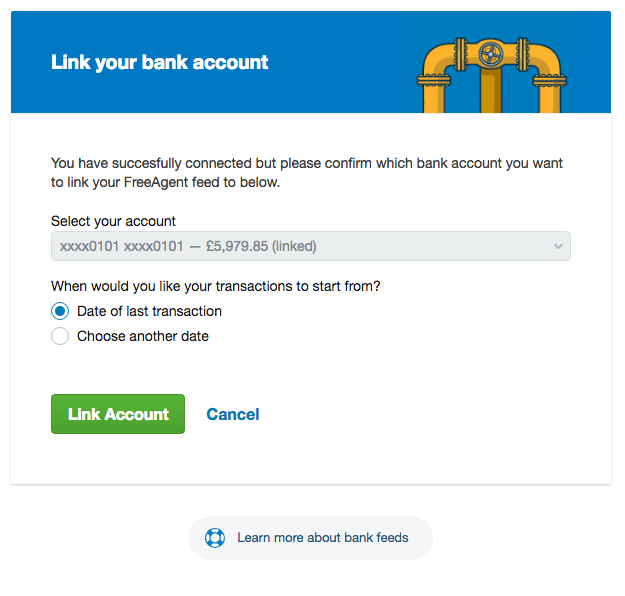 And that's it!
Select 'Show me my transactions' and you'll be taken back to the main banking screen.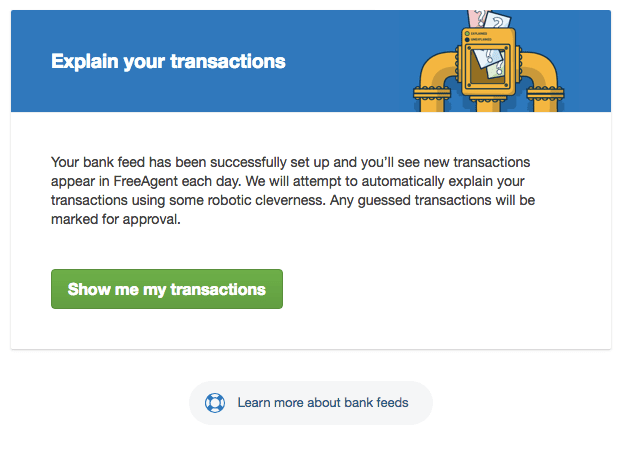 On the banking screen, you'll see that your bank feed is currently pending. Your feed should start pulling through transactions very soon, so hold tight!
Please note that the remainder of this article only applies to setting up third-party provider feeds, so if you have an Open Banking feed, your setup is now done and dusted!
---
How to set up a third-party provider bank feed
Your bank account might not be eligible for Open Banking yet, so your bank feed will be connected through our third-party provider, Yodlee. Steps 1 through 3 shown above are the same for both bank feeds.
To find out more, check out our articles on Frequently Asked Questions and third-party provider security.
4 Enter your login details for this bank account
Fill in your login details then select the "Next Step" button. Login details differ from bank to bank, so this screen could include other fields.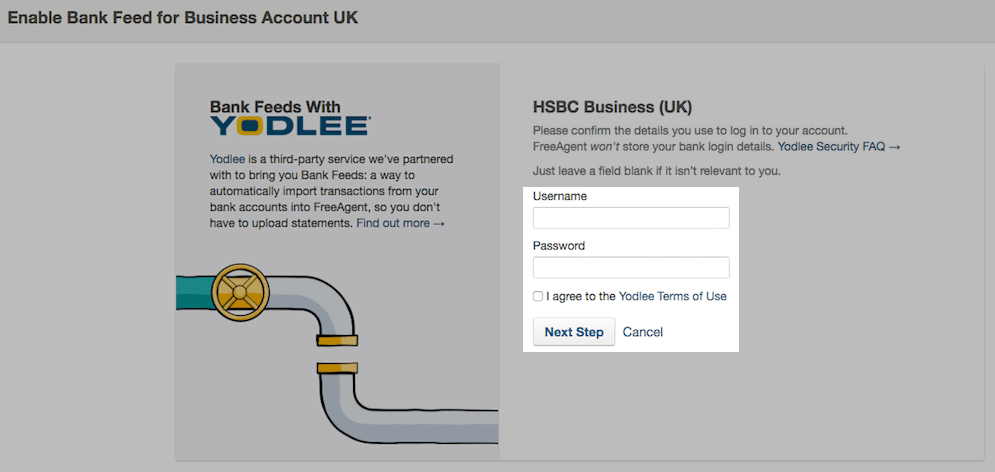 Depending on your bank's security setup, you'll see one of two possible screens next. Either you'll see the following: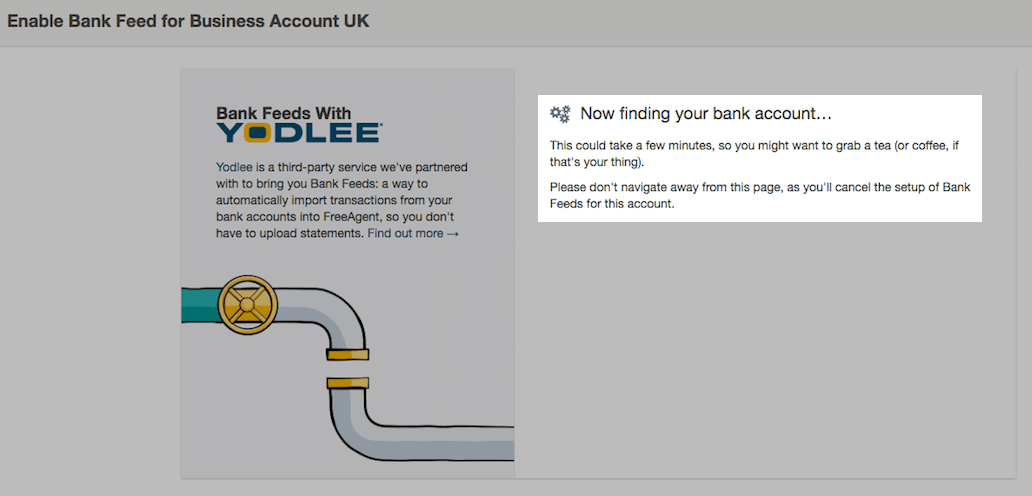 This means that you don't need to answer any further security questions, and Yodlee is now finding your bank account. This could take up to 5 minutes - don't navigate away from this page as this will cancel your bank feed setup.
Alternatively, you'll see the following screen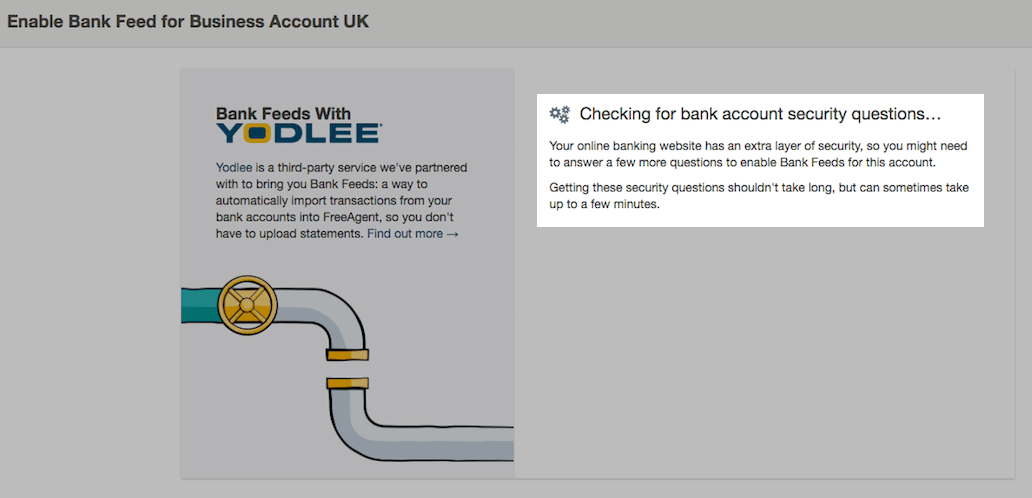 Yodlee is now checking to see if your bank requires you to answer further security questions in order to enable your bank feed. You'll then be prompted to answer those questions, which may appear similar to this: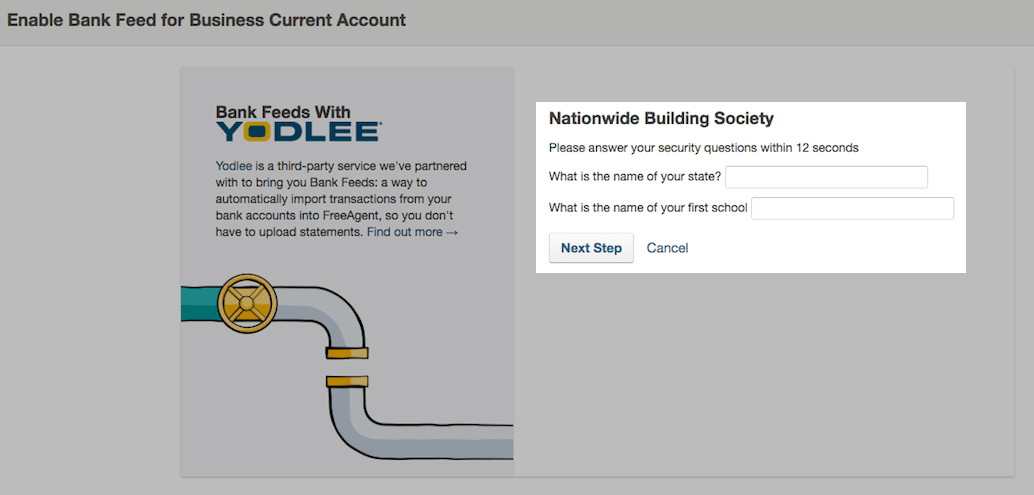 Followed by confirmation that Yodlee is finding your bank account: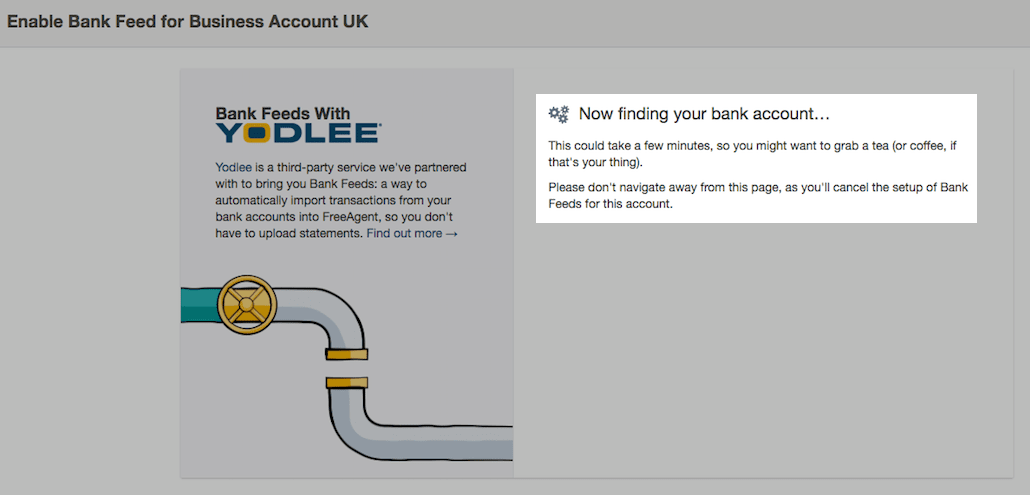 If your login details are not accepted, double-check that you've picked the correct banking website as there may be multiple banking websites for your bank. If you're certain that this is correct, log in to your banking website directly to check that your banking website is allowing you to log in right now.
5 Confirm and enable your bank feed
Once Yodlee has found your bank accounts, confirm which one you want to enable your feed for.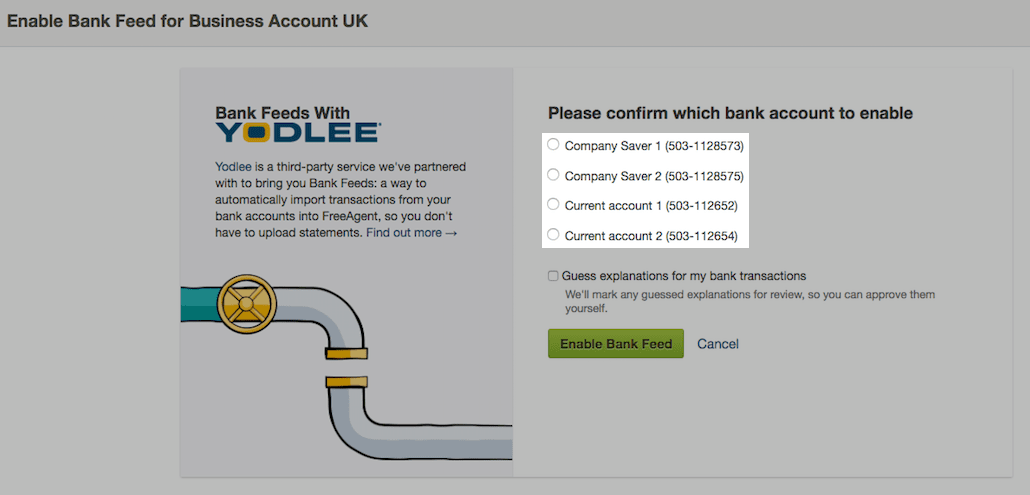 Selecting 'Guess explanation for bank transactions' allows FreeAgent to guess explanations for your transactions based on previously explained transactions. Transactions imported via bank feeds will be marked for review and require an extra step of approval.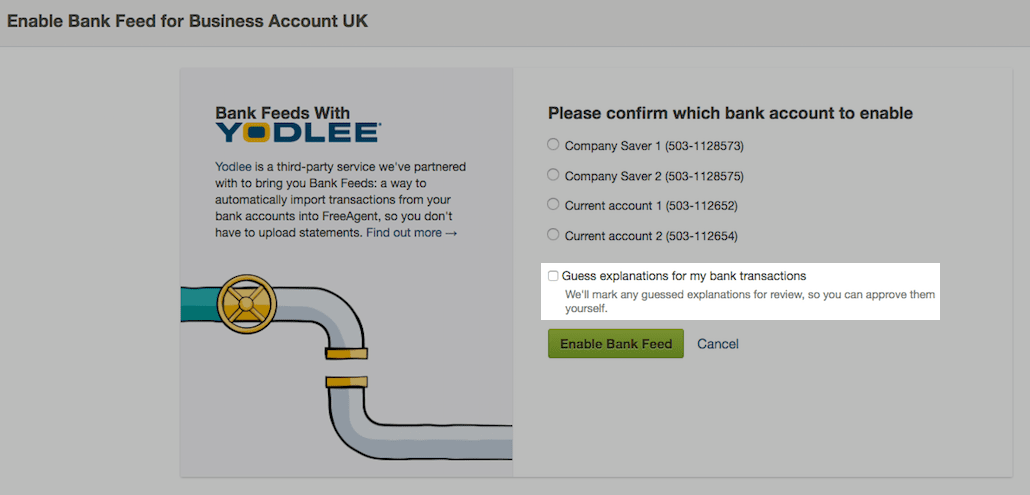 Almost there! Just select the "Enable Bank Feed" button to finish.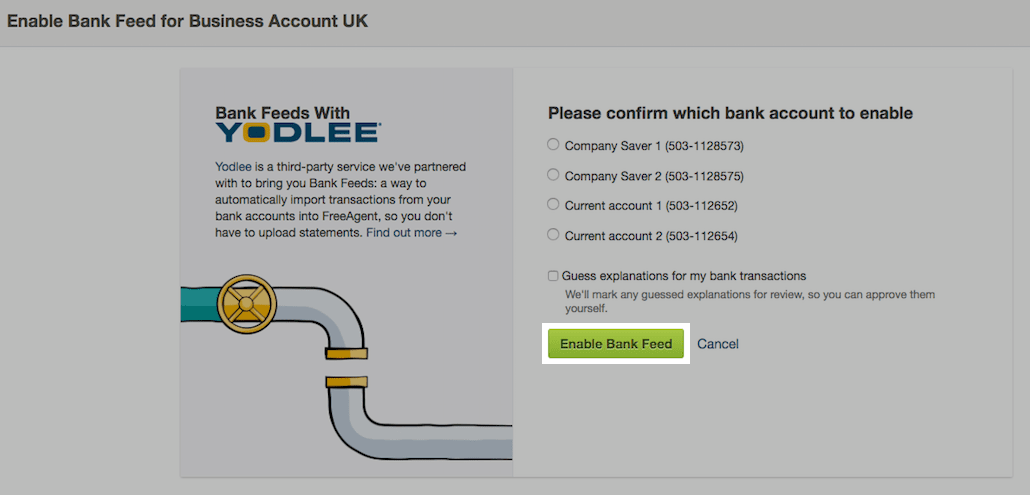 That's it, you're done. What happens next?
You should see a new bank feed panel on your bank account page: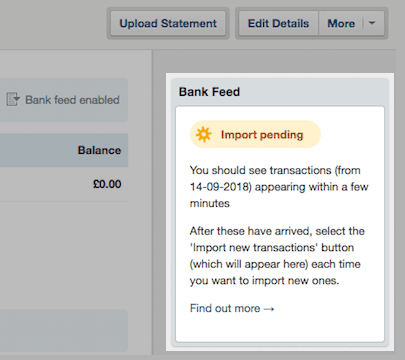 Once the first batch of transactions have been imported from your bank (which can take up to 24 hours), the bank feed panel will display the date and time of the latest and next imports: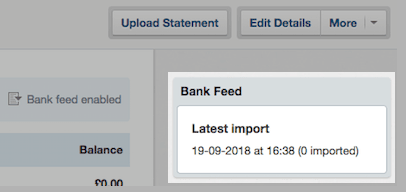 If your bank requires you to answer extra security questions for your bank feed, you'll see an 'Import new transactions' button displayed in the bank feed panel. Selecting this button will import new transactions. If you don't see this button your bank transactions will be imported automatically every 24 hours.
Please make sure you click 'import new transactions' at least once every 30 days to ensure all transactions appear.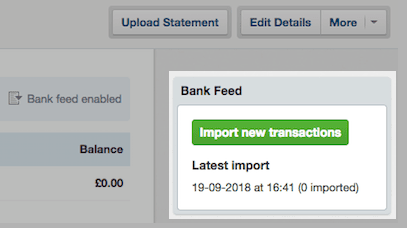 The bank feed panel will also let you know whenever there are technical problems preventing new transactions from being imported: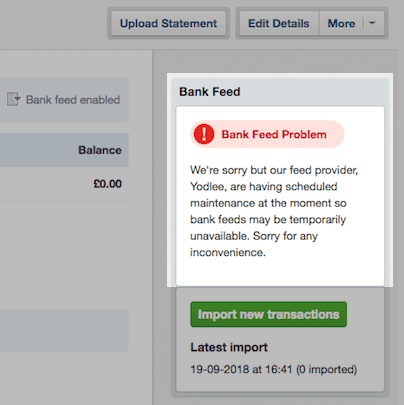 As you use the feeds on an ongoing basis, make sure to check your bank balance regularly against your bank account to make sure that everything lines up.