Purchase of a capital asset after the FreeAgent start date
Here's how to record the purchase of a capital asset your business buys after its FreeAgent start date.
The asset will be handled differently if you bought it before your FreeAgent start date but after your company start date, or if you personally bought the asset before the company start date.
When you enter the transaction, simply put it to the one of the asset purchase categories and tell FreeAgent what the asset's life will be.
For capital assets, it's important to put a detailed description of the asset, and, if you can, to upload a scanned image of the receipt or bill showing the purchase of the asset. This is because capital assets are tax-sensitive and your accountant, or a tax inspector, may need to see further information.
It's also important to make sure you reclaim the right amount of VAT on your new asset. If you are on the VAT flat rate scheme and you are able to reclaim VAT on this asset under the scheme's rules, set the VAT rate to 'Auto' and FreeAgent will include the reclaim on your VAT return. Bear in mind that in most cases you won't be able to reclaim VAT when you buy a car.
Categorising different transactions as Capital Assets
So, simply categorise the transaction using one of the four asset purchase categories, which are right at the bottom of the category list, when you enter a bill...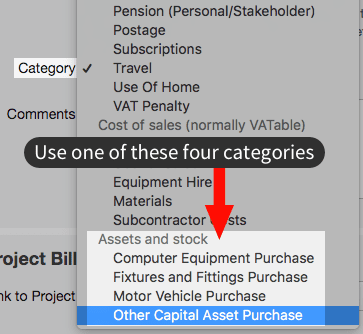 ...or an out-of-pocket expense.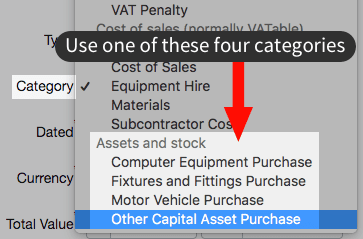 If you're entering a bank payment, there's an extra step involved. You need to choose Purchase of Capital Asset for the transaction type, under the Money Out list, then choose one of the four asset types.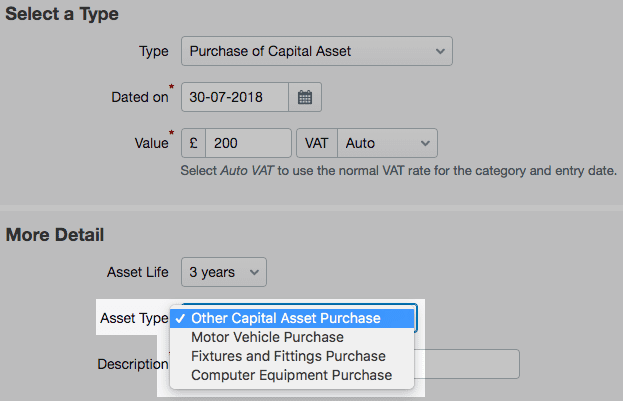 Choose the asset's life from the drop-down menu.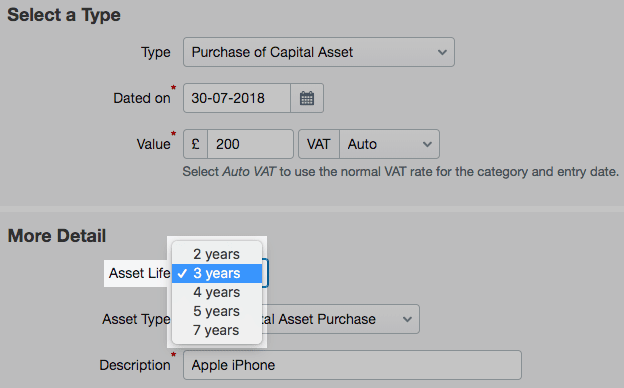 Put in a detailed description of the asset. This is to help your accountant or an HMRC inspector, as assets are a tax-sensitive area.

Then upload an image of the receipt or bill, if you have one, and save your transaction.
Viewing the asset in your books
Then when you go to the Capital Assets screen, you'll see that FreeAgent has put in the asset's cost here, and is working out the depreciation for you.
So that's all you need to do to make it do that. Just explain the bill, bank payment or out-of-pocket expense, as one of the four different types of capital asset, and choose the asset life span. FreeAgent will do the rest.