Insights
Insights are notifications that highlight certain areas of your business's performance.
These notifications are designed to help you run your business more successfully, by highlighting business performance, opportunities and potential issues, to help you make better decisions about your finances.
An introduction to Insights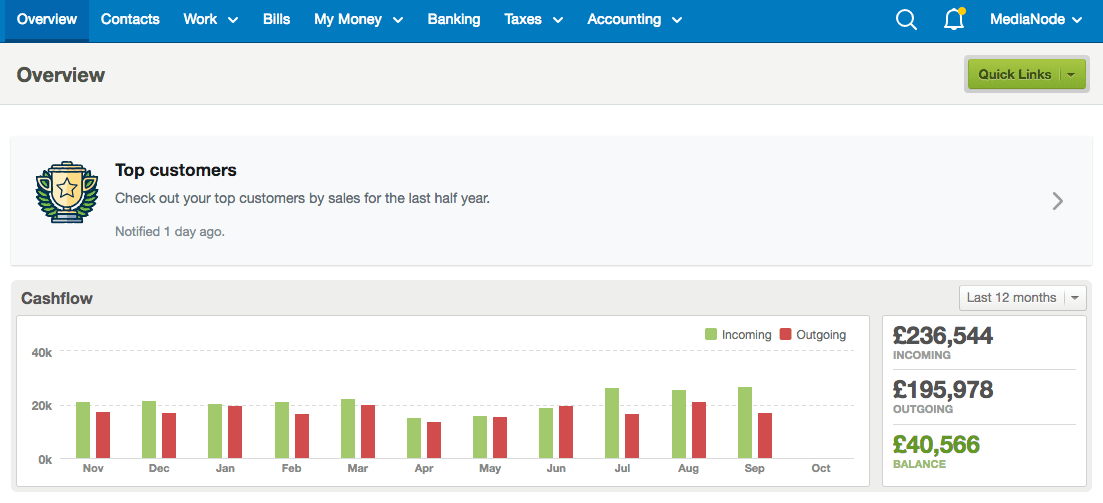 If you have a new Insight, you'll see a banner at the top of the Overview page when you first log in to FreeAgent.
The Insights icon beside your username will also be highlighted. Clicking it will take you to your Insights page.

Once you're on your Insights page, click on any Insight to expand it for more information.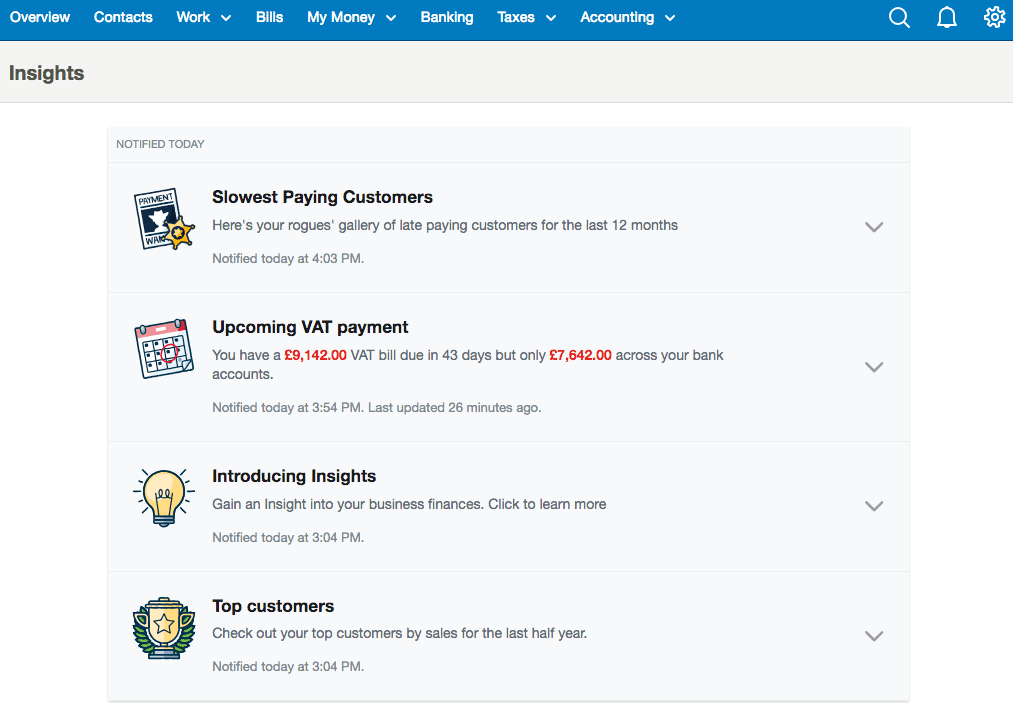 What Insights will I see?
Right now, FreeAgent has four Insights (not including the initial 'Introducing Insights' notification). 
Top customers
The 'Top Customers' Insight lists your top five customers over the last six months, pulling data from what you've invoiced. This Insight also links off to the Customer Sales Report, which lets you break down income from all your customers, over different time periods.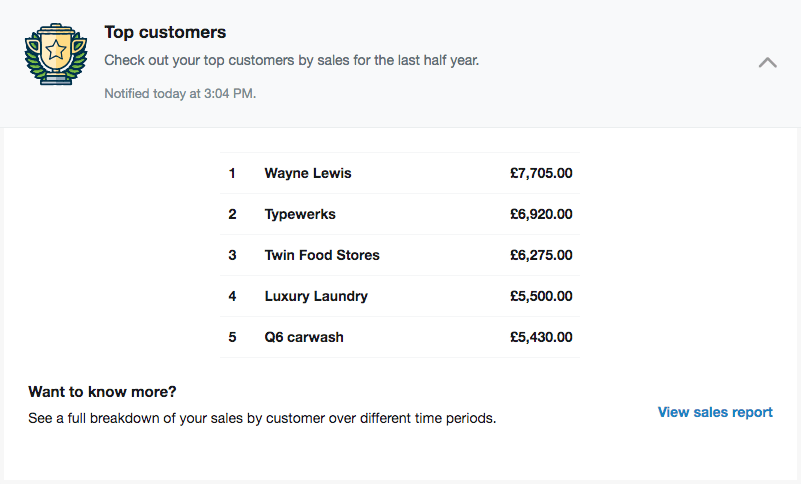 Upcoming VAT payment
The VAT payment Insight is designed to make sure that you never miss a VAT bill payment ever again.
If it looks like you don't have enough money in your bank accounts to pay an upcoming VAT bill, you'll see this Insight appear. This isn't necessarily a cause for concern - your accounts might not be up-to-date, or you might have savings in an account you haven't added to FreeAgent. However, it's probably worth investigating this before the VAT bill deadline.

Slowest Paying customers
The 'Slowest Paying Customers' Insight lists your slowest paying customers over the past 12 months. This Insight is designed to help you identify which customers are slowest to pay your invoices, as well as to provide info and guidance to help you get paid faster in the future.
You can also view the average payment time for a customer by viewing a contact, and checking the Invoice Payments panel at the side of the screen. Find out more about the Invoice Payments panel here.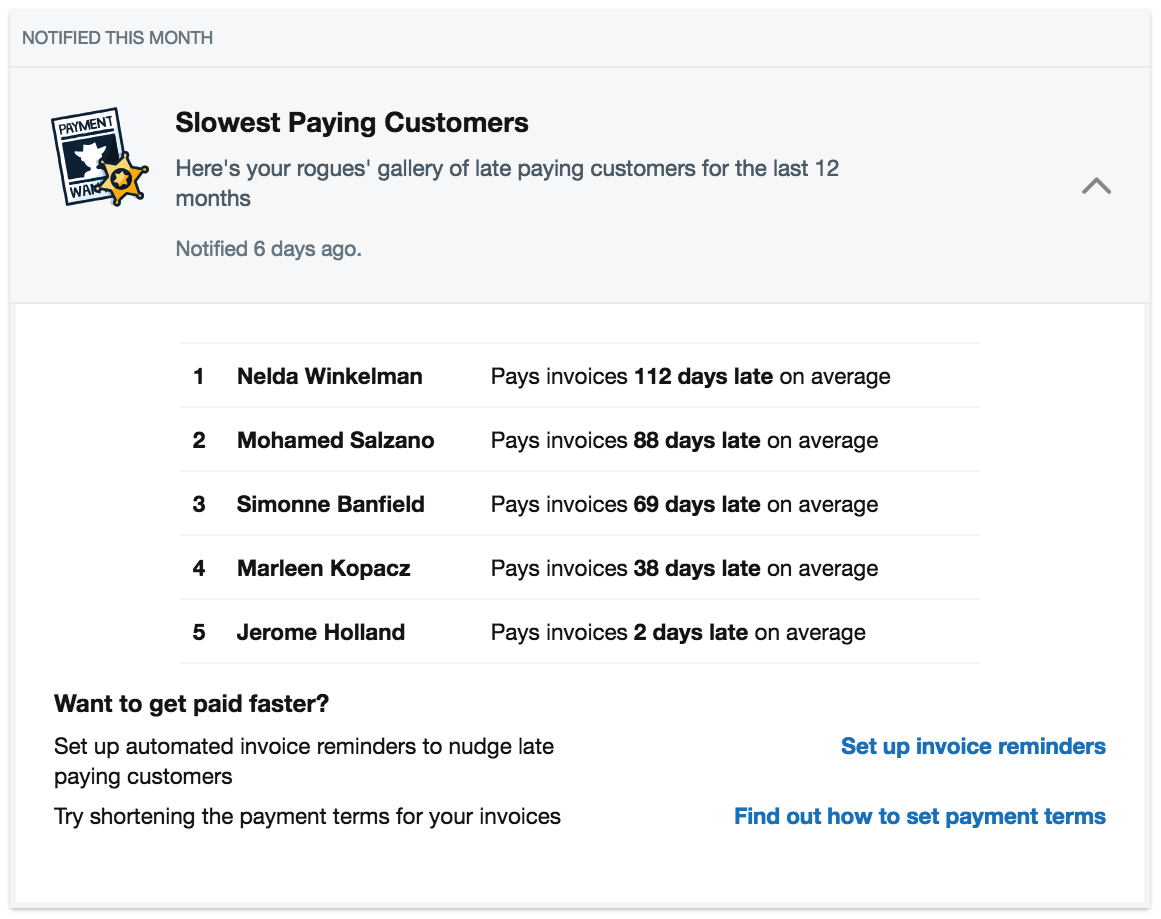 Top spending categories
The spending Insight will show your top five spending categories from the last six months, taken from your categorised bills, expenses and bank transactions.
Like our other Insights, you'll see this every 6 months, so you're always on top of your outgoings. This Insight also links off to the Spending Categories Report, which lets you break down income from all your customers, over different time periods.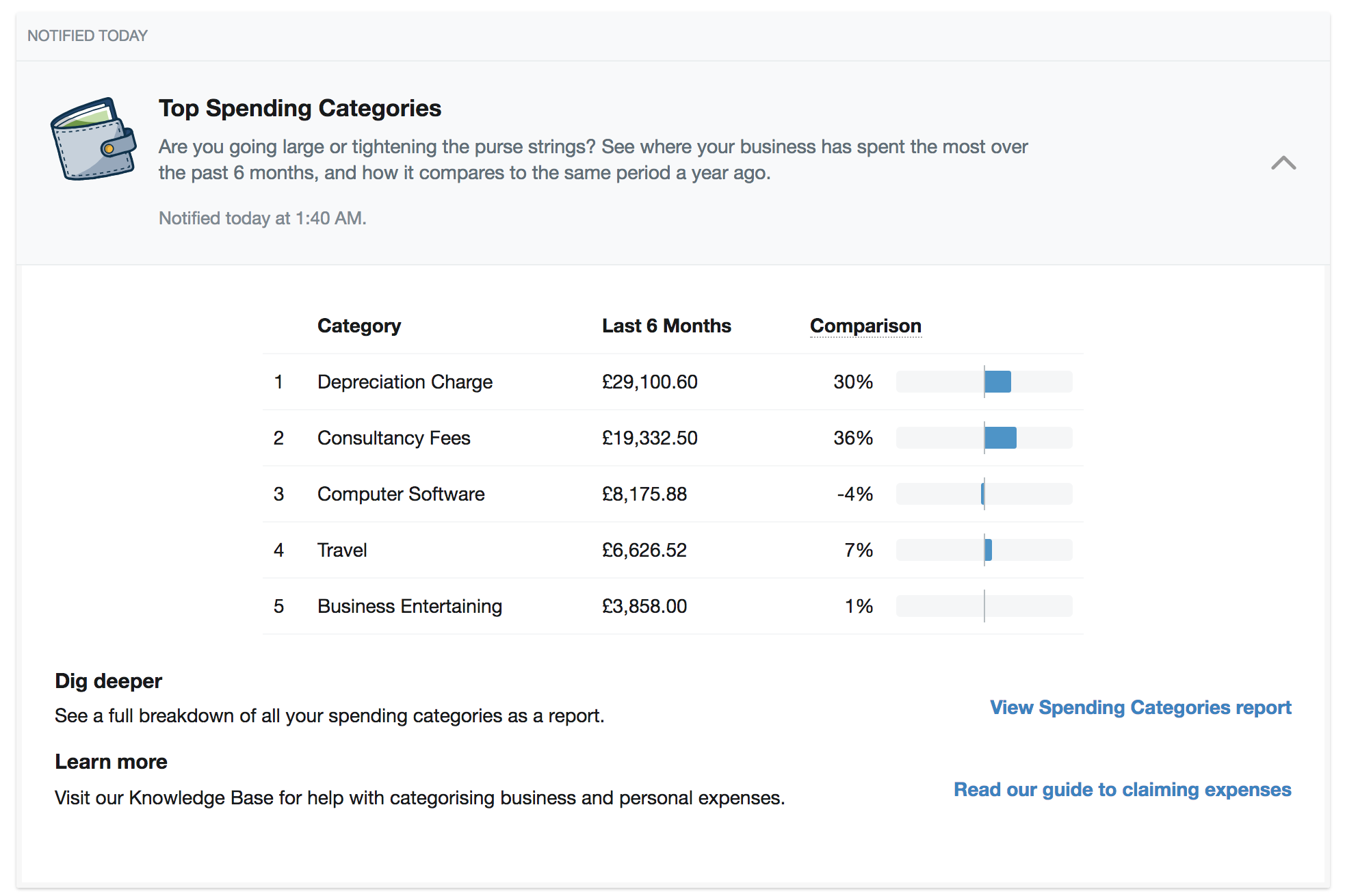 When will I see a new Insight?
Some Insights (like the Top Customers one) will be displayed on a regular basis, while others will be triggered when FreeAgent spots a situation that might warrant further investigation. Whether this is a potential issue, or some really positive performance, FreeAgent will suggest an action along with each notification.
If you complete the action associated with an Insight, for example an account now has the sufficient funds for a VAT bill, that Insight's status will change to a green Looking good. Similarly, if an Insight becomes out of date, the status will change to Expired.

Please note that to be served Insights, you'll need to have a user access level of 8.