How to get help with using FreeAgent
This article describes how FreeAgent's Knowledge Base and Ruby chat feature can support you with using the software. It also outlines additional helpful resources that are available.
Knowledge Base
FreeAgent's Knowledge Base is a help centre at your fingertips, with hundreds of useful articles and step-by-step instructions designed to help you use the software. You can either search for a particular article using the search bar or select a particular topic to view all the articles on that topic.
Here are some tips to help you get the most out of searching the Knowledge Base:
Make sure you've selected the appropriate location from the drop-down menu in the bottom-right of the website footer.
Searching for specific keywords and phrases, such as 'Self Assessment', will provide the best results.
If you can't find a suitable article when searching for a keyword or phrase, double-check your spelling and try putting the phrase inside double quotation marks, e.g. "explain a bank transaction".
Add a minus in front of a word to exclude it from search results, e.g. "Self Assessment -directors" will exclude Self Assessment articles for limited company directors from the results.
When you're typing in the search bar, you can choose from a selection of instant results from the drop-down list that appears below, or press enter for a more comprehensive list of results.
Articles will contain links to other Knowledge Base articles and the FreeAgent glossary, if necessary, to explain certain terms in more detail.
Most articles are split into sections, with links to each section included near the beginning of the article. This allows you to quickly skip to the section relevant to you.
If an article helped to answer your question, you can select 'Yes, it was useful' at the bottom of the screen.

Ruby the Robot
FreeAgent's friendly robot colleague, Ruby the Robot, can provide assistance with using the software. Select the blue 'Help' button at the bottom-right of the screen to ask her a question and she'll attempt to suggest suitable Knowledge Base articles that will help you.
Here are some tips to help you get the most out of using Ruby the Robot:
Make sure the relevant location has been selected from the drop-down menu in the bottom-right of the website footer.
Enter your search query as a sentence of at least four words, rather than entering only keywords, e.g. 'how to create an invoice'.
If you don't find the answer you're looking for right away, try rephrasing the question.
Try putting your query inside double quotation marks, e.g. "File a VAT return".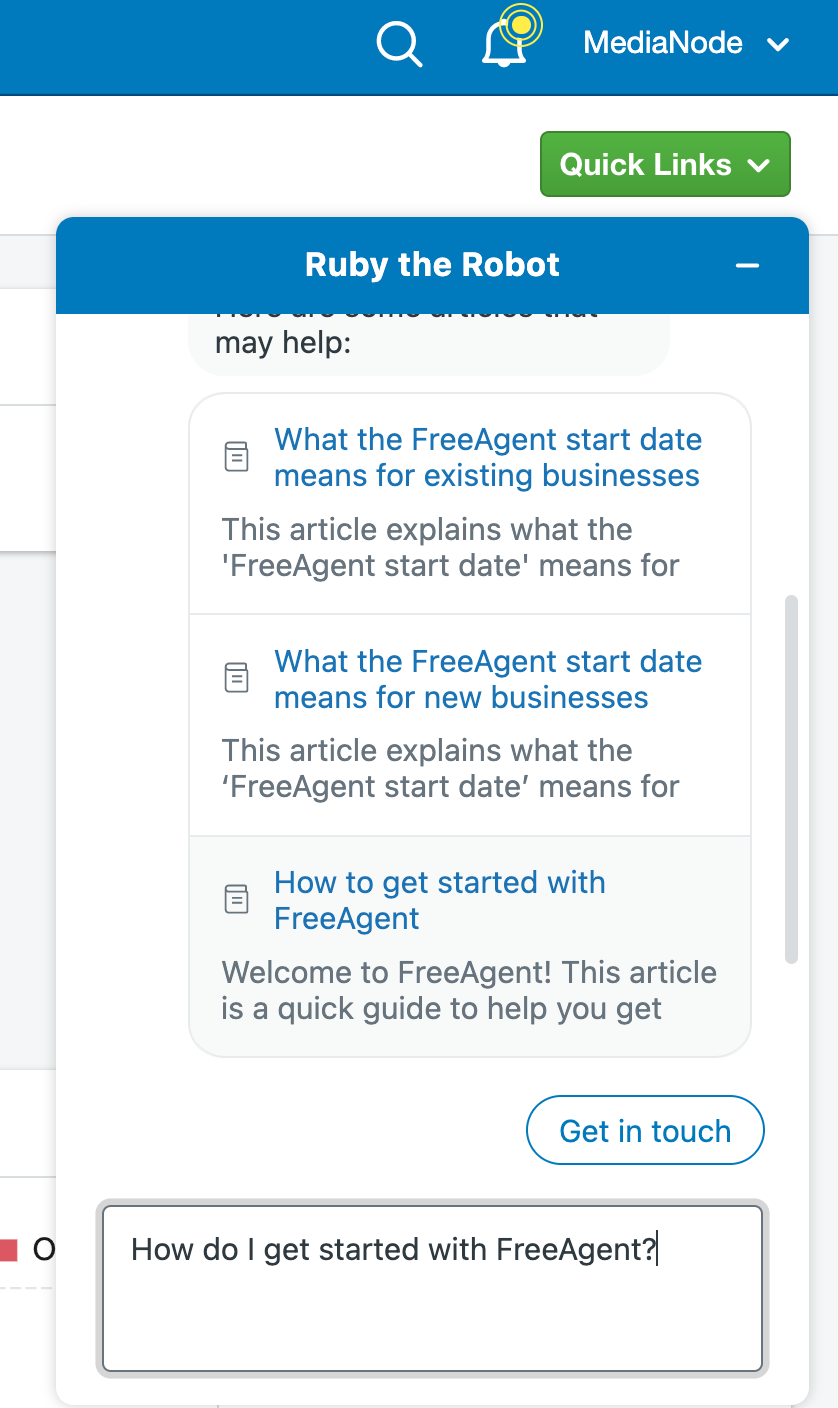 Select a title to open up the article within the 'Help' window. To view a full-size version of the article, select the icon to the right of the title to open the article in a new tab.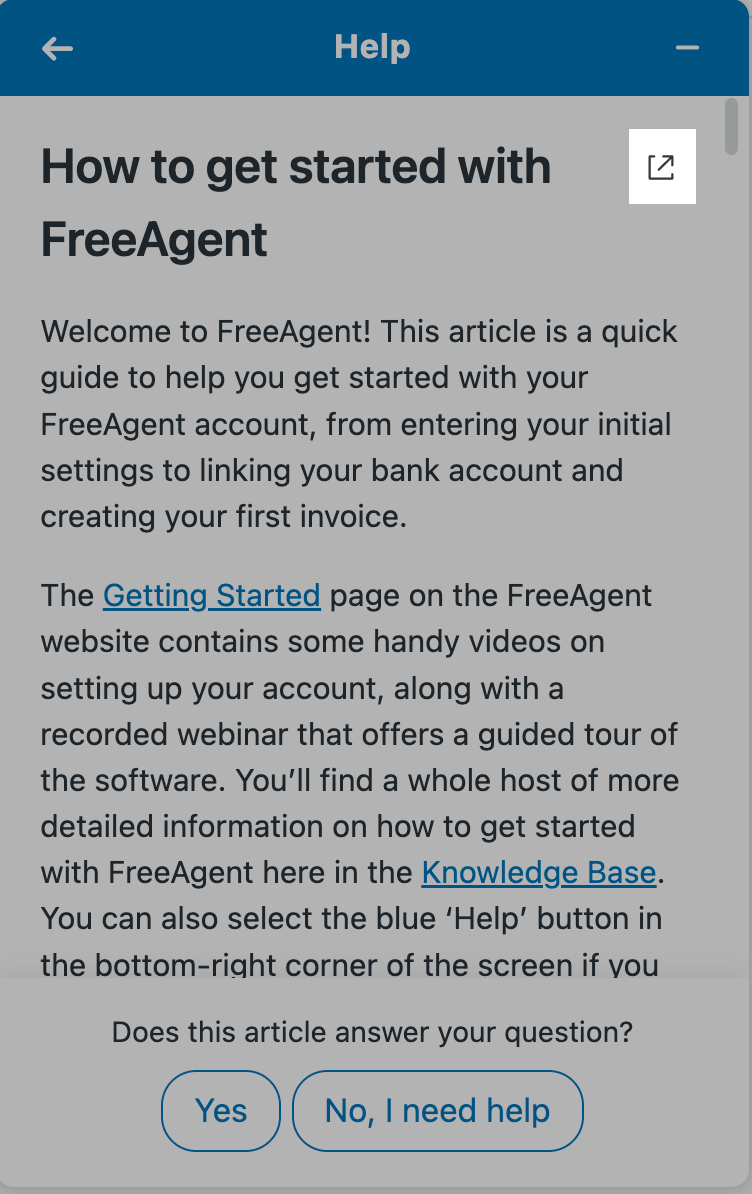 If the article helped answer your question, you can select 'Yes' to the question 'Does this article answer your question?'.
Getting in touch
If Ruby the Robot's suggestions don't answer your question, you can select 'Get in touch' within the Help pop-up window to receive further assistance from our award-winning support team.
You'll be given the option to either 'Live chat' to speak to a member of the support team or 'Leave a message' to send an email directly to the support team. Please note that live chat is available during support hours, which are 9am to 5pm on Monday to Thursday, and 9am to 4pm on Friday.
Additional resources
Our Getting Started page contains some helpful videos on setting up your FreeAgent account, along with a recorded webinar that offers a guided tour of the software. You can book a free 20-minute Getting Started call with our support team at a time suitable for you.
If you're new to FreeAgent, your business is already trading and you've been recording your accounts in another software package, find out how to switch to FreeAgent.