How to set up and run payroll
This article explains how to set up your monthly payroll so you can report PAYE information to HMRC in real time.
To set up payroll, you will need full access to FreeAgent. First, you will need to create payroll profiles for any users in your FreeAgent account that will be part of your payroll. If you have other employees you can add new users to your account to include them in your payroll.
Once you've set up payroll profiles for all of your employees, you'll be able to prepare and run each month's payroll in FreeAgent. This includes the automatic submission of your PAYE information in real time (RTI) to HMRC once you've entered your Government Gateway login details.
Follow our step by step guide to get started or learn more about how FreeAgent supports RTI.
1 Company Details
Before you get started with payroll make sure your PAYE, Accounts Office and business tax references are correctly entered under Company Details.
2 Navigate to 'My Money' and select 'Payroll'

3 Choosing when to start payroll from
Next, choose the month you want to start payroll from.
Please note that once you have done this, you can only change the start date by removing all the payroll data you've entered, including payroll profiles.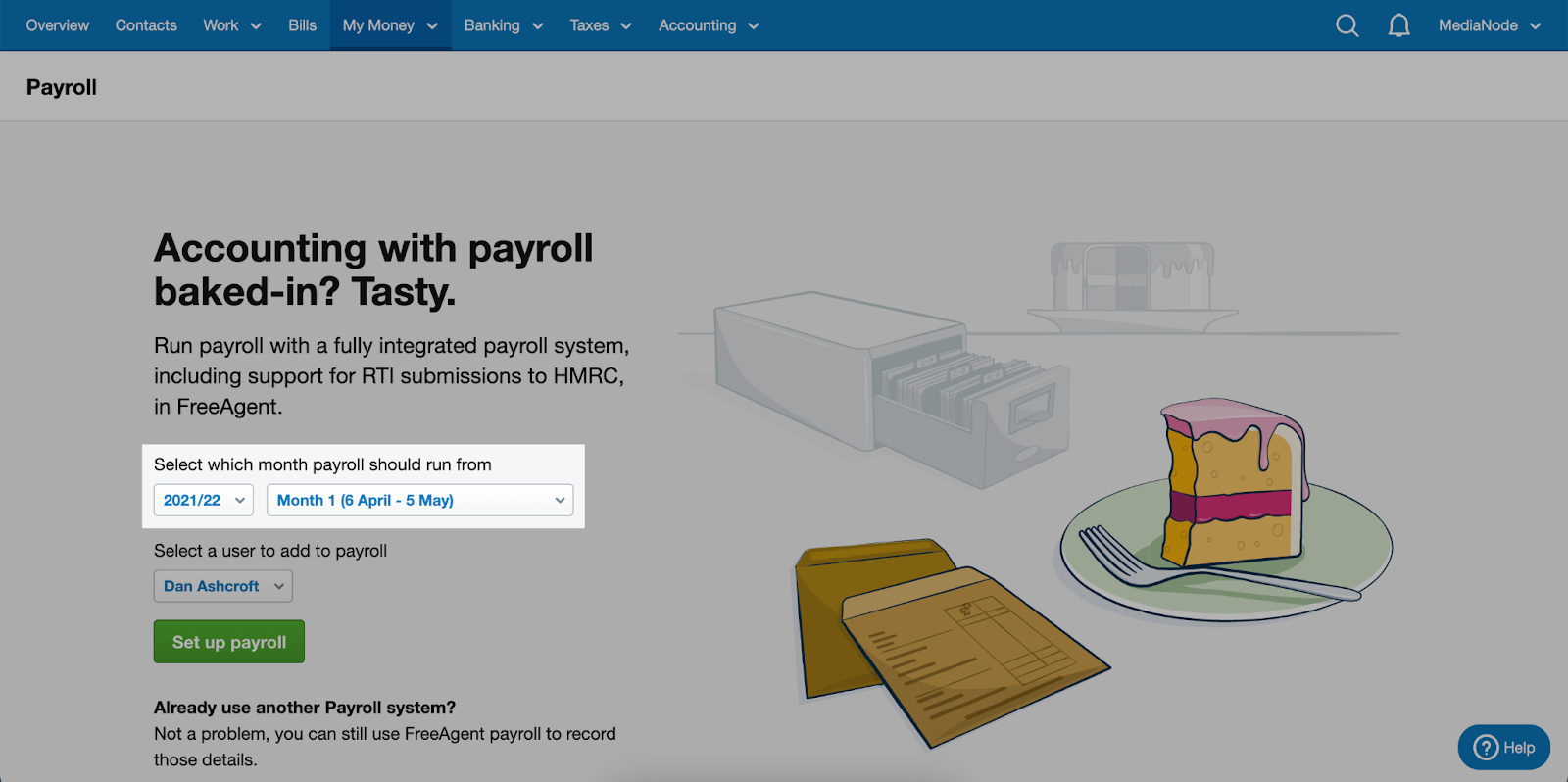 4 Create payroll profiles
Payroll Profiles contain all of the information about an individual's monthly pay, deductions, pension contributions and the starting/leaving dates required to file your payroll online with HMRC.
Navigate to the 'My Money tab and choose 'Payroll', then select the relevant tax year.
To set up a payroll profile, choose 'Create Payroll Profile' and select an employee from the list. If the employee's name does not appear in the drop-down menu, make sure you have added them as a user.
If a payroll profile has already been set up for the employee, you can navigate straight to a summary of their payslips by choosing their name from the drop-down menu next to the tax year selection.
If you're a company director, and the company pays you a salary, you also need to set up your own payroll profile.

Complete the payroll profile for the employee using the following sections:
Employee Details
Enter the employee's personal details here. It's preferable to add an NI number, but if the employee doesn't have one, HMRC will reconcile the employee's NI payments using their address, so it's very important to enter this correctly.
You only need to enter a passport number if you've collected this as part of any checks you've made as to whether the employee is entitled to work in the UK.
Some information will already have been filled in by FreeAgent because you've already entered it in the employee's user profile.
Partner's Details
Enter partner's details if the employee is claiming or planning to claim Shared Parental Leave.
Employment Details
Select if this person is an existing employee or a new employee and then choose either 'director', 'director (alternative arrangements)' or 'employee' from the 'NICs calculated as' options.
Directors
National Insurance contributions are usually calculated as equal monthly payments. Directors have the option to choose to pay their National Insurance cumulatively, so that they pay less at the start of the tax year and more at the end. If you want to use this option for this individual, select the 'Director' option. Otherwise, choose 'Director (alternative arrangements)'. If they became a director during the current tax year, enter the directorship start date.
HMRC do allow you to change the NIC calculation basis mid tax year. However, if you change from Director to Employee then the correct way to calculate NICs is to continue using the Director basis until the end of the tax year. So these changes won't apply until the tax year ends.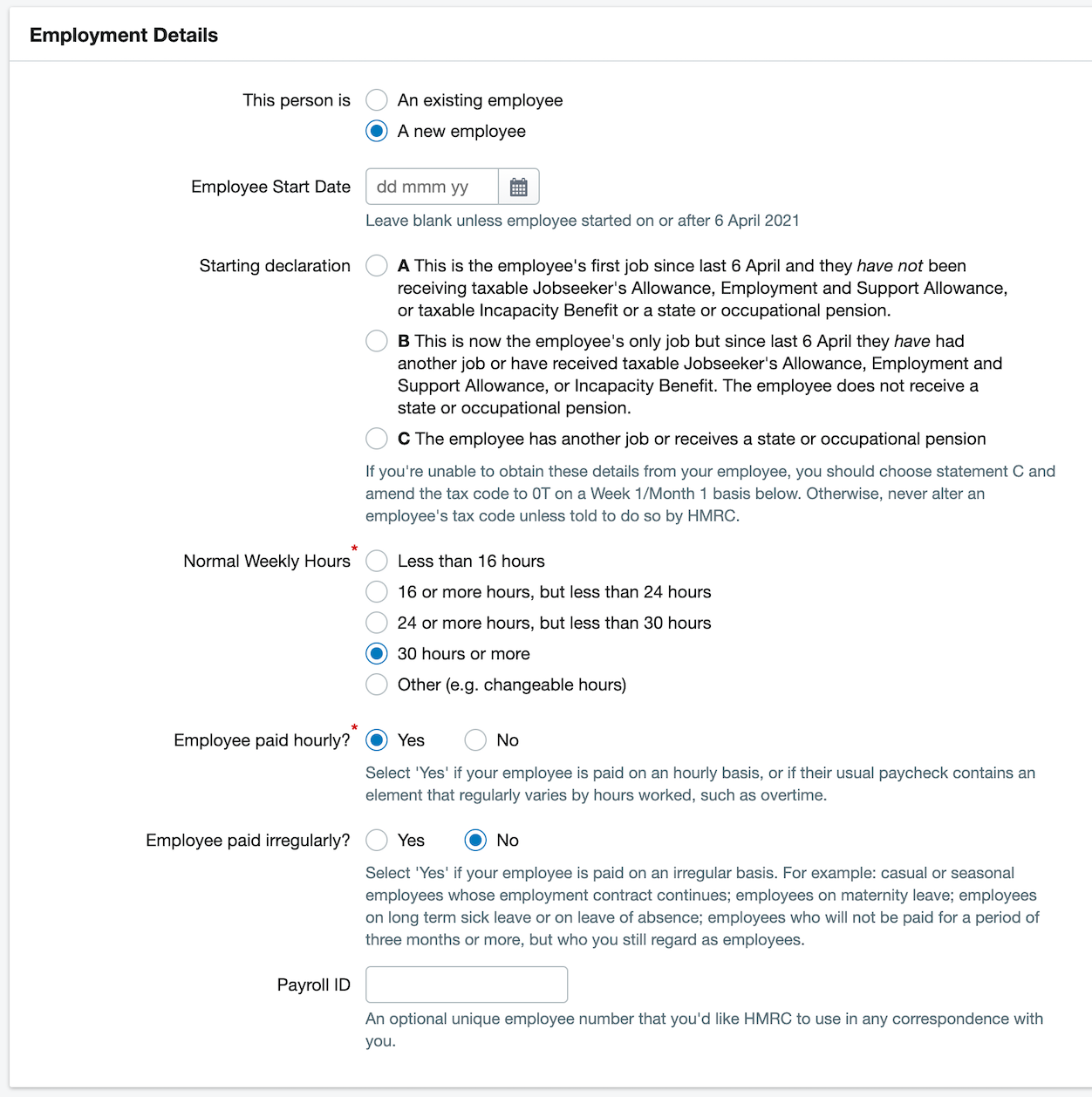 If, at any stage, the employee becomes a director of the company, be careful about when you update this information in their payroll profile:
If the employee is due to be paid again before their directorship start date, don't update the 'NICs calculated as' options until the following month - but make sure you do so before you run that month's payroll.
If the employee is not due to be paid again until after their directorship start date, you should update the 'NICs calculated as' options straight away - make sure you do so before you run the current month's payroll.
Please note, if the directorship start date is before the company's FreeAgent start date and the director was previously an employee in the same tax year then please contact support@freeagent.com and we'll talk you through what to do.
Employees
For new employees, enter a start date and whether or not they are paid irregularly. You also need to select from the HMRC Starting Declaration options which provides information about any other work the employee has undertaken or benefits received during the current tax year. Information about a new employee will be sent to HMRC as part of your next RTI submission after you create their payroll profile.
Select an option from Normal Weekly Hours to indicate how many hours a week the employee will work for the business. You can also add an optional unique employee number if you'd like HMRC to use this any correspondence with you.
Previous Pay This Tax Year
This is where you can enter pay to date that's not been run as part of your payroll in FreeAgent. You can move your RTI payroll to FreeAgent at any point during the year by using the year-to-date figures from your previous system. You also need to use this method if you've been entering payroll journals in FreeAgent for the first part of the tax year.
Tax & NI
Enter a tax code. You should have already received this from HMRC or will find it on the employee's P45.
Tax code should only be changed on receipt of a coding notice from HMRC. FreeAgent can handle BR, D0 (D-zero), D1 (D-one), K prefixes (like K495) or L, M, N, P, S, T or Y suffixes.
Select a National Insurance Category Letter – this is also sometimes known as the National Insurance contribution letter and is the same as the NIC Table Letter shown on a P60.
If the employee should be making student loan payments, tick the relevant box from the 'Deduct student loans?' options and choose the appropriate plan type.
Leaving Date
You don't need to add a leaving date when first setting up a payroll profile. This is where to add a leaving date if the employee leaves the company in the future.
Monthly Pay
Enter details of the employee's monthly/basic pay with any allowances or other payments.
Monthly Statutory Pay
Enter any other pay the employee is currently receiving such as paternity or maternity payments.
Monthly Deductions
Add any regular monthly deductions.
Monthly Pension Contributions
Add details of any employer or employee monthly pension contributions.
If you're not sure how to enter any of your monthly pay, deductions, or pension figures, please see our Pay and Deductions guide.
When you're ready, 'Create payroll profile' to save the new payroll profile.
Remember to create a profile for each of your employees before you prepare and file your monthly payroll.
5 Prepare a monthly payroll
Once you've set up at least one payroll profile you'll be taken to the Payroll Dashboard when you navigate to My Money > Payroll.

The Payroll Dashboard highlights recent payroll activity, displays what actions you need to take and summarises useful data from the entire year. You will see the option to 'Prepare Month x Payroll'.

This will take you to that month's payroll preview.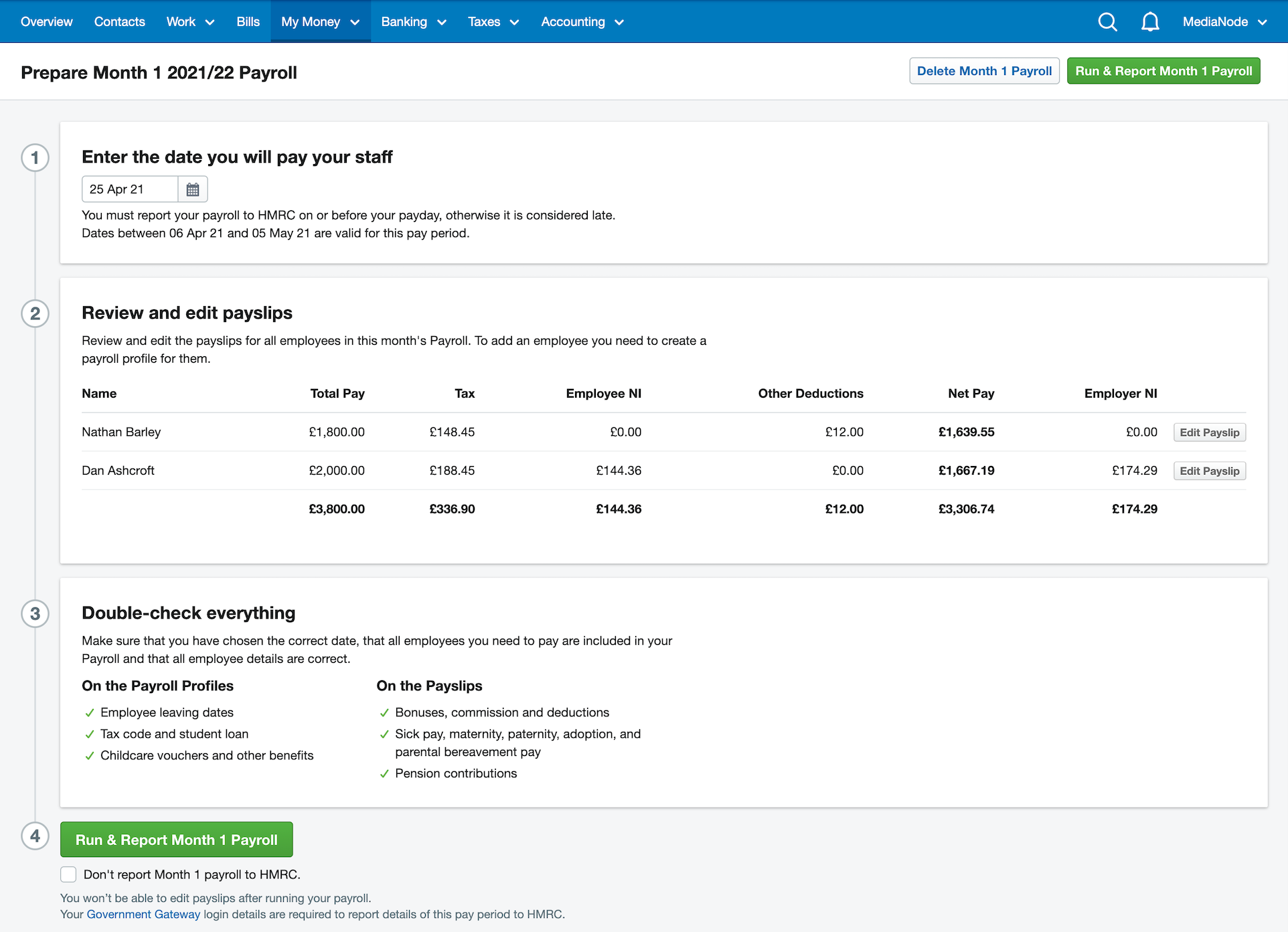 Choose a date for your pay period - This is the date that the company is going to pay its employees. HMRC requires that the RTI submission is made before or on this date. This date defaults to the 25th for the first month you use payroll in FreeAgent. If you change this date on a submission, when you prepare payroll in the following month, we'll default to your new date.
Want your payroll to process on the last day of the month?
If the current month ends on the 30th and you select this date, then by default the following month will also process the payroll on the 30th.

If you choose the 31st the next month, we will recognise this and start processing your payroll at the end of the month, regardless of whether the month ends on the 30th or 31st.
Review and edit payslips to make any adjustments for the current month's payroll. Changes can be applied here to each individual's monthly pay, statutory pay, deductions, and pension contributions. Any changes made here will not affect your default payroll profile settings - to apply other changes to payslips you need to edit individual payroll profiles.
Double-check everything - Check that you've made any necessary changes to your payroll profiles such as adding employee leaving dates, making changes to tax codes or updating student loan settings. Also, make sure that you have a correct payslip here for each employee who is receiving a payment of salary this month.
When you've completed your checks select 'Run & Report Month x Payroll' to continue.
Deleting a monthly payroll
If at any time you want to completely start a monthly payroll again, select the 'Delete Payroll' option, which you'll see after you've selected 'Continue Month x Payroll'. This would delete that month's payroll including the generated payslips. You might want to do this to go back and make changes to individual payroll profiles before running your month's payroll again. You can't do this if you've already filed that month's payroll with HMRC.
Payroll filed through another system
If your payroll is not to be filed with HMRC through FreeAgent, perhaps because your accountant is filing it using his or her own system, then you can tick the 'Don't report month x payroll to HMRC' box under the 'Run & Report Month x Payroll' button.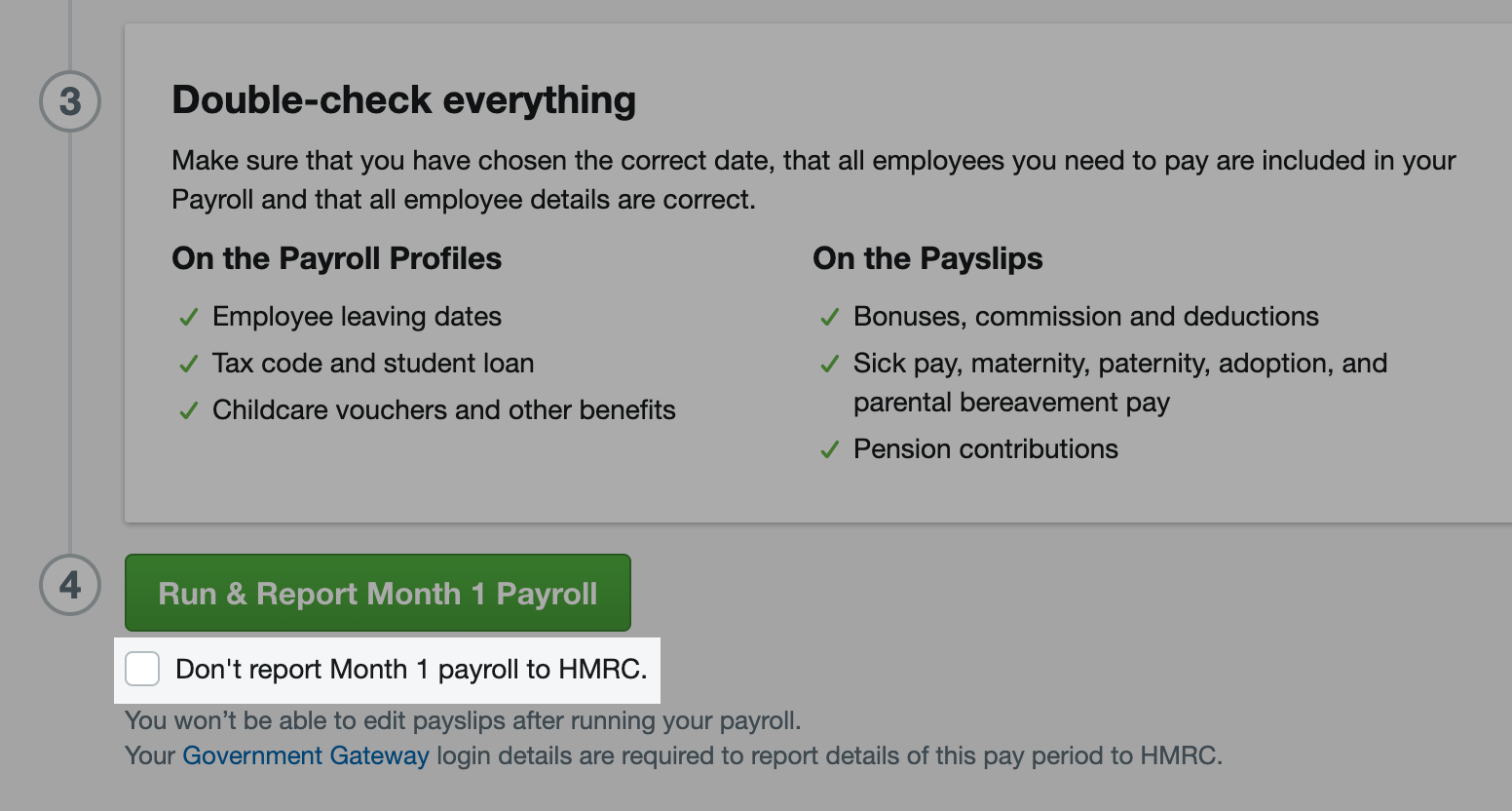 Make sure that your payroll information has been filed using RTI through another system as RTI is now compulsory for all businesses. FreeAgent gives you a warning of this when you tick the box.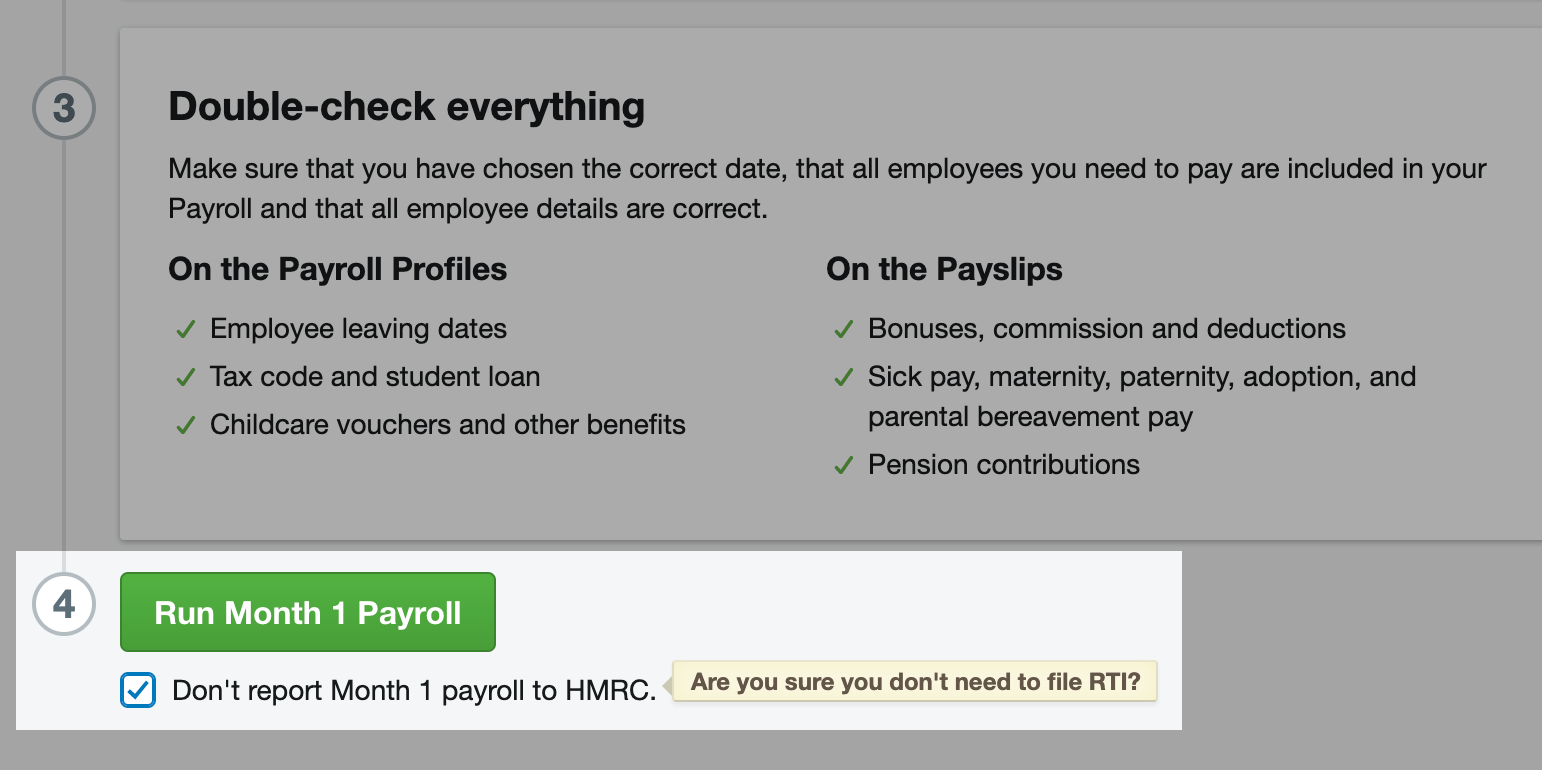 You can mark the most recent month as unfiled if you need to make changes to it, but not earlier months.
6 Submit your payroll to HMRC (RTI)
Once you select 'Run & Report Month x Payroll' you have effectively run your payroll, and payslips for the month have been created. You now need to submit your PAYE information to HMRC by entering your Government Gateway login details when prompted.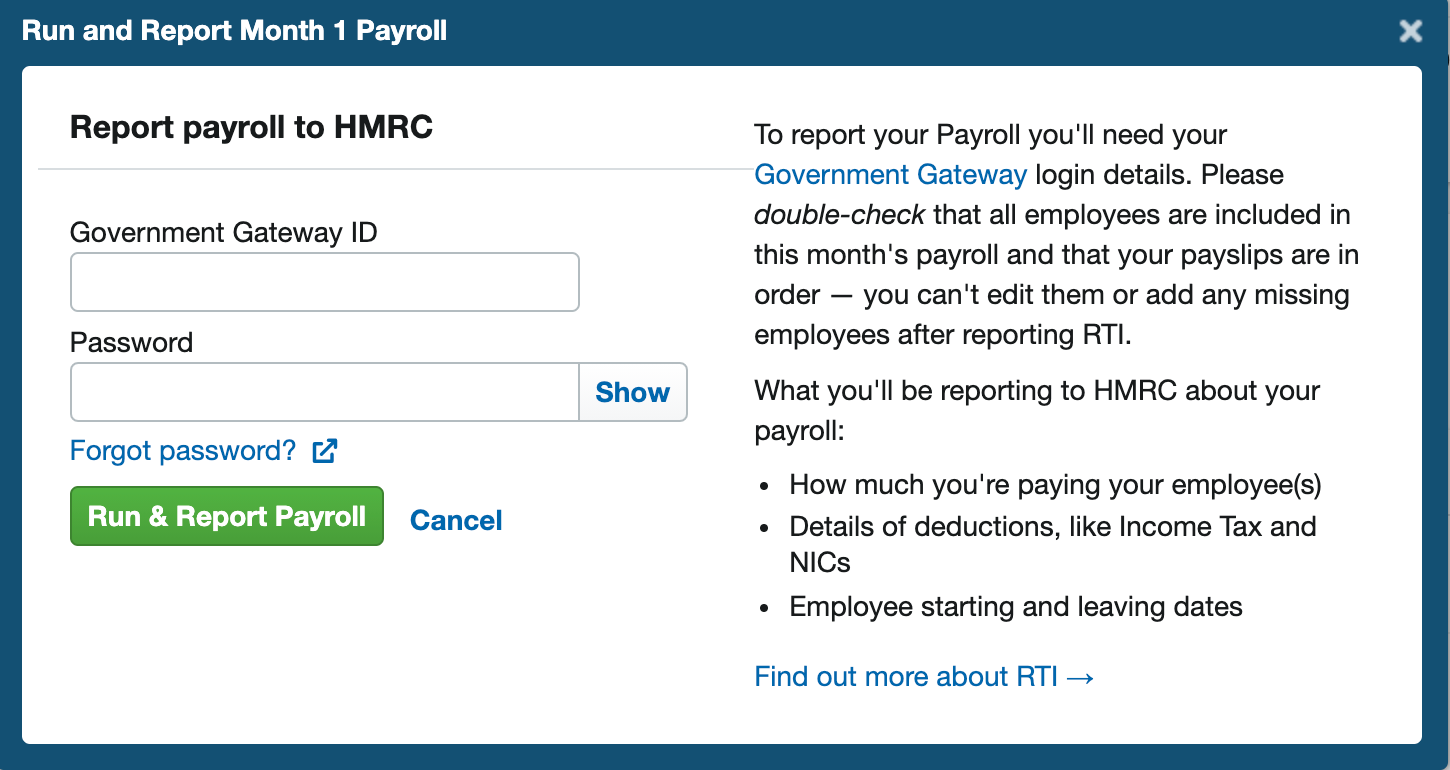 That's it! You've run and reported your monthly payroll.