How to upload bank transactions from a bank statement
This article explains how to upload bank transactions from a bank statement in FreeAgent.

The quickest and easiest way to do this is to export your bank statement from online banking, upload it into FreeAgent, and then explain all the transactions. You can also enter your bank transactions manually.
1 Export a statement from online banking
Firstly, you'll need to go into your online banking account and export a statement – FreeAgent supports a range of bank statement formats. If you get stuck with exporting the data then you need to speak directly to your bank.
When you're exporting, make sure that you've included the correct dates for your statement. If you've already input any transactions into FreeAgent make sure that you start from the day after the last transaction's date, if you haven't then you might want to go back as far as your FreeAgent start date. FreeAgent will aim to spot any duplicate transactions and ignore them.
Information required in FreeAgent
You need to have your bank account and sort code entered into FreeAgent for the account for which you're going to upload transactions.
2 Import a statement into FreeAgent
Navigate to the 'Banking' tab at the top of the screen and select 'Bank Accounts' from the drop down menu.

Choose the bank account that you're going to upload a statement into.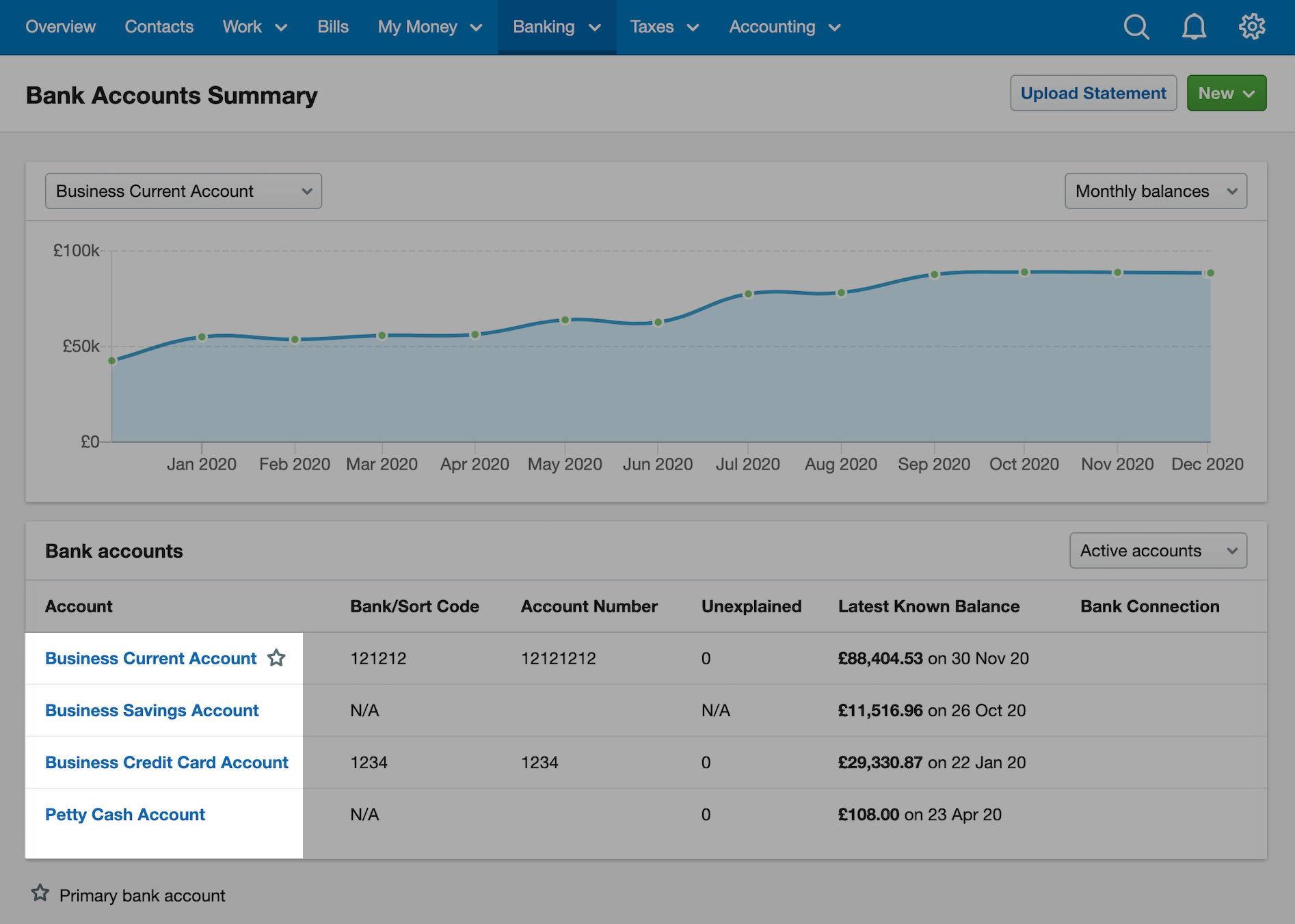 Then, select 'Upload Statement'.

Alternatively, choose 'Upload a Statement' from the 'Quick Links' menu on the 'Overview' screen. If you use this option, FreeAgent will ask you to choose which bank account to upload to.

Once you've exported your statement from your online banking system and saved it to your computer in the correct format, use the Browse here option to select the file you've just saved and 'Upload Statement'.
3 Guessing transactions
If you want FreeAgent to guess which transactions belong in which category, by looking at transactions you've previously uploaded, then check the Guess box.
Once the box is checked, these will be explained automatically so please review the transactions before you upload the bank statement.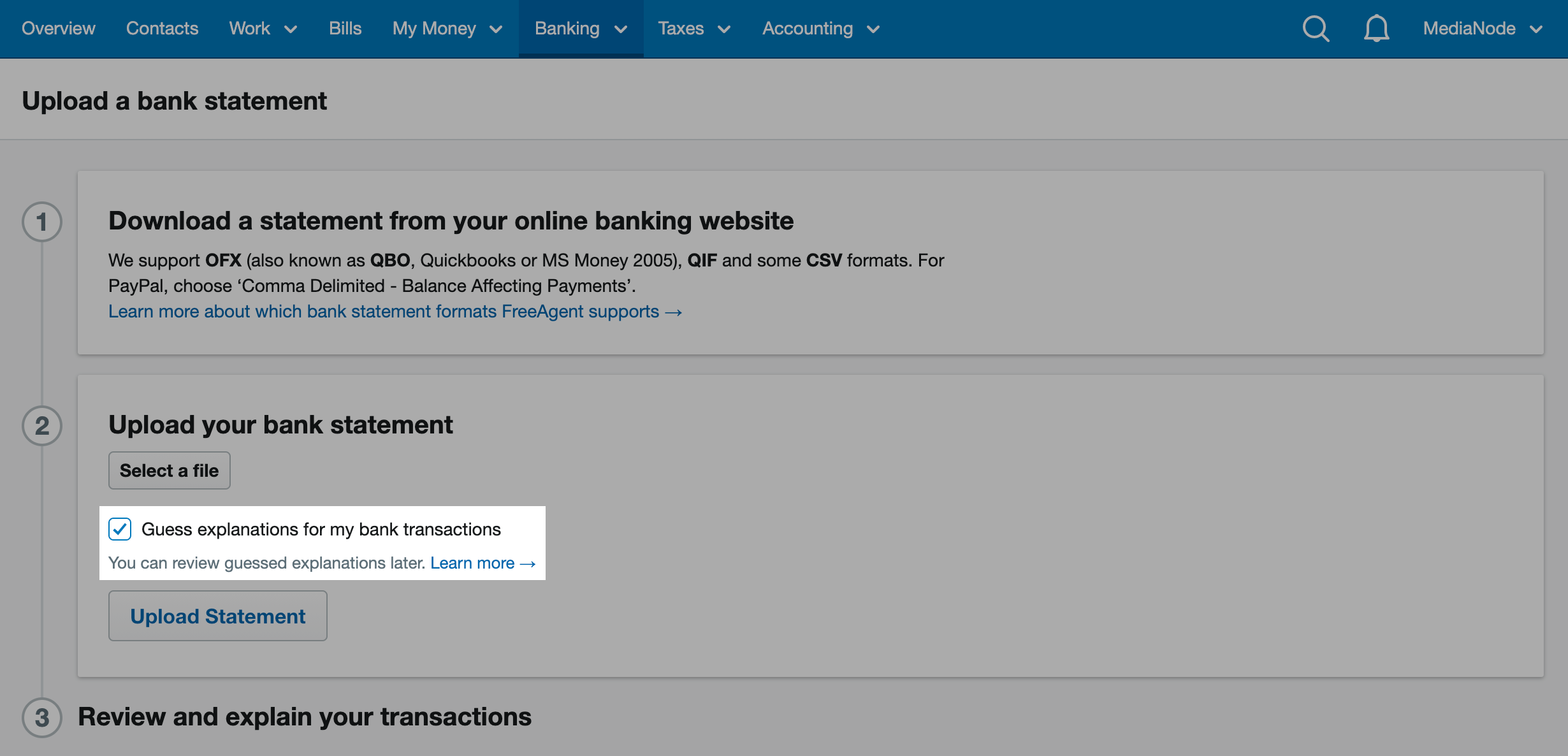 You've uploaded your statement - What next?
Unexplained transactions
FreeAgent uploads the file and gives you a message to say how many unexplained transactions there are.
If this is a business bank account, you'll see the number of unexplained transactions on the list of bank accounts under the graph.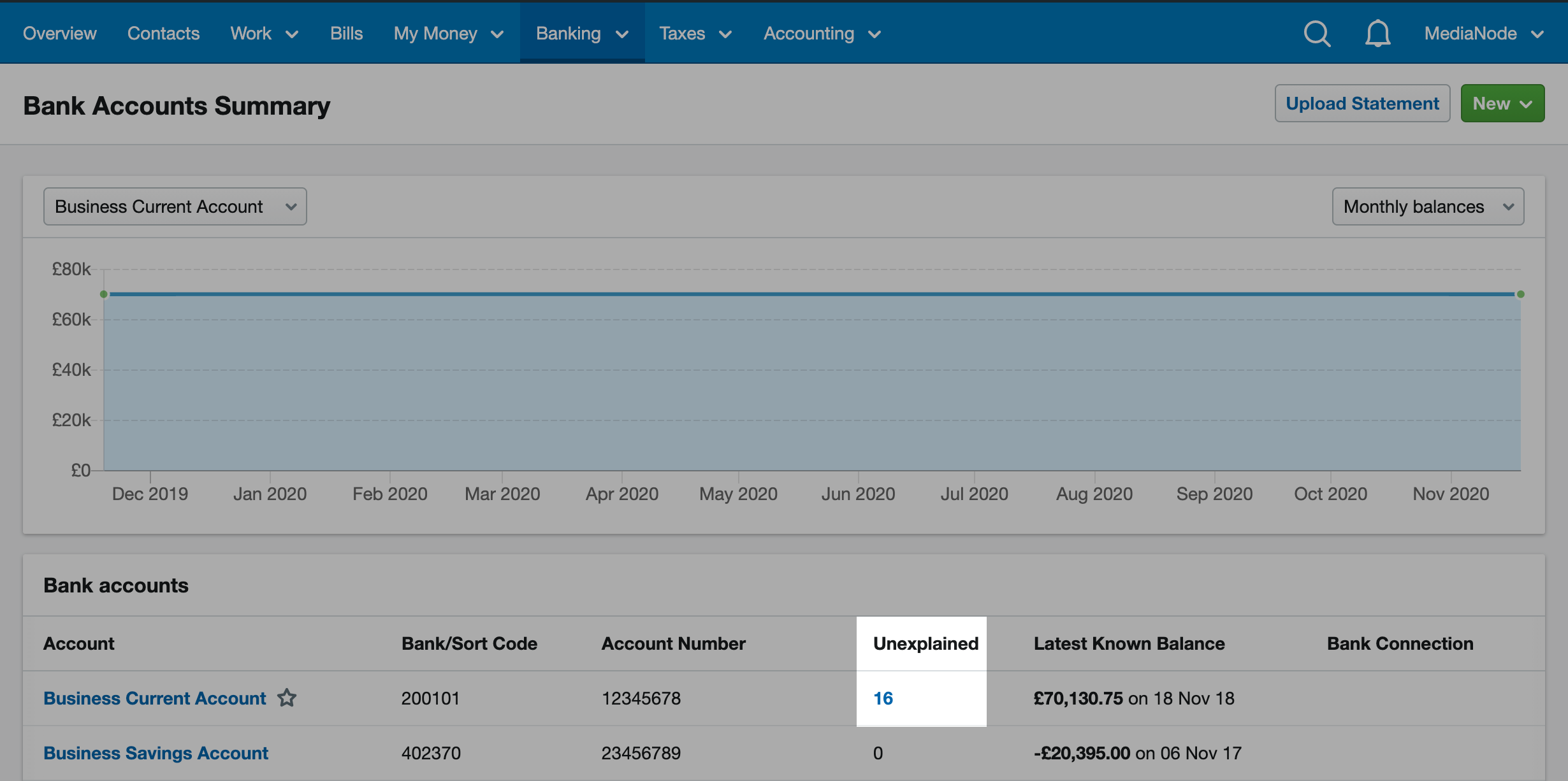 You'll also see warnings in various places throughout the software, such as here on the profit and loss account, if you have unexplained transactions on a business bank account.

If the account is set as personal then FreeAgent will not monitor unexplained transactions.
Once you've uploaded your transactions, the next step is to explain them.
If your upload doesn't work successfully, then please contact us for help, by emailing support@freeagent.com
What if I've uploaded the wrong statement?
You can undo the last upload.