New client
How to set up a new client on your dashboard.
Log into your account manager dashboard, then if you're setting up a new client to manage yourself, select the My Clients tab and select the New Client button at the top right.
If you want to set up a new client for a colleague to manage, then select the All Clients tab first, then select the New Client button.
Now you're ready to enter your client's details.
Client Details
Put in the client's business name, and the subdomain you'd like them to use as their URL address for their account.
What should I use for the subdomain?
Some accounting practices like to use their client reference number as the subdomain. Others like to use something derived from the business's name, for example, a business called John Smith Ltd might be given johnsmith as its subdomain.

Choose the client type for this client; sole trader, partnership, etc. Remember that once this is set, it can't easily be changed. An individual who incorporates his business would almost certainly need a new account.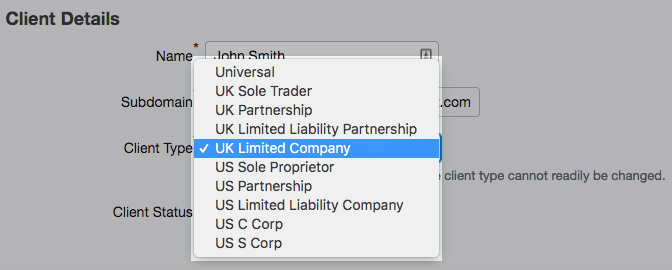 Choose the client status; active or inactive.
What does the client status mean?
Active clients have access to their FreeAgent accounts and can upload transactions. Clients who are inactive won't have any access to FreeAgent. Please note that a client can only be active once, so once you change their status from 'active' to 'inactive' it can't be changed again. You can read more about client account statuses and how and when to change them in this article.

Royal Bank of Scotland/NatWest clients

If your client has a business bank account with Royal Bank of Scotland or NatWest, you can then add their FreeAgent account to your dashboard for free.
Tick the 'Royal Bank of Scotland/NatWest funded' checkbox and enter the account number and sort code for your clients business bank account. This will create the account as funded by Royal Bank of Scotland/NatWest.

Royal Bank of Scotland/NatWest clients are very similar to other clients, in that they can be managed exactly as you would any other client account, but there are some differences; such as the footer for the client account will include the banks branding.
Other details
Put in the client's name and email address. This is the email address the client will use to log into their account.

Tick the box to send the client an invitation to set their password, and put in a message if you like. The password needs to be set by the client rather than by you and it's the password they will use to access the software when they log in. You will be able to access this client's books from your dashboard as long as they remain your client, so you won't need this password - but your client needs to create a password or they won't be able to access their account and do any bookkeeping, so make sure the box is ticked.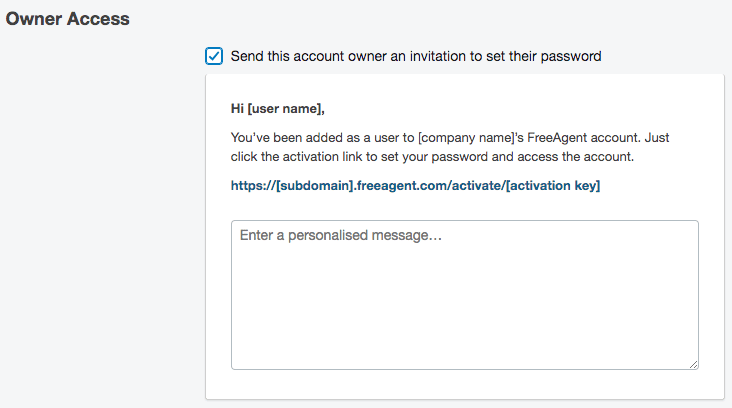 Set the client's user access level. If you set it to Tax, Accounting and Users then the client will be able to see everything, but won't be able to do everything, for example they won't be able to file VAT returns online or post journal entries.
Assigning a client to a colleague
If you want one of your colleagues to be this client's account manager, use the drop-down menu at the bottom of the page.
I can't see that option.
Remember you need to start from All Clients if you want to create a client for a colleague to manage.
You also can't assign clients to colleagues if you are not a senior account manager.
Once you've done that, select Create Client and Send Invite to set up the new client and send them their email to set their password, or Cancel to close the screen without saving this client.

What do I need to do once I've set up a client?
You need to switch to their account and go through the Getting Started process.
Once you've done that you're ready to let them start their bookkeeping.
What happens when the client receives the password link and selects it?
The client will be taken to this screen: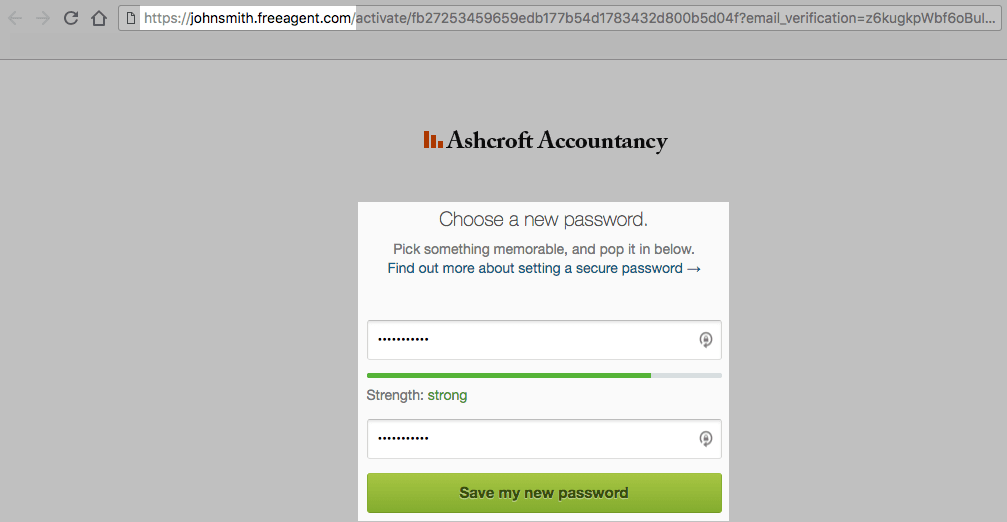 You'll see they've been taken to the subdomain where they'll log in in the future. They're invited to set their password.
Once they've done that, they're invited to log in to their account.