An introduction to Self Assessment (limited company directors)
This article provides an introduction to the Self Assessment tax return and how FreeAgent supports it.
The Self Assessment section of FreeAgent helps pull together the figures for your Self Assessment tax return, and provides a tax liability calculation. This article provides an introduction to the Self Assessment tax return and how FreeAgent supports it.
Background
Nearly all business owners have to file a Self Assessment tax return, or tax return for short, every year.
If you're a director or other employee of a limited company, your tax return will show your salary and any dividends from the company. (Please be aware though, that only directors can file their returns through FreeAgent; other employees cannot). Your tax return will also show any other income you may have, such as bank interest. It will also show any tax reliefs you're entitled to, for example if you've donated money to a charity under the Gift Aid scheme.
Your tax return must be filed with HMRC by 31st January after the end of the tax year, so long as you file it online. If you file late, you'll be fined at least £100 - further information is available on HMRC's deadlines and penalties page.
Self Assessment pages
The pages in the Self Assessment area of FreeAgent correspond to the different parts of the tax return. These are:
The main page in the return shows your personal details and simpler sources of income such as bank interest and dividends from shares, and tax reliefs such as those on some pension contributions.
Use the Employment page to report your wages from your employment as a limited company director, and any benefits you received from that employment during the tax year. If you have other paid jobs in addition to your role as a director of a limited company, you'll need to include the details of these on the Employment page as well.
The Tax Adjustments page contains an overview of your tax liability and NICs (National Insurance Contributions) that are due, and allows you to include details of tax adjustments, including applying for a reduction in your payments on account.
At the top of each page, you will see the total amount of tax and class 4 National Insurance contributions that you owe.

This figure is calculated using your FreeAgent data and the figures that you enter as you complete your Self Assessment tax return in FreeAgent. You can find a step-by-step breakdown of this calculation in the 'Your tax breakdown' page in the Self Assessment area. Remember that any payments on account you have to make for the following tax year are not included in the calculation.
Unsupported Self Assessment pages
While the current pages in the Self Assessment area should cover the needs of most limited company directors, there are parts of the tax return that FreeAgent doesn't currently support. These include:
Self Employment
UK Property
Foreign Income
Capital Gains summary
Trust Income
Residence, remittance basis etc
Anything on the SA101 Additional Information form
If you need to complete any of these pages then you won't be able to use FreeAgent to submit your Self Assessment return.
Filling in the tax return pages
Before you get started, make sure that you've explained all your bank transactions for the tax year that you're filing for, and that you've filed month 12 payroll for that tax year (if applicable).
To find your tax return in FreeAgent, begin by navigating to 'Taxes' and choosing 'Self Assessment' from the drop-down menu. In the 'Self Assessment Summary' area, choose your name from the drop-down menu and select the relevant tax year, either from the list displayed on screen or from the 'History' drop-down menu.

Each page of the Self Assessment tax return is accessed via the 'Your Tax Return' menu, which also indicates whether any pages are still in progress.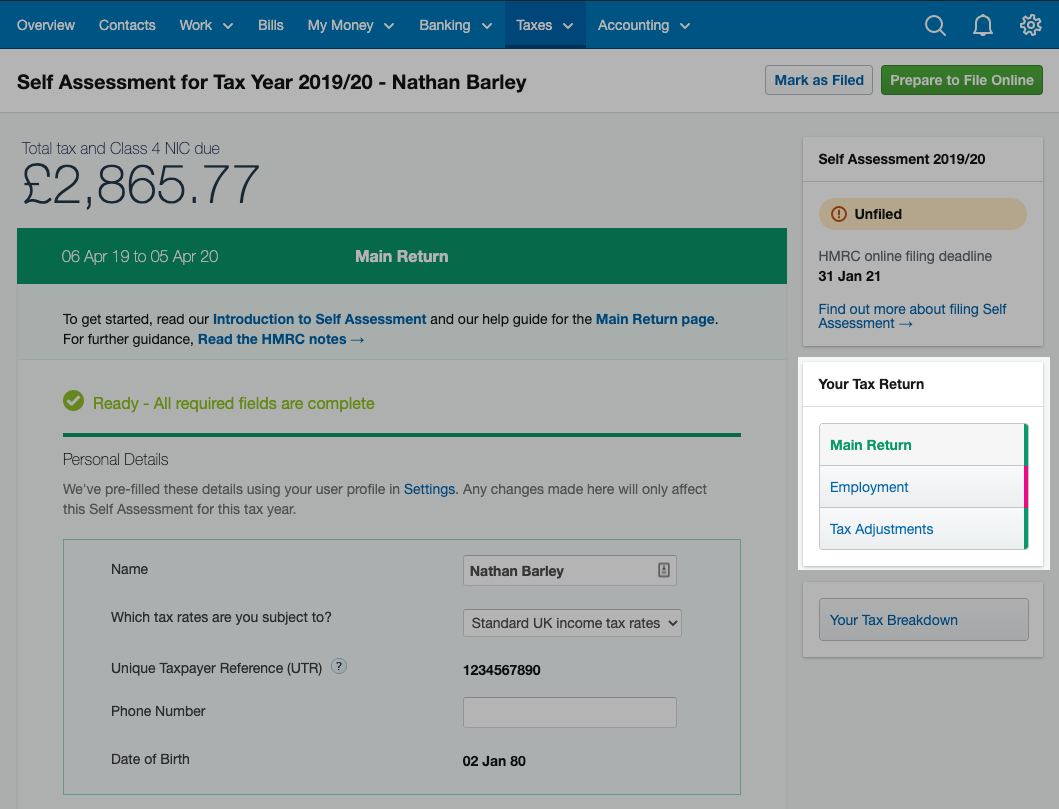 Each page in the return is broken down into a number of sections, which contain the data and boxes you need to fill in to complete the tax return.
If you need to fill in a section, choose 'Yes' and the section will expand to reveal the boxes that you need to complete. Any sections that remain set to 'No' won't be included in your tax return.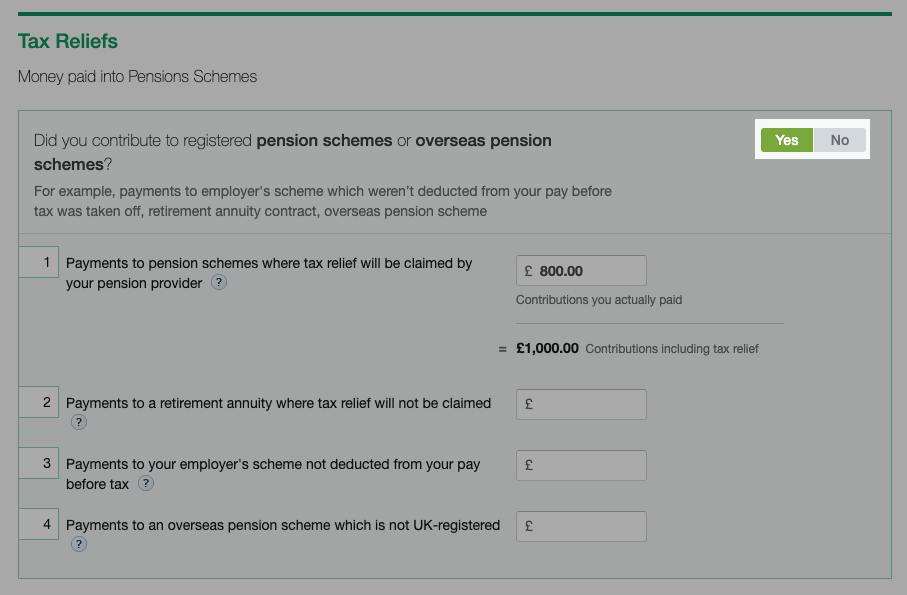 Some of the data in the tax return is pre-populated for you based on your records in FreeAgent, but you'll have to fill in some other boxes yourself. Many of these boxes are optional but some fields are required; these are indicated with an orange outline. If a box isn't relevant to you and isn't required, just leave it blank.
FreeAgent will automatically save the data you've entered into the boxes as you progress down the page, so you don't have to worry about forgetting to save your data.
If you still need to complete some of the required information on a page, you'll see an 'In progress' notification. This indicates how many sections or questions still need to be completed.

The status of any individual sections on a page that you haven't completed yet will be displayed as 'Incomplete'.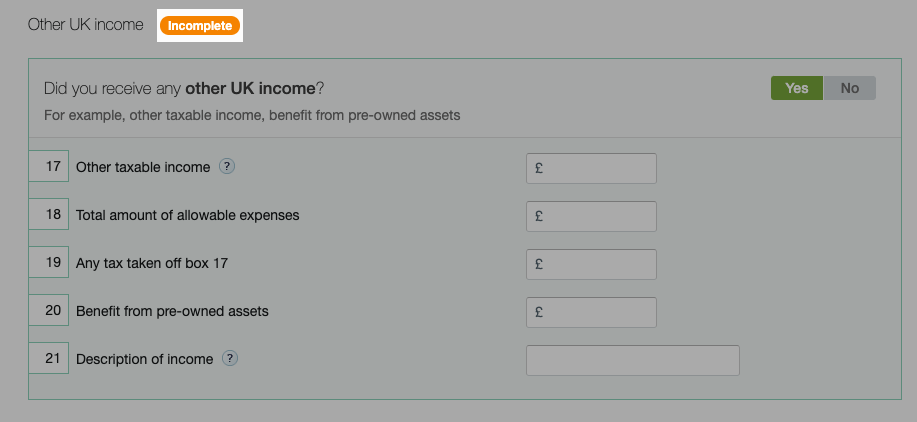 When all the required questions have been answered, and all the required sections completed, the 'In progress' and 'Incomplete' statuses will disappear.
Before you file your Self Assessment tax return, you should double-check that you've completed all the sections that are relevant to your business, as FreeAgent doesn't know exactly which sections of the tax return apply to you.