The FreeAgent referral scheme
Details on how you can save money on your FreeAgent subscription by referring other people.
We have a unique referral scheme for direct customers that allows you to earn big discounts on your normal subscription cost, and even use FreeAgent for nothing! Below are some tips on how you can save money with your subscription.
Get a referral code
Use a referral code when you sign up for your FreeAgent account or at the point of subscription. If you've been referred to FreeAgent by a friend, be sure to use their referral code to claim your 10% discount. This discount lasts for as long as both you and the person who referred you are paying direct subscribers of FreeAgent - so if you both keep your accounts directly with us, you'll get the discount for life!
Refer your friends
Once you've signed up for a FreeAgent account, you'll be given your own unique Referral Code. To find your referral code:
1 Access your FreeAgent account
Select 'Referrals' from the drop-down menu that displays your name.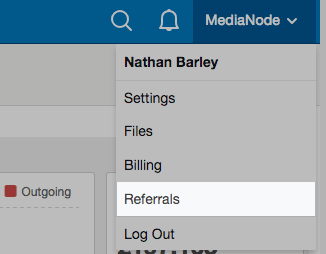 2 Find your referral code
On the 'Referrals' page, your referral code will be displayed in the 'Introduce a friend' to FreeAgent area and at the bottom of page.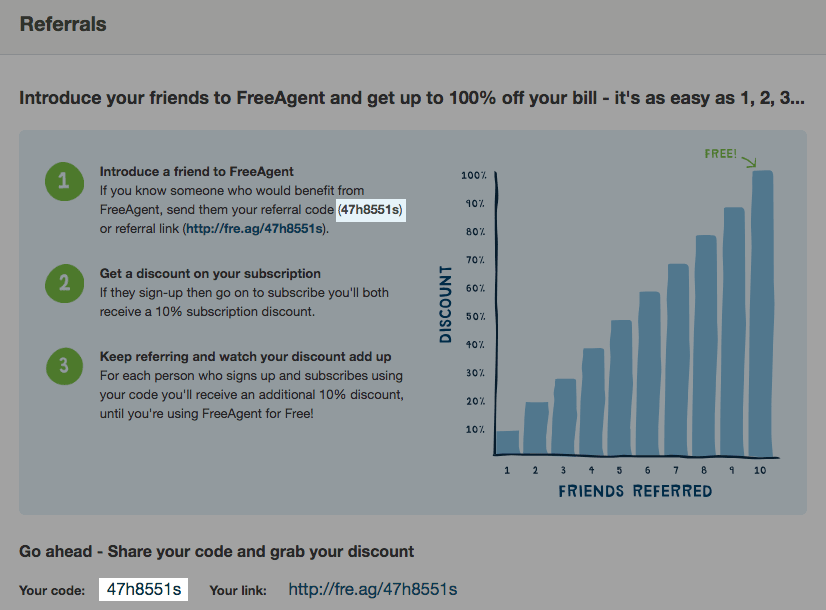 Earn discounts for each referral
Pass your referral code on to others. For every person that subscribes to FreeAgent using your referral code you'll earn an additional 10% off your subscription for as long as they remain a subscriber. That means that if you refer 10 people who go on to become subscribers, you'll be using FreeAgent for nothing!
How can I maximise my referrals?
We've provided you with several different ways to share your referral code. On your 'My Referrals page' you will see a referral link, which has your referral code embedded in it. If you pass this link on to a friend or post it on your website, anyone who selects the link and subsequently subscribes to FreeAgent will automatically earn you 10% off your subscription.
You can also share your referral code with your network by using the social media sharing buttons on your 'My Referrals' page. We've also supplied HTML code for a "badge". Copy and paste this onto your website, and anyone who selects the badge and then subscribes to FreeAgent will earn you the referral discount.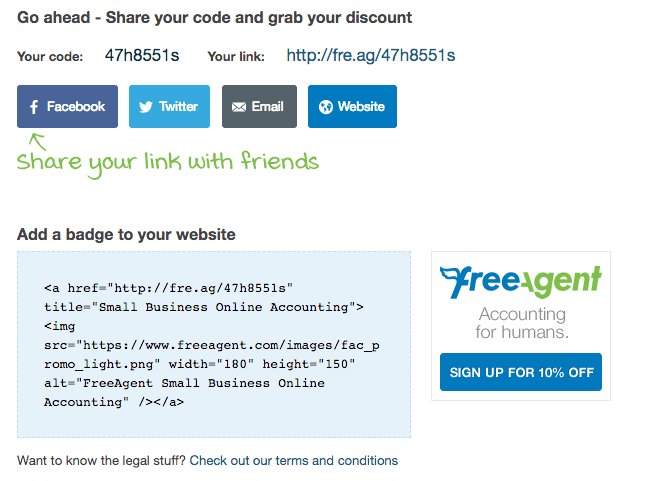 We also help you to share your referral code by including it as suggested default text when you automatically email a new invoice to a contact from FreeAgent.
How does this work with yearly subscriptions?
When you move onto a yearly discount plan, you can still earn referrals but these will only come into effect at your next payment.
What if I refer more than 10 people?
Go you! If you're in a position to refer lots of people then get in touch and we can discuss a referral fee. It could end up with us paying you to use FreeAgent!