Create a new invoice
You can use FreeAgent to create professional invoices to send to your clients. In this article we'll show you how to create a new invoice from scratch, as well as how to duplicate an existing invoice.
1. Open a blank invoice
Before you can add any items to your invoice, you need to set it up in FreeAgent. Start by navigating to the Work menu and choosing 'Invoicing'.

Select 'Add new invoice' from the Invoices area.

You can also open a blank invoice by selecting 'New Invoice' from the Quick Links menu on the Overview screen.

2. Complete the new invoice
Entering the contact and project details
Contact
First, choose which client this invoice is for. If it's a new client, you'll need to enter them as a contact first, either by uploading their information, importing them from Basecamp, or manually. You can also quickly add a new contact by selecting the 'Add a new contact' link next to the contact name box. Bear in mind that if the contact is hidden, you won't be able to see them on this list.

Project
If you're producing this invoice as part of a project, choose which project it's for. If it's for a new project, you'll need to set that project up. Bear in mind that if you didn't create the invoice as part of a project, you won't see completed, cancelled or hidden projects in this list.
Include unbilled items
When you select a project to attach the invoice to, you will be given the option to add any unbilled items from the project to the invoice. You can choose to add unbilled timeslips, expenses and estimates.
Entering the invoice details
Reference number
FreeAgent automatically gives the invoice a reference number. The default referencing system is global, which means that the same referencing system will be used for all your invoices. If you wish, you can set set FreeAgent to generate client-specific or project-specific reference numbers. You can specify this in the details of the appropriate Contact or Project. Whichever system you choose to use, FreeAgent will automatically use the next number in sequence. When you create an invoice in FreeAgent for the very first time, enter a reference number (this should be 001 if your business is brand new),and FreeAgent will pick the next number in the sequence for your subsequent invoice.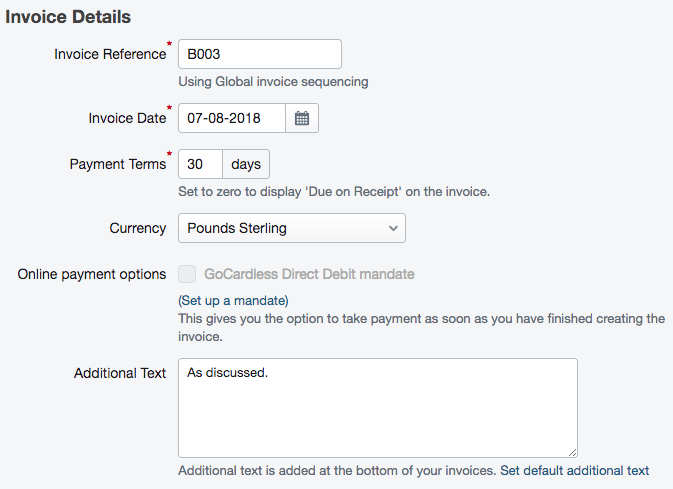 Invoice date, payment terms and currency
Enter the invoice date and payment terms, and choose which currency you'd like to issue the invoice in. If you've set specific payment terms for your contact, these will be updated automatically.
Online payment options
If you want to give the client the option to pay the via PayPal or PayPal Here, select the appropriate checkbox. Remember that you need to enable these features in FreeAgent before you can use them.
Additional text
Type any additional text you wish to include on the invoice in this area. If you want to include the message on all of your invoices, select 'Set default additional text' and type your message in the pop-up window.
Invoice emails
If you want to automatically email the invoice to the client on the invoice due date, select 'Email this invoice automatically using my default template'. If want to set FreeAgent to send automatic reminders if your client is late to pay, or send an automatic thank-you email when the client pays, select these options. Please note that to enable these features, you will need to set the relevant automatic emails up in the Settings area of FreeAgent. If you've set default options for this client, these will be updated automatically.
Completing the 'More options' section
Select the arrow next to 'More Options' to display this area and then choose the options that apply.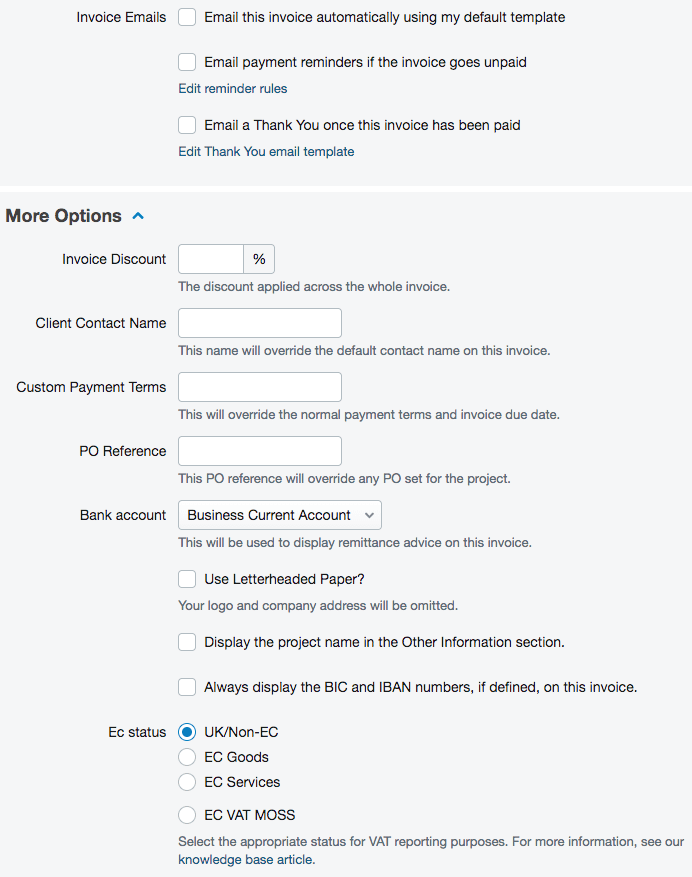 Invoice discount
If you wish to apply a discount to the entire invoice, enter the discount percentage here.
Client contact name
If you want to send the invoice to someone other than the person listed as the contact for that client (e.g. if the listed contact is the purchase ledger clerk and you want to send the invoice to the finance manager), you can enter the name of the person you wish to address the invoice to here.
Custom payment terms
If you want to set different payment terms to those of your usual invoices, enter your custom payment terms here.
PO reference
If you wish to add a PO reference to the invoice, enter it here.
Bank account
By default, the details of your primary bank account in FreeAgent will be displayed on your invoices, so that customers can pay you via online banking if they wish to. However, if you would like the customer to pay an invoice into one of your other bank accounts in FreeAgent, you can choose to display the details of that account on the invoice instead. To do this, simply select the appropriate account from the 'Bank account' drop-down menu.
Use letterheaded paper
Check this box if you wish to omit your logo and company address details from the invoice.
Display project name
If the invoice relates to a project in FreeAgent and you wish to include the project name on the invoice, select 'Display Project Name'.
Always show BIC and IBAN number
Select this option if you entered either a BIC or IBAN number when you set up the bank account that relates to the invoice, and you want to include either (or both) of these numbers on the invoice.
3. Finalise the invoice
Select 'Create New Invoice' to save your changes and create the new invoice. (If you wish to abandon the invoice, select 'Cancel'.) You'll see the newly created invoice on the screen and will be able to add new items to it and send it to your client when you're ready.
Creating a duplicate invoice
If you want to duplicate an existing invoice, navigate to 'Work' and choose 'Invoicing' to see the details of your existing invoices. Select the invoice you wish to duplicate, then navigate to 'More' and select 'Duplicate invoice'.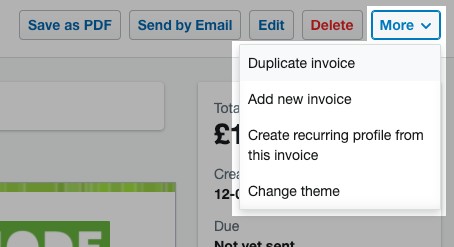 You will be prompted to review the invoice details and edit them if you wish. When you're ready, select 'Create new invoice'. You will then be able to add items to the invoice and send it to the client.