Add or edit invoice items
Here's how to take an invoice you've already created in FreeAgent, change its look and feel, add figures to it, and print (or remove) your bank details on the invoice.
1 Find the invoice you want to view or edit
On the Invoicing screen, you can choose whether you want to view all the invoices you've ever created, or several different other views, so if you have lots of invoices in the system, you can filter by one of these options to reduce the number of invoices listed. Bear in mind that if you haven't yet put any figures on your invoice, it will be marked as 'draft'.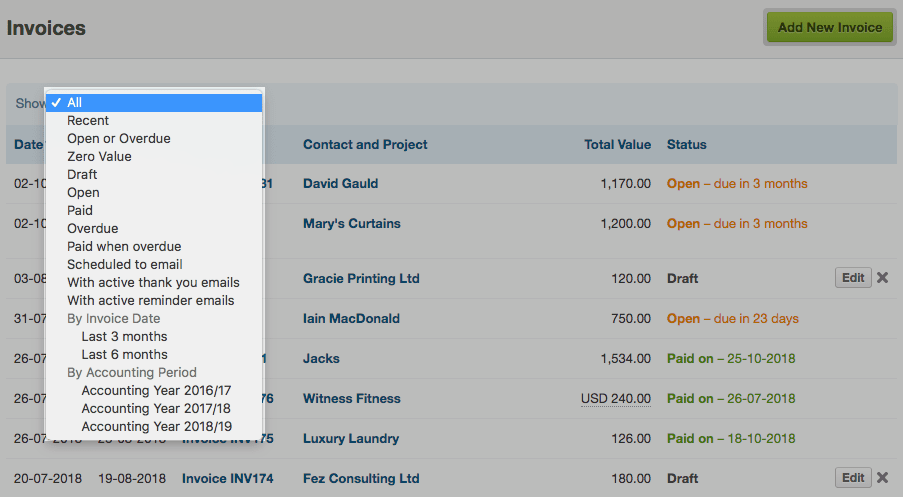 When you've found the invoice you want to work with, select the link to load it.

You can also select the 'Edit' button next to the invoice to access it that way, or choose the cross beside that button to delete the invoice.

You'll only be able to see this button and the cross for draft invoices.
2 The draft invoice and its look and feel
This invoice is in draft stage. That's important because you can only edit invoices that are in draft stage and you'll need to edit this one if only by adding some figures to it, because it's a new invoice.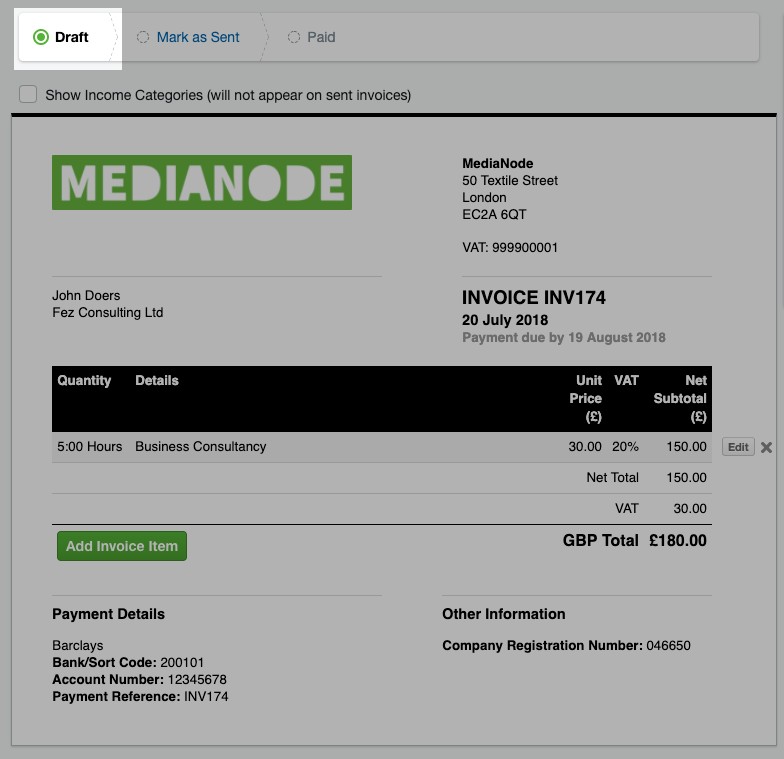 But before you do that, if you decide you'd like this invoice to look a bit different, FreeAgent does have a selection of invoice themes for you to choose from.
Select the 'More' button and choose 'Change Theme' to see these.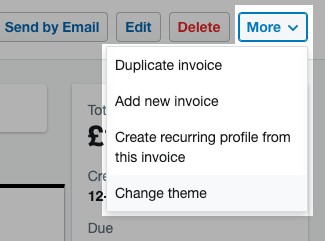 You can see there are different layouts here, and each one looks slightly different in terms of colour and layout.
Choose the one you like the look of the most, and select it.

When you choose a theme in the tray, you'll see below a preview of the invoice using that theme.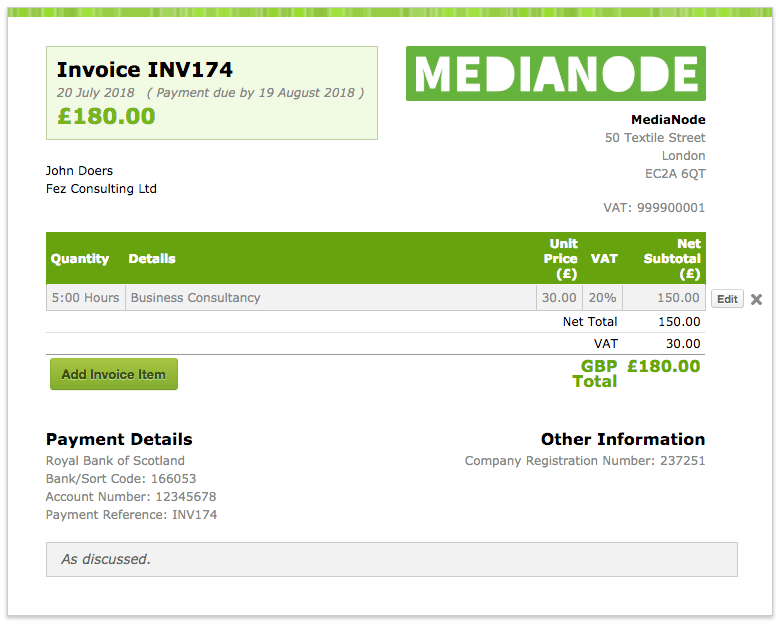 A theme you choose here will only apply to this one invoice. If you want to change the theme of all your future invoices, please choose a theme from our theme gallery.
Once you've chosen your layout, you're ready to start adding figures to the invoice.
3 Add figures to the invoice
Select the 'Add an Invoice Item' button.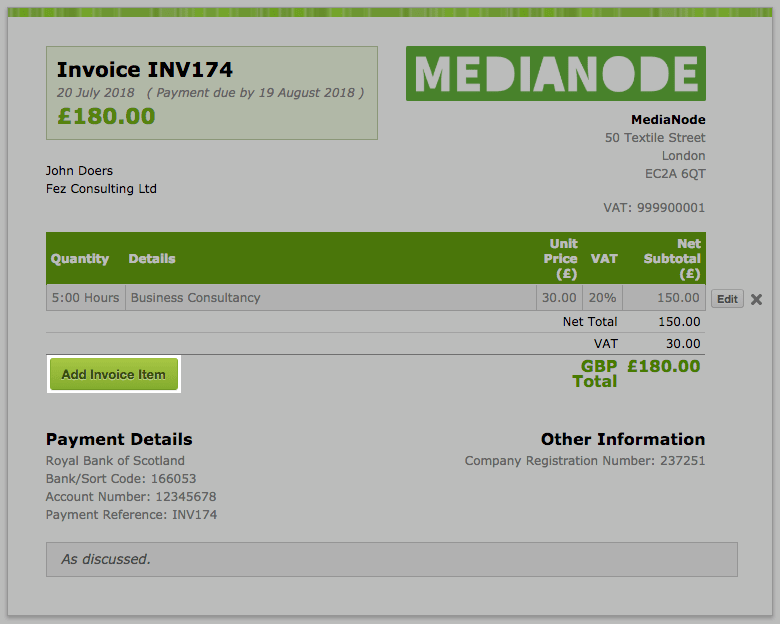 This brings up the New Invoice Item screen.
Price list
If the item's already set up in your price list, you can add it from there.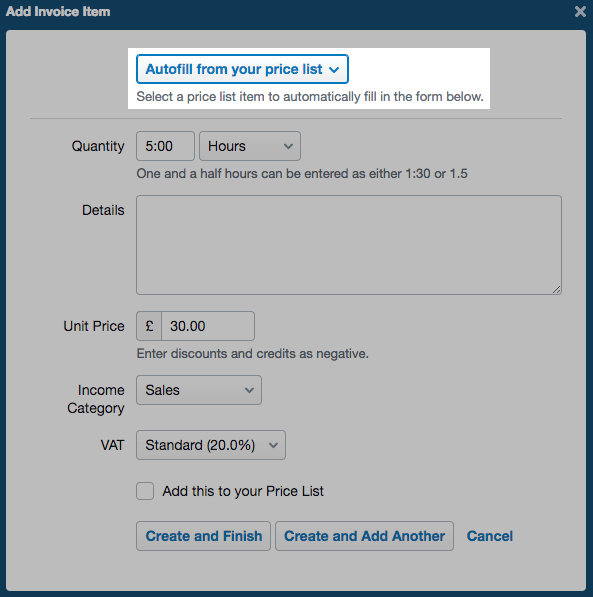 Quantity and unit
Choose the quantity and the unit, using the number box and the drop-down menu. So you might be invoicing the cost of 4 hours' work, or 5 days' work. If you don't want to show a unit then there is also a "No Unit" option which will leave this column blank.
There's also a "Discount" option which lets you apply an exact-amount discount to your invoice, e.g. £100 off, rather than a percentage discount. To put in a discount, put the quantity as 1, and enter the amount of the discount in the unit price box (see below) as a minus.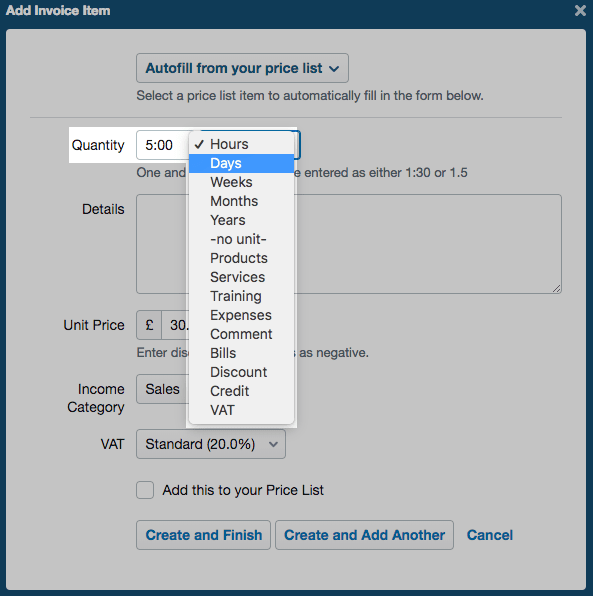 Item details
Type in the details of the item here; so a description of the product or service, for example, "Business Consultancy".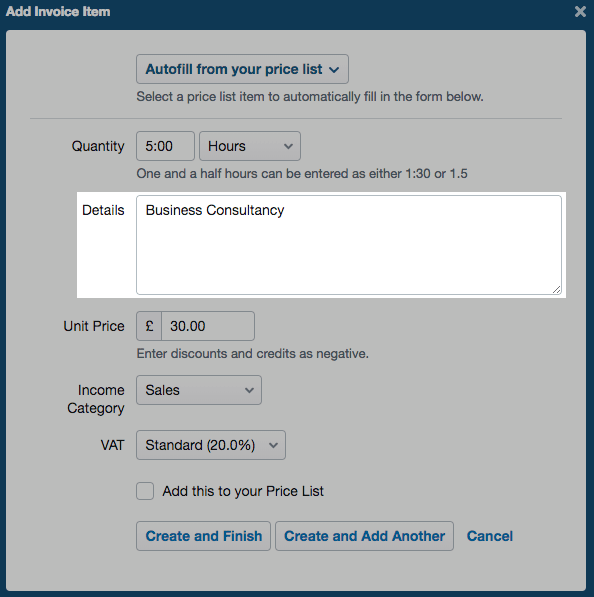 Unit price; creating a credit note
Then enter the price per unit. So if you're invoicing for 4 hours' work and your hourly rate is £30, put 30.00 in the unit price box. If you want to create a credit note, just enter the unit price as a minus figure. The overall total of the invoice needs to be negative for FreeAgent to create a credit note.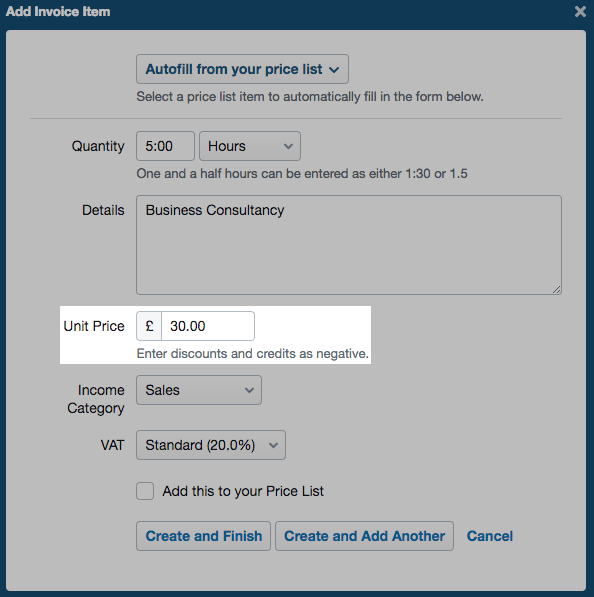 Income category
Choose which category in your accounts you want this item to appear in.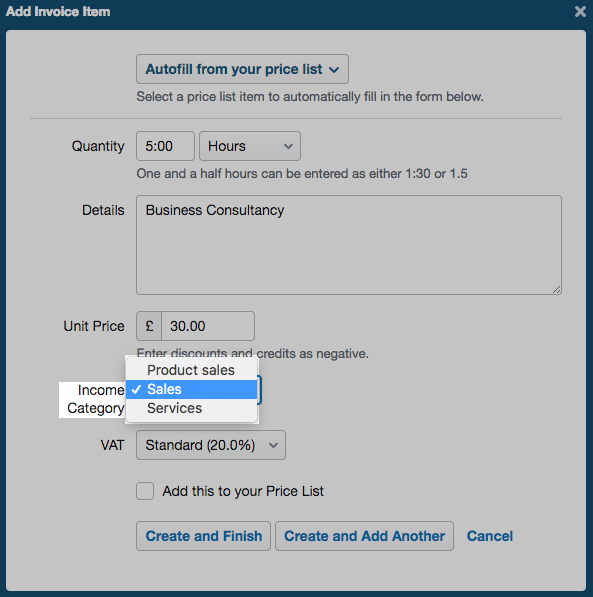 VAT
And make sure you choose the correct rate of VAT for this item, from the drop-down menu. If your customer is in the EU, there is a setting under Contacts to enable you to decide whether or not you want to charge them VAT.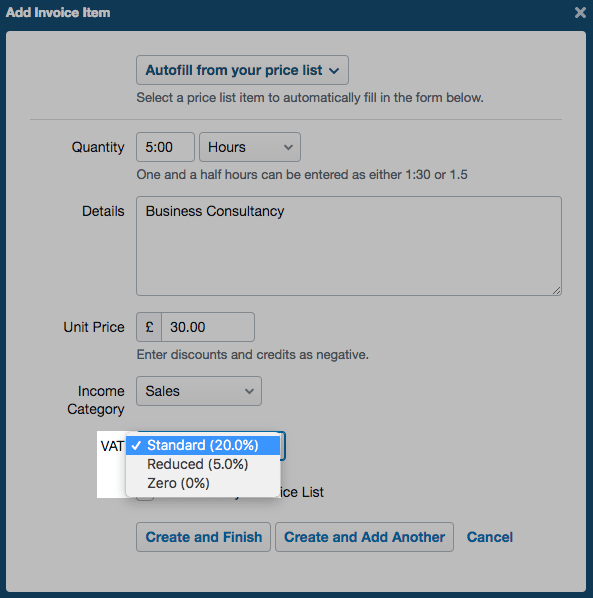 Finish this item
If this is the only item you need to add to this invoice, select 'Create'. If you're going to need to add more items, choose 'Create and Add Another'. If you don't want to add this item to the invoice, select 'Cancel'.
Now that the invoice has some figures on it, you're ready to think about sending it to your client.
Invoice Details
Basic details
First check that details such as the client's name and address details are correct. If they're not, select the 'Edit' button to change them.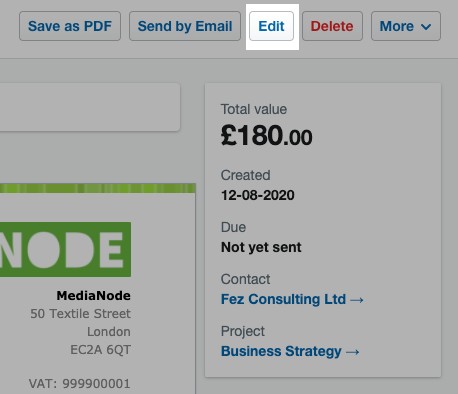 Delete invoice
And you can even delete the invoice and start again by selecting the 'Delete' button.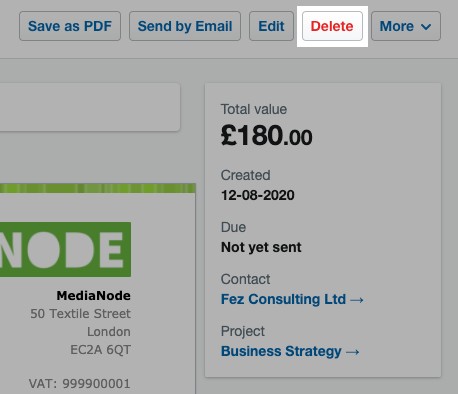 Item categories
You can tick this box to see, beside each item, which income category that item will appear in.
These won't show on invoices you send, they're just for your reference.
You can select the arrow next to the category's name to pick a different category for that item.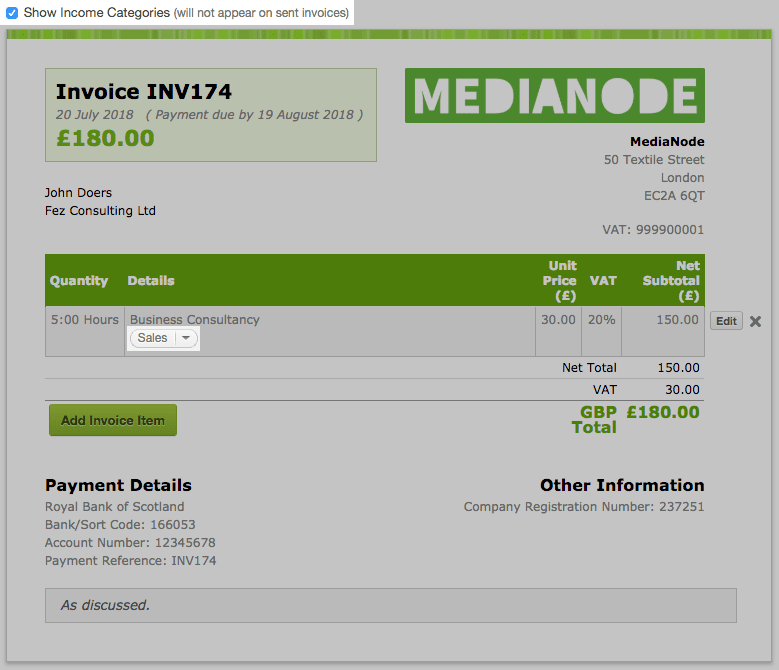 Edit or delete item
If you need to edit any of the items on the invoice, select the Edit button next to that item.
You can also delete items from invoices by selecting the cross next to the Edit button.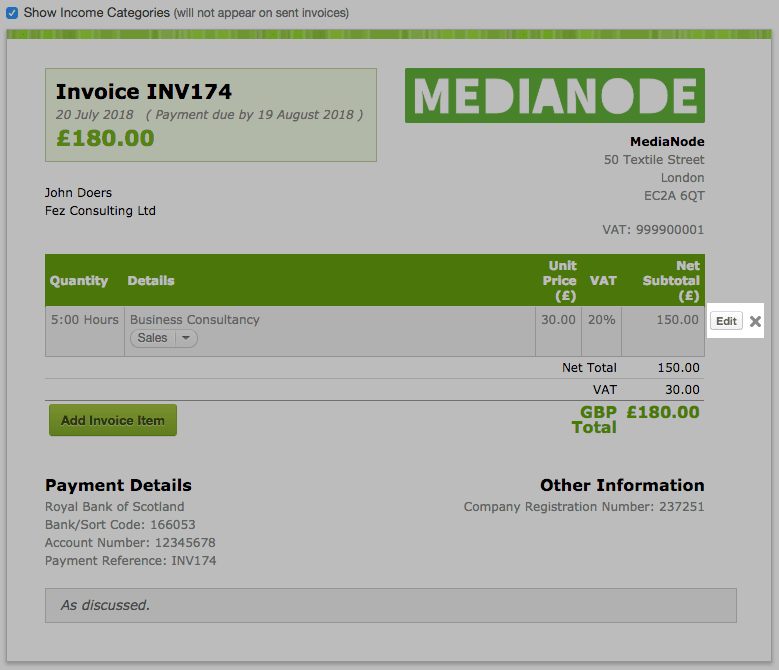 Bank details
You can see there's a place at the bottom of the invoice for putting in your bank details.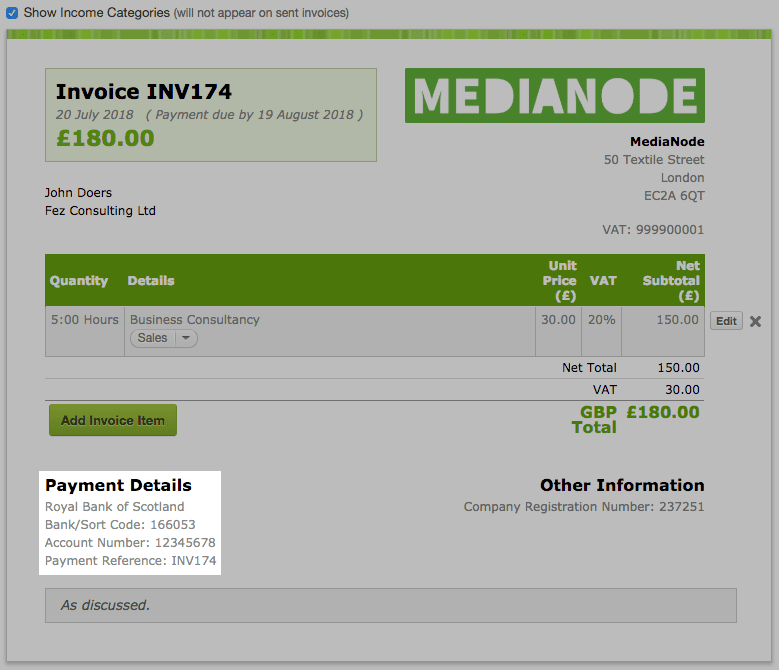 These are the details of the account you've set as your primary account on FreeAgent.
If you want to use the details of a different account, or not show them at all, you'll need to make those changes under the Banking section.
Select 'Banking'.

The account with a star next to it on the list down at the bottom of the Banking summary is set as the primary bank account.
To enter the sort code and account number for online payments, select the account's name.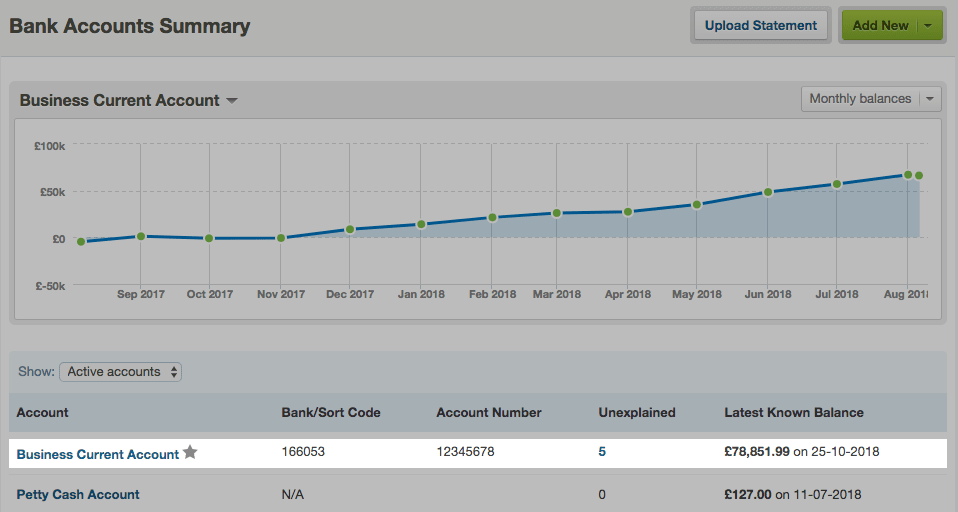 Then select 'Edit Details'.

Fill in the Account Number and Sort Code boxes, making sure the 'Show these details on invoices' box is ticked if you want the bank details to show on your invoices (and untick it if you don't).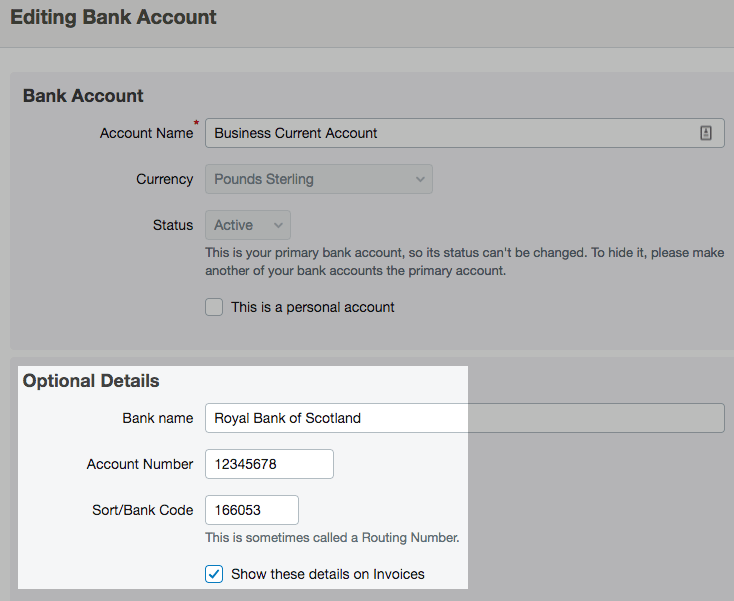 If you want to add your iBAN and BIC information to your invoices, make sure that your contact for whom you want to do this is based in a country outside the UK.
Save your changes.
If you want to set another account as the primary bank account, select that account's name from the list, and select Edit Details as before.
Tick the "Make this my primary account" box.

Then put in the sort code and account number for this account, making sure the "Show these Details on Invoices" box is ticked, and save your changes.
This account's details will then appear on your draft invoices and any new invoices you create.
You're now ready to send the invoice to your client.