Here's how to record a payment from your customer that pays off just one invoice. (Please read this alternative article if you want to mark more than one invoice as paid with one payment.)
Option 1: If you're uploading bank transactions
If your bank transactions arrive in your bank account through either uploading a statement or via a bank feed, your invoice payment will appear in FreeAgent as an unexplained transaction.
To allocate the payment to the appropriate invoice, first select the transaction in your bank account.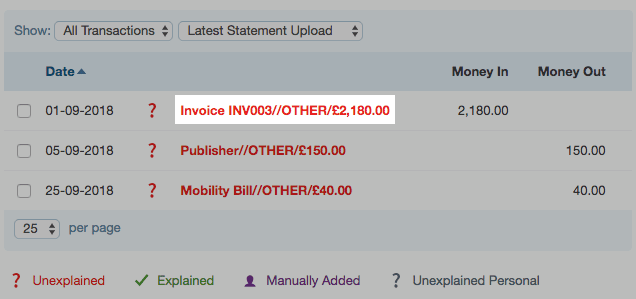 Explain it as an Invoice Receipt. FreeAgent will try to choose the appropriate invoice based on the outstanding amount. If correct, you can just save the explanation. If FreeAgent has selected the wrong invoice, remove the selected invoice by clicking the cross at the right of the Invoice field, and then type in a reference or amount to filter to the correct invoice.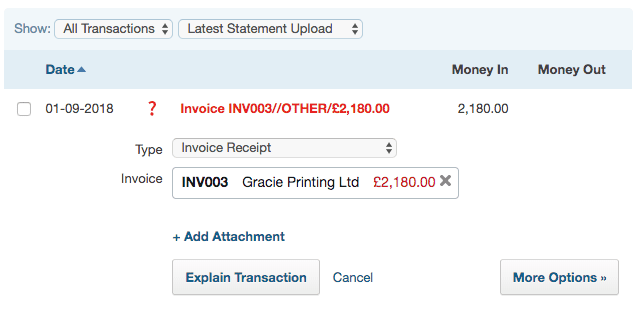 When you're sure you have chosen the right invoice for the transaction, save the explanation and the invoice will now be marked as paid.
Option 2: Add a Manual Payment from the invoice
When you've sent the invoice, you'll see it has a button at the top to "Add a Manual Payment".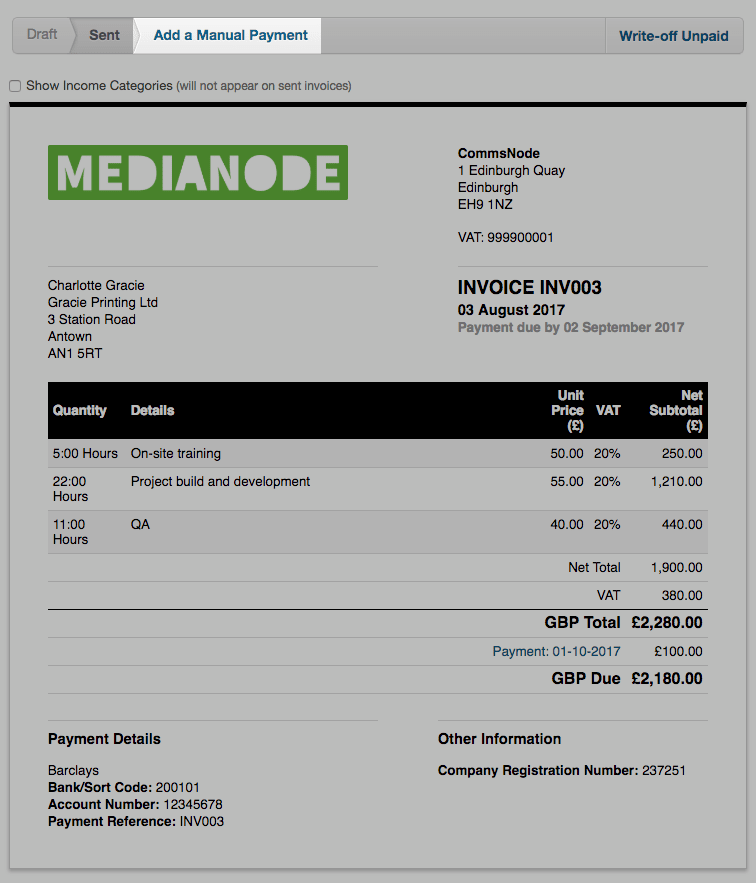 If the money was paid into the bank account displayed on this invoice, click the Add a Manual Payment button and enter the appropriate date and amount for the payment.
If the money was paid into a different account (for example, your business's savings account, or your cash account), please use Option 3 below.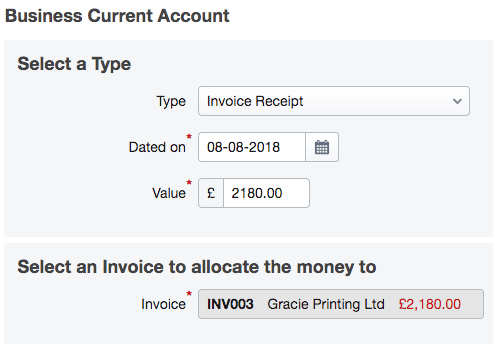 Top tip: You can temporarily add manual payments while you're waiting for the payment to arrive in your bank account via either a statement upload or bank feed import. When you come to explain the imported transaction, click through to 'More Options' and you'll see an extra box asking if you want to use an existing manual entry. To match this transaction to the manual payment you've previously added, select the Use Selected Entry button.

Option 3: Add a Manual Payment in the bank account
If the bank account the payment was made into isn't the one displayed on the invoice, then you'll need to enter a manual invoice receipt in the appropriate bank account.
Within the appropriate bank account, select 'More' and 'Add Transaction'.

Use type Invoice Receipt. In the Invoice field, type in the invoice reference number, contact name, or total amount to help FreeAgent search for the right invoice to allocate to this payment. Select the invoice from the list.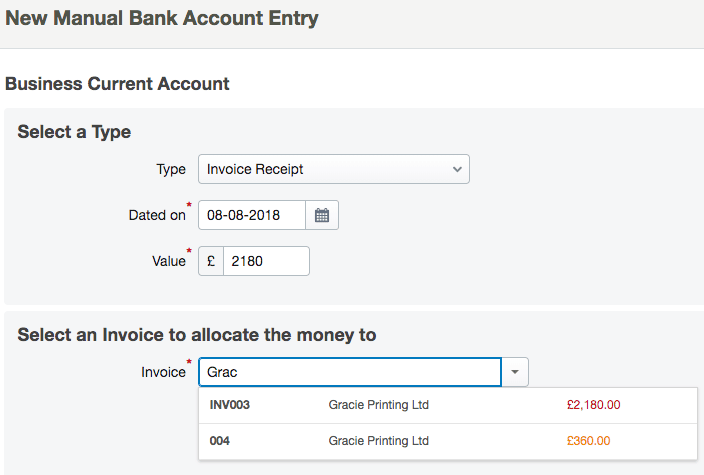 Save the manual transaction and the invoice will now be marked as paid.