How FreeAgent supports IR35
This article outlines the support that FreeAgent provides for IR35 legislation.
IR35 is a piece of tax legislation that's designed to tax "disguised employment" at a similar rate to employment. Disguised employment refers to the practice of contractors working through intermediaries, such as personal service companies, potentially as a means of gaining a tax advantage for both themselves and their client.
If HMRC determines that you are operating under an IR35 contract through an intermediary company, you will have to pay income tax and NI on the sales income that the intermediary receives (less certain allowable expenses). If you're not sure whether you are operating under an IR35 contract, you can contact HMRC or use its online tool to find out.
If you're working on IR35 contracts in the public sector, there's a unique process that you'll need to follow in FreeAgent from 6th April 2017 onwards. We've outlined this process in our article for accountants, but the instructions are suitable for all FreeAgent users.
If your IR35 contract is in the private sector, it will be the responsibility of your company to pay the appropriate level of employment taxes. Your company can do this by paying you additional salary, so that HMRC collects the correct amount of tax due. This additional salary payment is called a deemed payment. You can either make this deemed payment (which consists of additional tax and National Insurance) at the end of the tax year, or pay yourself a higher rate of employment income each month to reduce the deemed payment (and additional tax due) to zero by the end of the tax year.
If you use FreeAgent's payroll, you can mark relevant projects as being caught under IR35. FreeAgent will then create a report that calculates the accumulated deemed payment from your IR35 contracts, and show you how much the company needs to pay you in order to reduce your total deemed payment (and additional tax due) to zero by the end of the tax year.
Reducing your deemed payment
There are some allowable expenses that can reduce your deemed payment. Employer National Insurance Contribution (NIC) payments and pension payments can also reduce your deemed payment. FreeAgent will take these figures directly from the payslips you generate after running payroll, but you need to make sure you've made these payments to HMRC and your pension provider within the same tax year as the IR35 report.
Setting up an IR35 project in FreeAgent
If you're working on a project caught under IR35, simply tick the 'Is 'Employment' under IR35?' box in the 'More options' area when you create the project in FreeAgent.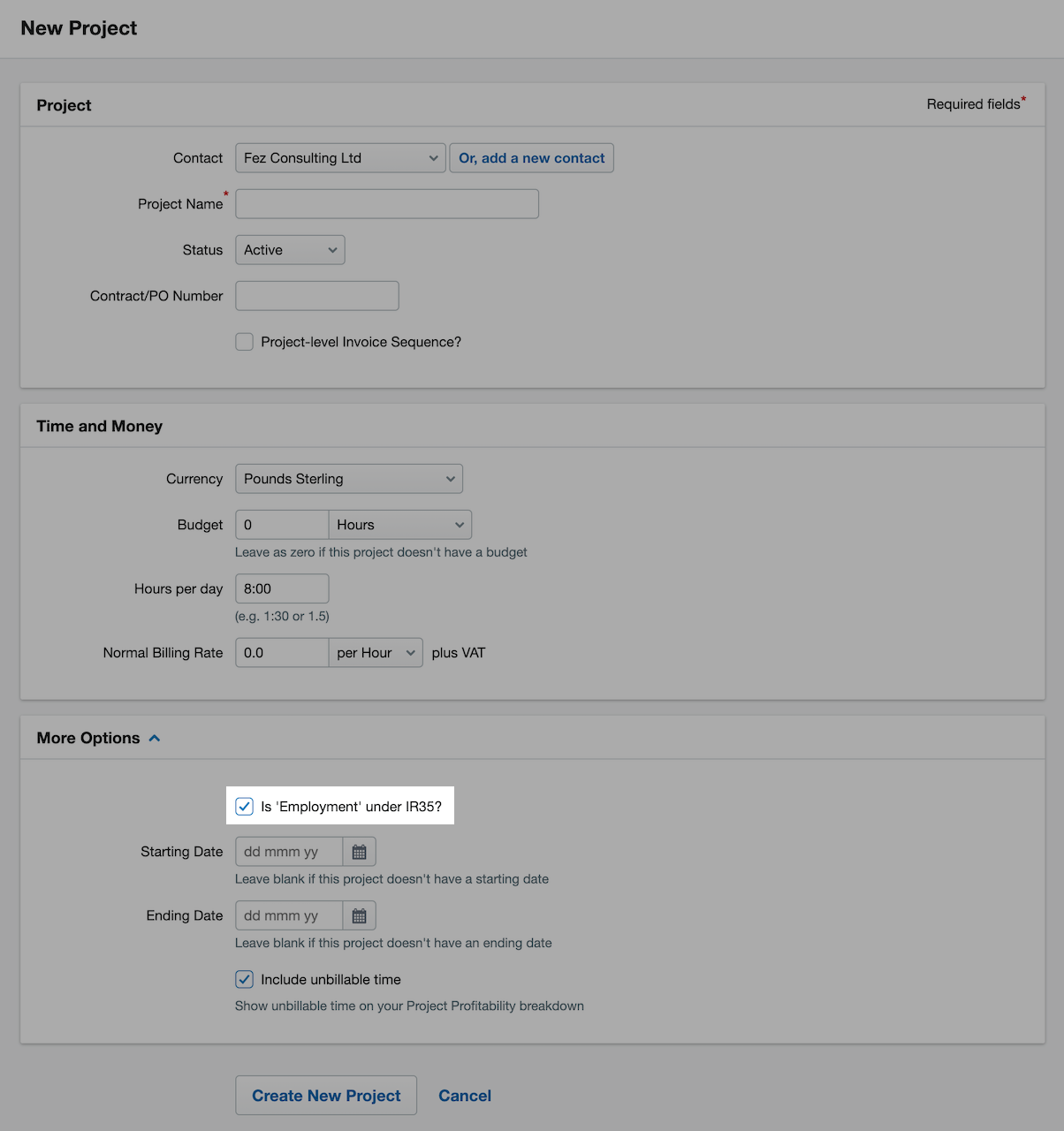 You should then manage the project in FreeAgent as you normally would, entering any allowable expenses, bills, bank transactions and invoices and linking them to the project.
If any of these allowable costs are out-of-pocket expenses, you should only link them to an IR35-enabled project in FreeAgent once you have reimbursed yourself for them.
If other users have access to your FreeAgent account, you should ask them not to include income and expenditure information relating to your IR35-enabled projects, otherwise the figures they enter will be included in your deemed payment calculations.
Your IR35 report
Once you've entered all the allowable expenses, bills, bank transactions and invoices associated with the IR35 contract (and made sure you've linked them to the project in FreeAgent), your IR35 report will be ready for you to review.
Please note that income and costs are included in this report on a cash basis. This means that the revenue is recorded based on the date of each invoice receipt and the costs are included based on the date that they are paid.
To do this, navigate to the 'Accounting' tab at the top of your screen and select 'Reports' from the drop-down menu.

In the 'Breakdown' section, select 'IR35'.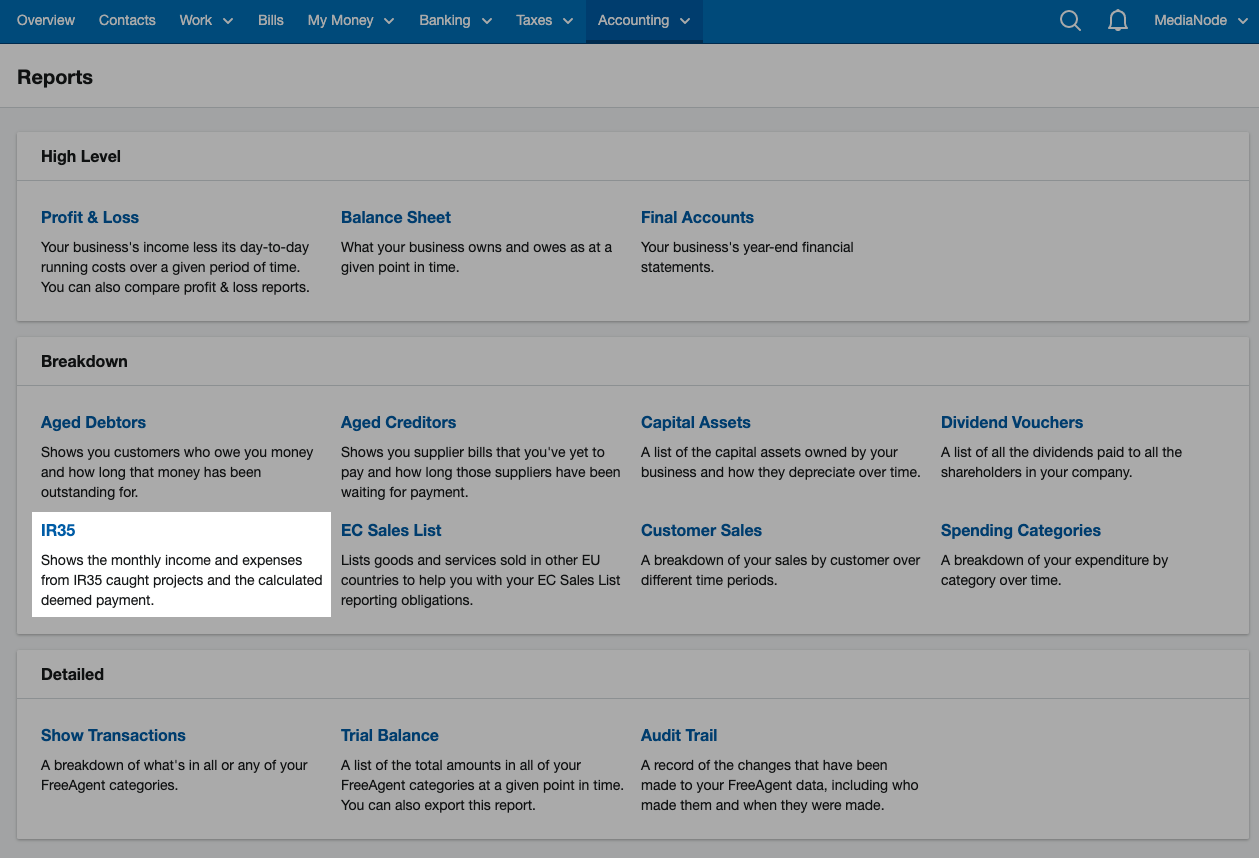 Your IR35 report includes a month-by-month look at the accumulated income and allowable expenses across all IR35 projects and the calculated deemed payment that you're required to make as a result.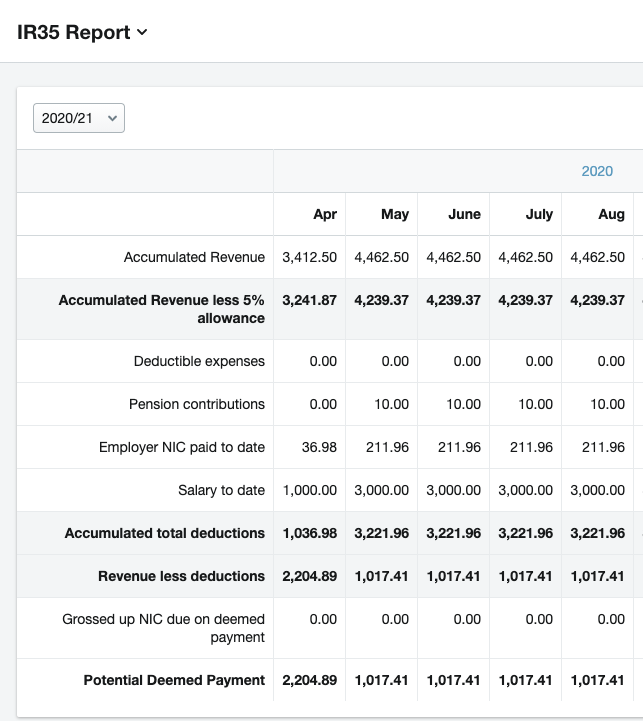 The value in the 'potential deemed payment' row for each month is the amount your company should pay you in salary in order to reduce your total deemed payment (and additional tax due) to zero by the end of the tax year. Enter this amount in the 'gross salary' box when you complete your payslip each month. Bear in mind that this figure may change across the course of a tax year, so you should check the report before entering your payslip details each month.
If you have other income from non-IR35 contracts and your company has made pension contributions on your behalf, you may need to make some adjustments to your IR35 report. Your accountant should be able to help you do this.
Month 12: checking you've made the full deemed payment for the tax year
FreeAgent will use your month 12 payroll calculations to determine whether there is anything further that you need to pay yourself to reduce your deemed payment for the tax year to zero. In month 12 of your payroll year, you will need to check that the potential deemed payment figure on your IR35 report has changed to zero after you have generated your month 12 payslip. If the figure hasn't reduced to zero, you will need to go back to your payslip and increase your gross salary and/or your employer pension contributions.