Buy services from EU
You may buy services from a supplier outside the UK but within the EU. For example, Skype are based in Luxembourg. If you choose to enter a bill for those services, here's how to record that bill in FreeAgent.
If you buy services from suppliers in the EU, these will not normally have UK VAT on them - but you will still need to track them to be able to work out the reverse charge.
1 Make sure EC VAT reporting is enabled
To switch on EC VAT reporting, select Settings at the top right of the screen, then select VAT Registration.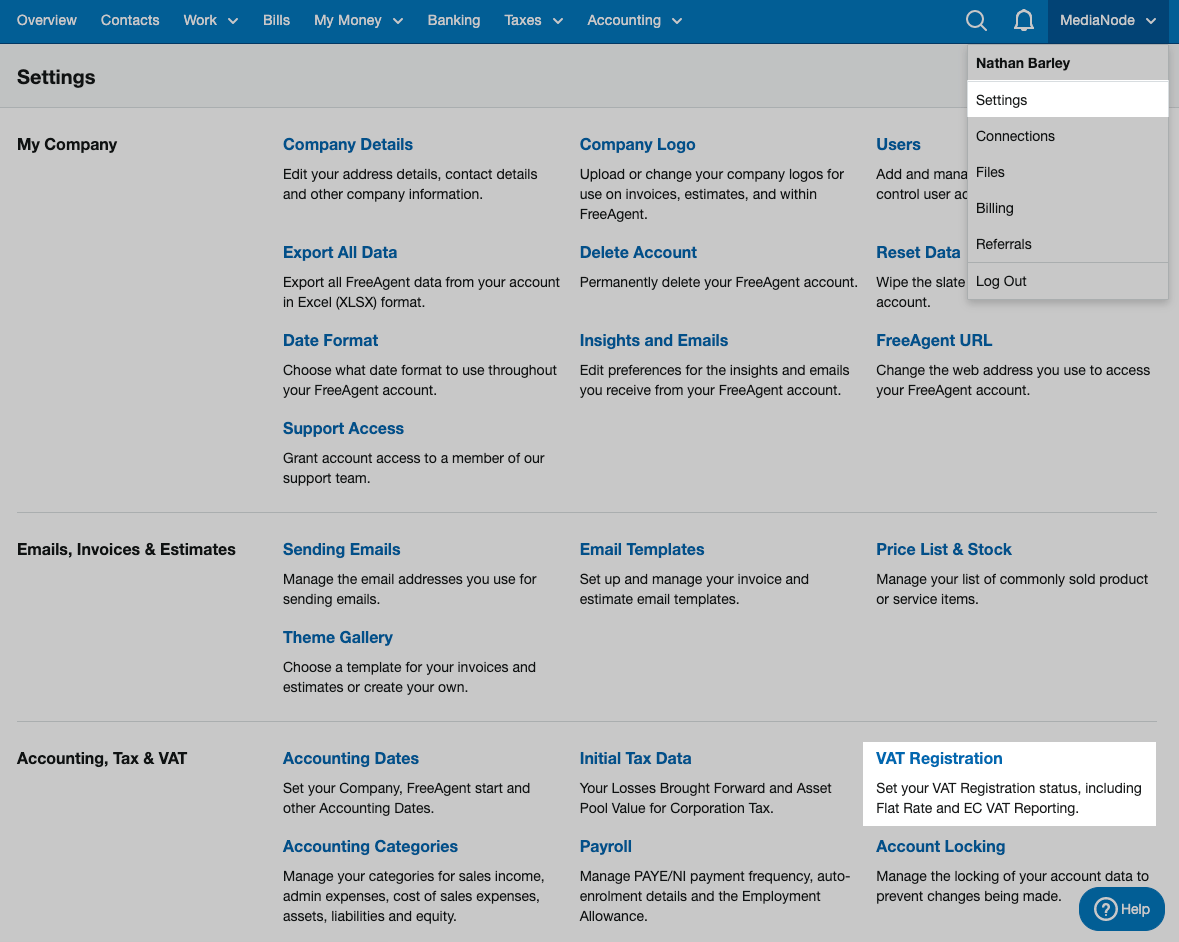 Make sure to select 'Yes' in the 'Do you trade with other countries in the EU?' area.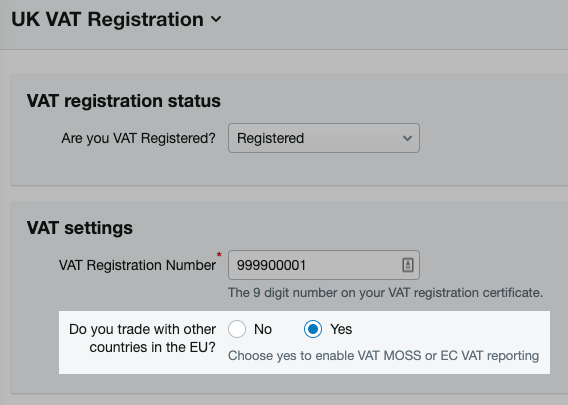 Save your changes.
2 Make sure the contact is set for EC VAT
Select the Edit Details button for your contact in the EU.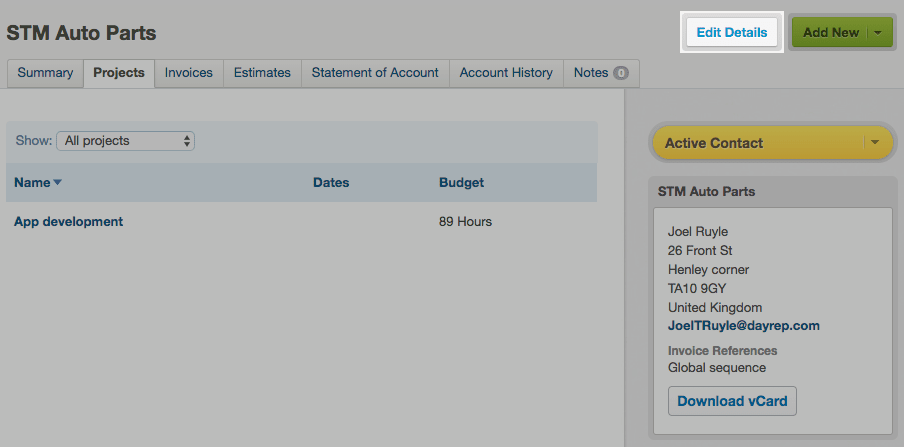 Make sure the contact's country is in the EU but outside the UK, as you won't be able to tag bills for EC Services if the contact is not set as based in the EU.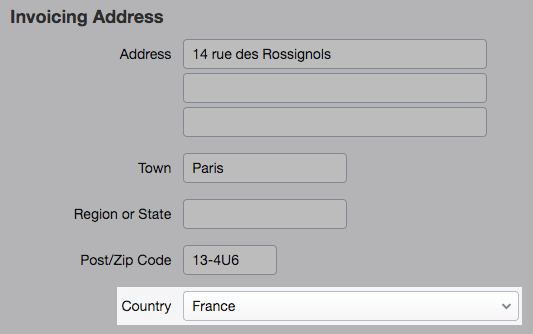 Save any changes you have made.
3 Create your bill
You're now ready to create your bill as normal.
As you do that, tick the box saying 'EC Services'.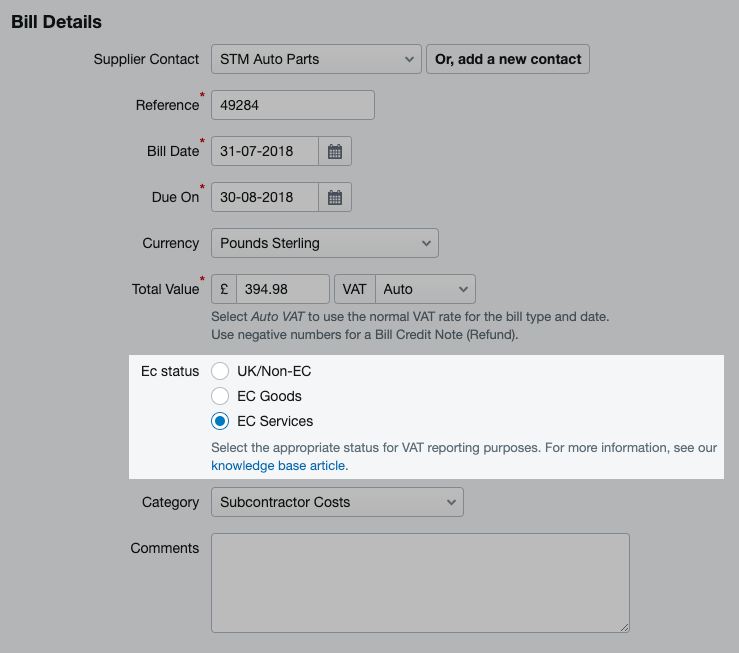 When you create the bill, FreeAgent will then pick up that it's for a purchase of services not directly related to goods (such as delivery services), from a supplier in the EU.
If the services are directly related to goods, set the bill as "EC Goods" rather than "EC Services".
Which VAT rate should I choose?
0%. This is important so that FreeAgent accounts correctly for the reverse charge.
If the bill has had local VAT charged
If you've travelled overseas and bought services there, or alternatively your EU supplier might not have checked that you're running a business, you might be charged for local VAT. For example, if you stayed in a hotel in Germany for business, the hotel would charge German VAT.
You can't reclaim non-UK VAT through your UK VAT return. Instead, you'll need to record the transaction in FreeAgent with no VAT reclaimable, and make sure not to check the 'EC Services' tick box.
Next, you'd need to claim back the VAT through HMRC. After you've reclaimed the VAT and it has shown up in your bank account, it shouldn't be explained as VAT but as a refund to the category where the cost of the services was placed. This will make sure that it's kept off your UK VAT return.
VAT reporting
When you correctly create a bill for the purchase of EC services, whether or not you're on the Flat Rate Scheme, there is no acquisition tax and nothing goes into box 2, or to box 9. These are just for purchases of goods from the EU.
I'm buying both goods and services from a supplier in the EU - and the services are not directly related to the goods.
In that case you'll need to create two bills in FreeAgent, one for the goods and the other for the unrelated services.