How to add a new bill
This article explains how to add a bill to record a supplier invoice in FreeAgent.
Bills are invoices that you receive from your suppliers, as opposed to those that you issue to your customers. Other software might call this area 'Creditors', 'Suppliers' or 'Accounts Payable'. Bills are for goods and services that you will have to pay for - but perhaps not immediately. It depends on whether your supplier gives you credit.
Before you start
Check that the supplier you are adding the bill for has been added as a contact, either by uploading their information into FreeAgent, importing their information from Basecamp or manually adding them as a new contact, before following the steps below.
1. Navigate to 'Bills'
Navigate to the 'Bills' tab at the top of the screen.
Alternatively, you can add a bill by selecting 'Quick Links' on the 'Overview' page and selecting 'New Bill' from the drop-down menu.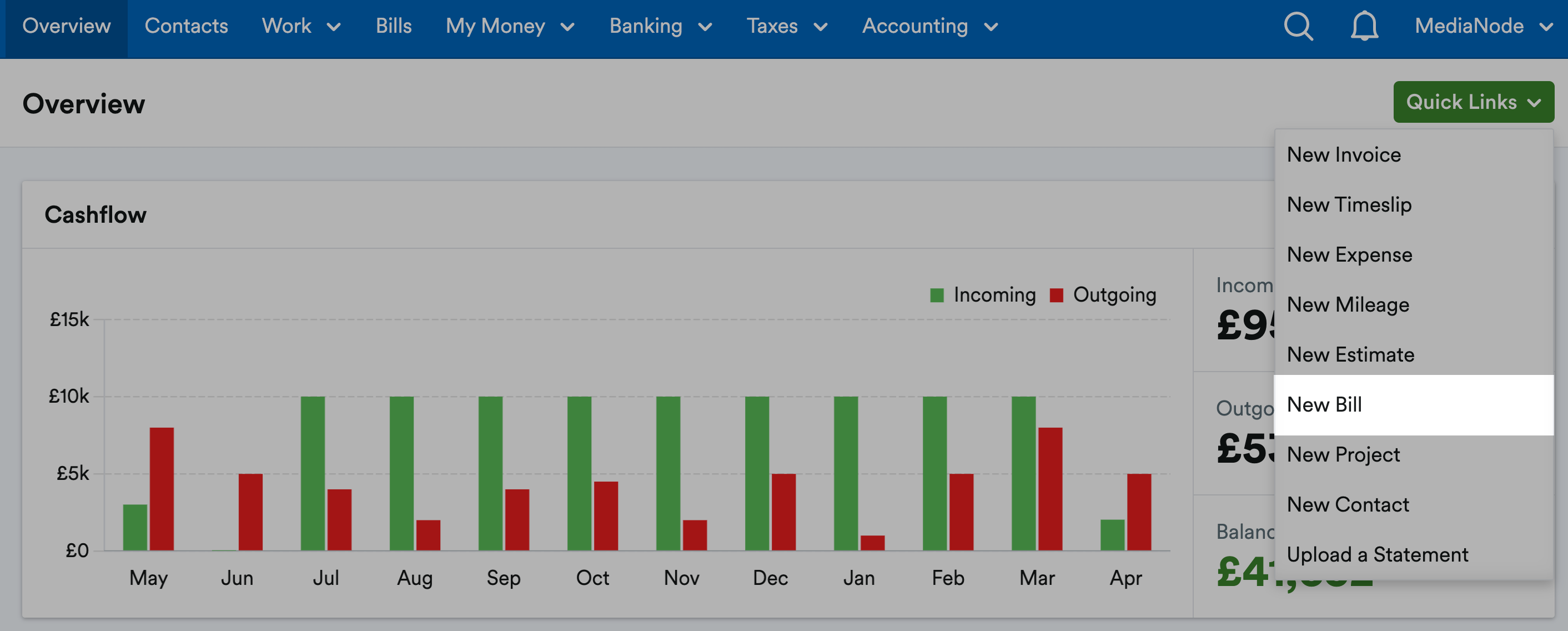 You can also navigate from the 'Contacts' page by selecting the contact you'd like to add a bill for. Then, from the 'Add New' menu, choose 'Bill'. Please note that this is the only way to add a bill if a contact has been hidden.

If you're adding your first bill in FreeAgent, select 'Create your first bill'.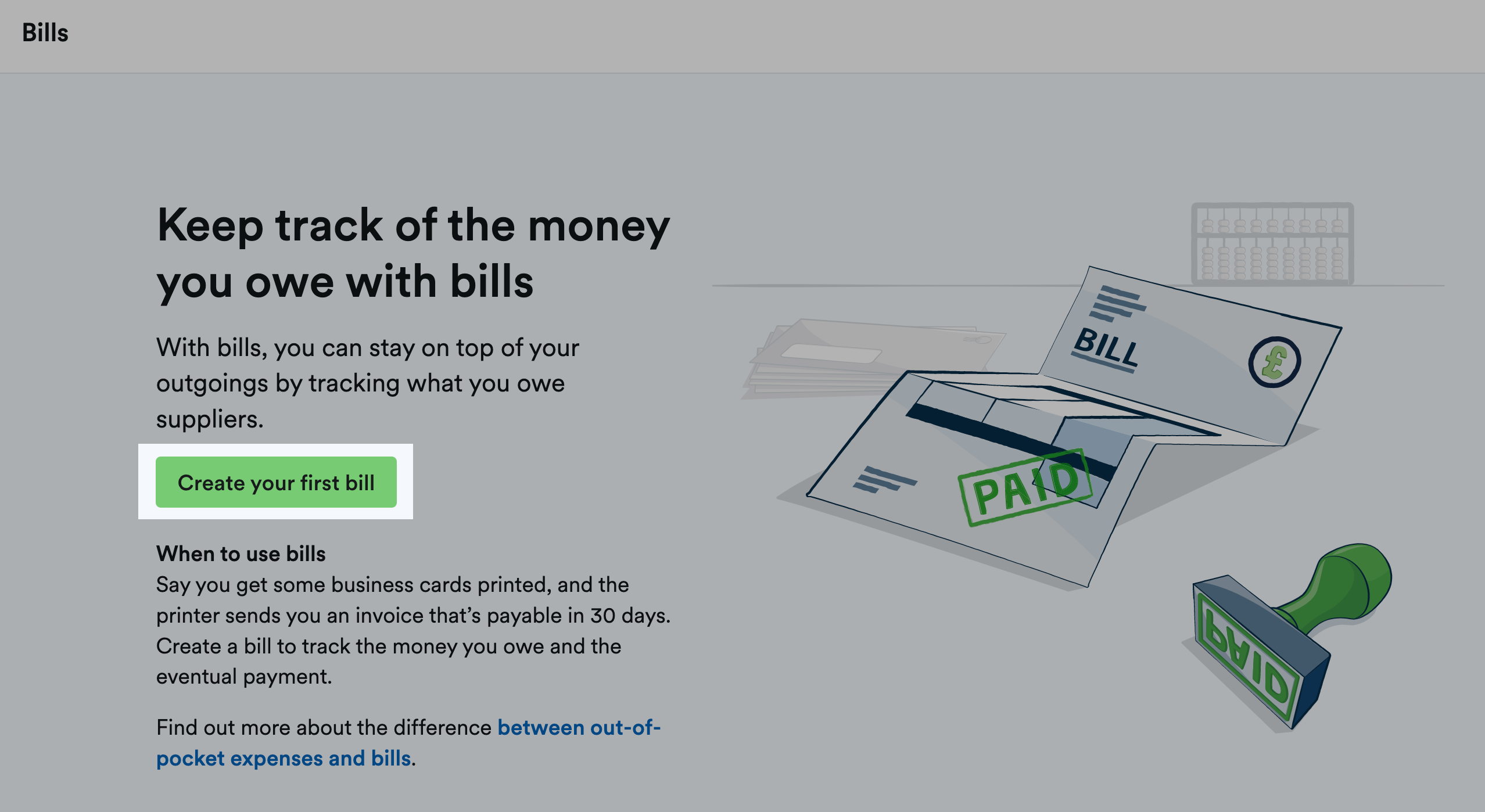 If you've already added your first bill in FreeAgent, select 'Add New Bill' in the top-right to add a new one.

2. Complete the bill details
Next, you'll need to complete the contact and reference details, bill dates, currency, VAT and additional fields (if applicable).
Contact and reference
Select which supplier the bill is for from the 'Supplier Contact' drop-down menu. Please note that if the contact is hidden they won't appear in the list and you'll need to navigate to the contact in order to add a bill for them. You can also add a new contact by selecting 'Or add a new contact' next to the 'Supplier Contact' field. However, this only allows you to enter the name of the new contact, not their email address. You'll need to edit the contact to add additional details if you create a contact this way.
Enter a reference number for this bill in the 'Reference' field. This will usually be the invoice number that your supplier included on the bill. Alternatively, you might prefer to use your own numbering system and then enter that into FreeAgent. If you're unsure how to number your bills, speak to your accountant.

Dates
Enter the date of the bill in the 'Bill Date' field. Your supplier will usually call this the "Invoice Date".
FreeAgent works out the due date for you, but if this date is not correct you can overwrite it or change it using the calendar next to the 'Due On' box.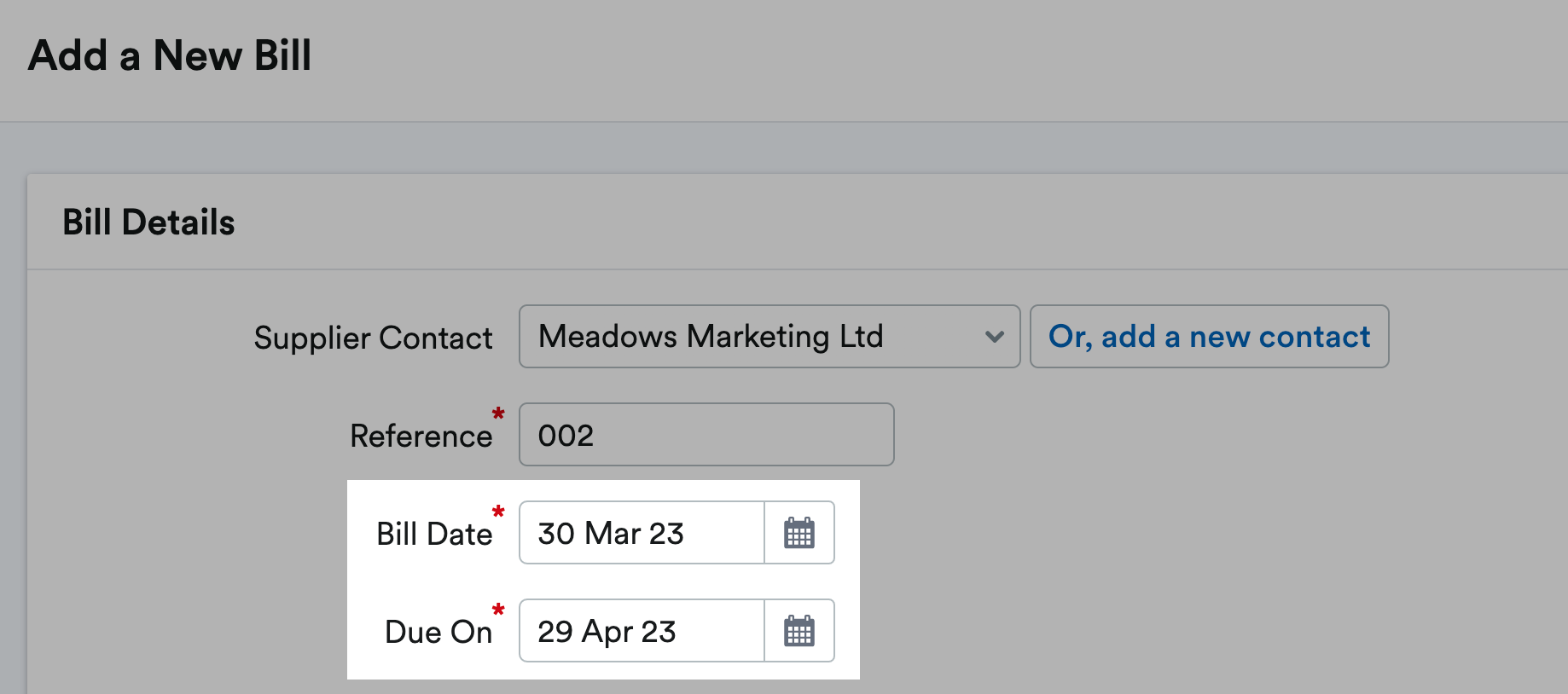 Currency
Choose the currency that the bill is in. If this is a currency other than your native currency, you'll need to add a foreign currency bill.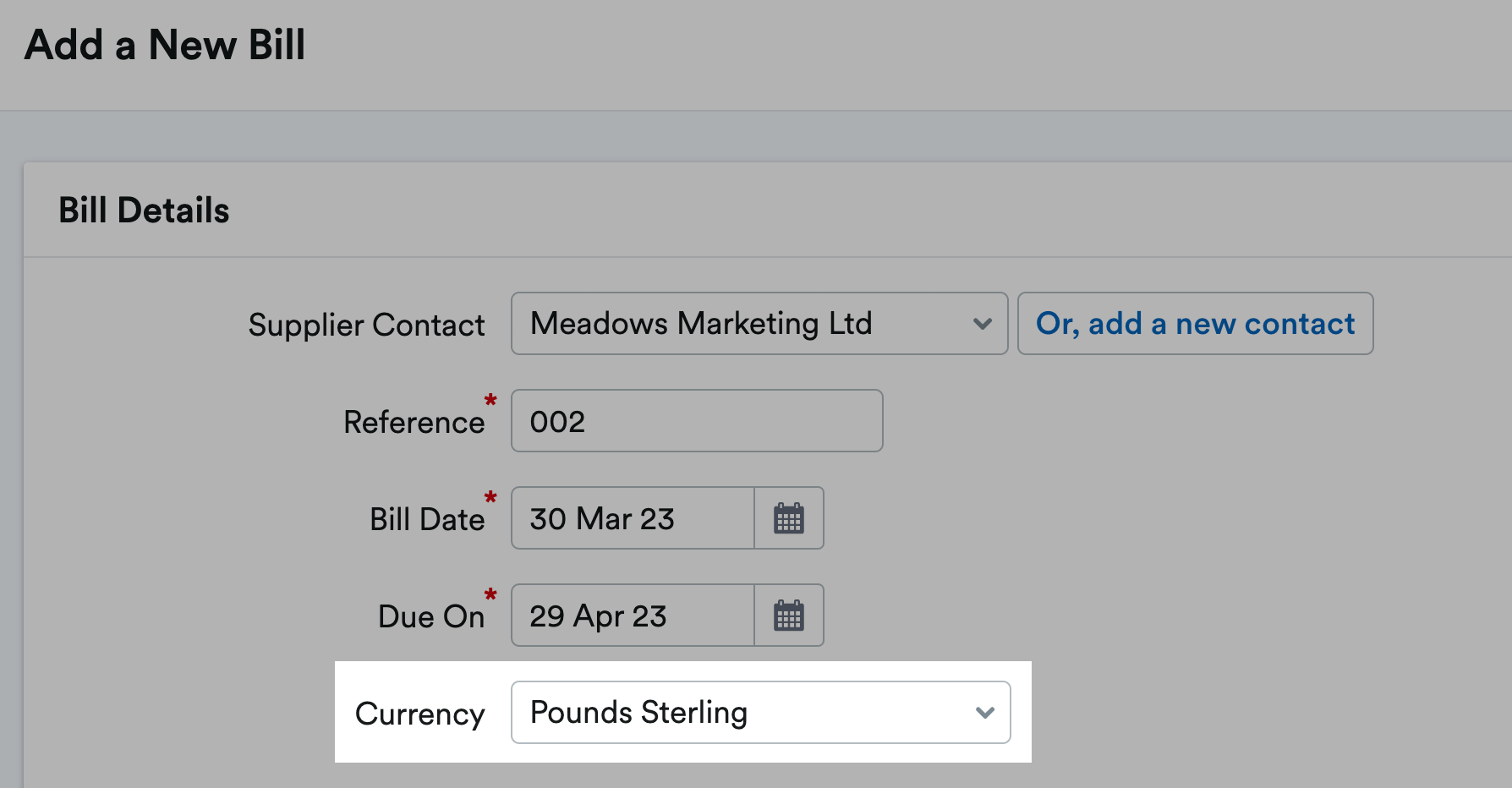 VAT inclusivity
You can choose whether to enter totals inclusive or exclusive of VAT. If the bill you're adding does not include VAT, you can select either option.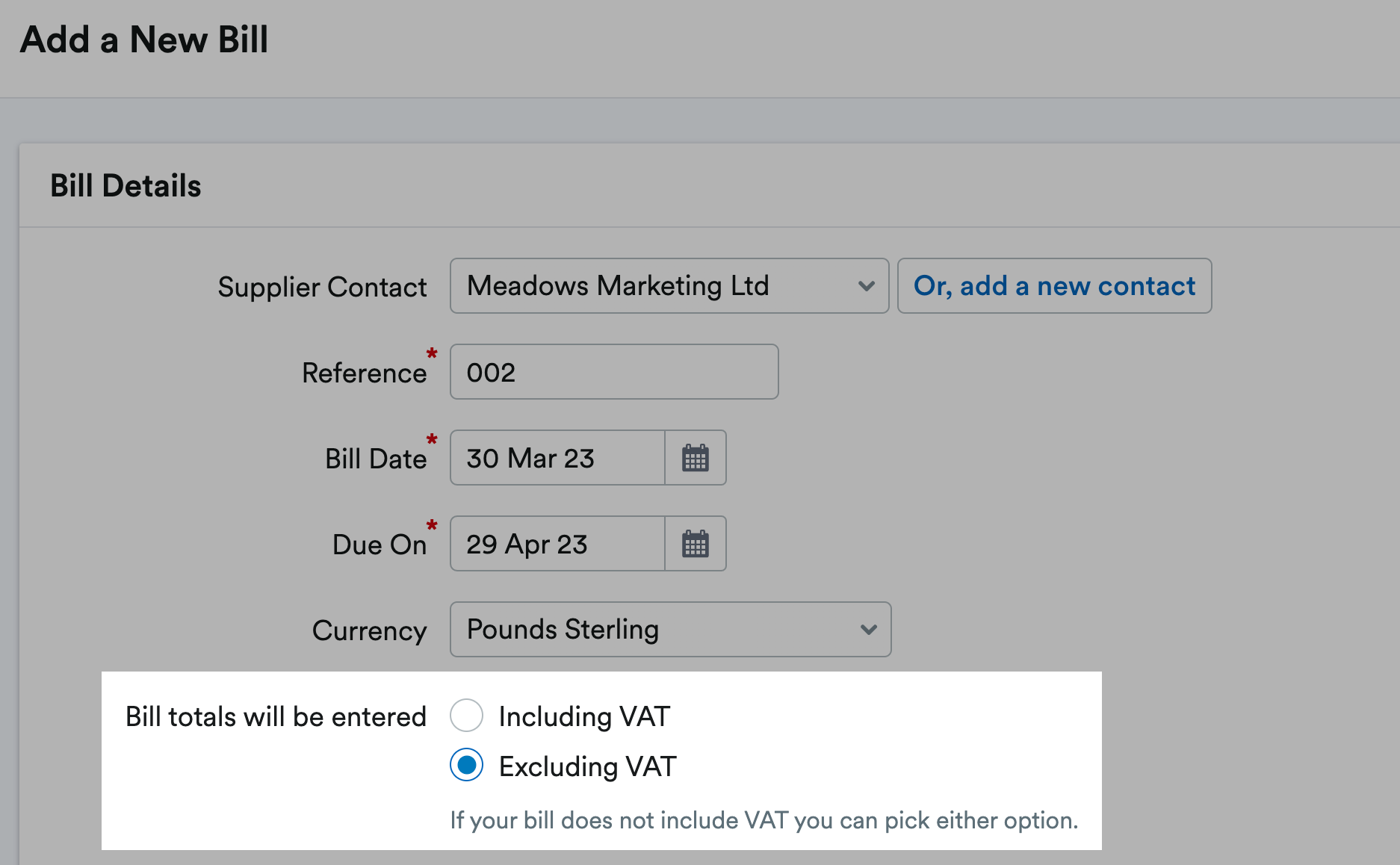 Hire purchase
If you're purchasing an item on a hire purchase agreement, tick the 'Hire purchase' checkbox.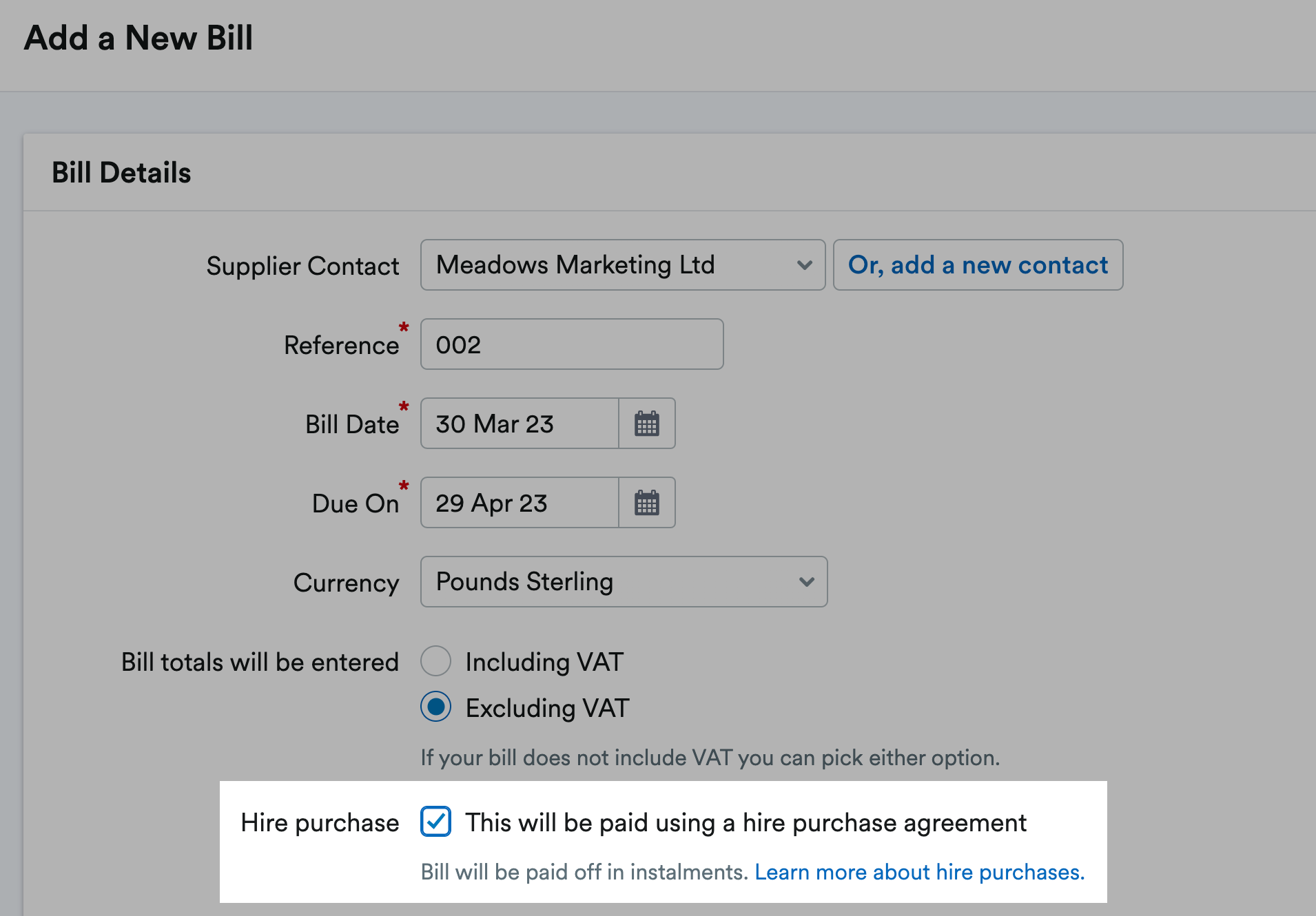 VAT
Next, select the appropriate VAT option by ticking the relevant checkbox. Please note that you'll need to enable non-standard UK VAT rates in your 'VAT Registration' settings if you need these.
You'll only be able to select one VAT option per bill. For example, a bill for the purchase of both goods and services from outside of the UK which requires the reverse charge to be applied to part of the bill would need to be entered as two individual bills.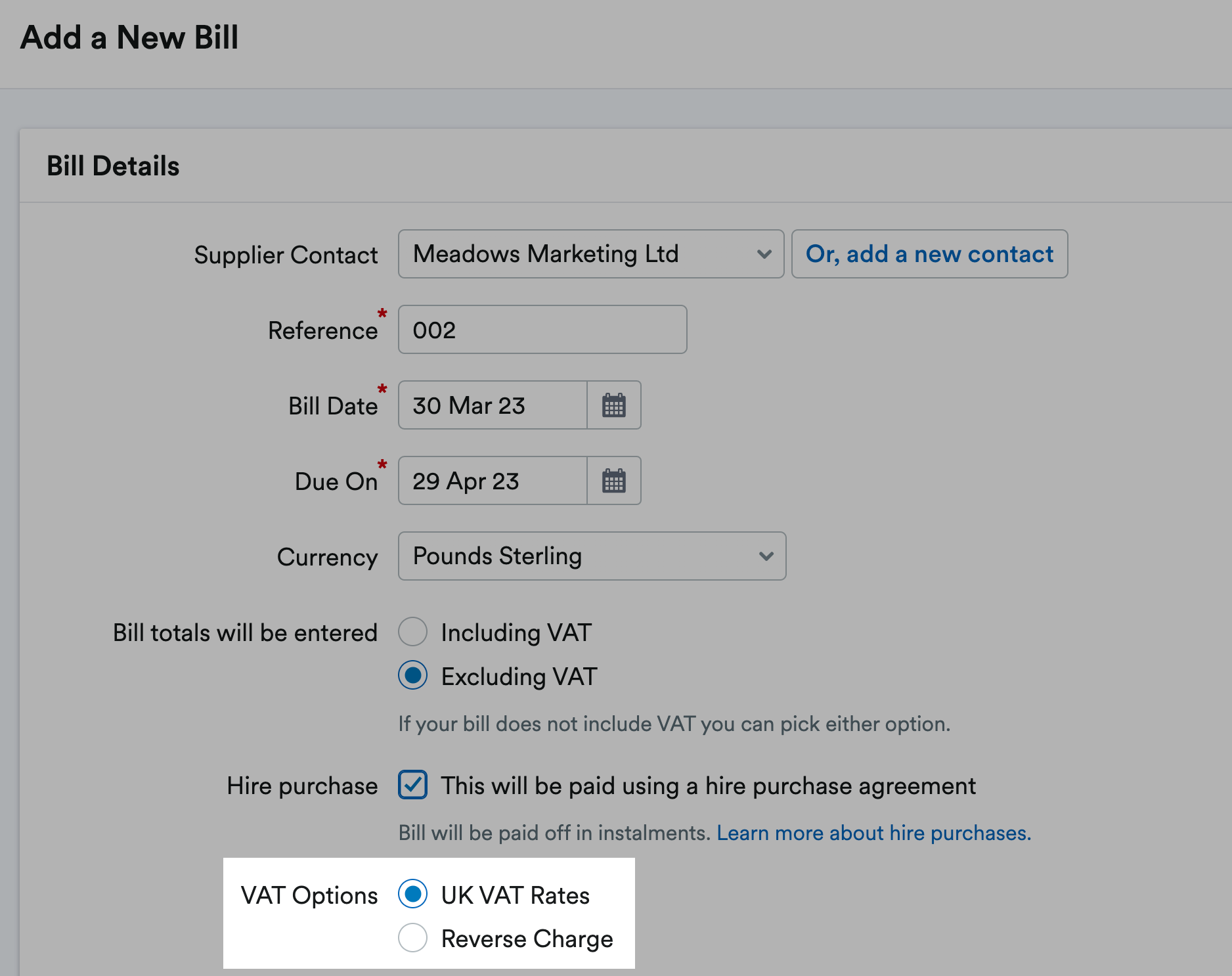 Comments
Enter a comment in the 'Comments' box if you wish - for example, some notes about what the bill was for. This is particularly important for bills in tax-sensitive categories such as legal and professional fees or purchases of capital assets.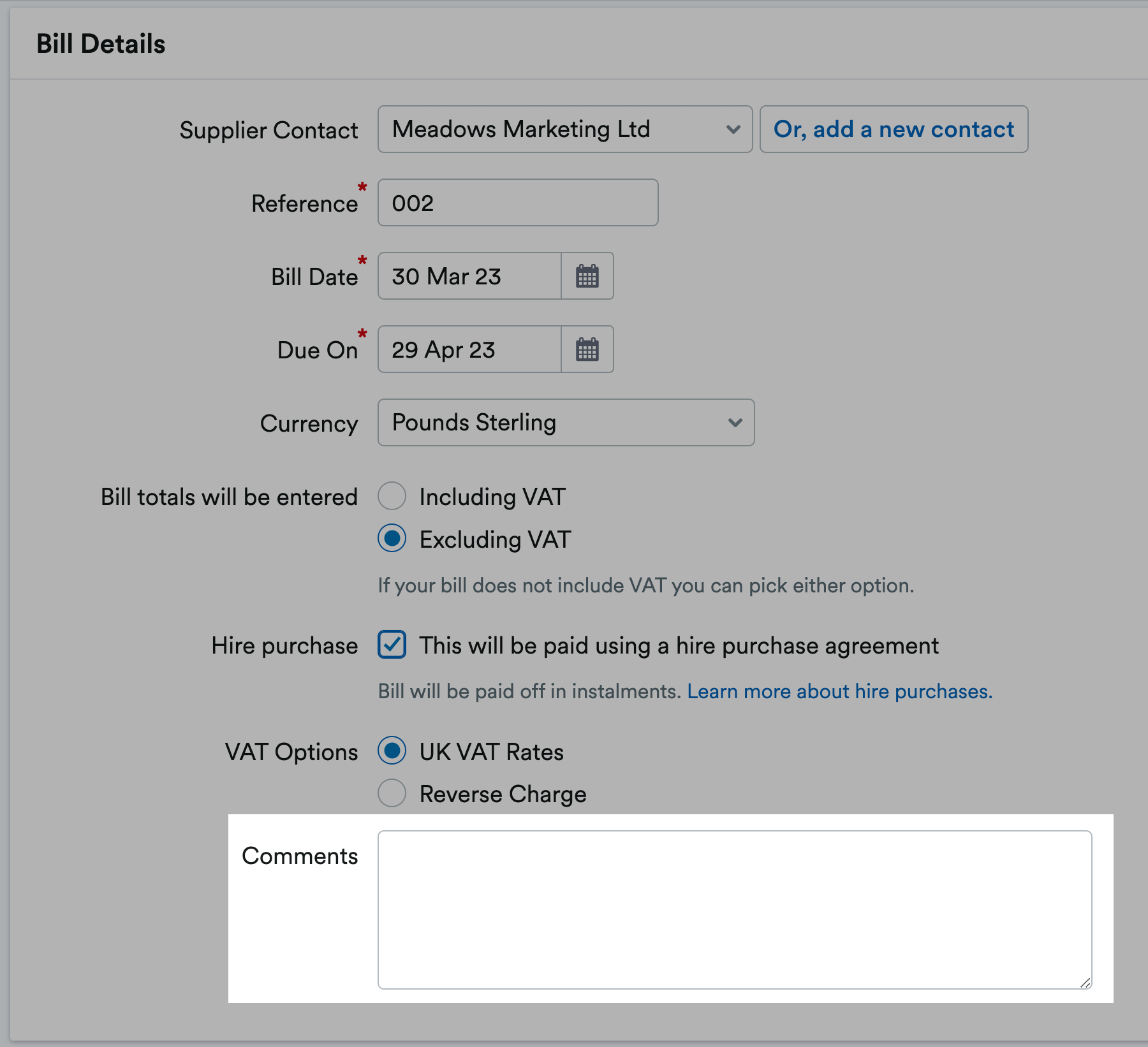 Bill contents
If you're entering a bill which is for a single category and VAT rate, select 'A single item or items of the same category'. You'll then enter the bill category, total value and VAT rate. If you select this option and later want to add more items, find out how to add a line item to a bill.
If you are entering a bill which is for items with different categories or VAT rates, select 'Multiple items with different categories and VAT rates'. Line item information, including category, value and VAT rate will be added on the next screen.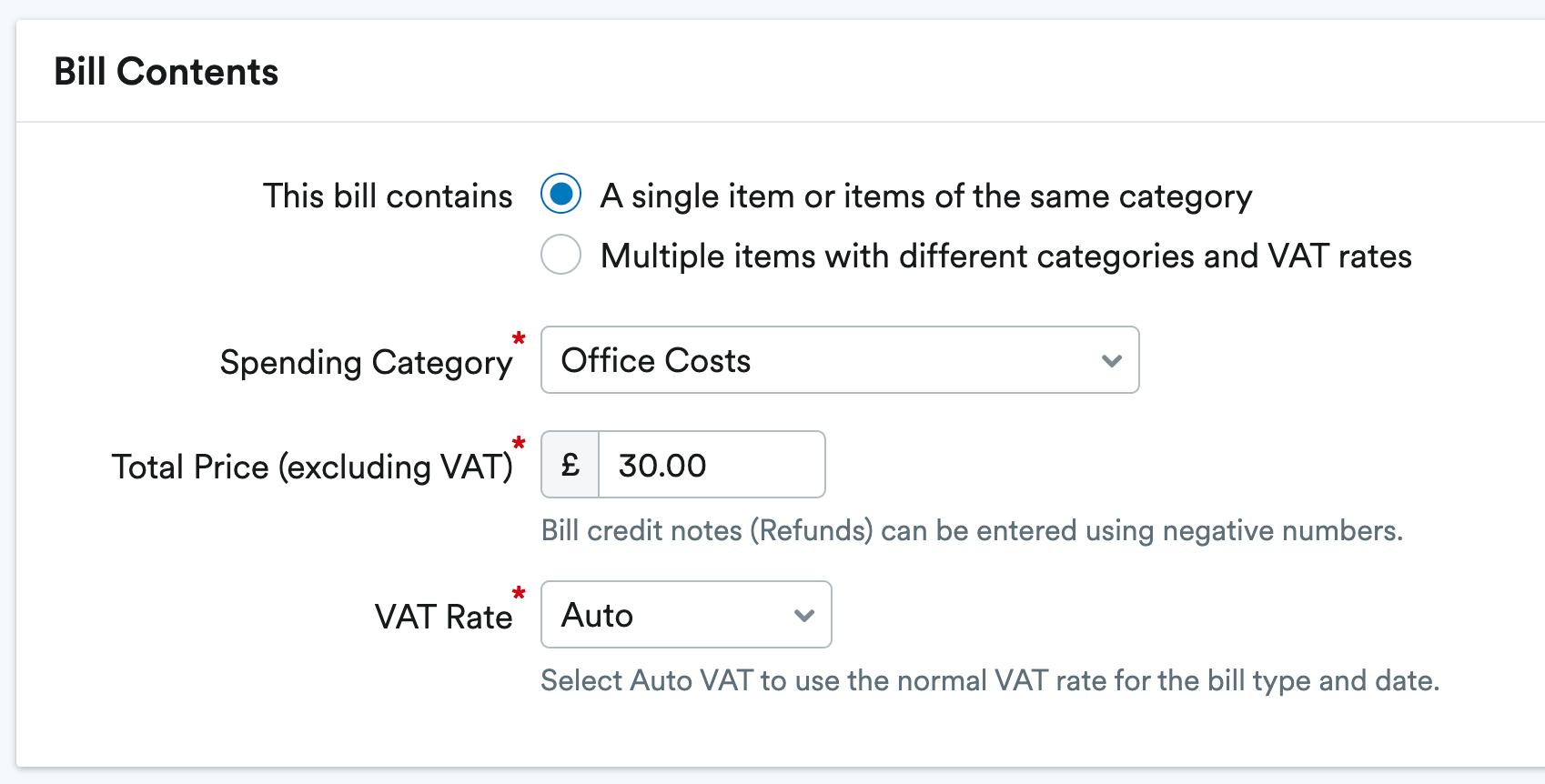 Link to project
If this bill was incurred while you were working on a particular project, you can link it to that project, and choose whether you're going to charge the customer for it, and if so, for how much. Please note that you'll only be able to select a project that has 'Active' status. If the bill is for the purchase of a capital asset, it won't be possible to link it to a project.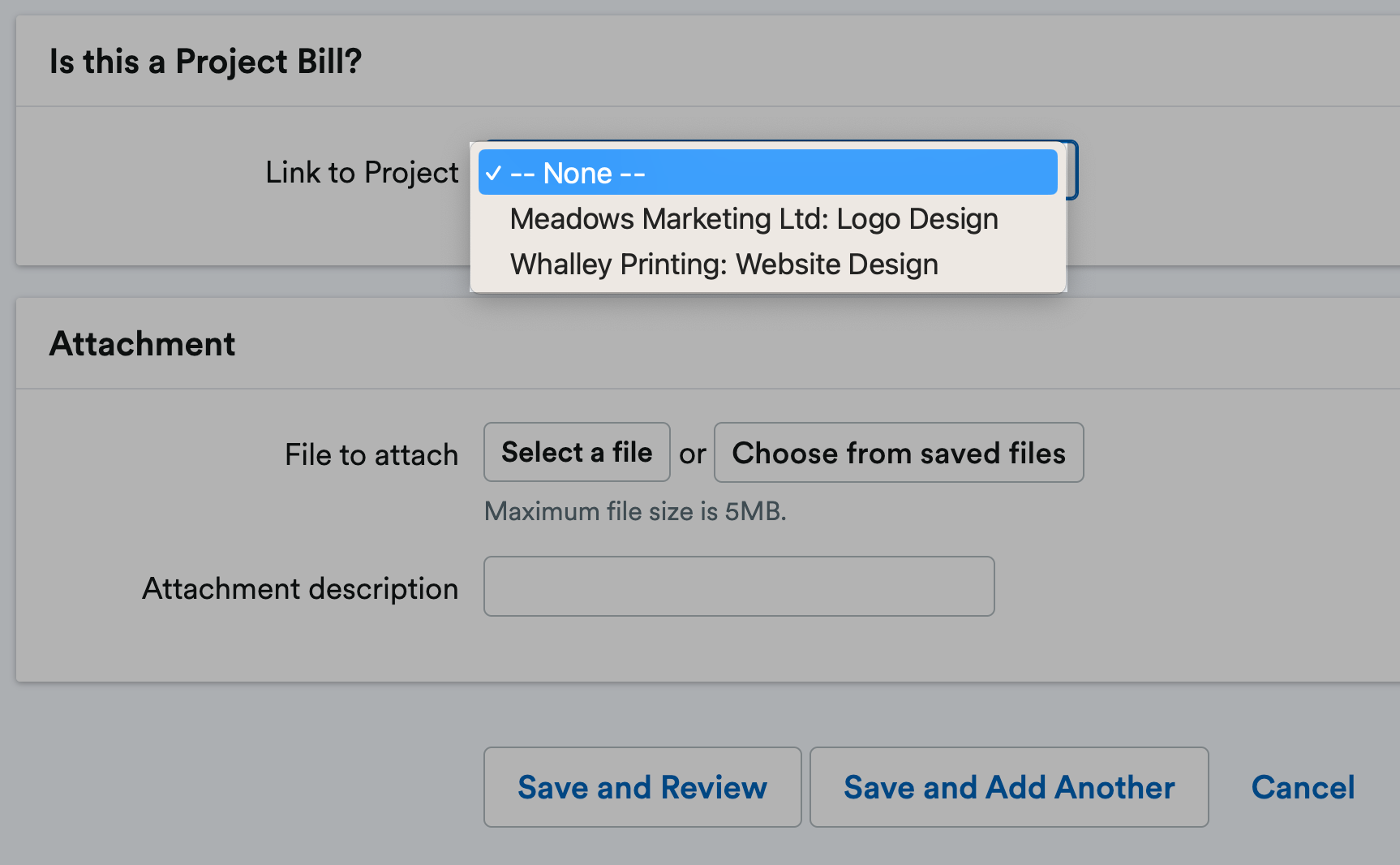 Recurring
If you have recurring bills, such as a bill for your business's rent or business rates, you can select how frequently this bill recurs from the 'This Bill recurs' drop-down menu. FreeAgent will then add a new bill for you automatically in the future up until the date you enter in the 'Recurs until' field. If you leave this field blank, FreeAgent will continue to add a new bill indefinitely. You can edit a recurring bill if the charge, or reference, is slightly different each time - such as those in telephone bills, for example.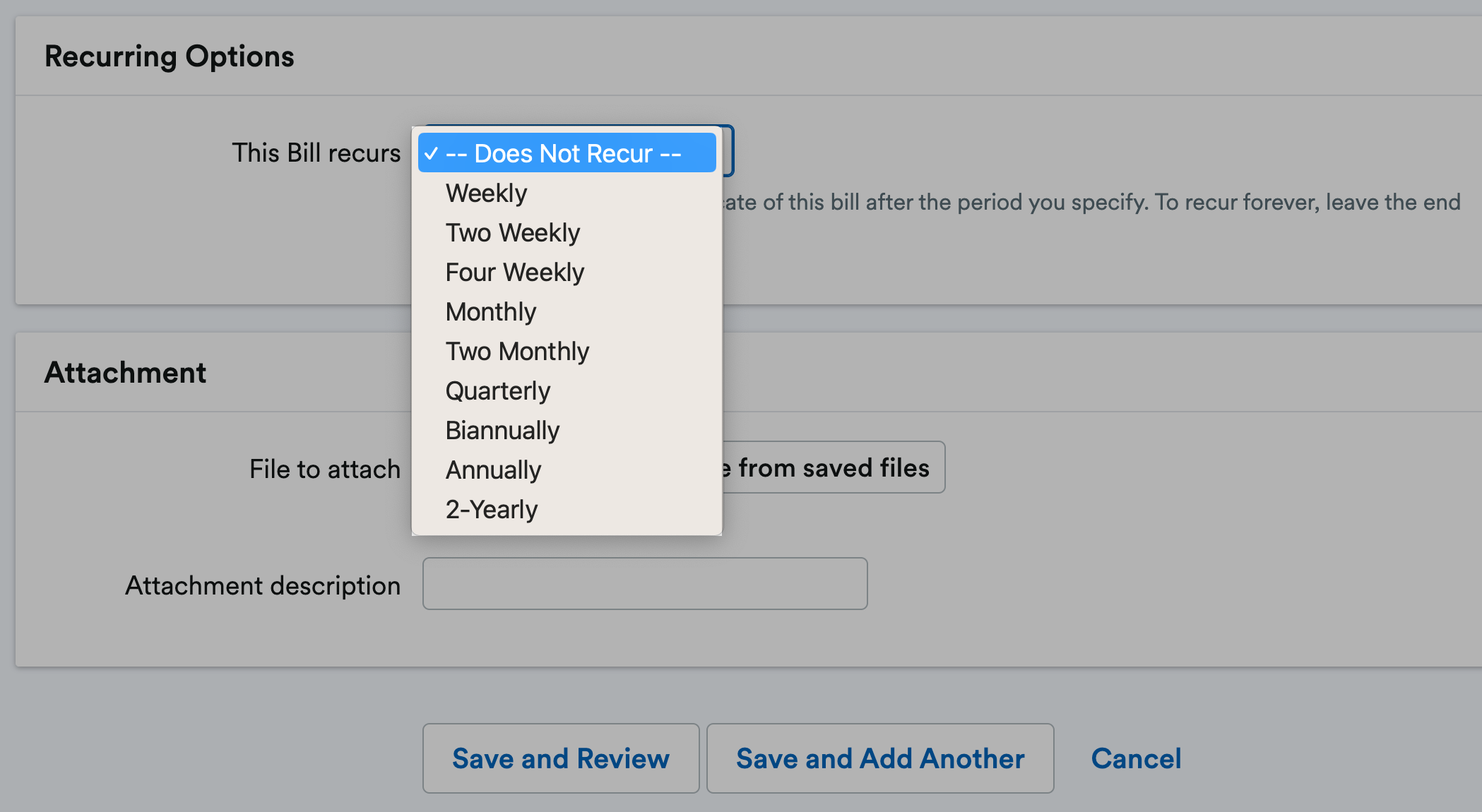 Attachments
You can upload a scanned image of your bill by choosing 'Select a file' in the 'File to attach' area.
If you used the FreeAgent mobile app to capture an image file and save it to the Files area of your account, select 'Choose from saved files' instead and follow the instructions. Attaching an image file to an expense or bill will remove it from the Files area of your FreeAgent account.
Once you've selected the attachment, add a description to the 'Attachment description' field.

If you use FreeAgent with your accountant, they can advise whether they'd like you to upload scanned images of particular categories of bill, such as purchases of capital assets or legal and professional fees.
Once you've entered all of the relevant details for the bill, select 'Save and Review' to save the bill If you chose to create a single item bill or 'Cancel' to exit the screen without saving the bill.
If you chose to create a bill with multiple categories or tax rates, select 'Save and Continue' to save the bill, or 'Cancel' to exit the screen without saving the bill.
3. Add items to the bill
If you chose to create a bill with multiple categories or tax rates, you'll need to add line items to the bill.
To do this, select 'Add bill item'.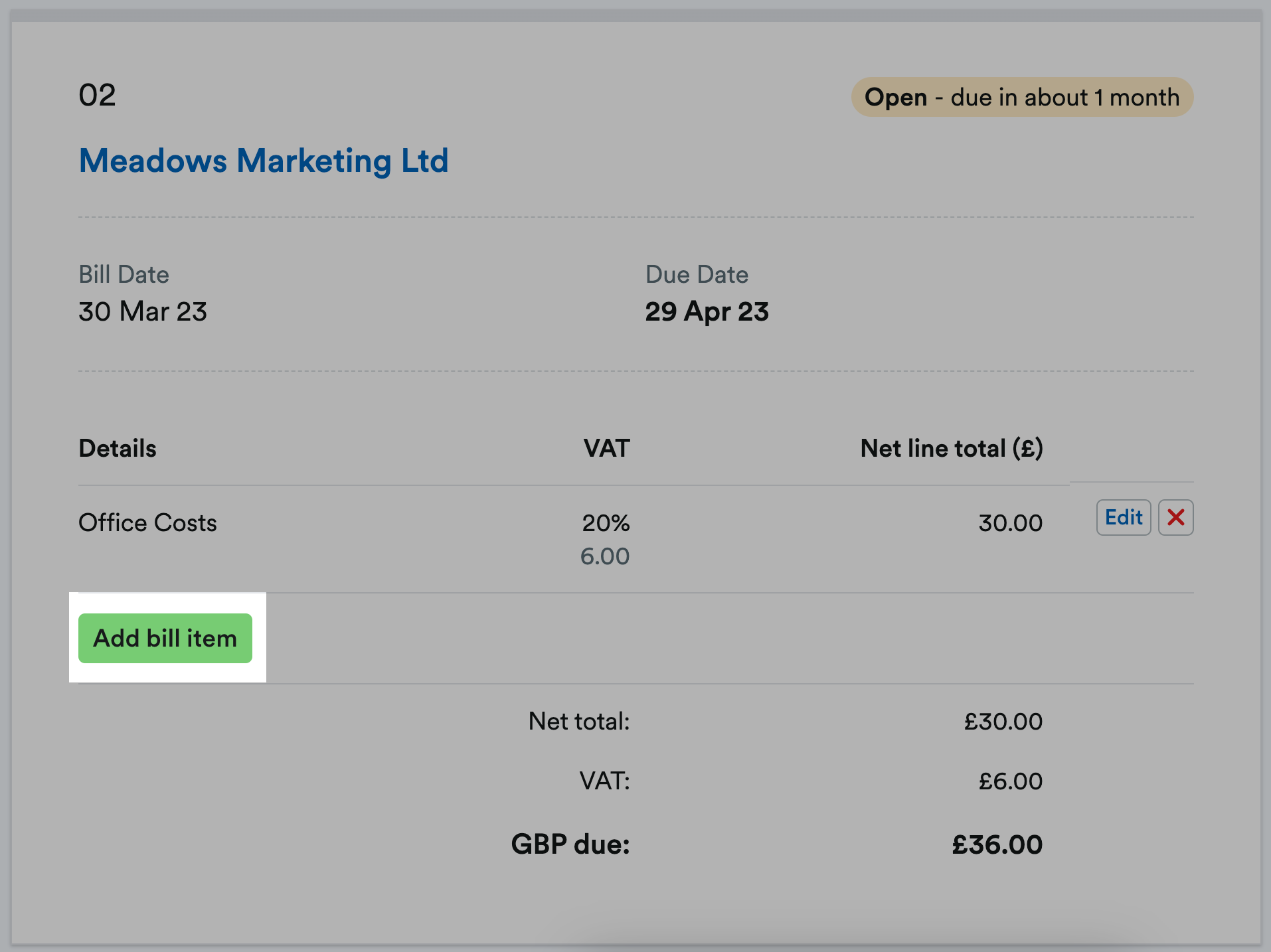 This will bring up the 'Add new bill item' screen.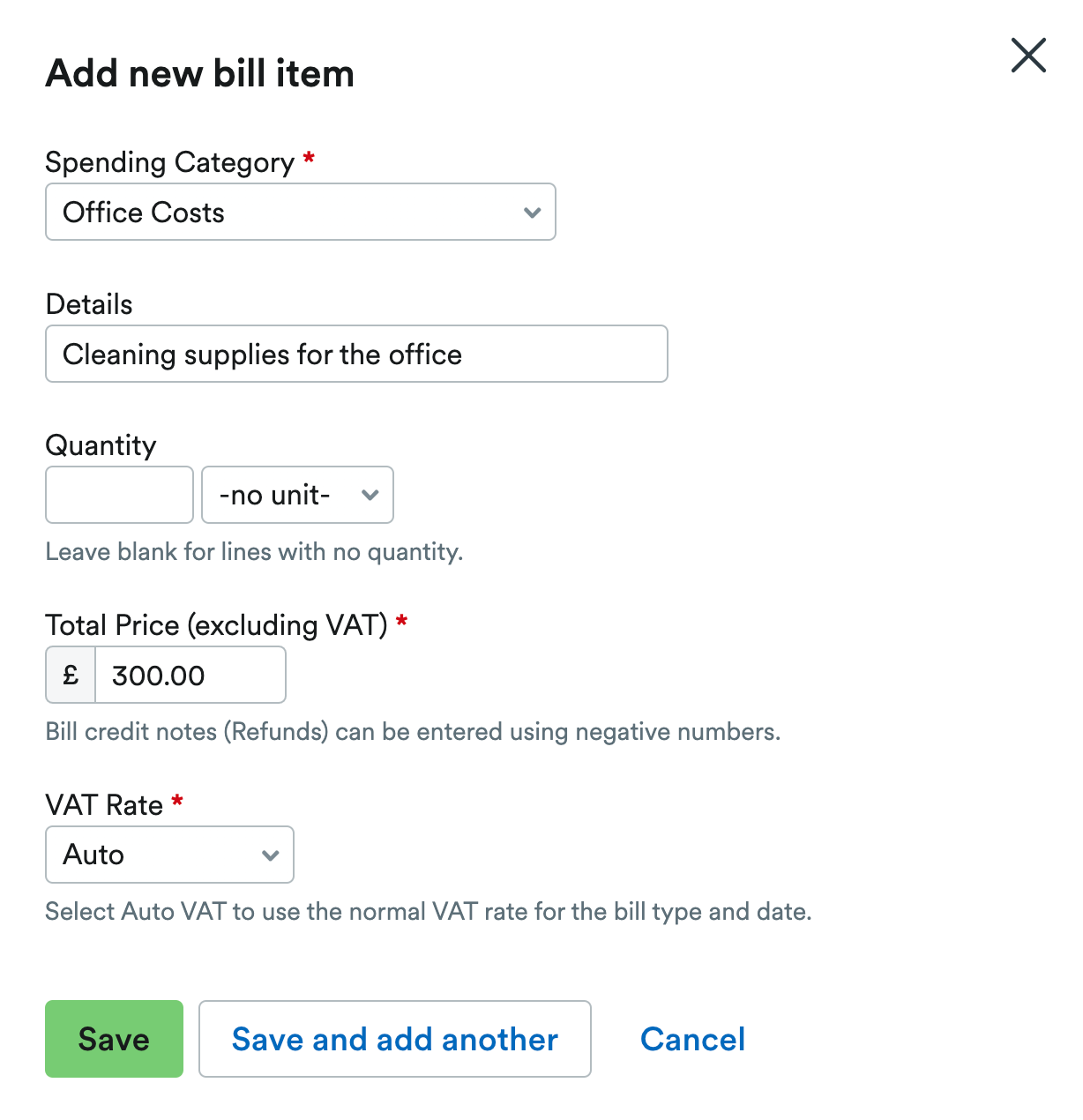 Once you've entered all the necessary details for the bill line item, select 'Save' to complete the process and add it to the bill. If you need to add additional bill items, select 'Save and add another'. Please note that you can add a maximum of 40 line items to a bill. Find out more about adding a line item to a bill.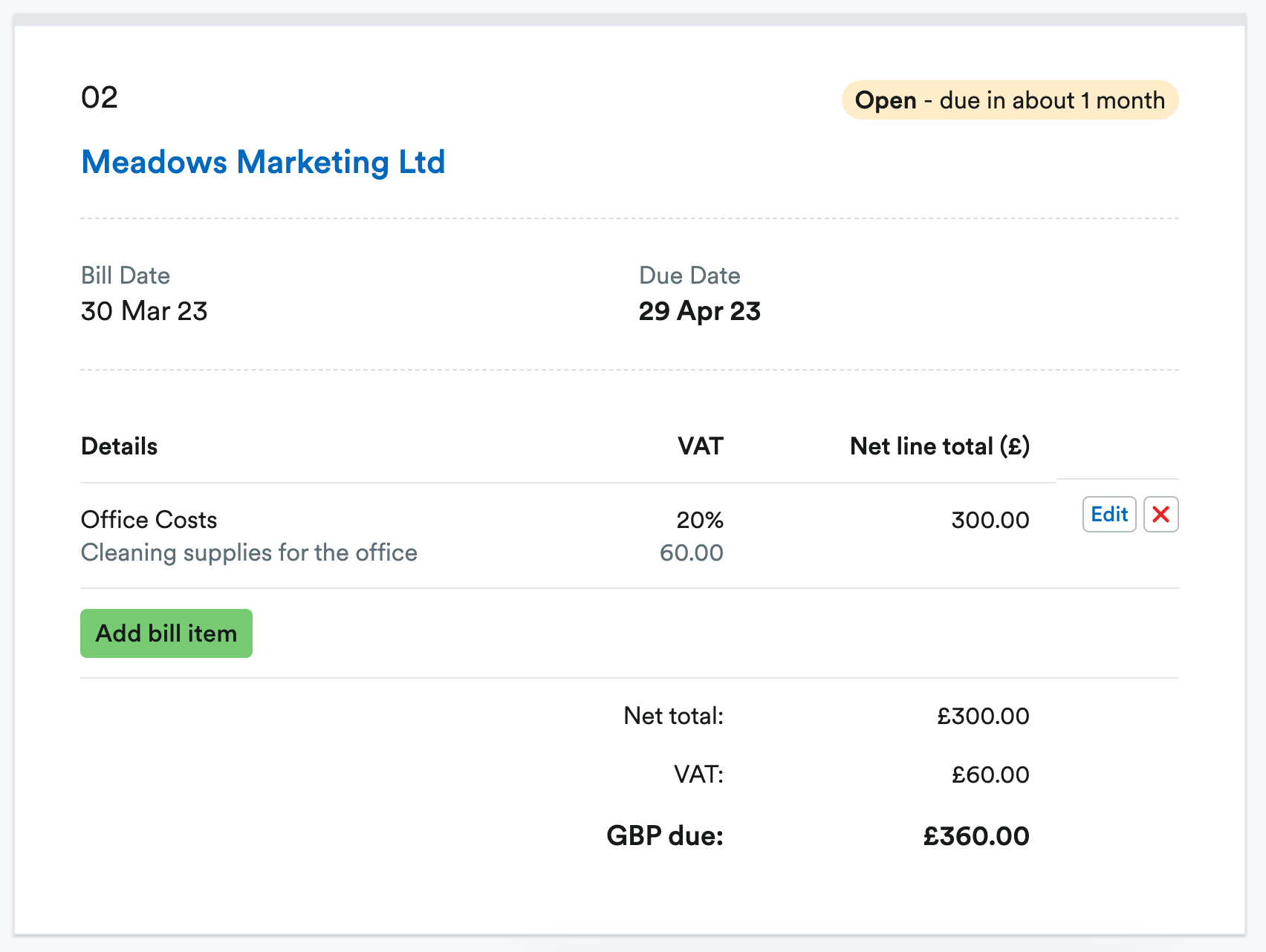 A record of the bill being created will appear in your Audit Trail report.