Business use of home expenses
A guide to claiming back some of your household running costs as part of your business expenses.
If you work at home, you may well be able to claim a proportion of your household running costs as business expenses. Here's how you can do that in FreeAgent:
1 Apply the proportion
Let's say you've received an electricity bill for £100 and that's one of your unexplained transactions that you're about to explain in FreeAgent.
You've worked out that you can claim 20% of your household running costs.
So the amount of that bill that you'll put as use of home is £20.
2 Split the transaction
When you explain the transaction, you'll then need to split it between the amount you can claim and the amount you can't.
The amount you can claim (£20 in this case) goes in with 'Type: Payment' and 'Reason: Use of Home'.
It's a good idea to put the bill dates in as part of the description.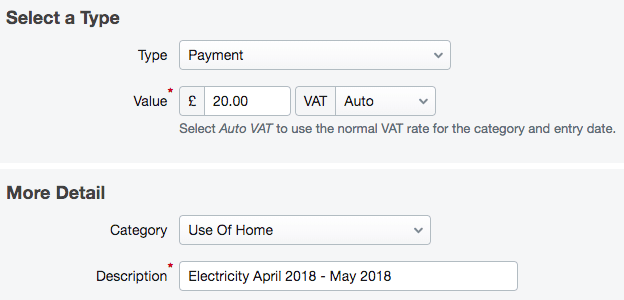 The amount you can't claim (£80 in this case) needs to be categorised as 'Type: Money Paid to User' and 'Reason: Payment from Director Loan Account' (if you're an employee or director of a limited company) or, if you're a sole trader or partner, 'Reason: Drawings'.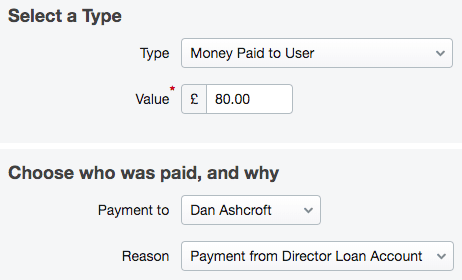 That keeps the £80 out of your business books.
That's it, job done. You've claimed 20% of your electricity bill as business use of home.
You could also do this with your rent, mortgage interest, council tax, gas bill and possibly also water bill.
For your telephone and broadband bills, the proportion would be different as it's worked out on business calls rather than on use of the property.
For more information on calculating your business use of home expenses, take a look at our infographics for sole traders and limited company directors.