How to set up a GoCardless integration
This article explains how to set up the integration between FreeAgent and GoCardless so you can take online payments from your customers.
GoCardless is an online payment service that can integrate with your FreeAgent account to allow you to take online payments from your customers.
GoCardless works by taking Direct Debits from your customer's bank account and charging you a percentage of the transaction value, up to a maximum fee. There are three pricing plans available, with fees starting at 1% (capped at £4) on a Standard plan. As a GoCardless Integration Partner, FreeAgent receives 10% of the charge that GoCardless applies.
Please note that the GoCardless integration will only be available if your FreeAgent account is listed as a UK sole trader or limited company. The integration won't be available if your FreeAgent account is listed as a partnership or a non-UK-based account. You can also only use GoCardless via FreeAgent to collect payment for invoices in £ sterling.
You can also collect invoice payments online using PayPal, Stripe or Tyl by NatWest. Find out more about online payment solutions in FreeAgent.
1. Enable GoCardless
Navigate to the drop-down menu at the top-right of the screen and select 'Connections & Add-ons'.

Select 'Learn more' in the 'GoCardless' section.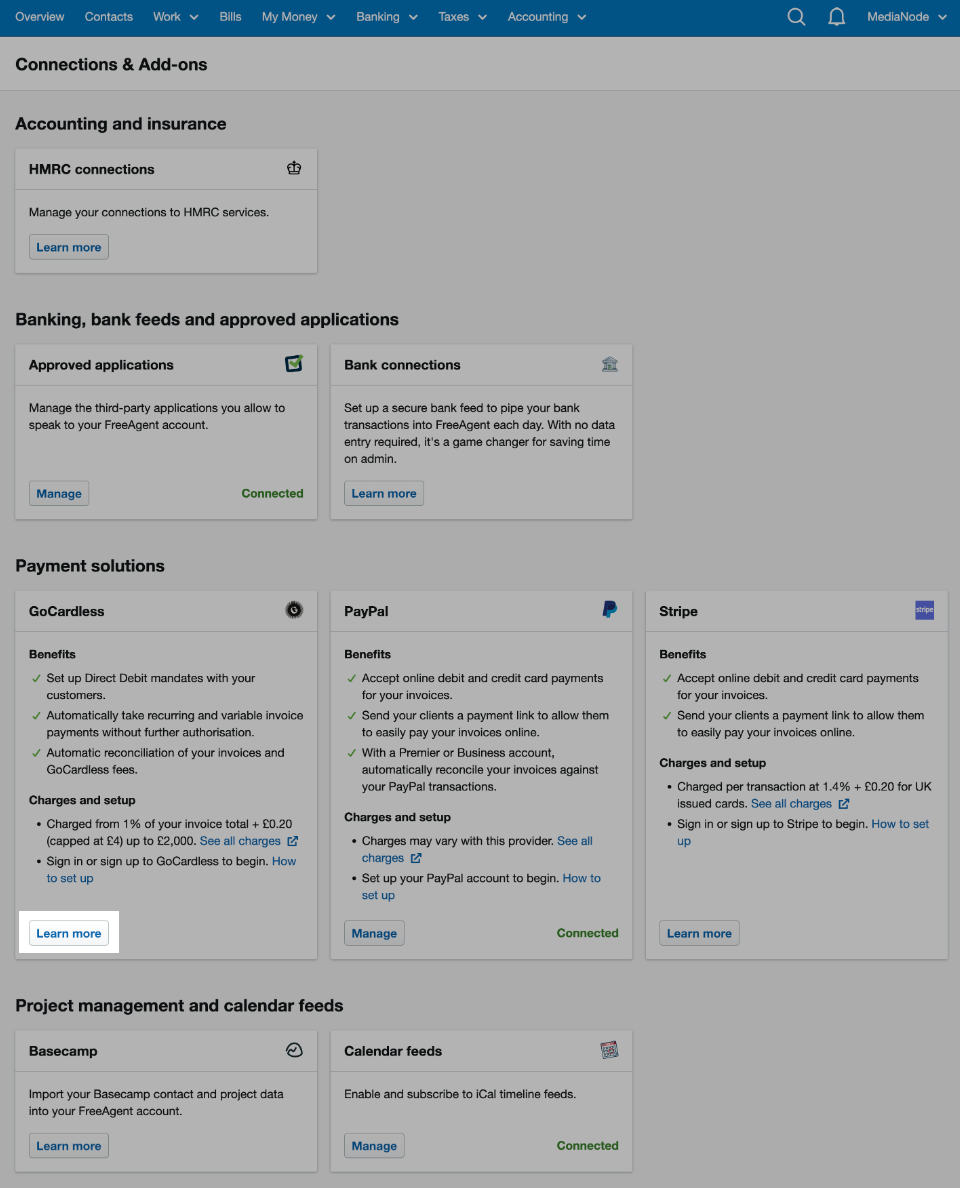 Select 'Connect with GoCardless' on the GoCardless welcome screen in FreeAgent.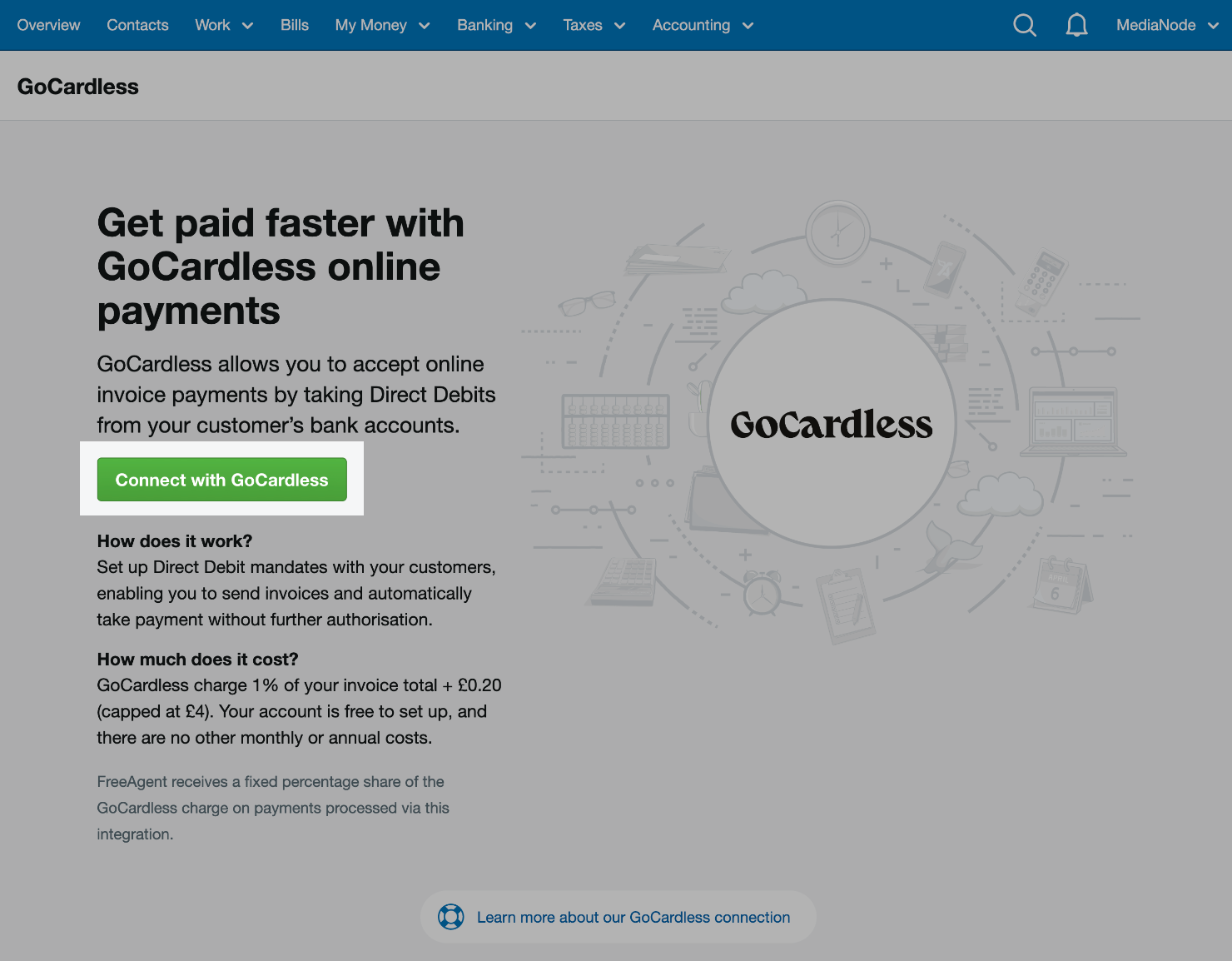 2. Sign in to GoCardless or create your GoCardless Account
If you've never used GoCardless before, you can create a new account here before signing in. If you already have a GoCardless account, simply sign in to connect your GoCardless account to FreeAgent.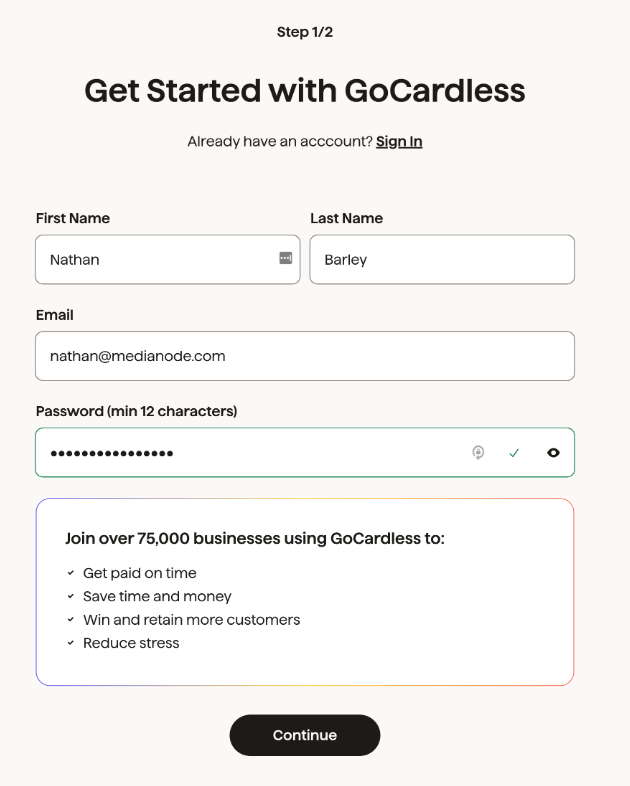 Once you're signed in, you can confirm the connection between FreeAgent and GoCardless. This will enable the integration.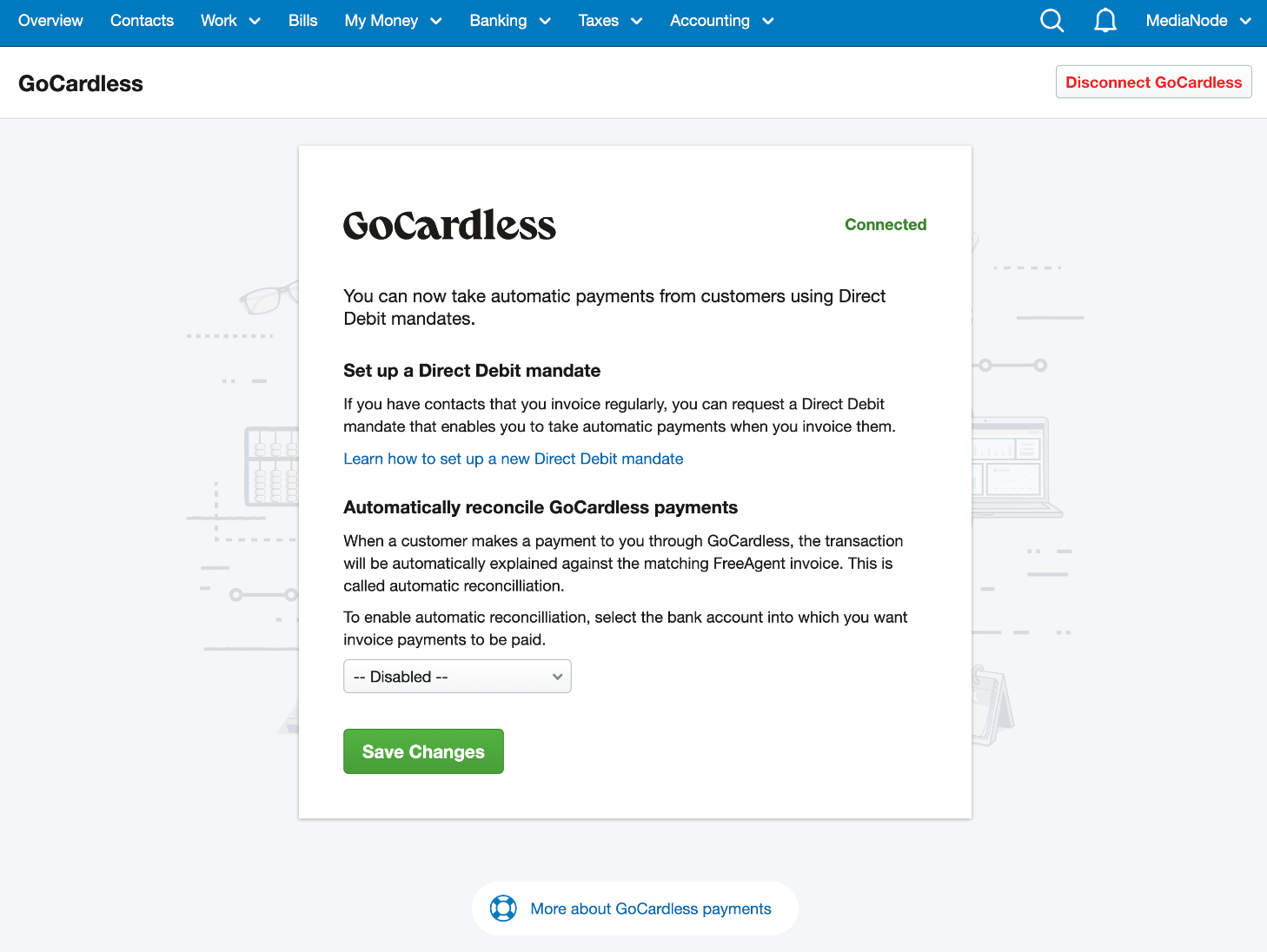 Once you've set up the integration, your customers can authorise a Direct Debit mandate, which will allow you to take payments automatically, up to a maximum of £5,000 per month. If you need to increase this limit, contact GoCardless directly.
3. Auto-reconciling invoices
Once you've enabled the GoCardless integration, you can set FreeAgent to automatically mark invoices as paid when GoCardless pays the money into your bank account. This will also automatically reconcile the fees that GoCardless issues to you each time you use the service. 
To enable this, select 'Connections' from the drop-down menu at the top-right of the screen. Select 'Manage GoCardless' and use the drop-down menu to choose the GBP bank account that the funds will be paid into.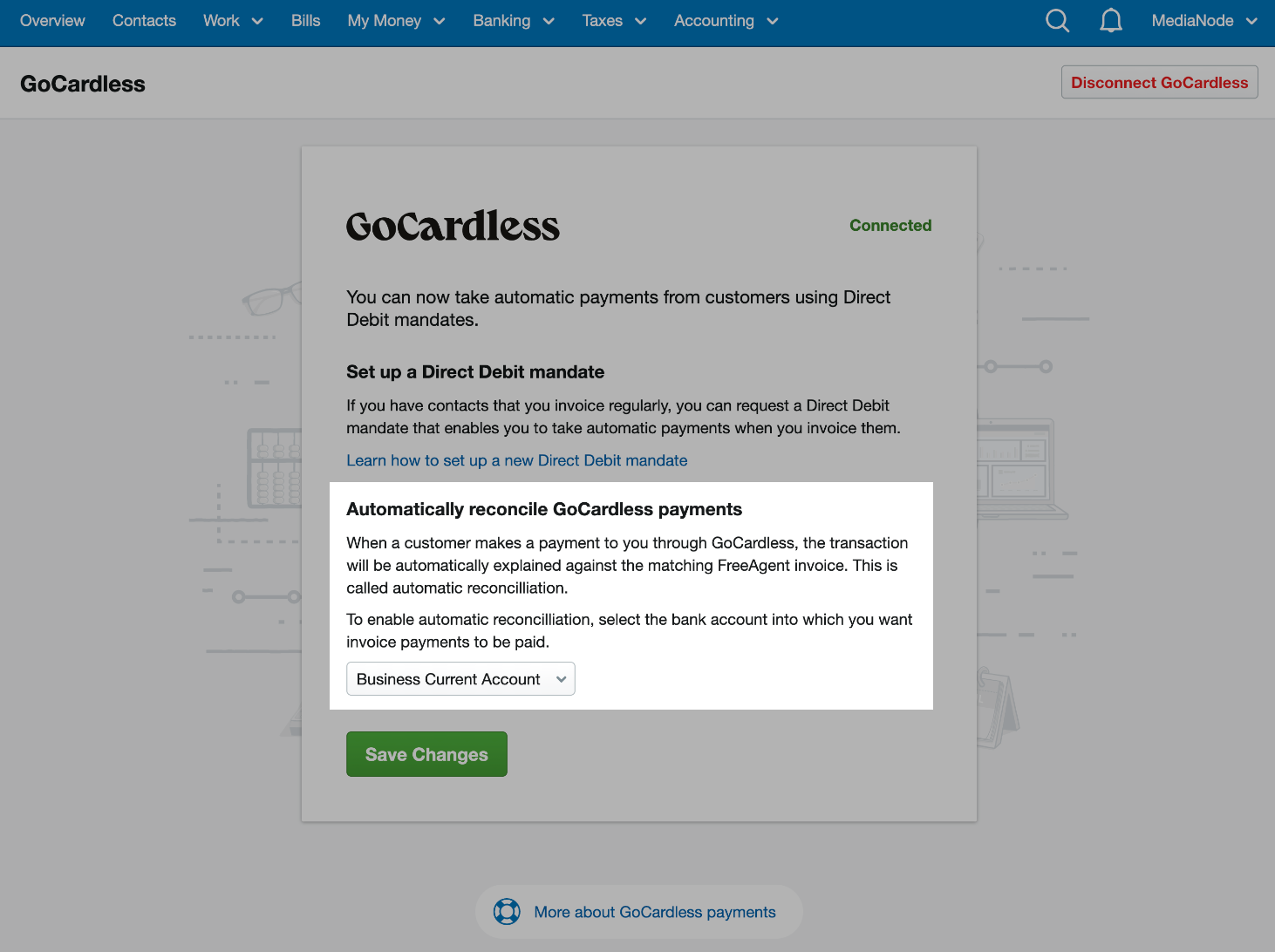 FreeAgent will automatically create a new 'GoCardless Account' bank account in FreeAgent. This is different from normal bank accounts in FreeAgent as it's solely used to record the details of invoice payments and refunds from GoCardless.
How the GoCardless bank account works
When a customer makes a payment to you through GoCardless, FreeAgent will create a transaction in your 'GoCardless Account'.
Any GoCardless payments for FreeAgent invoices will be automatically explained against their matching invoice.
If there are payments that come into your GoCardless account for any invoices you've sent outside FreeAgent, or any work not recorded in FreeAgent, these transactions will be created in the 'GoCardless Account' (the GoCardless bank account in FreeAgent) but will remain unexplained. You can then explain these manually.
FreeAgent then auto-explains the GoCardless fees for all these transactions, both the automatically and manually explained ones, and creates a transfer transaction between the 'GoCardless Account' and the bank account you selected when you enabled the auto-reconciliation. This is for the full amount paid into your bank account through GoCardless, and not just the payments for FreeAgent invoices.
When you import the transactions into your bank account (by bank feed or statement upload), you then just need to match the manual transfer with the corresponding transaction.
What should I do if any of my GoCardless payments are personal?
If any of the transactions that come through your GoCardless account are personal, rather than business-related, you'll still need to explain them in your FreeAgent account.
To do this, select the type 'Money Received from User' and choose yourself as the user that the money has been received from. Please note that this option will only be available for business bank accounts. You won't see this option if the bank account has been marked as personal or for a user who has been allocated the role of 'Accountant'.
If your business is a limited company, you then need to choose 'Payment to Director Loan Account' as the reason and enter your own description.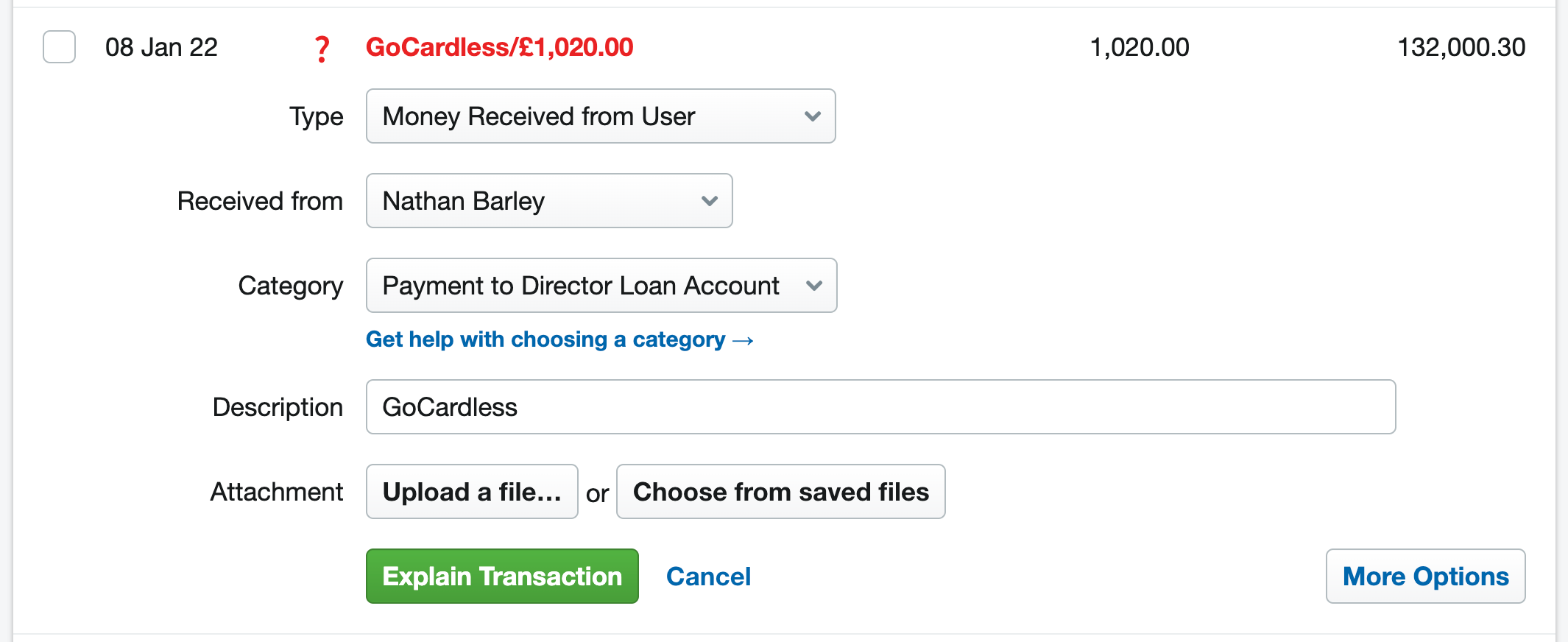 If you're a sole trader or are in a partnership, you should choose 'Capital Introduced' as the reason instead.