Accessing P60s in FreeAgent
A P60 is a document that summarises an employee's pay and tax deductions for a particular tax year. If you employ people, you have a legal obligation to provide each employee with a P60 after the end of every tax year. This article explains how you can access your employees' P60s in FreeAgent.
How to download employees' P60s
Begin by navigating to My Money>Salary. Select the relevant tax year and choose an employee's name from the drop-down list. Then select 'View P60' to display the P60. Please note, you won't see this option until after the end of the tax year in question (i.e. after 5th April).

This will display the employee's P60 on your screen. To download the P60 as a PDF that you can either print or save and email, select 'Save as PDF'.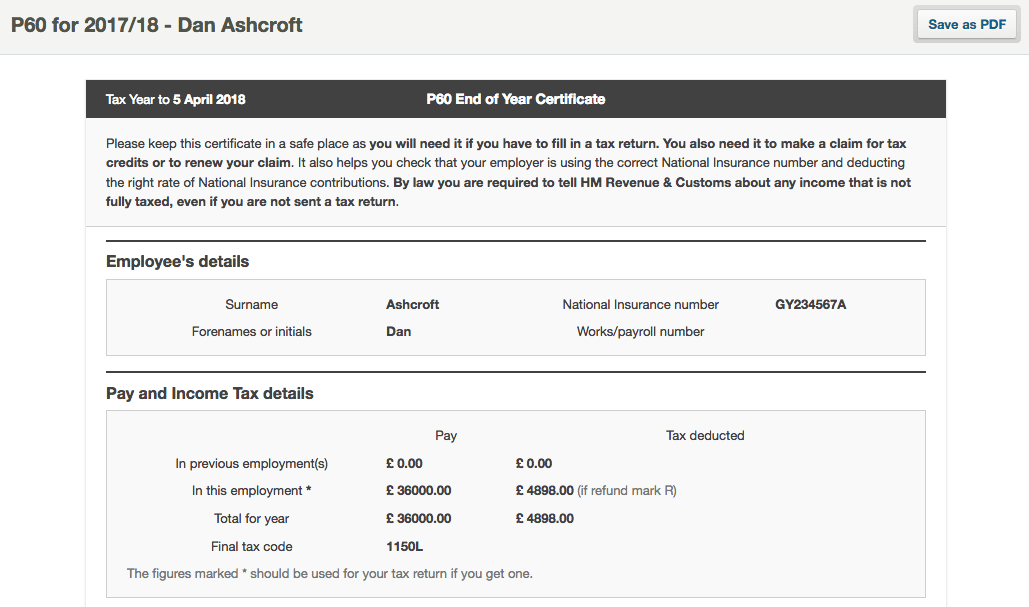 Please note: when you change the address on the payroll profile in the same tax year, the P60 details will update automatically.
Employees with the right permissions can download P60s too
Employees who have access to the 'My Money' level of FreeAgent (and higher) will be able to download their own P60 from this page. They will only see their own name in the drop-down menu.
Employees who have access to the 'Tax, Accounting and Users' level of FreeAgent (and higher) will be able to access other employees' P60s, as well as their own. The names of all employees will be displayed in the drop-down menu and users will be able to download a P60 for each employee and share it with them via a secure online portal.
Check out our article on user access levels to find out how adjust your employees' permissions in FreeAgent.
Director of a limited company? You need a P60 too!
If you are the director of a limited company and you take a salary, you will need a P60 of your own (as will any other directors who take a salary from the company). Your P60 will be available to download from the Salary page, along with those of your employees; just select your name from the drop-down menu.
If you are a sole trader or a partnership, you and your partners are not employees of the company and won't require a P60. However, anyone you employ will need a P60.