How to view, edit or delete a bill
This article explains how to find a bill that you've already created in FreeAgent, and how to edit or remove it.
Finding existing bills
To view existing bills, select 'Bills' from the menu at the top of the screen.

Filtering and ordering bills
You can choose, from the first drop-down menu, whether you want to see all your bills, or just some of them. Perhaps you might want to look at just bills that are open, that is, bills that you've entered into FreeAgent, but which aren't yet due to be paid and haven't yet been paid.
Overdue bills are different from Open bills because they've passed their due date for payment and haven't yet been recorded as paid in FreeAgent. Paid bills have been paid, and Recurring bills are those that you've set to be entered into FreeAgent more than once.

You can also filter the list of bills by dates, by selecting the right-hand drop-down menu.

And you can choose what order you'd like the list of bills to appear in. Select one of the column headers to order by that.
Select the same header again to reverse the order, for example, to put the oldest first...

...or newest first.

On the list, you can see the summary details of the bills, when they were dated and when they were due, which contact each bill was received from, its reference and details, and how much it was for.
How to see more information, or edit the bill
If you need to see more detailed information for a bill, or to edit a bill, select its reference number in the list.

This will show you the details of the bill and give you the option to make any changes.
After selecting the 'Edit' button, you can edit the bill as you wish. You can even delete the bill by selecting the 'Delete This Bill' button. FreeAgent will ask if you're sure before it deletes the bill.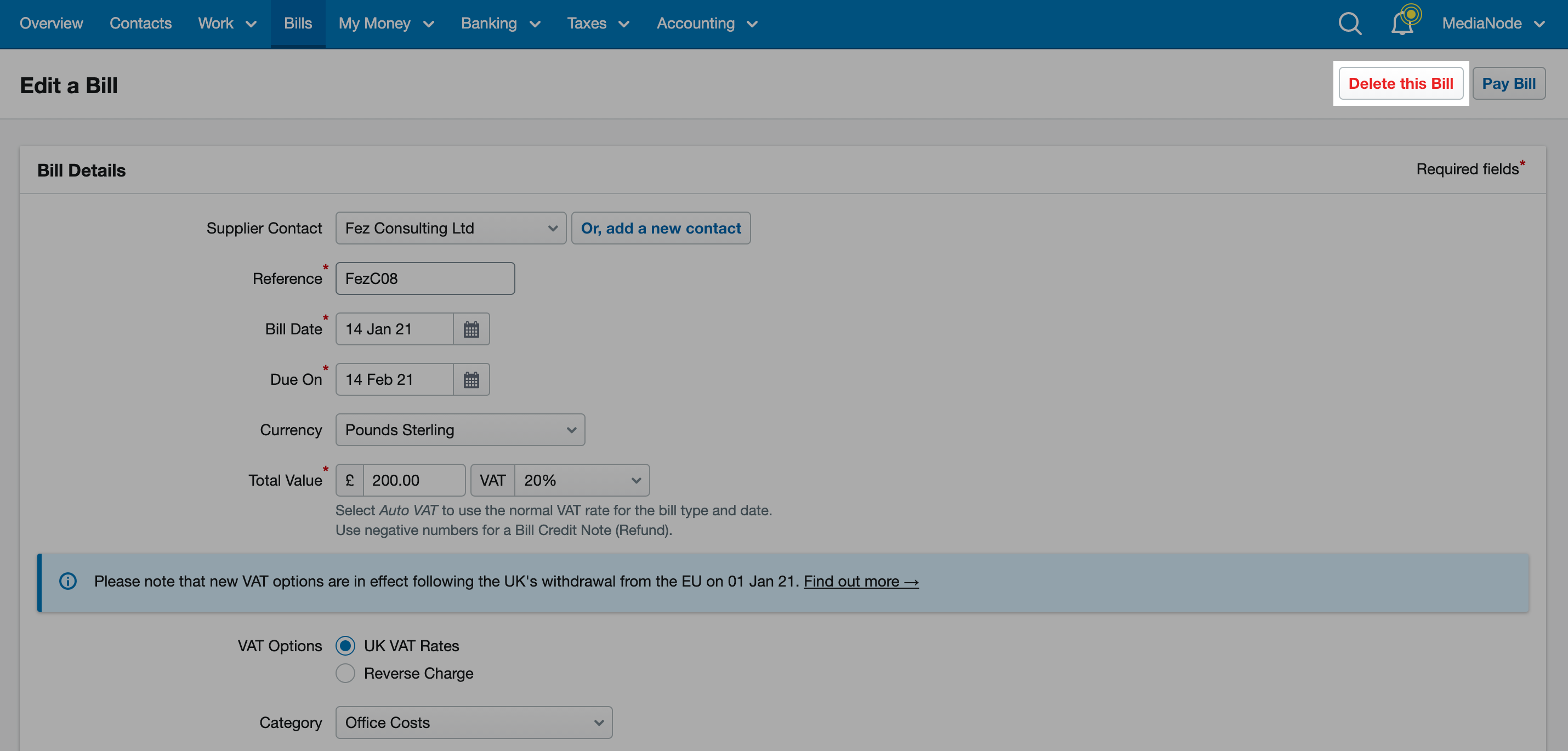 When you've finished editing the bill, select 'Save Changes', or select 'Cancel' to close this screen without saving your changes, if you discover you've made a mistake.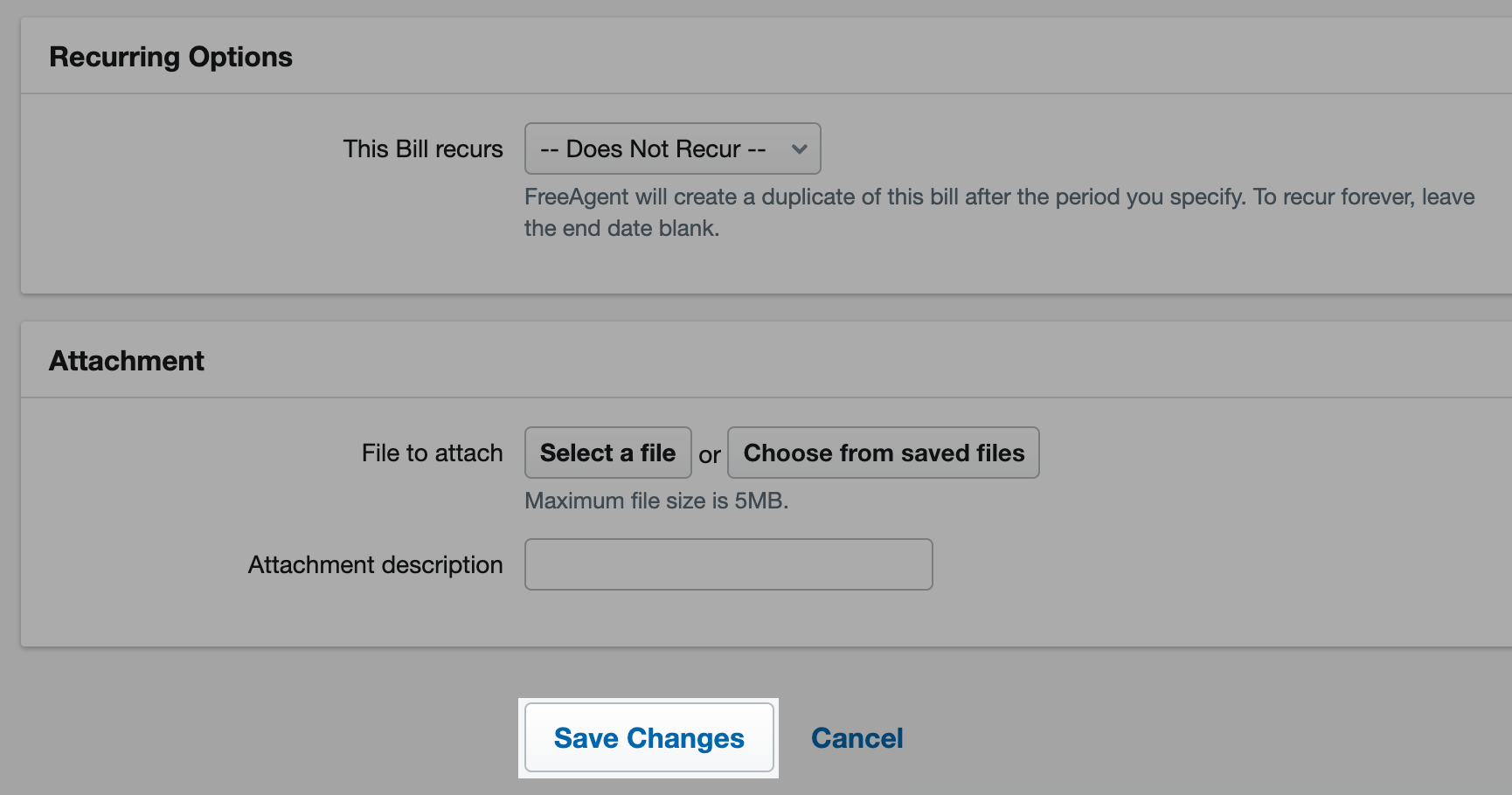 It won't let me!
Sometimes FreeAgent will not let you edit or delete the bill. For example, if it's already been paid, you would need to remove the payment from the bill if that bank entry were an uploaded entry, or delete the bank entry altogether if it was entered manually, before you can edit or delete the bill.
How do I enter a payment for this bill?
To quickly enter a payment against this bill, select the 'Add a manual payment' button.

This will bring up a screen where you can enter a manual payment to pay this bill from your primary bank account, with the compulsory fields filled in for you, as you can see below.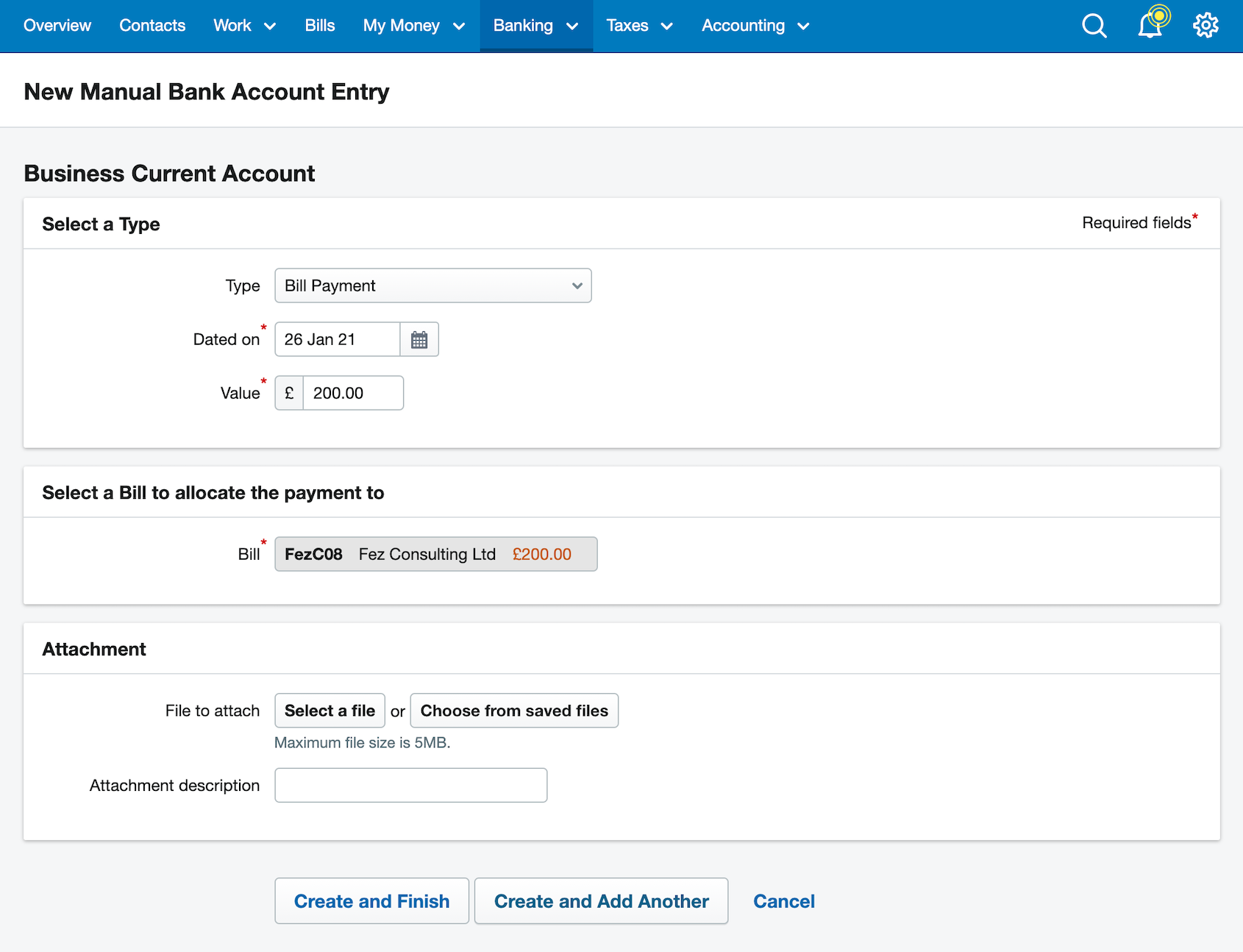 If you've paid this bill from an account other than your primary bank account, don't use this 'Add a manual payment' button.
You can still use it to record a payment in advance of uploading your bank statement. FreeAgent will identify this payment as the same as one that's already been entered when you run the upload, so long as you record the date and value of the payment correctly. You'll just need to tick the "Use Existing Manual Entry" box when you're explaining the bank payment.