Manage account managers
Working with account managers on your dashboard.
You need to be set up as a senior account manager yourself to be able to do this. If you need this access, you'll need to speak to the colleague at your practice who set you up to use the software.
Change a colleague's status
If you want to set a colleague as a senior account manager, remove this status, or change any of their other details, select the Account Managers tab.

Select your colleague's name on the list.

This screen lets you change any of their information, including whether this person is a senior account manager.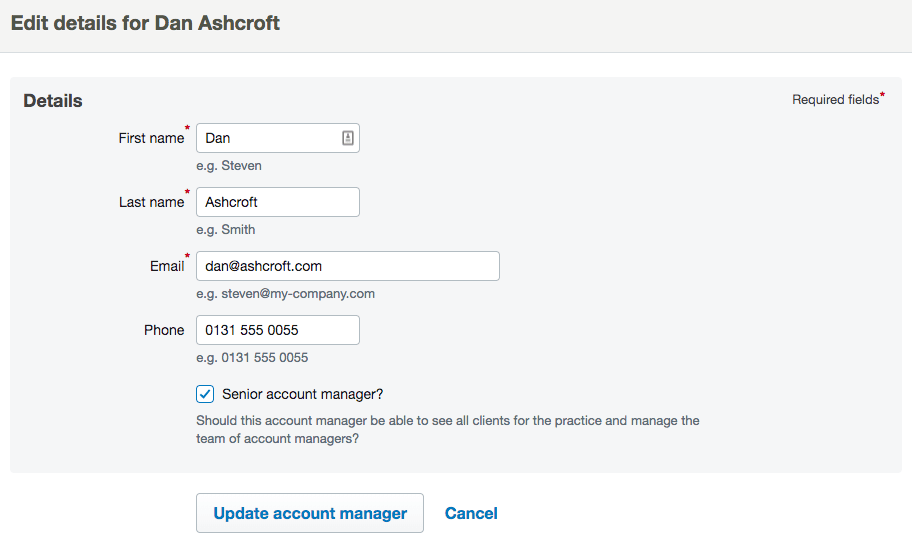 Change which clients a colleague is managing
You may sometimes need to move clients between colleagues, perhaps because a colleague has left, or been promoted.
Senior account managers can see and access all the practice's client accounts in the software, non-seniors can only see and access their own clients' accounts.
To move clients between colleagues, start by going to the All Clients tab.

You can see which account manager is assigned to each client, in the second column of this tab.

Tick the box next to the client or clients that you want to switch.

You can quickly tick all the clients' boxes by ticking the box next to the Name heading.

Once you have chosen the appropriate clients, choose the account manager to whom you want to switch them, from the drop-down menu, and select the Switch button.

These clients will then be moved to your colleague's dashboard and he/she will be able to see and access them.
Delete an account manager
An account manager can only be deleted if he/she has no clients assigned.
To delete an account manager, go to the Account Managers tab, and hover over that person's row on the list. Select the Delete button on the right.

The software will check that you're sure before deleting the account manager.