How to file the Self Assessment tax return for sole traders to HMRC from FreeAgent
This article explains how to file your completed Self Assessment tax return directly to HMRC through FreeAgent, if you're a sole trader.
To file your return, select 'Prepare to File Online' on any page of your Self Assessment return.

If your information is not complete, FreeAgent will warn you that you haven't filled in all the required information.

Bear in mind that you must select 'No' for any sections of the tax return that you don't need to fill in.

Remember also that you can quickly navigate round the incomplete sections of the return using the menu on the right-hand side of the screen. You can tell which sections are incomplete by the orange exclamation mark icon.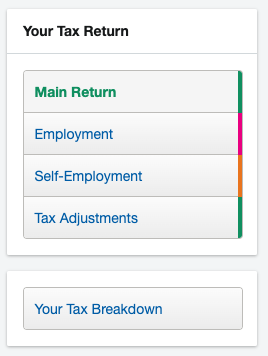 Once your information is complete, we strongly advise doing a few last-minute checks:
1 Does FreeAgent support all the pages you need to fill in?
Check that you don't need to fill in a page that we don't currently support, like:
2 Have you completed everything you need to?
Check that you've completed all the relevant pages, sections and boxes on your tax return. Remember, FreeAgent doesn't know exactly which of these apply to you.
3 Get your accountant to check it over
If you have an accountant who can access your account, get them to check over the Self Assessment return. They can even submit the return to HMRC on your behalf in FreeAgent.
Once you've double (and triple!) checked your return you can file with HMRC by selecting 'File Online with HMRC'.

Enter your Government Gateway ID and password, then select 'Submit Self Assessment'.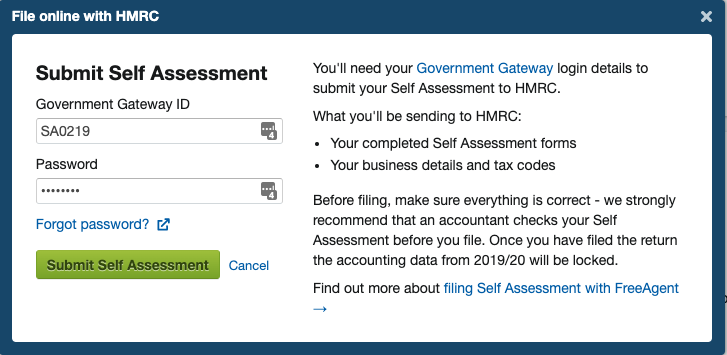 And that's it! You've successfully filed your Self Assessment return to HMRC.
You'll see the status of the return marked as 'Pending' while FreeAgent sends and confirms the return with HMRC.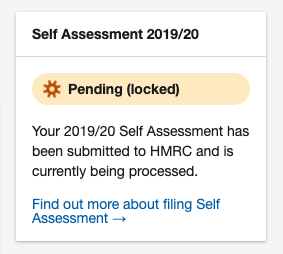 Once this is complete the return status will be changed to 'Filed'.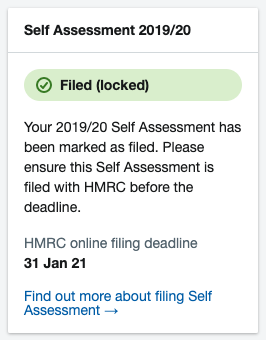 When a Self Assessment return is filed directly with HMRC, or marked as filed, the relevant tax basis period will be locked, restricting the changes that can made to transactions or items in that period.
Printing your return
You can print your Self Assessment return straight from your browser by pressing ctrl + p (or cmd + p if you're using a Mac). Depending on which browser you are using you may also be given the option to create a PDF.
Marking the return as filed if you don't file through FreeAgent
If you don't wish to file your Self Assessment tax return through FreeAgent (for example if your accountant uses his/her own software to file the return), you can still mark it as filed in FreeAgent. Simply select 'Mark as Filed' on any of the tax return pages.

After you have filed
Problems with the return
If there is a problem with filing the return you will see a message on the Main Return and the status will be marked as 'Rejected'.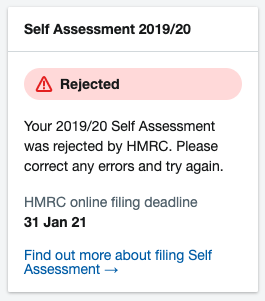 There are a number of common reasons for returns failing to submit successfully, including:
a wrong Unique Tax Reference number
HMRC's system is down
certain inaccuracies in the figures, such as putting tax taken off an income figure without putting the income in itself; FreeAgent should flag this to you
Once you have made the necessary correction/s, select the 'File Online with HMRC' button again to enter your login credentials and file the return.
Correcting mistakes on your return
If you've filed your Self Assessment return and then realise you've made a mistake, you will be able to unlock the return in FreeAgent so that you can change it. Remember that you must then file the amended return to HMRC.
To do this, select the 'Mark as Unfiled' button on any of the tax return pages.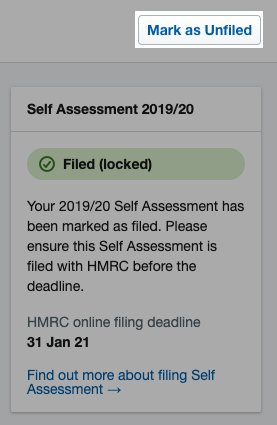 You can then make any necessary changes. Don't forget to go through the filing process again once you have finished, so that HMRC have an accurate amended return for you. FreeAgent helps to remind you of this by showing the return as Unfiled once again.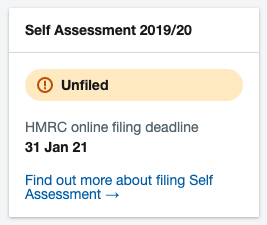 You can file your return up to a maximum of 9 times and all amended returns must be filed within 12 months of the original due date.
Locking of data once your return is filed
As a sole trader, once you have filed your Self Assessment tax return with HMRC through FreeAgent, your business accounting records will automatically be locked up to the end of the basis period covered by your tax return. The reason FreeAgent locks your accounts is because your accounts should now be finalised and any changes would affect your tax return.
That means you will see an error message if you try to create or amend any of these items which are dated before the end of the basis period:
You can still upload bank transactions, but we wouldn't recommend that because you won't then be able to explain them and would have to undo the upload anyway!
If you discover that you've made a mistake on your tax return, you will be able to file an amended return.
Opening balances in a locked period
If you create any new stock items or user mileage balances in a locked period, you will need to set an opening balance of zero, and you won't be able to change the opening balance of any existing bank accounts once your accounts are locked.
Opening balances that are created through the Trial Balance or by posting undated journal entries follow the same rules as any other journal entries, so you won't be able to enter any new opening balances or adjust your existing ones after your accounts are locked. New bank account opening balances are also locked.
Explaining the payment of personal income tax, class 2 NIC and class 4 NIC
You should explain the payment of your personal tax or NIC to HMRC as Money Paid to User>Drawings. This is because HMRC doesn't view this payment as an expense of your business; it's your personal tax or NIC liability.