Setting up for Making Tax Digital (MTD) for VAT
In this article we will explain how to sign up for Making Tax Digital, connect your FreeAgent account to HMRC and then the process of filing your VAT return.
As of 1st April 2019, VAT-registered businesses with a taxable turnover above the VAT threshold are required to use the Making Tax Digital service to keep records digitally. As a FreeAgent user, you can submit those VAT returns directly to HMRC!
To learn more about the government's Making Tax Digital initiative, check out our MTD guides and resources.
Even if you've been using FreeAgent to file your VAT returns for a while, you still need to manually switch over to Making Tax Digital (MTD) for VAT filing.
1 Sign up for MTD for VAT with HMRC
First things first, if you haven't already, head to HMRC's MTD for VAT sign up page and sign up your business.
Once you've finished signing up, you'll see the following screen: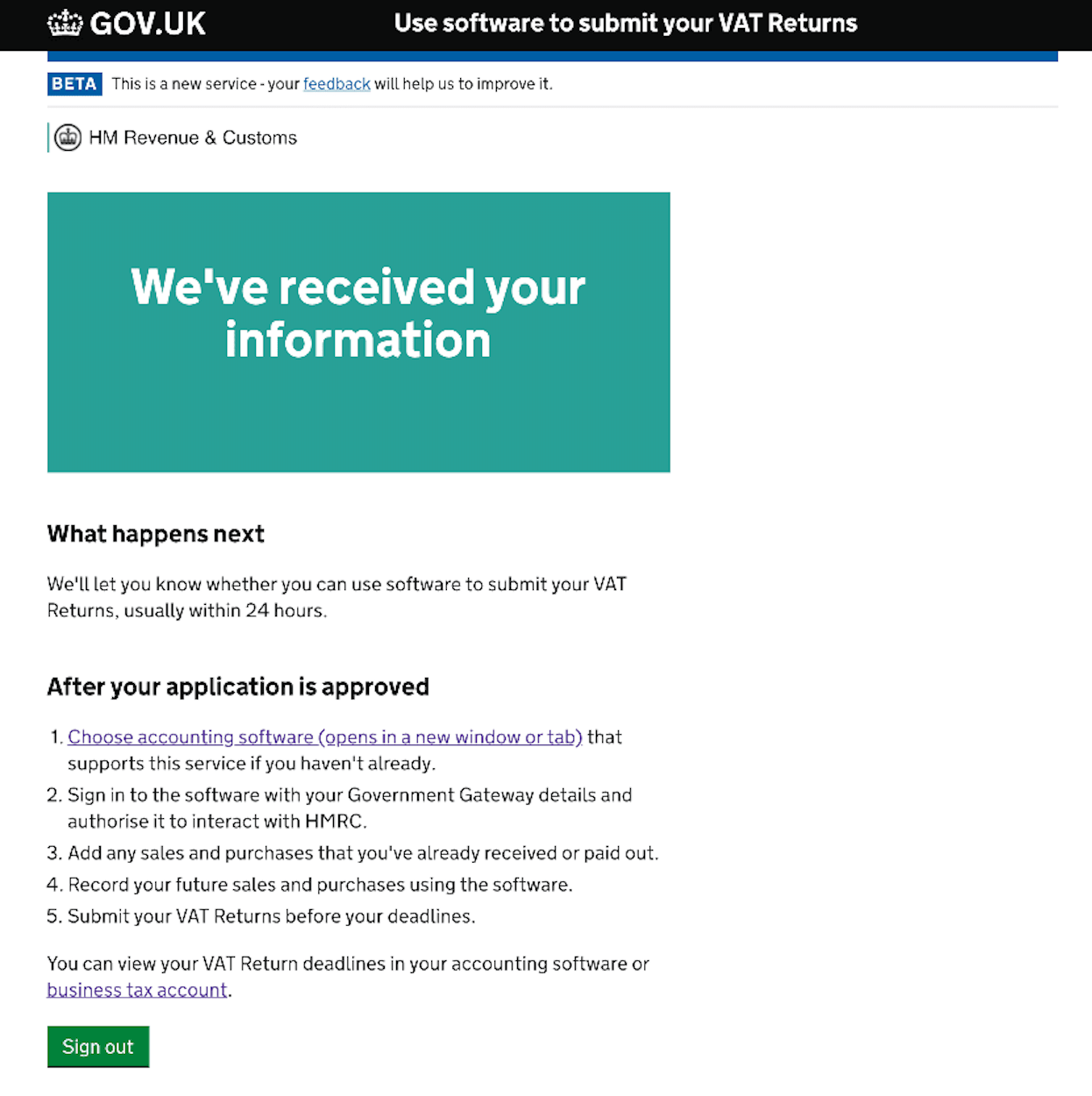 Please note:
Not all businesses are currently eligible to join the pilot so HMRC will perform some checks before sending you a confirmation email. This can take up to 72 hrs and once you receive a confirmation, you are ready to connect FreeAgent with HMRC.

If you're not currently eligible, you will need to continue filing VAT returns as you have done, through FreeAgent's existing VAT filing system or through HMRC's website.



If you make VAT payments through Direct Debit, you cannot sign up in the seven working days leading up to, or the five working days after your VAT Return is due.
2 Connect FreeAgent to HMRC
After successfully signing up for MTD for VAT with HMRC, log into your FreeAgent account and navigate to settings.

Select the 'HMRC Connections' option located in the 'Integrations' section
Only users with a permission level of 8 will be able to see the HMRC Connection section. If you're an accountant with a Practice Dashboard, have a look at these articles How to set up your practice for MTD and How to sign up your clients up for MTD.

Select 'Connect FreeAgent to HMRC'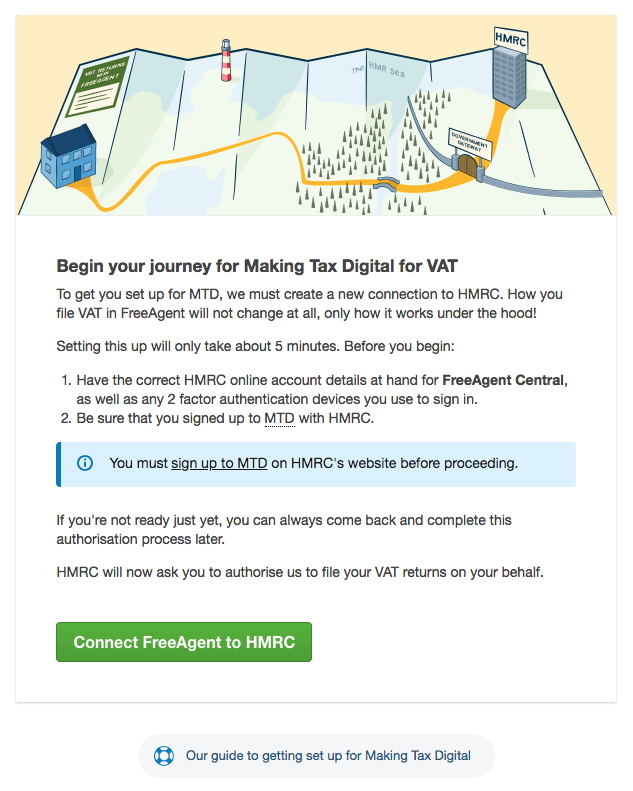 You'll be redirected to the HMRC site to complete the connection process, select 'continue' and fill in your Government Gateway credentials.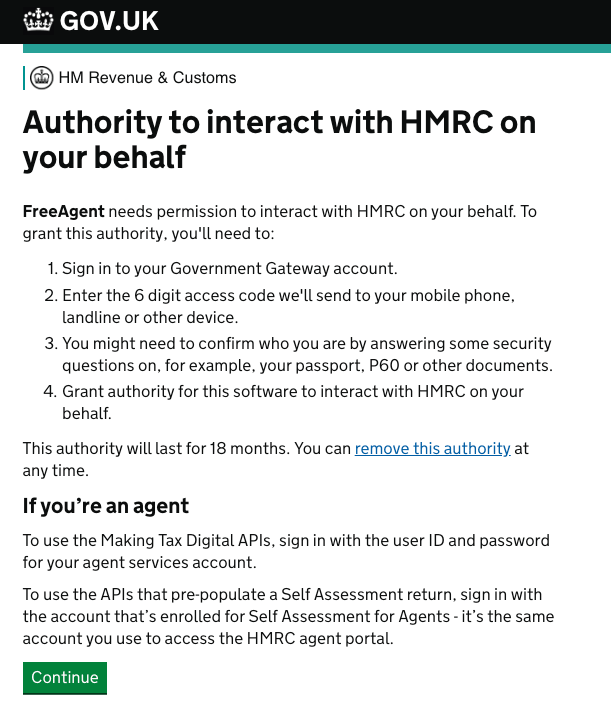 If you've successfully completed the connection you'll see the following screen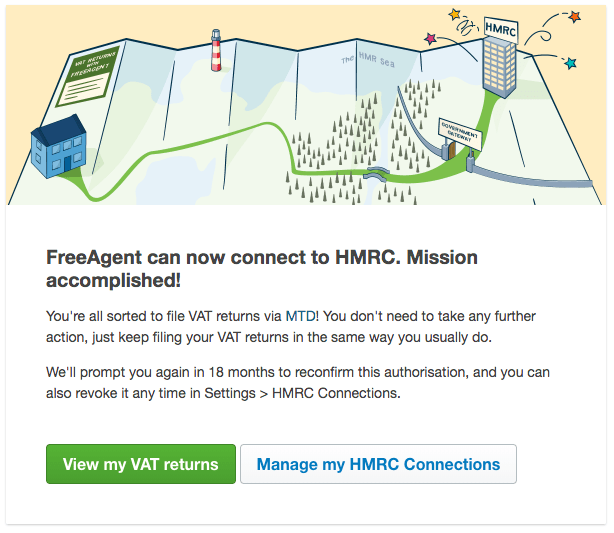 And that's it!
You can continue to file your VAT returns as normal.
Problems connecting
If you receive the following error message during the connection process: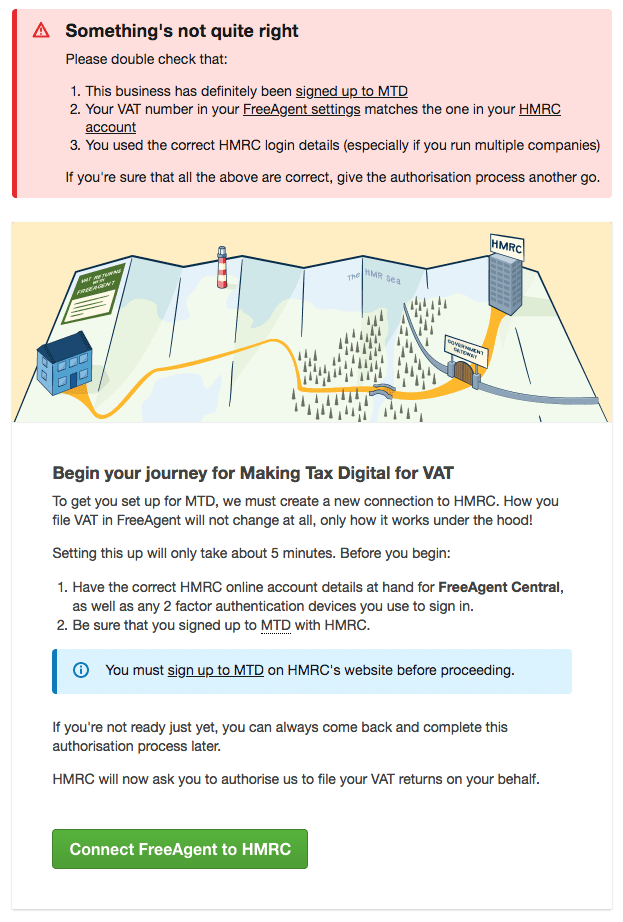 The error could mean that:
You haven't completed sign up to Making Tax Digital. Please try logging in to your HMRC business tax account and checking that you can access Making Tax Digital services, or if you haven't signed up for them yet, complete sign up to MTD.
You've entered your VAT number incorrectly.  Double check that the VAT number in your FreeAgent account matches the VAT number in your HMRC business tax account.
If the VAT numbers in your FreeAgent account and HMRC business tax account do match, please try again using the same credentials you used to sign in to your business tax account.