File your VAT return online
How to file a VAT return to HMRC directly from your FreeAgent account.
When you're registered for VAT, you need to file returns regularly (usually quarterly) with HMRC, nearly always online. Here's how to file a return to HMRC directly from within your FreeAgent account.
1 Preparing to file
First of all, you'll need to make sure you're registered with HMRC to file VAT returns online.
To begin the filing process, navigate to Taxes>VAT and select 'File online with HMRC'. Don't worry, you will have the opportunity to review your figures before submitting your VAT return!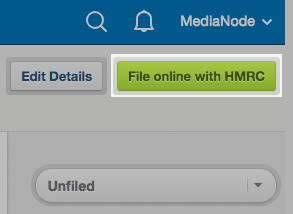 Spend some time checking the figures on your FreeAgent VAT return, and work through the following checklist, as seen on the filing page:
Are your VAT registration and first VAT return dates correct?
Have you chosen invoice or cash accounting as appropriate for this VAT return?
Is your VAT flat rate scheme setting right? Remember this should be 'Not on the Flat Rate Scheme' unless you've been accepted by HMRC to join the scheme
Have you entered and explained all your bank transactions that fall within this VAT return period?
Have you included any transactions bought or sold outside the UK correctly?
Have you included and sent, or marked as sent, all your invoices that fall within this VAT return period?
Have you entered all your out-of-pocket expenses for the VAT return period?
Amend any mistakes you come across and double-check your figures to make sure everything is correct before you file.
2 Filing your VAT return
Enter your Government Gateway ID and password. HMRC will have provided you with an ID shortly after you registered to file your VAT returns online. You will also have been prompted to choose a password of between eight and twelve characters when you registered.

Once you have entered your Government Gateway ID and password, select 'Submit VAT Return'.
That's it, you're done!
FreeAgent will now submit your return to HMRC, and will tell you within a few seconds whether it was accepted or rejected.
If your VAT return is rejected
If your VAT return is rejected, you might see an error message from HMRC in your FreeAgent account reading: 'Authentication Failure. The supplied user credentials failed validation for the requested service.' Here are a few reasons why this might have happened:
You've entered a HMRC password longer than 12 characters. HMRC only recognises the first 12 characters of a Government Gateway password, regardless of how long the original password was.
You've entered an incorrect Government Gateway ID.
You've entered an incorrect Government Gateway password.
You've had 3 invalid login attempts (which will result in a 2 hour HMRC imposed log-in restriction).
Your VAT registration number is incorrect in the 'Settings' area of FreeAgent.
HMRC's website is down.
If you want to know more about the cause of the error, contact HMRC directly on 0300 200 3600.
If you discover a mistake later
Once you've filed a return with HMRC, you can't change it. Don't worry too much though, as FreeAgent does let you put corrections into your next VAT return. Find out how to make corrections in a VAT locked period.