CoPilot
This article explains what CoPilot is and how it allows you to work with an accountant from right inside FreeAgent.
What is CoPilot?
CoPilot is an innovative new way of working with an accountant, all within your FreeAgent account. For a set monthly fee, we'll match you with a FreeAgent partner accountant who suits your business. They'll help guide you through your finances so you can grow your business with confidence.
How to find a CoPilot accountant
Please be aware that exploring the steps below is completely without obligation, and your subscription amount will not be altered in any way unless you explicitly confirm the purchase of a CoPilot package.
You will also see slightly different options depending on whether your business is listed as a sole trader, partnership, LLP or limited company in your FreeAgent settings. For example, limited company directors will be offered the option of working with a CoPilot accountant on their Corporation Tax return, which is not applicable to the other business types.
1. Navigate to 'Add-ons & Connections'
Select your company name at the top-right of the screen and select 'Add-ons & Connections' from the drop-down menu.

2. Select CoPilot
In the 'Add-ons' section, choose 'CoPilot'.


3. Select 'See our accountants'
Here you can review a brief introductory overview of CoPilot.



4. Browse the accountants
Check out our CoPilot accountant partner profiles by clicking 'More information' and see which one feels like a good match for your business.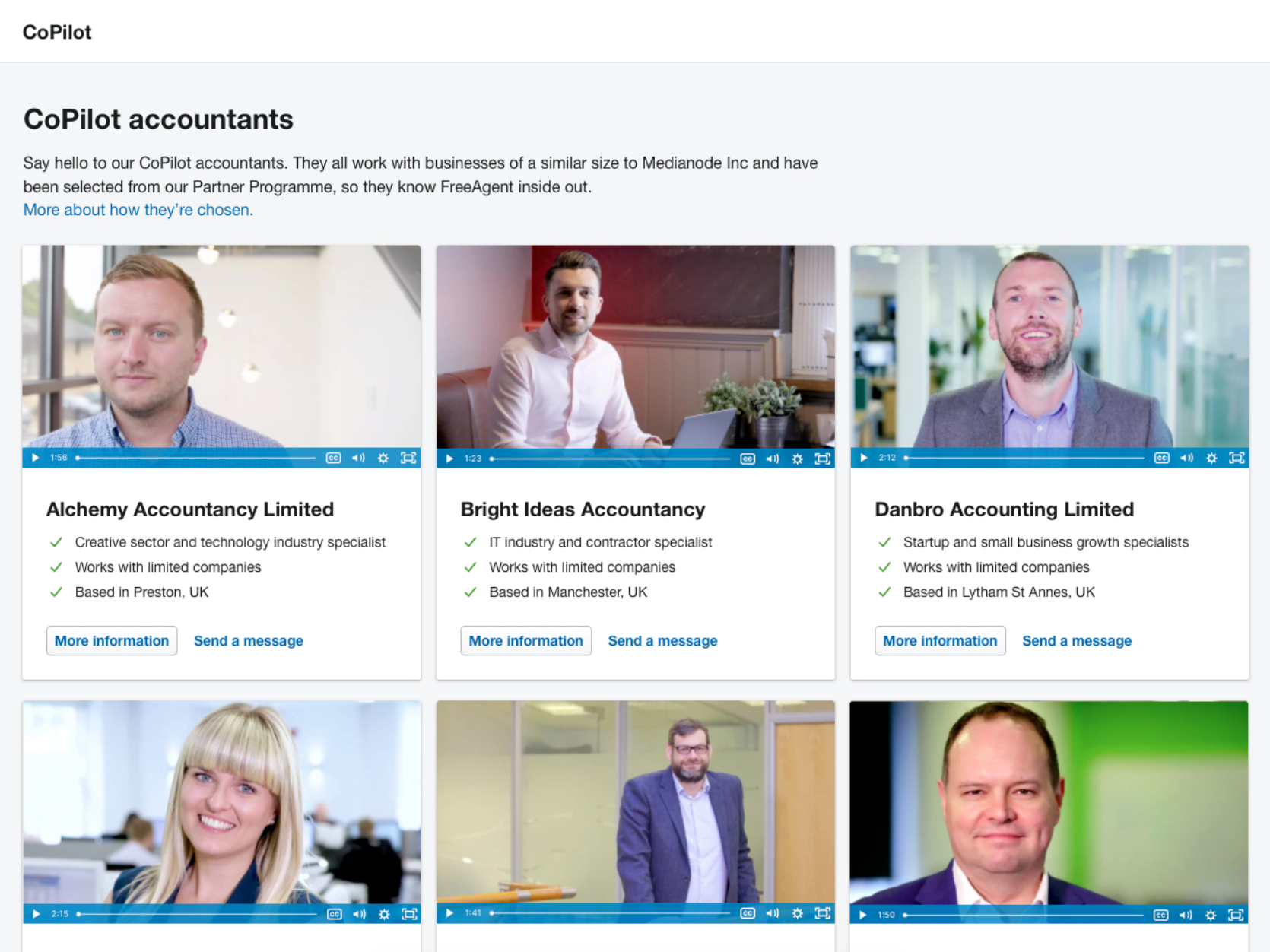 5. Reach out to an accountant
Check out individual CoPilot accountant partner profiles by choosing 'More information'. Alternatively, if you feel comfortable reaching out to an accountant, you can select 'Send a message' (see step 6).


6. Choose how you'd like to be contacted
You can choose to receive either an email or a phone call back from this accountant. They will usually get in touch within a couple of working days, so keep an eye out for their call or email.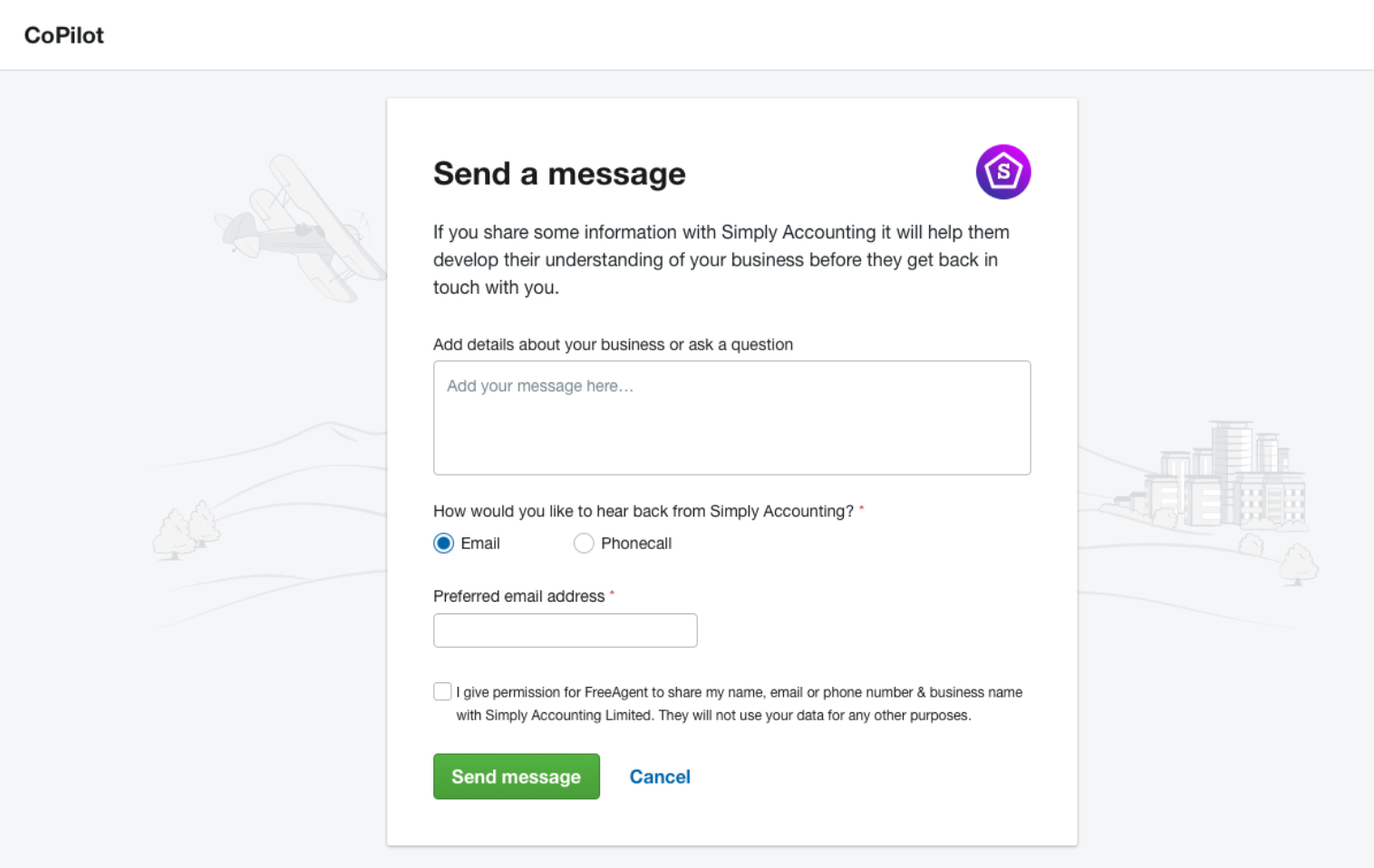 7. Decide whether to work together
You'll need to wait until you hear back from the accountant. Provided you're happy to work together, the final step for them is to perform a simple ID check. Once that's complete, they'll let you know and you can then select 'Review and confirm'.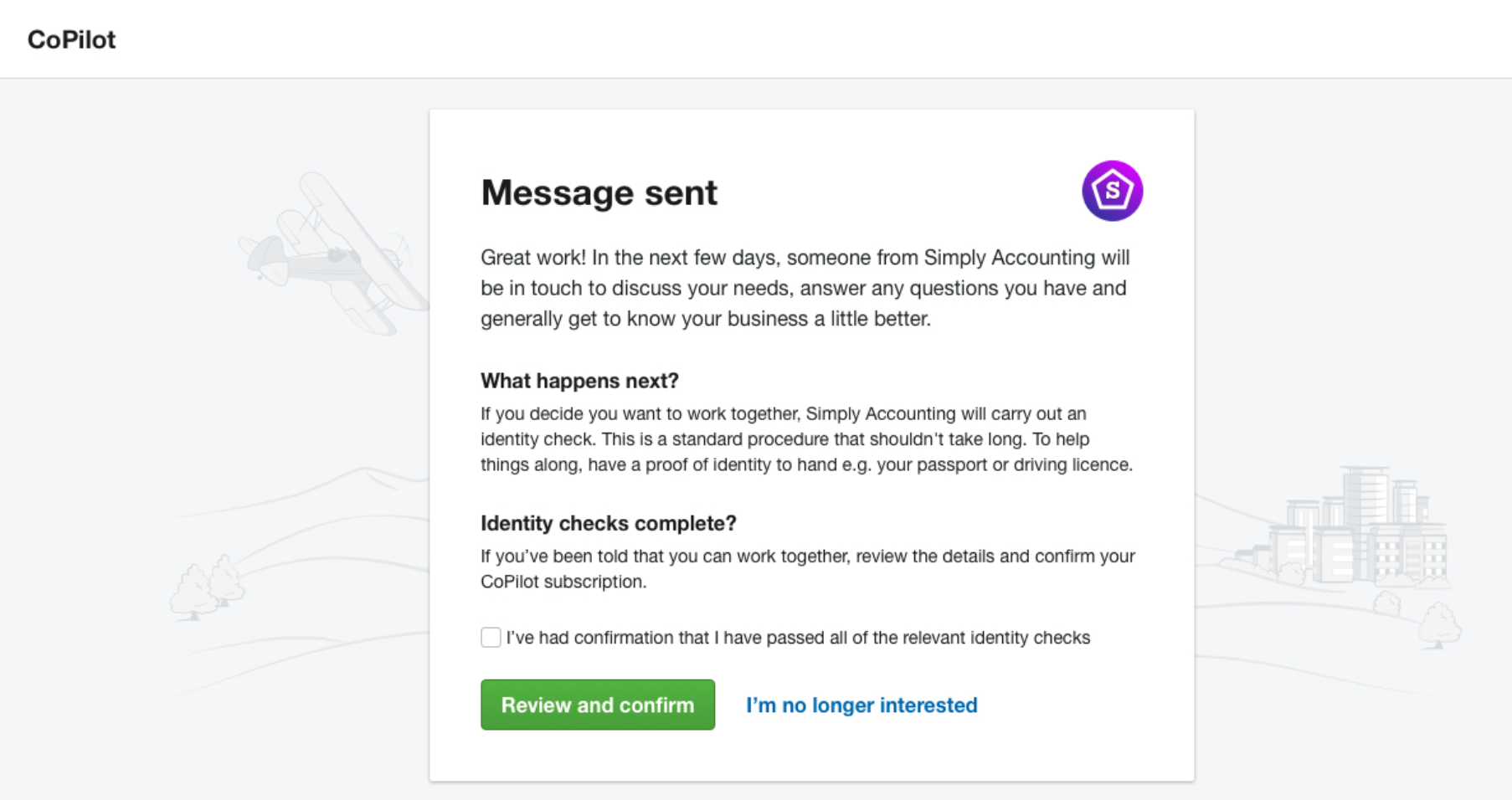 8. Review and confirm
Once you've found an accountant that you'd like to start working with, you'll need to confirm your purchase. Navigate back into the 'Add-Ons and Connections' area of your account (as outlined at the top of this article) and then select CoPilot again.
You'll see a page where you can review your new plan and 'Confirm & Purchase'. Before doing this, make sure that you've chatted to your selected accountant (whether by phone or email) and that you've carefully reviewed the terms of service linked to on this page.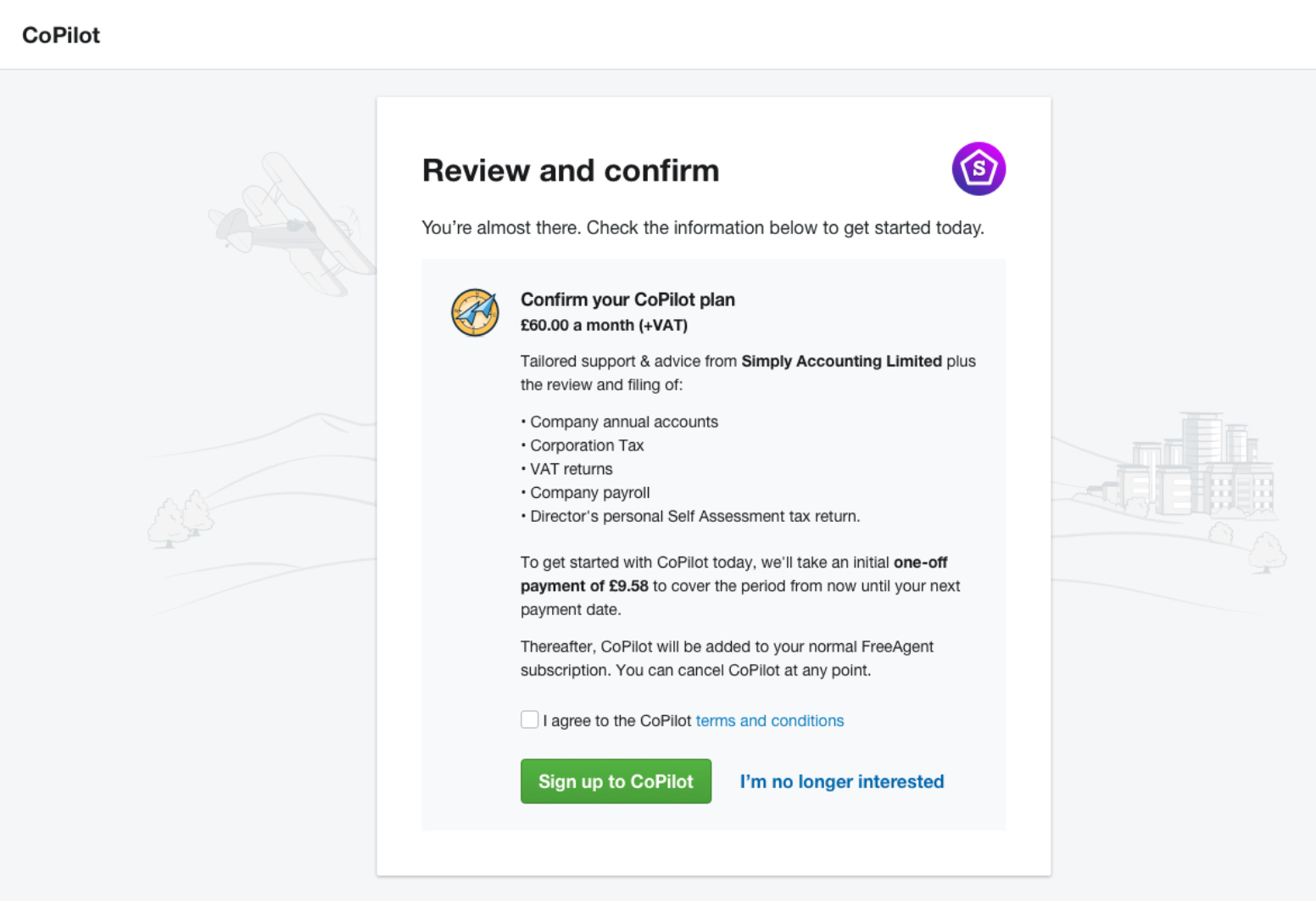 How to message your CoPilot accountant in your FreeAgent account
Once you're all set up with an accountant, you can message each other conveniently from right inside your FreeAgent account.
There are two ways to access these messages. You can either select your company name at the top-right of your screen, select 'Add-ons & Connections', select 'CoPilot' and finally select 'Messages'. Alternatively, you can select the notifications bell icon (also at the top-right of your screen) and then choose 'Messages'.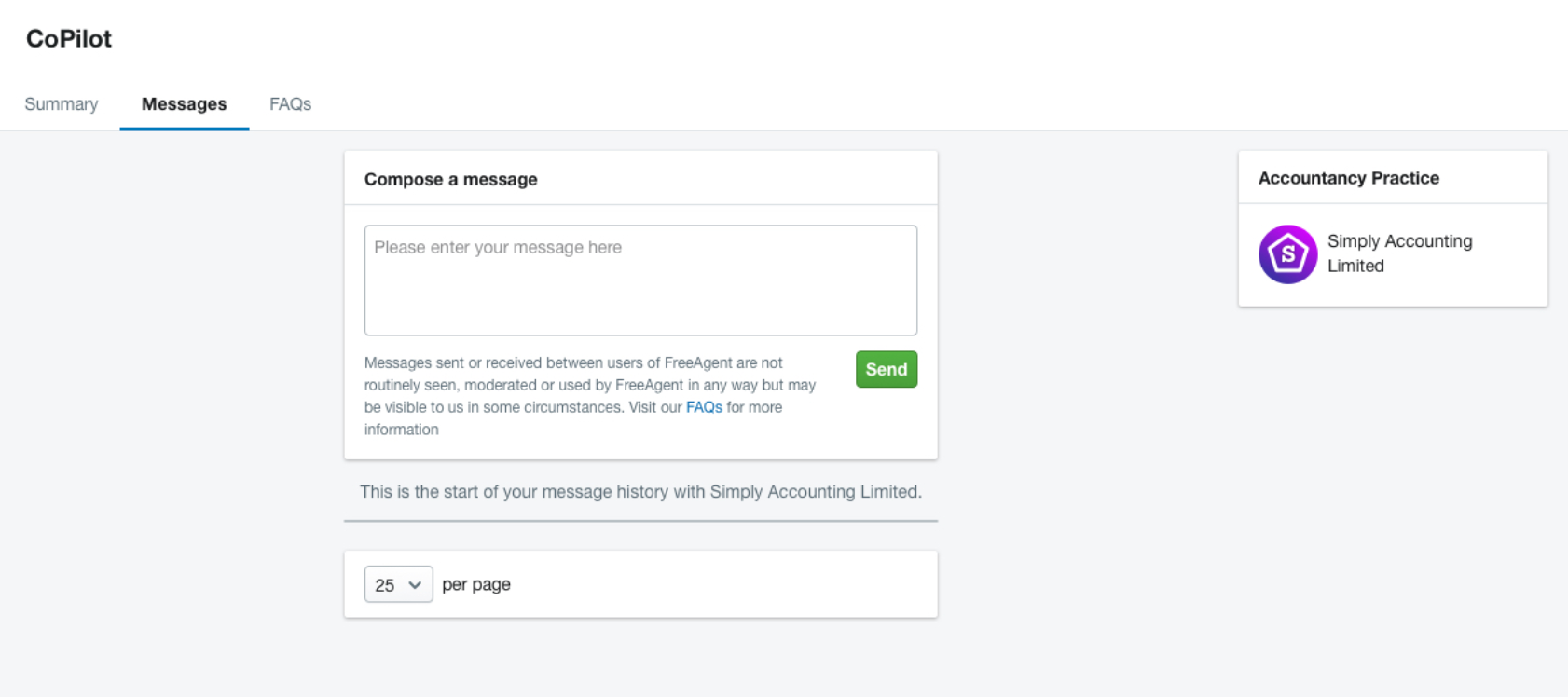 FAQs
If you have any questions specific to CoPilot, we'd recommend that you first get in touch with your CoPilot accountant. If you don't have one yet, or you still need support after contacting them, please reach out to our support team in the usual way at support@freeagent.com.
Why can't I see any mention of CoPilot in my account?
CoPilot is currently only available for a subset of eligible businesses. If you don't see a CoPilot option in your account, but are interested in the service, please contact our support team. They'll be more than happy to see if there's anything they can do for you.
What if I'm not happy with the accountant I select?
If you have any problems, please let us know by emailing support@freeagent.com. We will either resolve the situation to your satisfaction or invite you to choose a new accountant.
What do the identity checks with my accountant entail?
There will be an ID check to verify your identity, along with some basic paperwork to set you up as a client on your accountant's system. If your business is a limited company, there may also be a check on your directorship of the business.
Can I cancel my CoPilot subscription?
You can cancel your subscription at any time. Just email us at support@freeagent.com.
How will payment be taken?
We'll take payment for CoPilot on your next FreeAgent subscription payment date. The CoPilot charge will be added to your usual subscription amount and taken each month for as long as you subscribe to the service. If you pay for FreeAgent annually, you'll be billed each month for CoPilot, in addition to your annual subscription.
Can I change package if my business circumstances change?
If your business circumstances change (for example, if you become VAT registered) and need to change your CoPilot package, simply get in touch with your accountant who can help you with this.