The Final Accounts report for micro-entities
This article explains how to access the Final Accounts (FRS 105 micro-entity accounts) report in limited company accounts.
What is the Final Accounts report?
The Final Accounts (FRS 105 micro-entity accounts) is a financial reporting standard that applies to companies that meet HMRC's definition of a 'micro-entity'. This is a company that has two or more of the following:
A turnover of £632,000 or less.

£316,000 or less on its balance sheet.

fewer than 10 employees.
In FreeAgent, the report is available in limited company accounts to users with full (level 8) access. The report is populated with data automatically based on the transactions that you enter throughout the year. Companies that meet HMRC's definition of a micro-entity can use this report to help prepare their accounts in order to submit their annual accounts to HMRC and Companies House.
How to view the report
To find your Final Accounts report, navigate to the 'Accounting' tab at the top of your screen and choose 'Reports' from the drop-down menu.

Choose 'Final Accounts' from the 'High Level' area.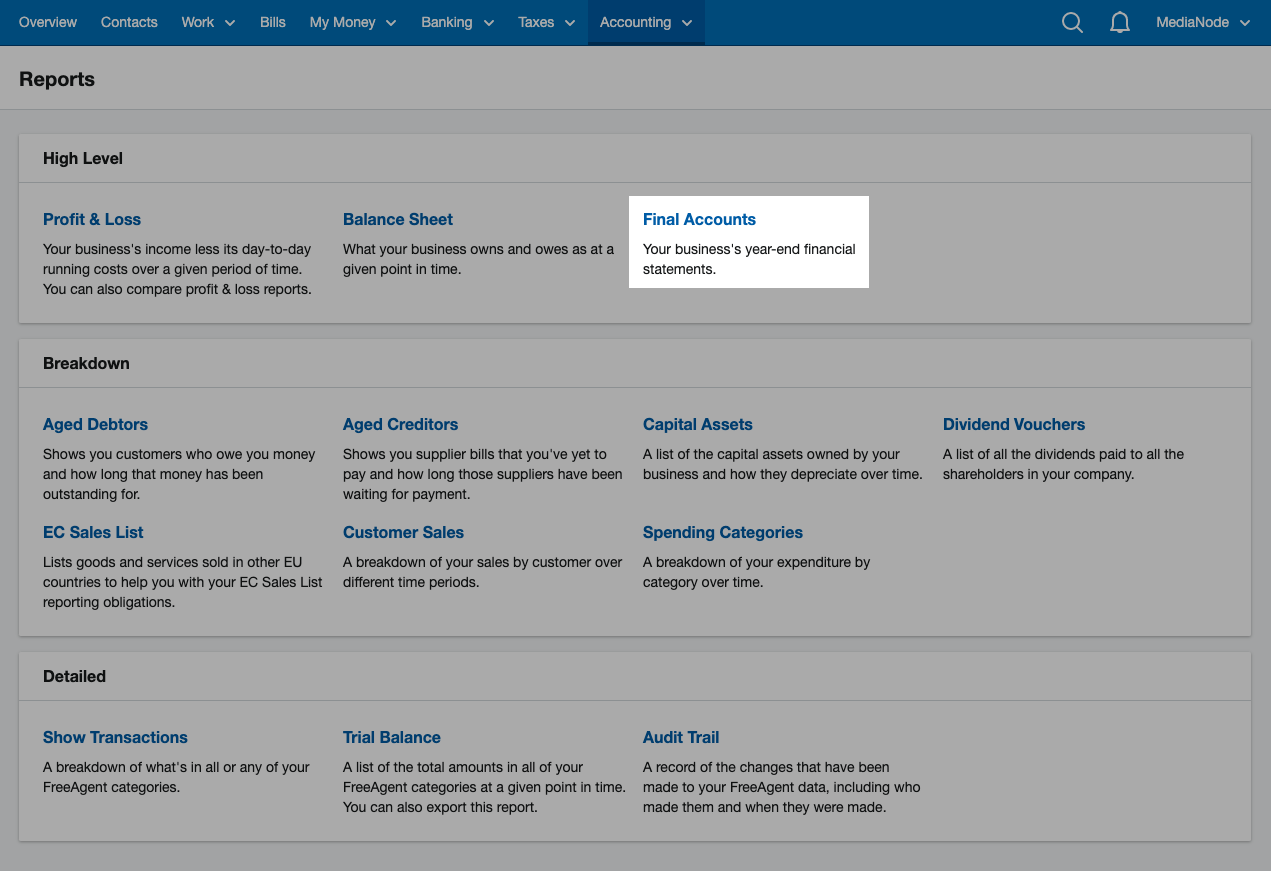 Select the relevant accounting year from the list.

You will then see your Final Accounts report for the accounting year you selected.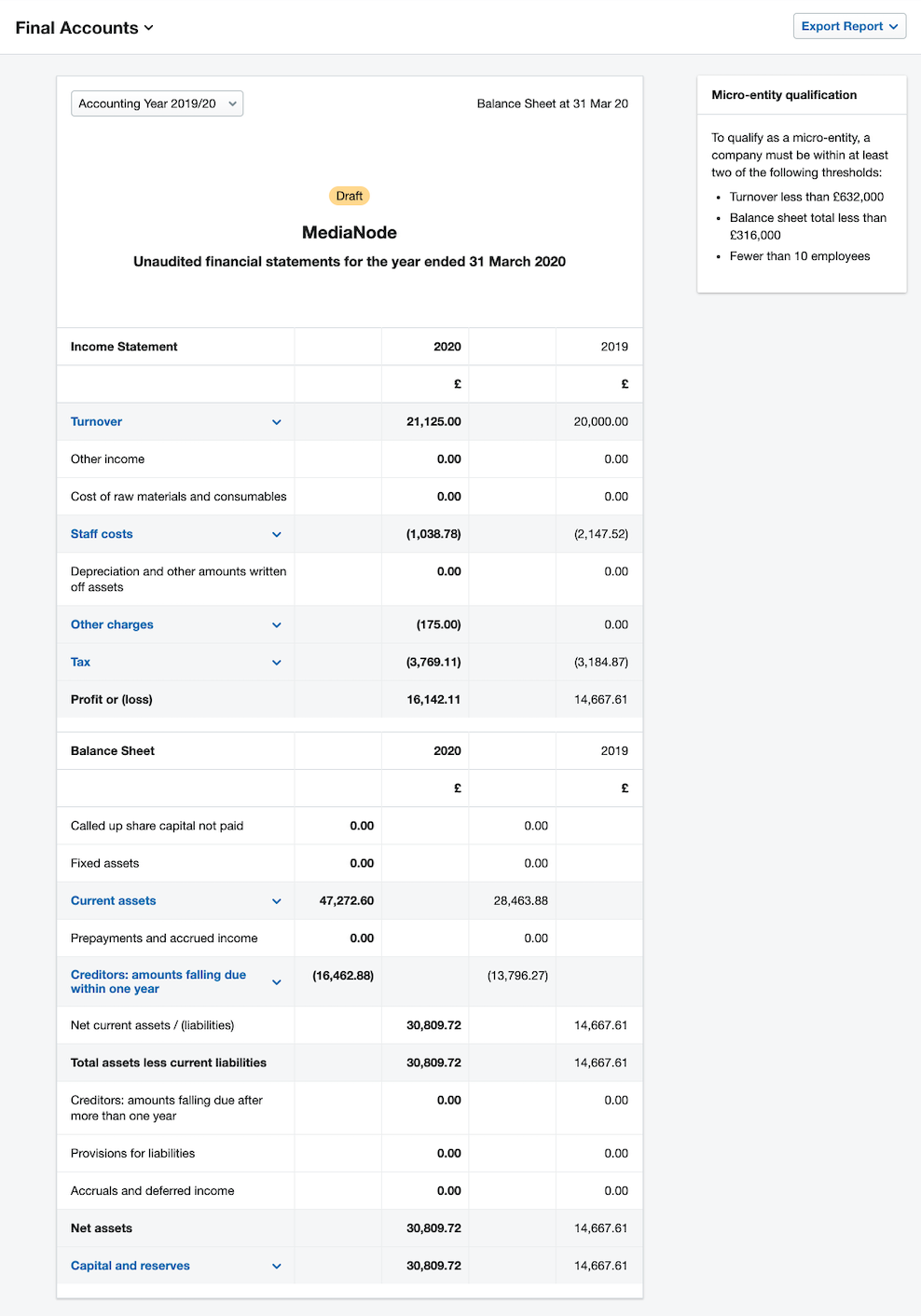 The report will display your Income Statement and Balance Sheet figures and will be marked as 'Draft'. This is because the necessary declarations and any relevant notes would need to be added before the report could be finalised. This functionality is not currently available but will be added to FreeAgent when the ability to file your Final Accounts report to HMRC and Companies House is introduced to the software.
In the meantime, you can use the information in your draft Final Accounts report to submit your accounts to HMRC and Companies House outside the FreeAgent environment. We strongly recommend that you work with an accountant to do this.
How to interact with the report
You can select each row highlighted in blue on the left-hand side of the report to see more detail. Selecting a category beneath an expanded row will take you through to the Show Transactions report, which will give you even more detail.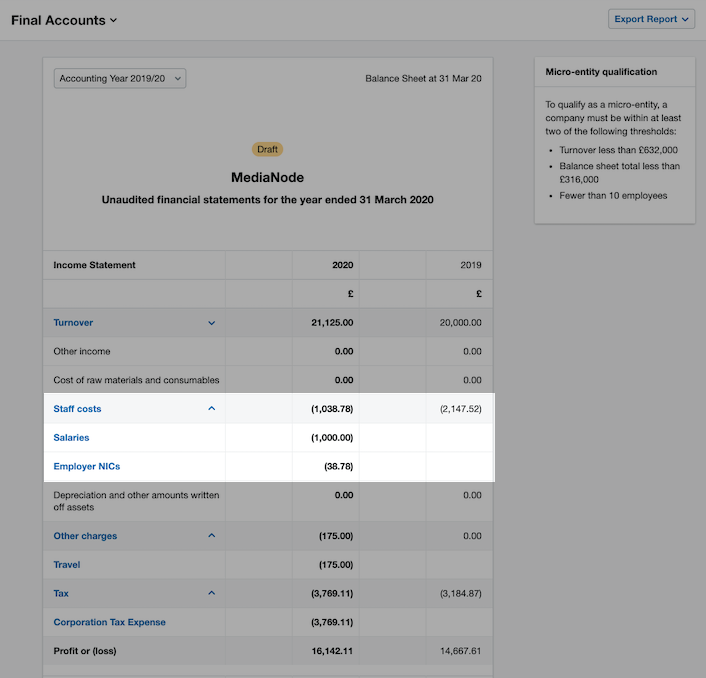 If you wish, you can export the report as a PDF by selecting 'PDF' from the 'Export Report' drop-down menu.

Please note that at the moment, Final Accounts filing isn't available in FreeAgent and you can't yet enter comparative figures for your first year of using FreeAgent.