Create a new expense
Here's how to record your out-of-pocket expenses (your own money that you spend on business expenditure).
Depending on your FreeAgent account type you'll either find Expenses in the main menu or in the My Money menu. You can also quickly start a new expense by choosing New Expense from the Quick Links menu on the Overview screen.
1 Choose a user
Once you're in the Expenses area, make sure you've selected the appropriate user (i.e. the person who spent the money) from the 'Show' drop-down menu.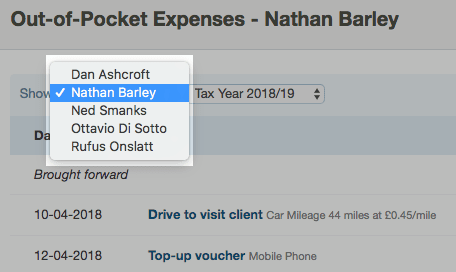 Next, select 'Add New Expense'. If you're recording a mileage claim, you'll need to follow a separate set of instructions.

2 Create a new expense
Payment or Refund
Choose whether this was a payment or a refund. It'll usually be a payment but sometimes you might need to record a refund, for example if the employee was personally paid back for something he or she has previously claimed on expenses, such as a train ticket which was not used because there were engineering works in progress.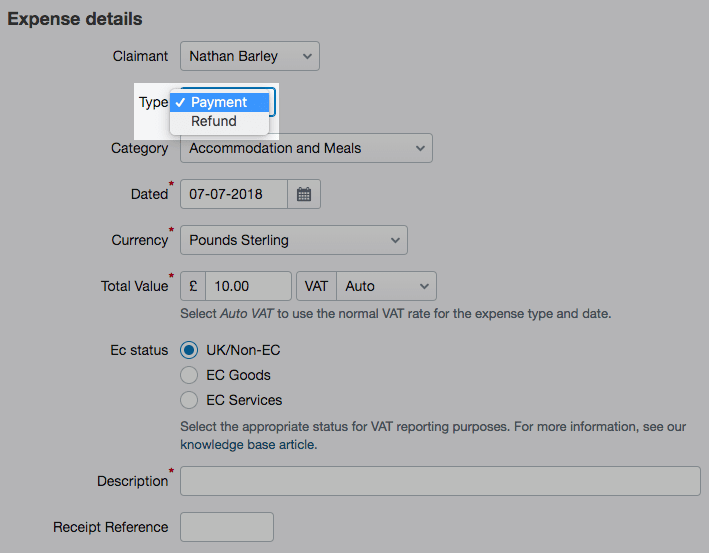 Category
Choose a category for the expense. You can also add a new category.
If you're a UK based company registered for VAT, make sure it's in the right area for VAT. For example, if your employee bought some stamps at the post office, make sure that you categorise this as Postage so that no VAT is claimed on it.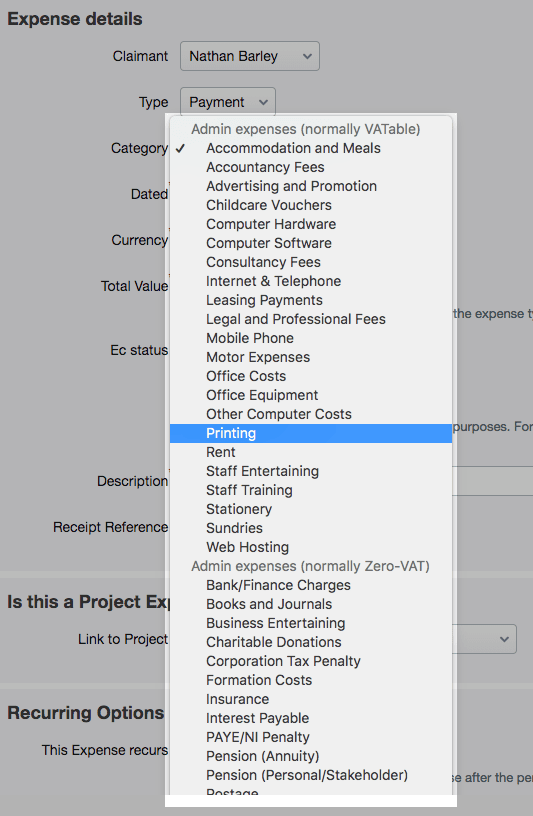 Date
Enter the date of the expense.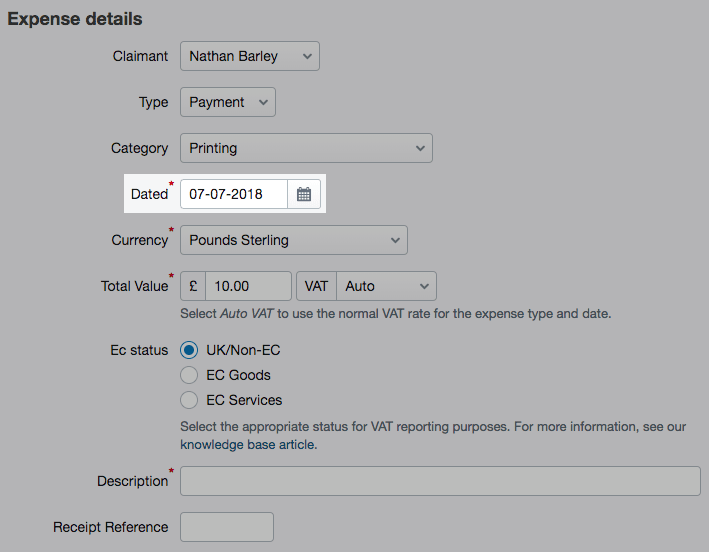 Currency
Choose the currency that you used to pay for the expense. If this is a currency other than your base currency please see our multi-currency expenses article.
Amount
Enter the amount of the expense, as on the employee's receipt. Put the figure in inclusive of any VAT. Remember, if you need to override the default Auto VAT setting, you can choose from a set percentage, or choose Amount from the menu if you need to manually enter VAT.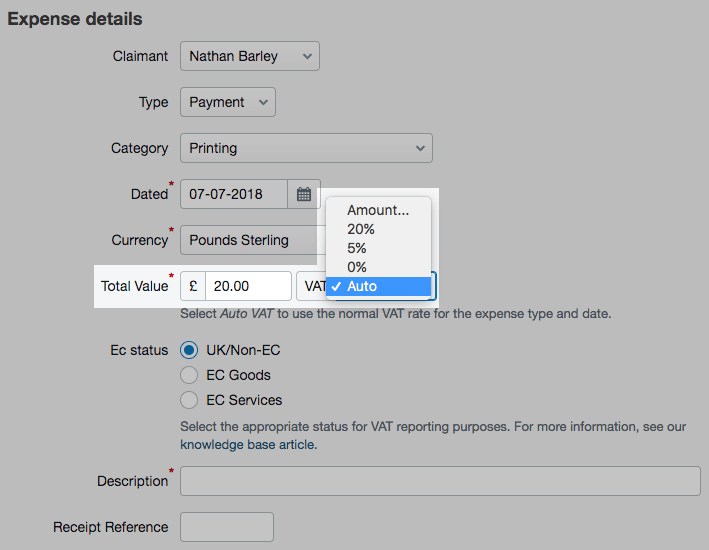 Description
Put a description of what this was for. You might also want to make a note of why the employee incurred it, particularly if it's a tax-sensitive expense such as business entertaining.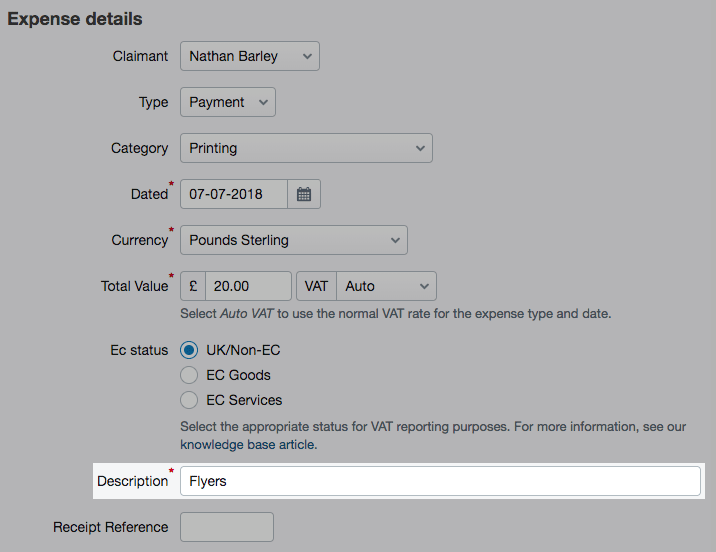 Link to project
You can link this expense to a project...

...and optionally re-bill it to that project's customer, at cost or with a mark-up.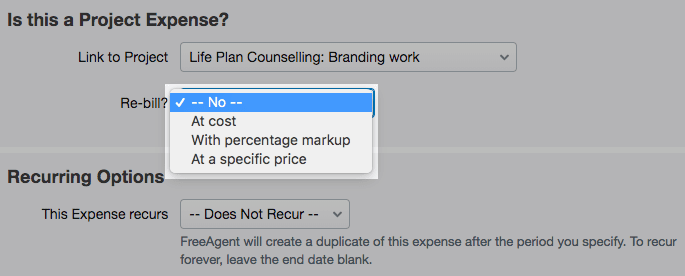 Setting up a recurring claim
If this expense is going to happen again in the future, for the same employee and same amount as before, for example, a mobile phone voucher, use the Recur option to put it in again automatically.
Once you've finished entering the expense, select Create New Expense to save it, Create and Add Another to save this expense and start entering another one, or Cancel to close this screen without saving the expense.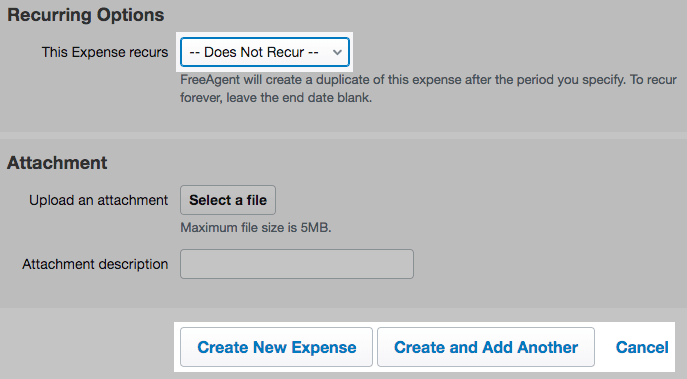 That's it. Job done!
The expense has been added to the list of costs incurred by this user which he or she can expect the business to pay back for.

I've made a mistake entering my expenses
You can edit expenses up to and until you file your VAT return.
I want to delete a recurring expense claim
Navigate to the "Expenses" area of your FreeAgent account and choose "Recurring" from the expense type drop-down menu to see a list of all your recurring expense claims. Select the recurring expense that you want to delete and then change the option displayed in the "Recurring?" area of the expense to "Does Not Recur". Select "Save Changes" to complete the process.
I want my business to pay me back for what I've spent
Please see our guide to recording a payment from the business to a user.