Create a new bill
Here's how to record in FreeAgent a bill you've been sent by one of your suppliers.
Bills are what we call invoices that you receive from your suppliers, as opposed to those which you issue to your customers. Other packages might call this area 'Creditors', 'Suppliers' or 'Accounts Payable'. Bills are for goods and services that you will have to pay for - but perhaps not just yet. It depends if your supplier gives you any credit.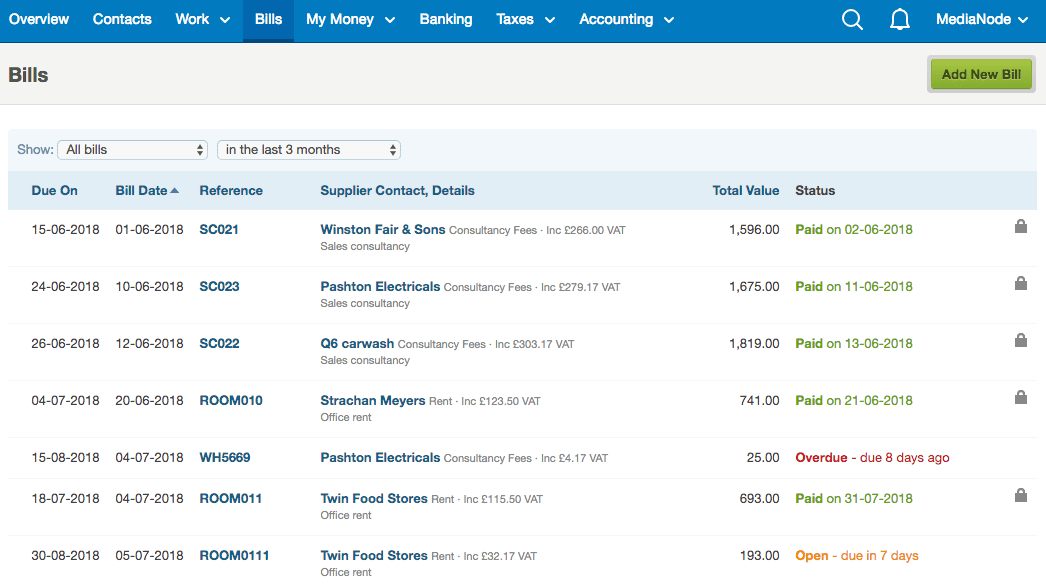 How to set up a new bill
Select Bills from the menu, and then Add New Bill.

Or, you can select New Bill from the Quick Links menu on the Overview screen.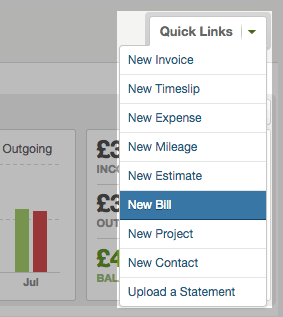 Or, you can start from the Contacts page, select the contact and then from the Add New menu, choose Bill. This is the only way to create a bill if the contact has been hidden.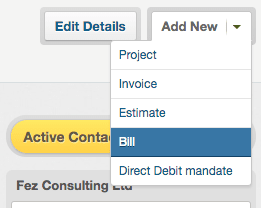 This brings up the Create a New Bill screen.
1. Contact and reference
Unless you're starting from the contact itself, choose, from the drop-down menu, which supplier gave you this bill. If you haven't yet set that supplier up as a contact, you need to do that. Select the "Add a New Contact" link to start setting up the new contact.
I can't see a contact I've previously set up.
If the contact is hidden, you won't see them on this list.
Put in a reference number for this bill. This will usually be the invoice number that your supplier puts on this bill. Or you might prefer to set up your own system and write your own number on each bill, and then enter that into FreeAgent. It's up to you and your accountant, if you have one.

2. Dates
Enter the date of the bill. Your supplier will usually call this the "Invoice Date".
FreeAgent works out the due date for you, but if this date is not correct you can overtype it or change it using the calendar next to the "Due On" box.

3. Amount and VAT
Put in the total amount of the bill including VAT. If you're recording a credit note that your supplier has given you, which we in FreeAgent call a "bill credit note" to distinguish it from a credit note you issue to a customer, just enter the total amount of the bill credit note as a minus.
Set the VAT rate, depending on how much VAT was charged by your supplier. If you're going to put the bill into a category where FreeAgent could automatically choose the right VAT, choose Auto VAT. For example, if you leave the VAT rate as Auto and then choose a category that's normally VATable, such as accommodation and meals, then FreeAgent will work out standard VAT for you.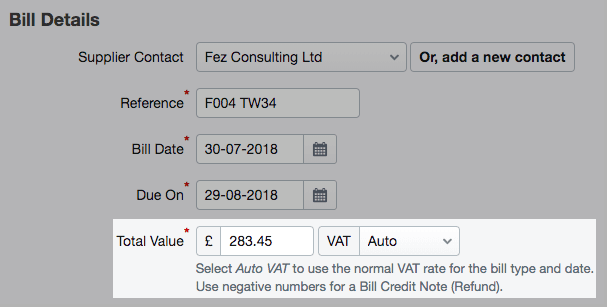 To manually enter the VAT amount, choose the Amount option from the VAT drop-down menu, and put the amount of VAT into the extra box that FreeAgent puts up for you. (This is available for UK users of the software only.)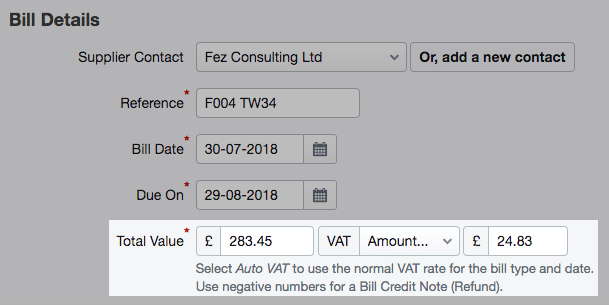 4. Category
Pick the correct category from the drop-down list. If you're not sure which category you should be choosing, please ask your accountant.
You can also set up new categories if you need to.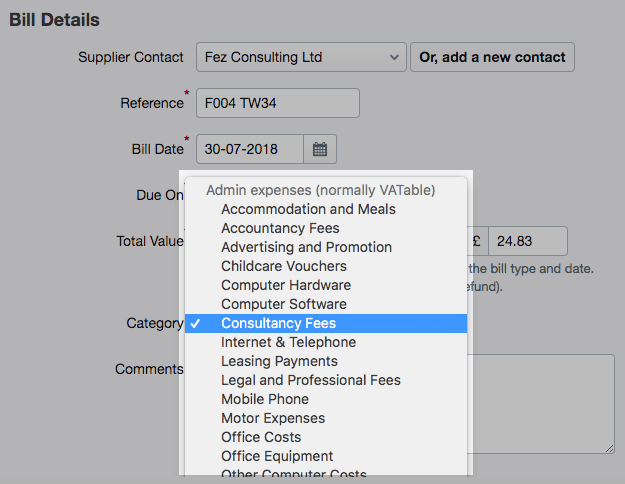 If you pick one of the asset categories, FreeAgent will also ask you for the asset life. This means how long you expect the asset to be in use. Choose from the options that FreeAgent suggests.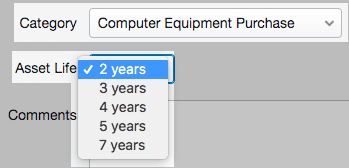 If the bill divides into more than one category, particularly if those categories have different VAT settings, for instance if you have a bill from the Post Office for both postage and stationery, then you'll need to divide the bill up into its components and post it as two or more different bills in FreeAgent. But if the bill all belongs in one category but some items have a different rate of VAT on, use the Amount option for VAT as above.
5. Comments
Put a comment in the Comments box if you wish, for example some notes about what the bill was for. This is particularly important for bills in tax-sensitive categories such as legal and professional fees, purchases of capital assets, or sundries.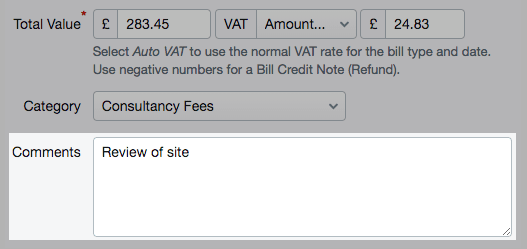 6. Link to Project
If this bill was incurred while you were working on a particular project, you can link it to that project, and choose whether you're going to charge the client for it, and if so, how much.

I can't see the project I want.
The project may either be in a different currency or it may have a status other than Active.
7. Recurring
Sometimes you might have recurring bills, such as a bill for your business's rent or business rates. You can tell FreeAgent here how frequently this bill recurs, and then the system will put it in for you in the future, without you needing to go through the routine of creating a new bill. You can edit a recurring bill if the charge, or reference, is slightly different each time, for example telephone bills.

8. Attachments
You might want to upload a scanned image of your bill. Your accountant, if you have one, will advise you if he or she would like you to upload scanned images of particular categories of bill, such as purchases of capital assets, or legal and professional fees. If you're going to upload a bill, browse to it, and give it a description if you wish.

9. Save the bill
When you've finished, select Create and Finish to save this bill and go back to the Bills screen, Create and Add Another to save this bill and create another new one, or Cancel to exit the screen without saving this bill.
If you select Create and Finish, you can then see the bill on the list on the Bills screen.