Selling stock
How to enter sales of stock items in FreeAgent.
Here's how to enter sales of stock items in FreeAgent, for example, when an IT contractor sells some computer parts to her customers.
Stock on an invoice
The first way to record a sale of stock is on an invoice.
Create your invoice in FreeAgent as normal.
When you come to adding items to the invoice, choose the unit type Stock from the list.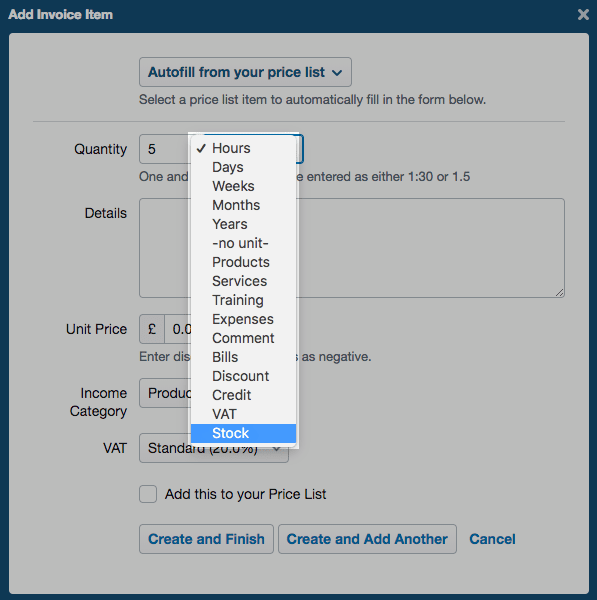 A new drop-down menu appears to let you choose which of your stock items you are selling. Pick the correct one. If you're selling more than one kind of stock item on the same invoice, you'll need to create a new invoice item for each different stock item.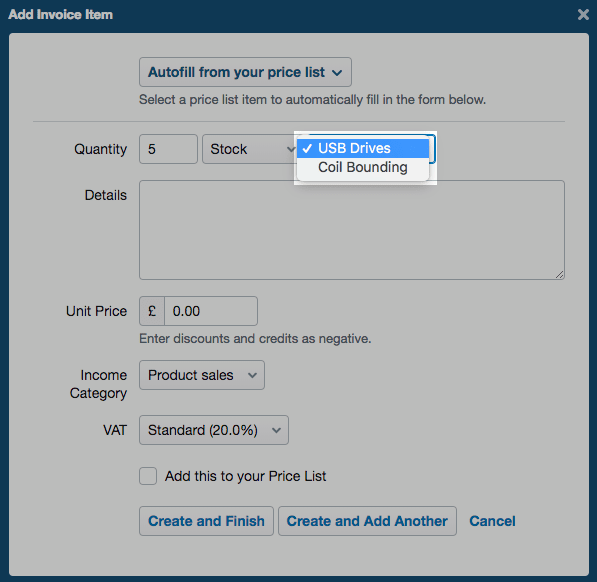 Then put in the details, unit price, income category, and VAT as usual. Be warned though, you can't create credit notes for stock items, so make sure the unit price is not a minus.
You may want to create a new income category for sales of certain stock items.
Stock and price list
If you'll regularly sell a batch of this stock item, for example, you sell sweets and you usually sell pink sugar mice in a box of 10, you can add this item to your price list, by ticking the box and putting in a price list code.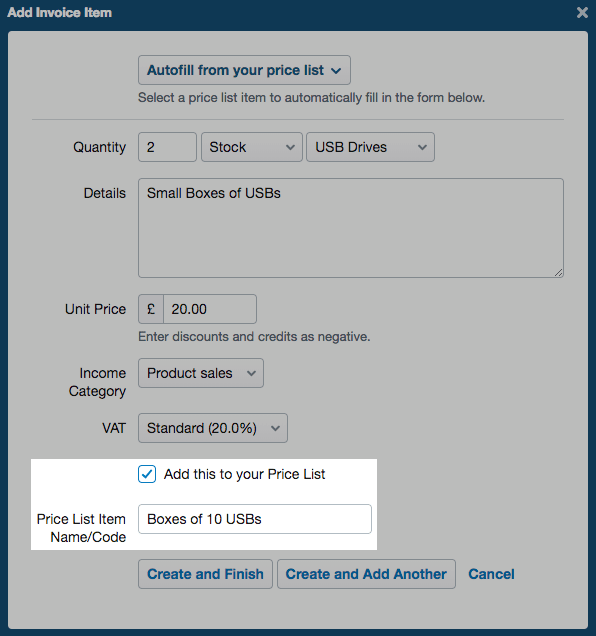 Then next time you sell a box of 10 pink sugar mice, you can choose to add that from your price list as normal.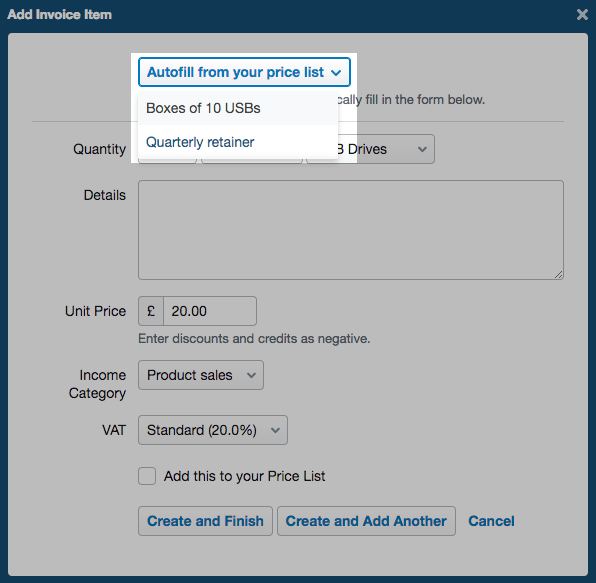 Choosing to add a stock item to your price list also lets you effectively set a default sales category to use when you sell this stock item.
Finish creating this item on your invoice as normal, by selecting Create and Finish or Create and Add Another.
You can also include stock items on estimates in the same way.
Non-invoiced sale of stock
If you don't issue sales invoices, and you want to explain or enter a bank receipt as a sale of stock, choose type Sale of Stock.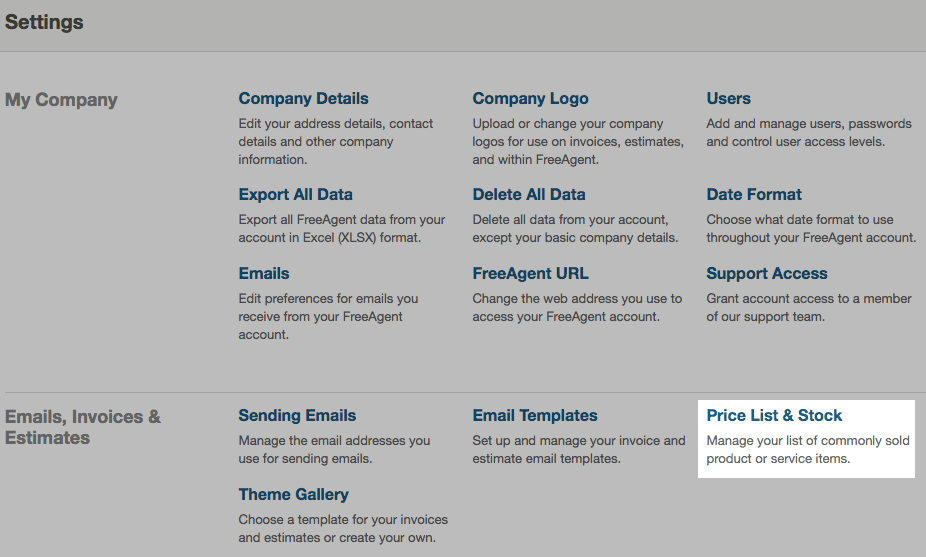 FreeAgent will then bring up new boxes in the More Detail section, so that you can enter which stock item you sold and how many units.

The category is the income category where you want this sale to appear in your profit and loss account.
Finish explaining or entering the transaction as normal.
Scrapping stock
If you're scrapping some stock, enter a manual bank transaction with type Sale of Stock and a value of nil, and enter the stock item and quantity that you scrapped.
Stock quantity held
When you enter a sale of stock, the quantity you have on hand will go down. If this is an invoiced sale, FreeAgent will only adjust the quantity once the invoice is marked as sent. Draft invoices won't adjust the quantity.
Where do I see the quantity I have on hand?
To check your quantity of stock on hand, select Settings and choose Price List & Stock.

Select the Stock tab.
You can see this shows you quantities of each item. That's how many units you have on hand at the moment, allowing for any sales and purchases.

This number will go up as you buy stock, and go down as you sell stock.