Data security and backup
This article explains FreeAgent's data security and backup procedures.
We take the security of customer data very seriously and treat our users' information in line with the highest standards.
All information that passes between FreeAgent and your computer is securely encrypted over HTTPS using TLS v1.2, according to industry standard best practice. The strongest encryption algorithms (SHA 256) afforded by your browser are prioritised. You can confirm the security of the connection between FreeAgent and your computer by reviewing the padlock icon in your browser's address bar. If you're unable to log in to your FreeAgent account, please see our troubleshooting steps for login problems.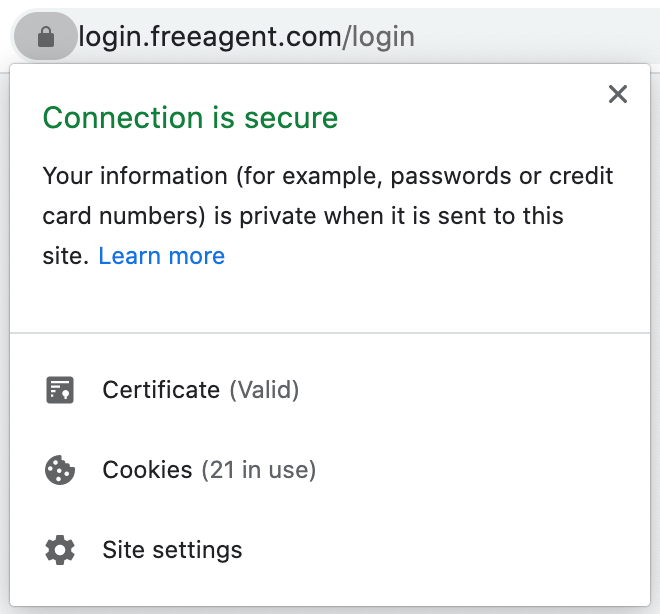 FreeAgent also encrypts any information stored on your behalf, including data in the database and any files you upload, using 256-bit AES encryption.
Our customers' information is held securely in data centres located in Ireland. These data centres meet the strictest security standards, including ISO 27001, 27017 and 27018 certification, and comply with the EU General Data Protection Regulation (GDPR).
As well as having a highly available, fault-tolerant database underpinning the application, FreeAgent also has point-in-time recovery. Additional secured, offline daily snapshots of data are available should they ever be required. These technical and organisational measures help ensure the confidentiality, integrity and availability of your data at all times.
Of course, you own your data. You can export your data, files and attachments in FreeAgent at any time and you can download copies of your financial reports individually by either selecting the 'Export' button or printing from your browser.