How to set up your practice for Making Tax Digital for VAT
As of 1st April 2019, VAT-registered businesses with VATable sales above the VAT threshold are required to use the Making Tax Digital system to file VAT returns through compatible software.
This article explains how to set up your practice for MTD for VAT.
1 Create an agent services account with HMRC
Creating an agent services account for your practice will generate a new Government Gateway ID which will give your practice access to HMRC's MTD services. A practice will only ever have one set of credentials for MTD and you will need to keep hold of any existing Government Gateway IDs you use to access HMRC's other online services.
If you've signed up for the Trust Registration Service (TRS) you may already have an agent services account in place. If this is the case, you don't need to create a new account; simply log in and follow the steps outlined below.
2 Add your practice's Government Gateway details to your HMRC agent services account
The next step is to log in to your agent services account and add all of your practice's existing Government Gateway credentials for VAT filing on behalf of clients. This will link the authority your practice currently has for VAT filing to its agent services account.
If you have multiple sets of credentials you will need to add them all to your agent services account in order to link the authority for all your existing clients.
You should request authority to file MTD VAT returns on behalf of any new clients directly from your agent services account. Note that these clients must have a Business Tax Account (BTA) in place in order to authorise a new agent relationship.
3 Connect your HMRC agent services account to FreeAgent
Once you've successfully created your agent services account you can use the new credentials you have received to connect your software with HMRC.
Log in to your Practice Dashboard and navigate to 'Settings' and select 'HMRC Connections'

Follow the on-screen instructions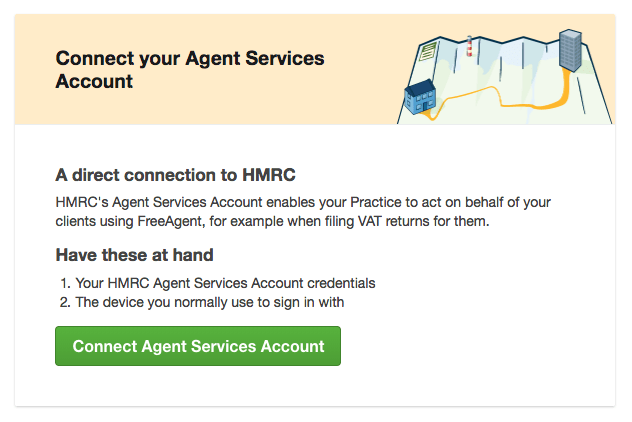 And that's it!
Your HMRC agent services account is now connected to FreeAgent.

HMRC requires you to reconnect FreeAgent to HMRC every 18 months. To do this, navigate to your practice name at the top-right hand of your screen in FreeAgent, select 'Settings' and then choose 'HMRC Connections'. From the 'HMRC Connections' page, select 'Disconnect'.
Once you have disconnected, you will be invited to select 'Connect FreeAgent to HMRC'. Use your agent services account credentials to re-establish the connection.
Ready to set up your clients for MTD for VAT?
Here's how to set up your clients up for MTD for VAT in FreeAgent.