Payroll entry by journal
Here we explain how to post your payroll figures using journal entries.
If you run monthly payroll, you can use the My Money > Payroll area to create monthly payroll entries, whether you are filing your payroll online with HMRC through FreeAgent, or using a different system.
You'll need to post payroll journals if you're running payroll at a frequency other than monthly, e.g. weekly, to make sure this is reflected in your accounts.
If you have adjustments to make, for an earlier tax year perhaps, you can also post journal entries to adjust payroll figures.
Note: If you have posted payroll journals for the first few months of the current payroll year and now wish to start creating monthly payslips in FreeAgent, you need to make opening balance entries on your payroll profiles as if you were migrating from another system
How to post payroll journals
Navigate to the 'Accounting' tab at the top of the screen and select 'Journal Entries' from the drop down menu.

Select 'Add New Journal Entries'.

We've used the example here of a weekly payroll.
For each employee, for each pay period (e.g. week), you need to know:
their gross pay
PAYE tax deducted
NI deducted
the amount of salary they'll actually receive
the employer's NI you'll pay for that person.
For example, Mary earns £2,000 each week, before tax and NI.
For the first week of September, her PAYE tax due is £275.20, employee's NI £167.76, which means her net pay, the amount she will actually receive, will be £1,557.04 (2,000 - 275.20 - 167.76).
Her employer will pay £194.71 in employer's NIC.
So the figures to post to FreeAgent, dated the same day as Mary's September payslip for the first week of that month, will be:
Debit code 401 Salaries £2,000 (Mary's gross pay) - or use code 407 Directors' Salaries if Mary is a director of the company
Debit code 402 Employer's NIC £194.71 (the amount of employer's NIC only) - or use code 408 Directors' Employer's NIC if Mary is a director
Credit code 814 PAYE/NI £637.67 (the total amount of tax and NIC due to HMRC: 275.20 + 167.76 + 194.71).
Credit code 902 Salary and Bonuses for Mary £1,557.04 (Mary's net pay)
This will ensure the correct figures appear in the Accounting section of FreeAgent.
If your payroll is not straightforward - for example, if you have other payroll deductions - please speak to your accountant about which journal entries you should post.
Extra journal entries for the Employment Allowance
If you are claiming the Employment Allowance, then you will need to post extra lines in your payroll journals to show the reduction in your employer's NI liability:
Debit code 814 PAYE/NI
Credit code 402 Employer's NIC (or code 408 Directors' Employer's NIC if the Employment Allowance relates to directors)
Payroll journal template
You might find this payroll journal template download useful.
Money paid to Mary
When you pay Mary her salary, navigate to the 'Banking' tab at the top of the screen and select 'Bank Accounts' from the drop down menu.

Choose the bank account which you paid the salary from.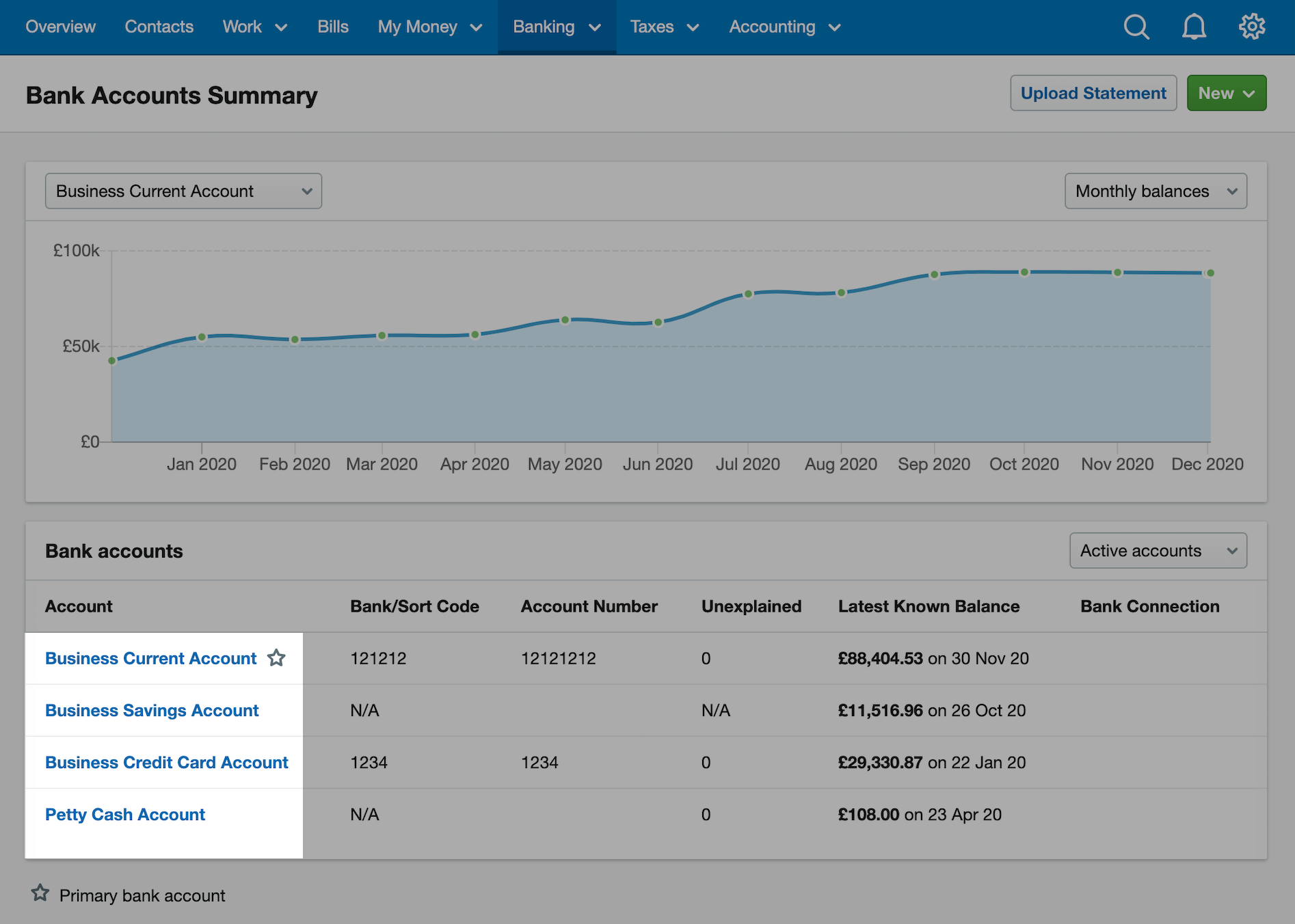 Select the transaction which represents the payment and explain it as Type > Money Paid to User > Net Salary and Bonuses.
Paying HMRC
When you pay the PAYE and NI over to HMRC, explain that payment as a Payment of PAYE and NI, which you'll find under the Taxes heading in the Categories list.
Pension contributions
If you are deducting pension contributions from your employee's wages, and paying these to the pension provider, you will need to post additional lines in your payroll journals.
There will also be other entries if you are adding to your employee's contributions.
Re-visiting the above example, let's say that Mary has asked you to deduct £100 from her wages each week, which you pay on her behalf to the pension fund. You also add an extra £50 to that.
The amount to post to code 902 would therefore be £1,457.04, which is the amount Mary will actually receive - £1,557.04 - £100.
You would then credit code 813 Pension Creditor with £100.
For the pension contributions you, as an employer, would pay, post two extra journal lines: Credit code 813 Pension Creditor, debit code 403 Pensions (or 409 Directors' Staff Pensions for directors), with the amount you will add - in this case £50. These entries should also be dated the same day as Mary's April payslip.
Paying the pension company
When you pay the pension company the £150, explain that payment with type Other Money Out and reason Pension Creditor.