A guide to your profit and loss account
This article explains what a profit and loss (P&L) account is, where to find it in FreeAgent and how to filter it so you see only the figures you need.
A profit and loss account is simply an accounting term for the story of your business's trading during a given period of time. It shows your business's income from sales, bank interest, and other income such as the online filing incentive, less its expenses. Expenses might be those directly linked to your sales, such as buying goods to sell to your customers, or they might be more general administrative expenses, such as buying stationery or paying your accountant.
The expenses are taken away from the income to give your business's profit for the year. This isn't the same as the cash in its bank account, because there are likely to be non-cash items in the profit and loss account. For example, your business might not have been paid for all of its sales. The sales figure in the profit and loss account is for the sales invoiced during that period of time, so the invoices with dates covered by this period. Money received from customers in respect of invoices goes on to the balance sheet.
What isn't on the profit and loss account?
You won't find on the profit and loss account anything that your business owns or owes. These, which are called 'assets and liabilities' in accounting terms, are found on the balance sheet.
So there's another reason why cash in the bank isn't the same as profit. Cash in the bank would also be affected by non-profit and loss items, such as buying capital assets. Capital assets are pieces of equipment or furniture that will last your business more than about a year, and as they're something the business owns, they go on your balance sheet.
How is the profit and loss account useful?
Apart from knowing how your business is doing, profit and loss accounts have two other useful functions.
The first is that the tax your business pays, be that Income Tax or Corporation Tax, is worked out on its profits. But these profits have to be adjusted for tax, because some expenses, such as business entertaining, have to be added back. So it's important to make sure your costs go in the right categories as you post your bills and expenses to FreeAgent. Otherwise your tax bill could be incorrect and, if HMRC believe you've been careless or negligent, you could have interest and penalties to pay.
The second reason why your profit and loss account is important, which applies only to limited companies, is that the company can only pay dividends to its shareholders up to the limit of the profit the company has made after corporation tax, plus any profit from previous years that it has in reserve. The directors must check the profit and loss account to make sure that the company has sufficient profit available before declaring a dividend. If you're not sure about this, please talk to your accountant.
Where is the Profit & Loss report in FreeAgent?
Navigate to the 'Accounting' tab at the top of your screen and choose 'Reports' from the drop-down menu.
In the 'High Level' section, choose 'Profit & Loss.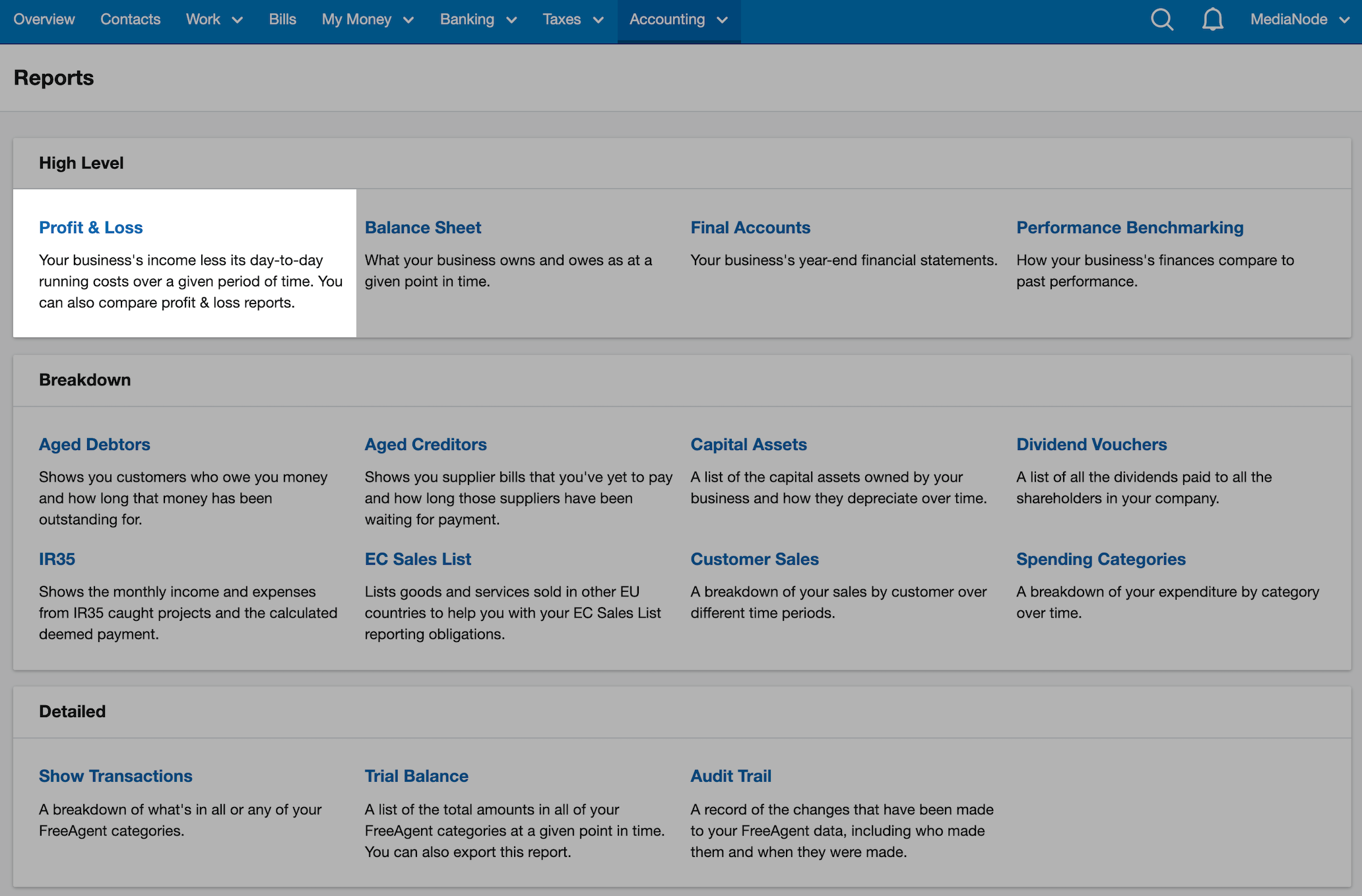 You can choose whether you want to view your profit and loss account for a specific month, quarter, year, the current accounting year so far or a custom date range.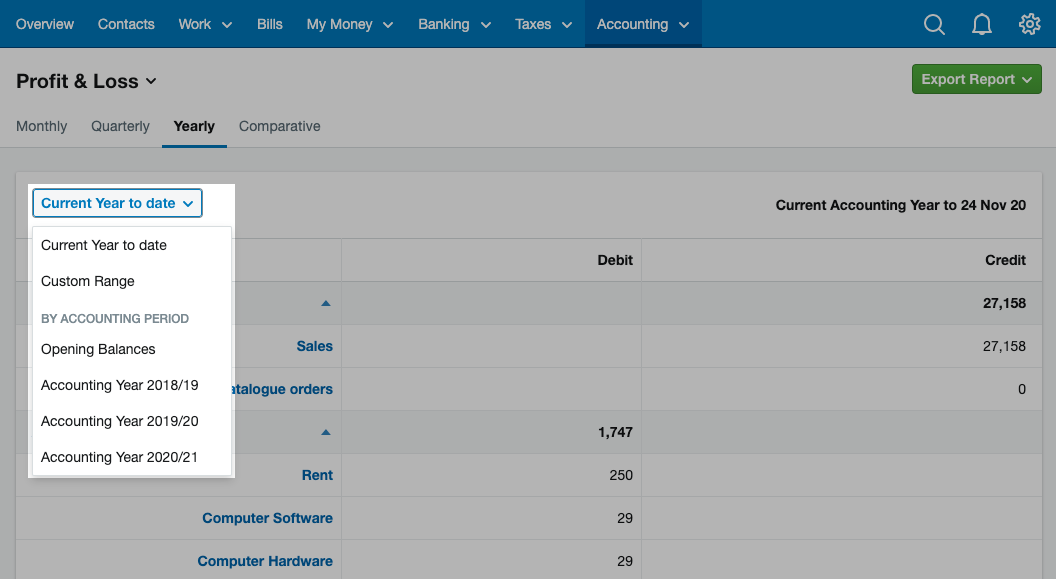 How to use the comparative Profit & Loss view
When you select the 'Comparative' tab on the Profit & Loss overview page, you can compare two different quarterly or annual reports side-by-side, or if you prefer, you can also view a custom date range.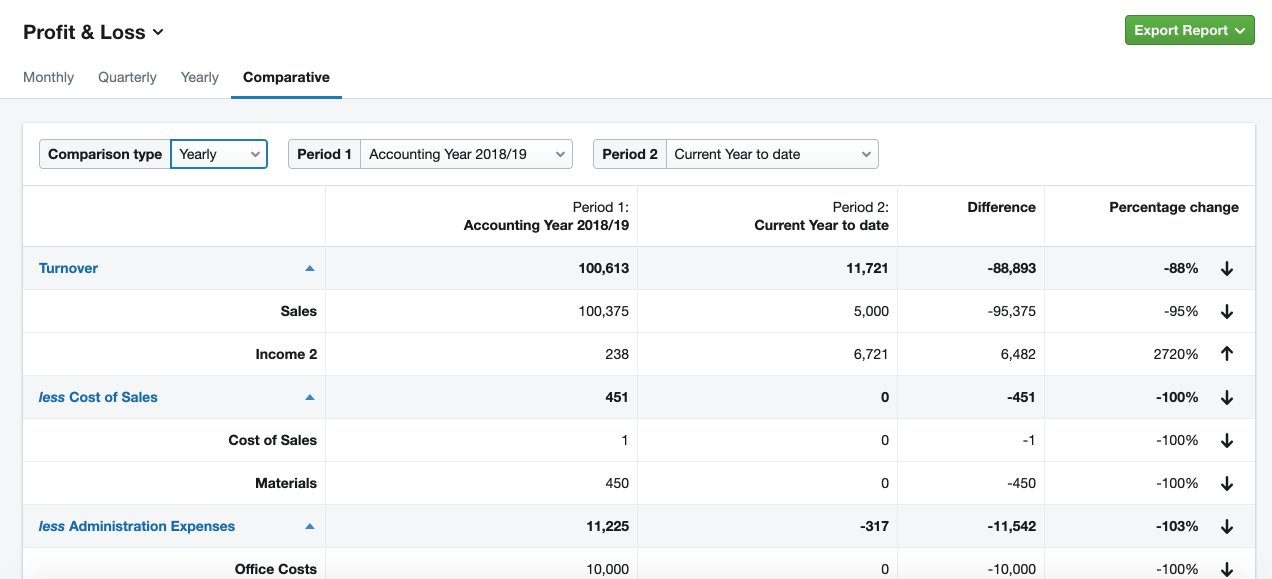 The 'Difference' column shows the financial difference between period 1 and period 2.

The 'Percentage change' column shows this financial difference as a percentage. The arrow indicates if the difference has increased or decreased.

Viewing details on the profit or loss account
If you need to see the details of what makes up any of the figures on the profit and loss account, simply select the figure to drill down and see a list of the transactions that it includes.


Do these figures include VAT?
If you're registered for VAT and are not using the VAT Flat Rate Scheme, then all the figures on your profit and loss account will be exclusive of VAT. If you're using the Flat Rate Scheme, your expenses will be inclusive of VAT, your sales net of standard VAT and the difference between the flat rate and standard rate from your sales will show in the Flat Rate Scheme Surplus account. If you're not registered for VAT, all the costs on your profit and loss account will include VAT, and you won't have charged VAT on your sales.
It's also good to know...
You can export the Profit and Loss report as either a CSV or PDF file. Just choose the appropriate format from the drop-down menu.

You can also see a brief snapshot, taken from the yearly profit and loss account, of your business's income and expenses for the current year so far on your FreeAgent dashboard.